The latest from the
World Mining Equipment
2nd Hand Market
View





Canadians Usher in a New Era



During October, many Canadians voted for change and they got it. Justin Trudeau unseated incumbent Prime Minister Stephen Harper and the Liberal Party secured a majority in the House of Commons of the Canadian parliament, winning 184 of 338 seats. Canada's federal political system will experience a major upheaval as a different group takes control. What does this mean for the mining business?

The recent downturn in commodities played a key role in the Conservative downfall. The Conservatives cut the Canadian federal corporate tax rate to 15% and rode the wave during the global commodities boom. More recently, Canada's economy has experienced negative growth for the past two quarters and this recession quickly erased many of the successes of the Harper administration......... read more



Steve Fiscor, Editor in Chief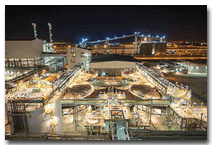 Alcoa Separating Into Two Independent Companies
Alcoa has announced plans to separate into two independent, publicly traded companies. An upstream company will include the five business units that currently make up Alcoa Global Primary Products: bauxite, alumina, aluminum, casting and energy. A downstream innovation and technology-driven company will include Alcoa's current Global Rolled Products, Engineered Products and Solutions, and Transportation and Construction Solutions business units. After the separation, the upstream........ read more
PotashCorp Withdraws Proposal to Acquire K+S


Potash Corp. of Saskatchewan (PotashCorp) announced on October 4 that it had withdrawn its proposal to negotiate an acquisition of rival potash producer K+S AG of Germany. PotashCorp had announced its proposal to acquire K+S at a price of €41 per share in late June. The proposal valued K+S at about $8.7 billion. K+S management and its board of directors declined to negotiate with PotashCorp, saying the proposal did not reflect the fundamental value of the company. PotashCorp disagreed....... read more

Top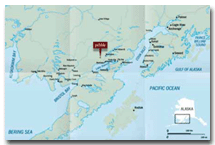 Report Questions EPA Fairness in Evaluating Pebble Mining Impact on Vital Watershed


Former U.S. Defense Secretary and Sen. William S. Cohen has released the report of his independent review of the U.S. Environmental Protection Agency's (EPA) decision-making process regarding potential mining in southwest Alaska's Bristol Bay watershed. The review concludes that the EPA's actions were not fair to all stakeholders. The Cohen review was commissioned by the Pebble Partnership, which holds mineral claims to lands owned by the..... read more

Top
Glencore Cutting Zinc Output by 500,000 mt/y


Glencore announced on October 9 that it is reducing production of contained zinc metal across its zinc mining operations in Australia, South America and Kazakhstan by 500,000 metric tons per year (mt/y). The cutbacks represent about one-third of Glencore's annual zinc production worldwide and about 4% of the world's annual production of mined zinc. "The main reason for the reduction is to preserve the value of Glencore's reserves in the ground at a time of low zinc and lead prices..... read more
| | |
| --- | --- |
| AROUND THE WORLD - USA & CANADA | |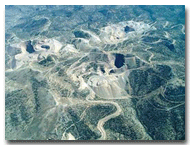 McEwen Reports Positive Feasibility Study for Gold Bar


McEwen Mining has announced the results of an NI 43-101-compliant feasibility study of its 100% owned Gold Bar project in Eureka County, Nevada. The study describes an open-pit, heap-leach project processing approximately 8,000 metric tons per day (mt/d) of ore on a conventional heap leach pad, followed by an adsorption-desorption recovery carbon plant producing a doré product. Mine life is planned at five years, with total production estimated...... read more
Star Mountain Acquiring Hudbay's Balmat Mine


Star Mountain Resources announced in mid-October that it is acquiring Hudbay's Balmat zinc mine in upstate New York. Balmat has been on care and maintenance since August 2008. The care and maintenance workforce has kept mining permits current, Mine Safety and Health Administration (MSHA) inspections upto- date, and environmental controls and conditions in regulatory compliance; and Star Mountain sees no legal or regulatory roadblocks that... read more

Top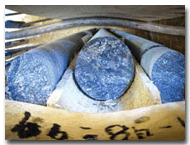 Alamos Acquiring Carlisle and its Lynn Lake Project


Alamos Gold announced in mid-October an agreement to acquire the shares of Carlisle Goldfields that it does not already own for cash and Alamos shares valued at about $22.1 million. At the time of the announcement, Alamos held an approximate 19.9% interest in Carlisle. Carlisle's primary asset is the Lynn Lake gold project in the past-producing Lynn Lake gold camp in northwest Manitoba, Canada. The project includes five near-surface deposits that contain measured and indicated.... read more

| | |
| --- | --- |
| AROUND THE WORLD - Latin America | |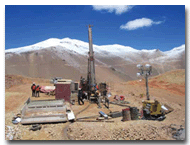 NGEx Studying Chile/Argentina Cross-border Copper-gold Project


NGEx Resources is conducting a preliminary economic assessment (PEA) of the potential for integrated development of the Los Helados and Josemaria coppergold deposits, located about 12 km from each other on opposites sides of the Chile/Argentina border. Los Helados is located in Region III, Chile; Josemaria is located in San Juan province, Argentina. NGEx has a 60% interest in each project. Pan Pacific Copper holds the remaining 40% of Los Helados…… read more
Timmins Gold Acquires Process Plant for Ana Paula


Timmins Gold has agreed to buy the complete process plant and select auxiliary equipment used in the operation of Goldcorp's El Sauzal mine in Chihuahua, Mexico for relocation to Timmins' Ana Paula project, currently being developed in Guerrero, Mexico. Total purchase price is C$8 million. Closing of the transaction is subject to, among other things, completion of a C$6 million investment by Goldcorp in Timmins Gold by way of a non-brokered private placement…. read more

| | |
| --- | --- |
| AROUND THE WORLD - Australasia | |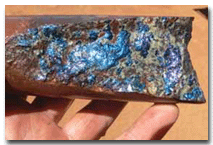 OZ Considering High-grade Start for Carrapateena Mining


OZ Minerals has initiated a scoping study of the potential for mining startup at its Carrapateena underground copper-gold project in South Australia based on extraction of the deposit's high-grade core. The study was prompted by a new analysis of the core that identified 61 million metric tons (mt) of resources grading 2.9% copper equivalent (2.4% copper, 0.9 g/mt gold, and 11.7 g/mt silver). An earlier prefeasibility study released in…. read more



Doray Targeting Mid-2016 Production Start at Deflector


Doray Minerals initiated construction of its Deflector gold project in the southern Murchison region of Western Australia, 160 km east of the port of Geraldton, in early August. Mining is planned to begin from an open pit beginning in mid-2016. The majority of the orebody is in narrow highgrade veins that will be mined by mechanized underground mining techniques. A gravity-flotation processing plant is being built to provide for extraction of both the gold/silver and the copper content in the ore …. read more

Top
True Gold Begins Mining at Karma
True Gold Mining began mining the Goulagou II (GGII) deposit at the Karma heap-leach gold project in Burkina Faso in October. The deposit is the first of six that will be mined over an 11.5-year period. Production will average approximately 120,000 ounces per year (oz/y) of gold during the first five years of operation at lowest-quartile cash costs. First gold production is…. read more


Sibanye offers $294 Million for Aquarius in Friendly Deal
Sibanye Gold announced in early October a $294 million cash offer for Aquarius Platinum, following up on an agreement announced a month earlier to acquire the Rustenburg mining operations of Anglo American Platinum (Amplats) on the Western Limb of South Africa's Bushveld Complex (E&MJ, October 2015, p. 5). Aquarius owns 50% stakes in the Kroondal mine and the Platinum Mile tailings retreatment facilities, which are adjacent to the Amplats Rustenburg mines, and in the Mimosa joint…. read more


North Korea's Controversial Rare-earth Resources Could Transform Economy


North Korea's revelation, two years ago, that it has a vast deposit of minerals caused a stir—and no small amount of controversy—but if true, could substantially change the secretive country's fortunes. In 2013, the discovery of a vast resource of the group of minerals known collectively as rare earths, south of the capital Pyongyang, was announced. The Jongju target as it is known, indicated a total mineralization potential of 6 billion metric tons (mt), with a total of 216.2 million mt…. read more

Freeport and Indonesian Government Agree on Continued Grasberg Operations
Freeport-McMoRan reported in October that its Indonesian subsidiary, PT Freeport Indonesia (PT-FI), has received assurances from the government that approval will be granted for extension of mining operations at the Grasberg complex in Papua province beyond 2021, including the same rights and level of legal and fiscal certainty provided under its current Contract of Work. The government is currently developing economic stimulus measures that include revisions to mining…… read more

Top
| | |
| --- | --- |
| THIS MONTH IN COAL | |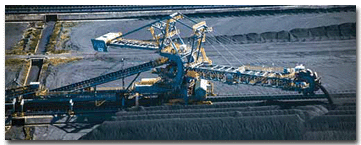 Australia Approves Carmichael Mine—Again


During mid-October, Queensland Minister for the Environment Greg Hunt re-approved Adani's proposed $16 billion Carmichael mine following a reconsideration of the project subject to conditions. The project, based in the Galilee Basin approximately 160 km northwest of Clermont, is expected to ultimately produce and export 60 million metric tons (mt) of coal per year and create 3,800 jobs. According to Hunt, the latest approval would be "subject to 36 of the strictest conditions in Australian history." In August, a federal court revoked an environmental approval granted to Adani in …. read more

HD Mining Gets Greenlight for Canadian Longwall


The minister of energy and mines recently approved the environmental assessment for HD Mining International, the first underground coal mine to get the go-ahead in British Columbia, Canada, in more than 25 years. Minister Bill Bennett confirmed during Ocotber that the company's $688 million Murray River Coal project in the northeastern region of the province outside of Tumbler will progress. It will be British Columbia's first longwall. Murray River, with a projected operating life …. read more

Charges Come Down in Obed Mountain Spill


Two years after a mine tailings containment pond gave way at the Obed Mountain complex in Alberta, Canada, the mine's owner has been charged in the incident. The Alberta Energy Regulator (AER) confirmed recently that six charges have been filed against Coal Valley Resources (CVRI) and Sherritt International, doing business as Sherritt Coal, related to the 670,000m3 spill on October 31, 2013. The release sent water, minerals, flocculent and a small amount of unrecovered coal …. read more

| | |
| --- | --- |
| FEATURE - Dragline Mining | |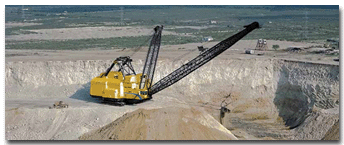 Moving and Maintaining the World's Biggest Diggers
When it comes to dragline renovation or relocation, long term planning is crucial for obtaining successful results—but innovative new technologies can shorten the schedule

By Russell A. Cater, Managing Editor

Draglines don't last forever; it just seems that way. Mining-class machines with booms that reach hundreds of feet into the sky, cost $100 million and up, and in some extraordinary cases weigh as much as 28 million lb are built to last—and to perform, with the larger models swinging empty buckets heavier than a Cat D11 dozer, completing a digging cycle every minute or so and moving upward of 25,000 yd3 of material per shift. Even though draglines are as close to permanent fixtures as any mobile machine could be in mining, change always comes— parts break, systems wear out or become obsolete and inefficient, or the area being……. read more


For more companies with products in the Dragline market -
Go Here
| | |
| --- | --- |
| FEATURE - Tailings Management | |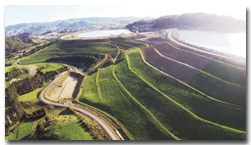 Tailings Management Strategies to Meet Today's Demands


Although rare, major incidents involving tailings dams have the potential to do immense harm, both on the ground and at the corporate level. Effective management of tailings deposition and long-term storage is critical to minimizing this risk.

By Simon Walker, European Editor

Nearly 20 years ago, the United Nations Environment Programme (UNEP) commissioned a study into failures and other similar incidents involving tailings dams—now more commonly referred to as tailings storage facilities (TSFs)—between 1980 and 1996. The study reported that tailings dams and other impoundments are essentially a 20th century invention, with common practice before that having been uncontrolled tailings disposal into nearby watercourses or lakes. "In contrast, the modern tailings impoundment is usually of highly sophisticated construction based on firm geotechnical foundations," the report said. While highly newsworthy at the time, major incidents involving TSFs are infrequent. The UNEP study identified fewer..... read more

Top

For more companies with products in the Environment Control market -
Go Here
| | |
| --- | --- |
| FEATURE - Maintenance | |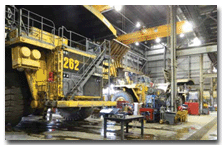 Achieving World-class Mining Maintenance: Step 1—Identify Needs and Priorities


In a six-part series starting this month, the author provides a detailed road map for developing and sustaining a top-notch mine maintenance program

By Paul Tomlingson

A mining enterprise supported by a maintenance organization performing at the "world-class" level stands to reap many benefits. Sustained, continuing productivity will be realized and the operation can compete favorably with the best, most profitable mining organizations in the world. But what does world class mean and how is it achieved? It is not the label "world class" that is important. Rather, it is the accomplishments realized that yield the benefits described as world class. Over the course of this article, the actions needed to achieve world-class mining maintenance status are explained in six consecutive steps that lead to recognition as a first-rate organization…... read more


For more companies with products in the Maintenance market -
Go Here
| | |
| --- | --- |
| FEATURE - Comms & Tracking | |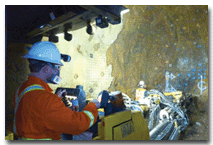 Linking Up


New communications and site-management solutions make it easier to keep track of what's happening underground.

A quick scan of the current list of MINER Act-compliant communications and tracking systems on the U.S. Mine Safety and Health Administration (MSHA) website shows there about two dozen vendors providing equipment designed to allow mine operators to variously locate, identify, track and communicate with their underground workers in accordance with the act—a 2006 law passed by the U.S. Congress to improve the preparation, resources and technology available for responding to major underground mine accidents. The act specifically focused on the coal industry, but many of these listed vendors also are active in the hard rock mining sector. In addition, there are numerous solution providers in the international marketplace.... read more

Top


For more companies with products in the Communications market -
Go Here
| | |
| --- | --- |
| 2nd HAND MARKET | |
The latest listings from the World Mining Equipment Market - for more details click the image
For more details on the WME - Market -

Go Here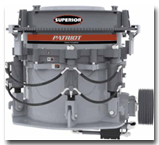 Superior Branches Out to Offer New Crusher and Idler Lines


Superior Industries, a global supplier of bulk material processing and handling systems, recently made several transactions to establish its presence in the market as a supplier of crushing equipment and to expand its role as a conveyor-equipment service and equipment supplier in South America. In mid-September, it reached an agreement to purchase the assets of FLSmidth's crusher manufacturing…. read more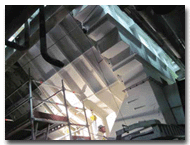 Metso Expands Service Facility Network


Metso has opened two new service facilities— a customer service center in Mesa, Arizona, USA, and a technology center in Arequipa, Peru. The Mesa facility provides services for Metso's customers in the mining, aggregates, and process industries. Metso said the Mesa facility offers value-added services to improve productivity and reduce operational costs throughout the complete lifecycle of mining and aggregates customers' processes…… read more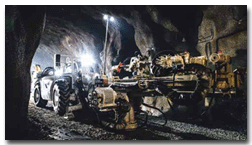 Underground Coring Rig Designed for Mobility and Productivity


Boart Longyear has introduced the MDR700, its next-generation underground coring rig designed to provide wide drilling angles; quick and easy setup, operation and maintenance; advanced mobility; and engineered safety controls. The rig features sophisticated articulation capabilities, with three turning points that allow operators to drill 270 degrees…. read more

Top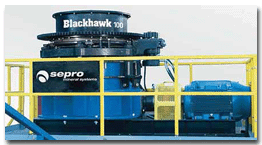 Affordable Cone Crusher for Heavy-duty Applications


Sepro Mineral Systems' new Blackhawk 100 cone crusher for heavy-duty crushing applications incorporates advanced technology with affordability to provide a reliable and simple-to-operate crushing solution, offering a combination of speed and 100 kW of power for fine crushing capability and high capacity in a compact design. The Blackhawk 100 can be used as a secondary or tertiary crusher as well as a pebble crusher…… read more
Mechanics Truck Body has Many New Features


Iowa Mold Tooling (IMT) has released a new Dominator III mechanics truck body that accommodates IMT's model 12000 telescopic crane without a front stabilizer for customers that do not require 100% lift capacity in all load zones. The new Dominator III body will be available in both 11- and 14-ft lengths, replacing the existing 13-ft version. With two side pack configurations for each body length, customers have four configuration options to choose from…. read more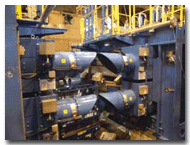 Magnetic Separator Line Receives Performance Upgrade


MBE Coal & Minerals Technology has upgraded the technology used in its JONES WHIMS (Wet High-Intensity Magnetic Separator) units and has delivered two of the newly improved DP 317 HFR units to -ore processing plant in Norway, where a number of the company's WHIMS machines have been operating reliably since 1981. The two new machines were purchased to ensure the plant will meet modern product requirements while using less power, yet maintain productivity levels, according to MBE-CMT (formerly KHD). Concurrently with the…. read more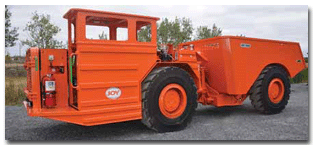 New Underground Mine Truck


Joy Global recently debuted its newest offering for the hard rock mining market, the Joy 16TD truck. Based on the popular DT-1804 truck model, the 16TD features lower hood lines for improved visibility, a digital operator display, shorter turning radius, ground level maintenance and faster ramp speeds. Cummins QSB 6.7 EPA/MSHA Tier 3, MTU OM906LA EPA Tier 3/EU  .…. read more

Top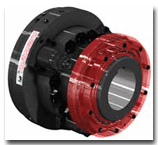 Torque Limiter Now Has Remote Reset Capability


Rexnord has incorporated remote-reset functionality into its Autogard 820 Series torque limiter, designed for high-torque, heavy-duty applications such as mining to help protect equipment during shock loads, overloads and jams. The popular Autogard 820 Series torque limiter is now available with Remote- Reset, an option well-suited for situations where the control center and the equipment are a considerable distance apart, or where the torque limiter is located behind complex….read more
NOVEMBER 30–DECEMBER 4, 2015: American Exploration & Mining Association annual meeting, Spokane, Washington, USA. Contact: Web: www.miningamerica.org
FEBRUARY 21–24, 2016: SME Annual Conference and Expo, Phoenix Convention Center, Phoenix, Arizona, USA. Contact: Web: www.smenet.org
APRIL 11–17, 2016: bauma, Messe Munchen, Munich, Germany. Contact: Web: www.bauma.de/
MAY 25–27, 2016: Coal Prep 2016, Kentucky Exposition Center, Louisville, Kentucky USA Contact: Web: www.coalprepshow.com
JUNE 7–10, 2016: Ugol Rossii Mining 2016, Kuzbass Fair Exhibition Center, Novokuznetsk, Russia Contact: Web: www.ugol-mining.com
JUNE 14–16, 2016: Euro Mine Expo, Skelleftea, Sweden. Contact: Web: www.eurominexpo.com
SEPTEMBER 12–16, 2016: Electra Mining Africa 2016, Expo Centre, Nasrec, Johannesburg, South Africa. Contact: Web: www.electramining.co.za
SEPTEMBER 26–28, 2016: MINExpo INTERNATIONAL 2016, Las Vegas Convention Center, Las Vegas, Nevada, USA. Contact: Web: www.minexpo.com
For a full calendar of mining industry conferences and events - click here
| | |
| --- | --- |
| WHO'S MOVING WHERE | |

Peabody Energy elected Robert A. Malone to the nonexecutive role of chairman effective January 1. The veteran executive has been serving as lead independent director of Peabody since January 2013. He will succeed Gregory H. Boyce, who will retire from Peabody effective December 31. Malone is the retired executive vice president of British Petroleum and former chairman and president of BP America Inc.

Alcoa appointed Roy Harvey, executive vice president, human resources and environment, health, safety and sustainability, as president of Global Primary Products (GPP), succeeding Bob Wilt. Harvey previously served as both COO and CFO of GPP, Alcoa's upstream business.

Chinalco Mining Corp. announced that Dr. Zhang Chengzhong has resigned as its CEO and has been redesignated as a nonexecutive director. Chengzhong has also resigned as the chairman and a member of the Futures Risk Management Committee. Luan Shuwei, a nonexecutive director, is now an executive director and was appointed CEO, a member and the chairman of the Futures Risk Management Committee.

Primero Mining Corp. appointed Tamara Brown as vice president, corporate development. Brown will succeed David Sandison. Brown held the position of vice president, investor relations, with Primero.

Compass Minerals appointed Diana Toman senior vice president, general counsel and corporate secretary. Most recently, Toman was vice president, strategy and general counsel, Asia Pacific and Africa for General Cable Corp.
Superior Industries named Mike Schultz its product manager for the company's new crushing equipment product solutions. Most recently, Schultz was employed at Terex Mineral Processing Systems as a market area director.

Check-6 International appointed Laura Owen as the CEO. She joined the board of directors for Check-6 in December 2014. Previously, she was the founder and CEO of PontSalus.

Northern Light Technologies announced Tony Napier as business unit manager, global digital solutions. His previous roles span from business owner to CEO of multiple major mining companies in Australia, where he acquired in-depth knowledge of both Leaky Feeder UHF/VHF and Wi-Fi.
About - providing an abreviated version of the current print edition of E&MJ, WOMP is distributed throughout the world to decision makers in the global mining industry, the last week of every month.

Subscribe to E&MJ - To receive your own copy of the print edition of E&MJ, click here , and complete your details. E&MJ is available free of charge to qualified readers.

Contact - if you have views, opinons or comments or editoral that you would like to submit, we would be delighted to hear from you - click here

Top