McEwen Reports Positive Feasibility Study for Gold Bar
---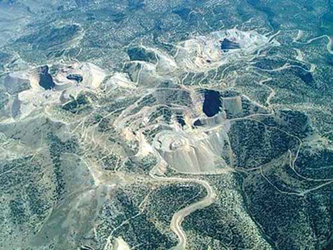 Aerial view of the Gold Bar property in Nevada, which was previously mined by
another company in 1990-1994. Results of a recently completed feasibility study
indicate an overall capital cost of almost $80 million for development.
(Photo: McEwen Mining)


McEwen Mining has announced the results of an NI 43-101-compliant feasibility study of its 100% owned Gold Bar project in Eureka County, Nevada. The study describes an open-pit, heap-leach project processing approximately 8,000 metric tons per day (mt/d) of ore on a conventional heap leach pad, followed by an adsorption-desorption recovery carbon plant producing a doré product.

Mine life is planned at five years, with total production estimated at 325,400 oz of gold. Average cash cost of production is estimated at $728/oz. All-in costs are estimated at $995/oz. Life-of-mine ore production is planned at 13 million mt at a diluted gold grade of 1.1 g/mt.

Initial capital to develop the Gold Bar project is estimated at $60.4 million, including $4.8 million for contingencies. Additional capital expenses such as a heap-leach expansion and reclamation and closure obligations bring required life-of-mine capital to $79.4 million, including an additional $1.5 million for contingencies.

The feasibility study assumes an owner-operated fleet of mining trucks and shovels and that all-new equipment will be leased for the operation. Operating costs were estimated based on process design criteria, equipment lease rates, labor, reagents, on-site power generation, fuel, explosives, maintenance, and other miscellaneous costs.

The Gold Bar feasibility study was prepared by SRK Consulting of Reno, Nevada.

McEwen believes there are opportunities to further improve on the economics of the project through continued exploration, capital cost reductions, and potential process plant engineering synergies with its El Gallo mine in Mexico.

McEwen anticipates that required permitting for the Gold Bar project will be completed by January 2017. At that point, the company can begin construction, which is expected to take approximately 10 to 12 months to complete.

McEwen Mining Chairman and chief owner Rob McEwen said, "Completion of this feasibility study is an important milestone. I believe Gold Bar will be the next mine we put into production. It includes the fundamental elements we consider important to investors when building a mine: low capital and operating costs and a reasonable rate of return in the current price environment. We can now move ahead with a high degree of confidence in the capital estimate and projected operating performance."

The Gold Bar project is located within the Battle Mountain-Eureka-Cortez gold trend in Nevada. The property was previously mined from 1990 to 1994 by Atlas Precious Metals Inc.
---
As featured in Womp 2015 Vol 11 - www.womp-int.com