Metso Expands Service Facility Network
---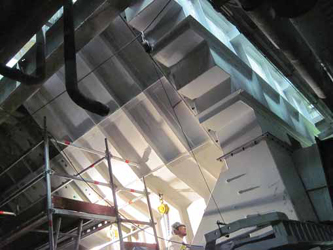 A process improvement project recently conducted by Metso at the Collahuasi
copper mine in Chile resulted in installation of new chute liners with four times
the expected service life of the original liners.


Metso has opened two new service facilities— a customer service center in Mesa, Arizona, USA, and a technology center in Arequipa, Peru.

The Mesa facility provides services for Metso's customers in the mining, aggregates, and process industries. Metso said the Mesa facility offers value-added services to improve productivity and reduce operational costs throughout the complete lifecycle of mining and aggregates customers' processes. The center's services includes field service, repair, wear and spare parts as well as life-cycle services solutions. It employs 60 service personnel. An official grand opening and open house event was held on September 18.

"The Mesa service facility is strategically located in Arizona to provide local service to our growing mining and aggregate customer base in the southwestern USA and Mexico," said Terry J. Wilkins, senior vice president– USA and Canada, minerals, Metso.

The Arequipa technology center is intended to support the company's customers in Latin America. It employs more than 70 service personnel.

"With the Arequipa technology center, the delivery time for results to our customers and the costs of testing will reduce. Also the technology center complements Metso's local offering to our customers in the region, enabling us to optimize our customer operations locally," said Roberto Valle, general manager, technology–Peru, performance services business line, Metso.

Metso said it now has almost 50 service centers globally for its customers in the mining and aggregates industries, and another new service center will open in Labrador City, Canada, later this year.

The company recently reported that implementing its integrated service and product offering resulted in a significant boost in minerals transportation efficiency at the Doña Inés de Collahuasi copper mine in Chile. The Metso solution, delivered about a year ago, involved gathering and analyzing field data, developing a new liner design, and assembly of three discharge chutes for the mine, as well as performance followup and further optimization to ensure the continuous improvement of the process. The Collahuasi operation is Chile's third largest producer of copper.

The process improvement effort resulted in important changes in the design of the chute liners to improve maintenance efficiency by streamlining the changeover of anti-wear plates. The original design had a medium time between faults of approximately 20 days; this has been extended fourfold and the mine expects it can achieve even better results.

"As a company, we look for suppliers who provide an integrated service that includes engineering, manufacturing and assembly," said Manuel Vera, asset management and reliability manager at Collahuasi. Metso knew how to respond to our deadlines and objectives. In minerals transportation we've already seen the time between faults rising from 20 to 80 days, and we know that the number can be optimized even further."

The liners are covered in Poly-Cer and are designed to resist abrasion even at high material tonnages and high speeds, leading to longer liner wear life—now estimated at more than 150 days from change-out. This lining, said Metso is up to ten times more wear-resistant than steel and combines the best properties of ceramic (1,400 HB) and rubber to offer high wear resistance and to effectively absorb impacts.
---
As featured in Womp 2015 Vol 11 - www.womp-int.com