Superior Branches Out to Offer New Crusher and Idler Lines
---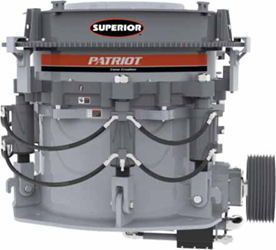 Superior Industries' new Patriot cone crusher family will include
models rated at 200–500 hp and production throughput up to 805 t/h.


Superior Industries, a global supplier of bulk material processing and handling systems, recently made several transactions to establish its presence in the market as a supplier of crushing equipment and to expand its role as a conveyor-equipment service and equipment supplier in South America.

In mid-September, it reached an agreement to purchase the assets of FLSmidth's crusher manufacturing plant in Pekin, Illinois, USA. According to Superior, the major asset associated with the transaction is a 10-year-old, 70,000-ft2 plant that currently employs 30 production employees. Superior plans to utilize the new facility as a U.S.-based manufacturing center for cone crushing equipment.

Earlier this spring, Superior purchased Clemro Western, Ltd., Calgary, Alberta, which has manufactured its own line of cone and jaw crushers for more than three decades. More recently, it debuted its Patriot cone crusher, marking its initial entry into crushing technologies for bulk processing applications.

The company said the new crusher is built around the design elements of rugged structural integrity and high-grade components to extend service life. Internally, bronze sleeve bearings are used for all moving components that are load bearing or perform load transmission (including countershaft bushings, thrust bearings, head and eccentric bushings and socket liners). In addition, these critical components are cast of high-grade steel, which typically exceeds standards for conventional cone crushers.

The crusher is claimed to offer high throw and high pivot point crushing performance to achieve strong production rates at a low cost per ton, along with mounting convenience for mobile applications employing a cone/screen chassis.

The new crushers are equipped with fail-safe hydraulics to protect the unit against damaging mechanical overload. Additionally, standard relief valves within dual-acting tramp release cylinders provide immediate, alternative protection should the accumulator fail. In case of force overload, a simple alarm can activate or optional advanced sensing technology will automatically take the necessary corrective action. This same automation can control the feed rate to optimize performance, adjust other settings and monitor critical lubrication and hydraulic parameters.

Models include units rated at 200– 500 hp and production throughput up to 805 t/h (730 mt/h).

"In the months leading up to the launch of our first crusher, we have worked hard to arm ourselves with a group of bright, experienced crusher service and parts professionals to provide our customers with worldclass support," said John Garrison, Superior's director of crushing and screening. "In addition, each Patriot Cone Crusher will be backed by the industry's first twoyear standard warranty and is manufactured at our new Pekin, Illinois-based factory."

In early September, Superior also announced the acquisition of Brazil-based conveyor idler and pulley manufacturer, Parcan Group. Headquartered in Rafard, São Paulo, Parcan has additional locations in Parauapebas, Pará, and São Luis, Maranhão, Brazil.

Superior said Parcan currently manufactures three models of conveyor idlers: a heavy-duty line, a light- to medium-duty line and another intended for high-impact applications. In addition, it builds conveyor pulleys to accommodate belt widths of 650 mm (24 in.) to 2,400 mm (96 in.) and is equipped to refurbish used pulleys. A group of in-house engineers also develop custom products for specific customer applications.

Superior noted that Parcan has also built a reputation as a technical solution specialist. Per client requests, teams from the company are dispatched to mines for conveyor inspections and evaluations, often proposing ideas to extend the life of machinery. The company believes its onsite mine visits are important opportunities to evaluate product, re-examine calculations and develop improved products from the learned data.
---
As featured in Womp 2015 Vol 11 - www.womp-int.com