Sustainable Development
CSR, Sustainability and the Mining Business.....
Copper
New Projects Arrive as Prices Slide.....
Screens
Aligning Screen Technology to Mining Operations.....
Clean Fuel
Managing Fuel Supply Chain Cleanliness.....

Mining Industry Apps
View





The World Grows Smaller



One re-occurring term readers will notice in this edition is complacency. Anglo American's new CEO Mark Cutifani warned delegates about it at the World Mining Congress (See : WMC) and it's mentioned again in CSR, Sustainability and the Mining Business (See: CSR). Defined as self-satisfaction accompanied by unawareness of actual dangers or deficiencies, it's a term that could be used to describe the state-of-mind of many mining companies in their approach to R&D, public relations, corporate social responsibility (CSR), sustainability and transparency.
When it comes to community relations, many of the top mining companies believe they are doing a great job and they are, especially compared to what was happening just five or 10 years ago. No one wants to brag, but it's safe to say that some companies are reasonably satisfied. At the same time, others are becoming more aware of the actual dangers related  to communication and community relations......... read more



Steve Fiscor, Editor in Chief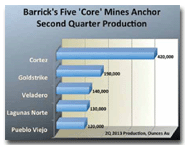 Barrick Adjusting to Lower Metal Prices
In its second-quarter 2013 financial report, released August 1, Barrick Gold reported $8.7 billion in after-tax impairment charges, largely driven by significant decreases in long-term metal price assumptions following the sharp decline in spot prices during the quarter. The charges included $5.1 billion for the Pascua-Lama project in Chile, $2.3 billion in goodwill impairments, and $1.3 billion in other asset impairment charges. On the brighter side, Barrick reported strong operating results from its gold and copper mines during the quarter and offered a broad outline as to how the company is positioning itself to operate in a lower metal-price environment........ read more
Gold Fields Acquiring 3 Barrick Mines


Gold Fields Ltd. and Barrick Gold announced on August 22, that they had developed a binding agreement whereby Goldfields will acquire Barrick's interests in the Granny Smith, Lawlers and Darlot underground gold mines in Western Australia. The transaction is valued at $300 million, subject to downward working capital adjustments to a maximum of $30 million, and may be paid fully in cash or, at the election of Gold Fields, partly in shares issued to Barrick. The three mines produced 452,000 oz of gold in 2012 at all-in sustaining costs (AISC) of $1,137/oz and 196,000 oz in the first half of 2013 at AISC of $1,145/oz. Reserves at the three mines total 2.6 million oz, and resources in addition to reserves....... read more

Top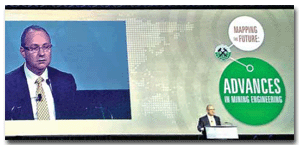 Conference Showcases Mining Innovation—Is it Enough to Keep the Industry Vital?


The 23rd World Mining Congress drew an estimated 1,500 attendees to Montreal, Canada, during August 11-15, offering a 14-track technical program, as well as more than 300 vendors in an accompanying trade exhibit, both of which took place at the city's Palais des congrès de Montréal convention center. Hosted by the Canadian Institute of Mining, the conference was held in conjunction with the 30th International Symposium on Automation and Robotics in Construction, providing attendees with access to a wide array of information about both mining innovation and robotics-based construction technologies..... read more

Top
Fortescue Reports Major Investment in Iron Bridge Project


Fortescue Metals and Formosa Plastics Group have announced a $1.15-billion investment by Formosa in FMG Iron Bridge Ltd., which is jointly owned by Fortescue (88%) and a subsidiary of China's Shanghai Baosteel Group (12%). FMG Iron Bridge is developing the Iron Bridge project 100 km south of Port Hedland in Western Australia. The project is based on the North Star and Glacier Valley iron ore deposits, which have combined iron ore resources of 5.2 billion mt. Formosa Plastics is Taiwan's largest private company and is currently investing in the construction of a 22-million-mt/y integrated steel mill at Ha Tinh, Vietnam. The greenfield Ha Tinh project is the largest of its kind in the global steel-making industry and is expected to begin production in 2015..... read more
| | |
| --- | --- |
| AROUND THE WORLD - USA & CANADA | |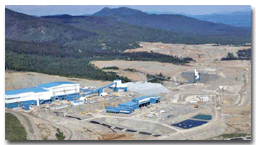 Thompson Creek Commissioning Mount Milligan


Thompson Creek Metals reported in early August that mill commissioning was under way and progressing on schedule at its Mount Milligan open-pit copper-gold project approximately 90 miles northwest of Prince George in central British Columbia. The primary crusher and conveyor had been commissioned, the coarse ore stockpile had been bedded, and the mine was positioned to deliver ore to the crusher. First ore feed to the plant occurred in mid-August, and concentrate production was expected to begin soon thereafter. All of the concentrator grinding and flotation circuits...... read more
Jansen and Legacy Projects Remain in Play after Uralkali Rattles the Potash Market


Russia-based Uralkali's July 30 announcement that it would no longer have Belarusian Potash Co. manage its export potash sales and that it was adopting a corporate strategy emphasizing volume over price rattled potash markets and sparked a rash of reports in the business press and comments from market analysts regarding the likely future direction of the industry. In particular, questions were raised regarding the future of BHP Billiton's Jansen potash project and K+S AG's Legacy potash project, both in Saskatchewan, Canada. K+S responded on August 6 with a discussion of potash market developments posted on its website.... read more

Top
Allied Nevada Defers Hycroft Mill Construction


Allied Nevada announced in early August that it is deferring construction of a mill that would operate in parallel with its current heap leach operations at its Hycroft mine 54 miles west of Winnemucca, Nevada. The company will continue metallurgical test work to optimize the mill flowsheet, and when that work is complete, a revised, third-party feasibility study will be undertaken to assess how the mill project will be developed. The company will continue to work on finalizing the environmental permits necessary to operate the mill. As a result of the decision to defer mill construction and focus.... read more

| | |
| --- | --- |
| AROUND THE WORLD - Latin America | |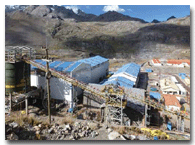 Trevali Begins Concentrate Production at Santander


Trevali Mining reported in mid-August the start of production of zinc and lead-silver concentrates at the Santander mine in Peru. The crushing, transfer, grinding, flotation, and tailings circuits were all operational and undergoing commissioning and optimization. As part of the commissioning process, the mill was processing stock-piled mineralized feed during day-shift and fine-tuning the plant and optimizing the reagent schemes and run criteria following each run during the subsequent night-shift as required. The company had 156,945 mt of mineralized material grading 4.9% zinc, 1.2% lead, 0.22% copper, and 1.5 oz/mt silver available for commissioning. The plant is ramping-up to its planned 2,000-mt/d throughput…… read more
Iamgold Reaches New Power Agreements for Rosebel


Iamgold announced in early August conclusion of new agreements with the Republic of Suriname regarding power rates that will support current and future operations at the company's Rosebel gold mine and contribute to the development of power infrastructure in Suriname. "The challenge for Rosebel has been the transition of its existing operations to process harder rock at the current power rate of 20 cents/kWh," said Iamgold executive VP and COO Gord Stothart. "There have been two important developments that allow Iamgold the potential to access more soft rock…. read more

| | |
| --- | --- |
| AROUND THE WORLD - Australasia | |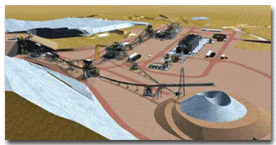 Vista Reports PFS and Reserve Increase for Mount Todd


Vista Gold has reported positive results for a new preliminary feasibility study (PFS) of its Mount Todd open-pit gold project in Northern Territory, Australia. The PFS evaluates two development scenarios: a 50,000-mt/d base case that develops more of the Mount Todd resource and generates a larger net present value (NPV) and a smaller, higher-grade, 33,000-mt/d alternate case that focuses on maximizing return and operating…. read more



AngloGold Ashanti Starts Commissioning at Tropicana


AngloGold Ashanti reported on August 1, that it has started commissioning the Tropicana gold project 330 km east-northeast of Kalgoorlie, Western Australia. The project is owned 70% by AngloGold Ashanti Australia and 30% by Independence Group NL. AngloGold Ashanti Australia is the project manager. The Tropicana project was running somewhat ahead of schedule, with initial gold production expected before the end of September. As of August 1, the tailings storage facility was complete, and the operating team had been mobilized on site. Initial grade control results …. read more

Top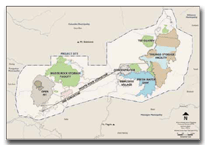 Sagittarius Revising Approach to Tampakan
Sagittarius Mines Inc. (SMI) announced in mid-August that it is taking a new approach to the Tampakan copper-gold project in the Philippines to allow it to focus on key challenges facing the project. The project is operated by SMI, whose 40% controlling equity is a joint venture between Glencore Xstrata (62.5%) and Indophil Resources NL (37.5%). The 60% non-controlling equity shareholders are Tampakan Mining Corp. and Southcot Mining Corp., known as the Tampakan Group of Companies. The Tampakan project is located on the southern Philippine island of Mindanao, approximately 40 km north of General Santos City. It is situated on the boundaries of four provinces—South Cotabato, Sarangani, Sultan Kudarat and Davao del Sur…. read more


Doubling of Capacity Nearly Complete at CSH Gold Mine
China Gold International Resources Corp. has completed construction of a new 30,000-mt/d crushing system and a new adsorption-desorption-refining plant as key components of a project to double throughput capacity at its CSH gold mine in Inner Mongolia. As of August 1, construction of new heap leaching facilities was progressing according to the schedule, and the company was expecting the first gold to be poured at the new plant in the fourth quarter of 2013. As set out in the 2012 mine expansion feasibility study, processing capacity at the CSH mine is expected to double…. read more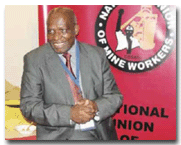 Labor Strife Threatens South Africa's Gold Mines


The National Union of Mine Workers (NUM), which represents 64% of a workforce of about 140,000 at South Africa's gold mines, on August 24 issued an ultimatum to mining companies to meet its demands for pay increases of up to 60% or face strike action on August 31. Centralized bargaining that began July 11, with the Chamber of Mines representing the mining companies, made essentially no progress through late August, with the mining companies' offer of an increase edging up from 4% to about 6.5% and the NUM standing pat at its demands for 60%. As of Wednesday, August 28, when this article was being written, NUM was expected to give the gold producers a 48-hours' strike notice on Friday, with work stoppages to begin from the night shifts on Sunday or the morning shifts on Monday…. read more

Ivanplats Initiates New Development Study for Kamoa


Ivanplats announced on August 5 that Hatch Ltd., South Africa, has been contracted to undertake a new study to help set the stage for cost-effective development of an underground mine and processing plant at the company's Kamoa copper project in Katanga province, Democratic Republic of the Congo (DRC). The NI 43-101-compliant study is expected to result in the declaration of the first mineral reserves at Kamoa and to describe an appropriately phased approach to achieving first production and progressive expansion. Ivanplats is currently proposing two principal…… read more

Top
| | |
| --- | --- |
| THIS MONTH IN COAL | |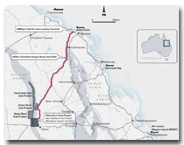 Australia Approves EIS for China First Thermal Coal Project


Waratah Coal's proposed $6.4-billion China First coal mine and infrastructure development in Central West Queensland has received an approval for its Environmental Impact Statement (EIS) from the state's coordinator general. Brisbane-based Waratah Coal, owned by Clive Palmer, plans to build a thermal coal mine in the Galilee Basin coal region near Alpha, west of Emerald, as part of its China First project. The mine would be linked to a new coal terminal at Abbot Point near Bowen by a new 453-km standard gauge, heavy-haul railway line. Palmer said establishing the mine and associated infrastructure will create 6,000 jobs during construction and 2,460 jobs during …. read more

UMWA Ratifies Patriot Agreement


Patriot Coal miners represented by the United Mine Workers of America (UMWA) recently ratified five-year labor agreements. "Ratification of these agreements provides labor stability and ensures cost savings essential to Patriot's plan of reorganization," said Patriot President and CEO Ben Hatfield. "These agreements should set Patriot on a path to emerge from bankruptcy by the end of 2013." A motion seeking authorization to enter into these agreements was filed with the bankruptcy court in St. Louis, Missouri, USA. Judge Kathy Surratt-States granted Patriot's request to …. read more

| | |
| --- | --- |
| FEATURE - Sustainable Development | |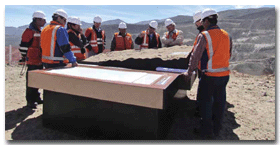 CSR, Sustainability and the Mining Business
Complacency is not an option for a changing world that's digitally connected

By Joseph Kirschke, News Editor-Mining

An unprecedented, seismic race is underway. It is so fast and furious it almost escapes logic. Geographically, its bounds have no limits. It stretches across remote Andes mountain peaks, desolate Sahara plains, beyond rugged valleys in Australia, Kazakhstan and Appalachia, and deep inside the forests of tropical Southeast Asia. But despite nurturing one of history's greatest global commodities booms since the beginning of the last decade, the global mining industry itself remains a largely silent one—as it has for generations. To the public, news exists: of CEOs and boardroom intrigue, protests, labor unrest, of shareholders and their stock. Yet these offer a mere glimpse of something far bigger: Modern daily life without minerals, metals or fuels, that is, would be impossible—a fundamental notion few outside the business even grasp. This is no accident. For while today's geologists, prospectors, engineers and……. read more


For more companies with products in the Software Mine Planning market -
Go Here
| | |
| --- | --- |
| FEATURE - Copper | |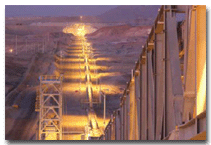 World Copper: New Projects Arrive as Prices Slide


While copper prices have been falling for a year, the market balance is heading for oversupply. E&MJ looks at the implications in the short term and further ahead

By Simon Walker, European Editor

With mine capacity continuing to grow, and metal prices trending down as demand uncertainty dogs international commodity markets, the world's copper producers are having to adjust to a new set of conditions after several boom years. Indeed, the demand boom—especially from China—was the spur that underpinned investment decisions in both expansions and new capacity, and now that China's economic growth has slowed from the extraordinary rates seen in the past decade or so, the Damoclean sword of overcapacity is beginning to swing uncomfortably close. On the plus side, of course, it is important to remember that the world economy is not in recession, and that the slowdown in demand stemming from consumers having to take a more realistic look at their spending habits and credit lines, is just that: a slowdown, not a stop. Demand trends are likely to take some time to adjust to the current economic environment with, if the optimists are to be believed, a return to greater stability in the not too distant future... read more

Top

For more companies with products in the Geotechnical market -
Go Here
| | |
| --- | --- |
| FEATURE - Screens | |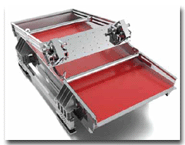 Aligning Screen Technology to Mining Operations


The right balance is necessary to optimize plant throughput.

By Kurt O'Bryan

The global mining landscape has shifted over the last 20 years to adapt to mineral reserves and economic factors. In countries with low-grade orebodies and relatively high labor costs, such as Canada, the U.S. and Sweden, the small, low-tonnage mining operation has virtually disappeared. In those countries, the industry has shifted to high-tonnage, lowgrade operations, which require larger equipment with a low operating cost and high throughput. Emerging economies like Brazil, Russia, India and China require large quantities of raw minerals such as iron ore and copper to feed their growing global and local demands. Fueled by the growth of these emerging markets, a global boom in metals and energy prices has been sparked. To meet this demand, high-tonnage operations have become the norm and now dominate in countries like Australia, Peru and Chile where major ore reserves are located…... read more


For more companies with products in the Screens market -
Go Here
| | |
| --- | --- |
| FEATURE - Clean Fuel | |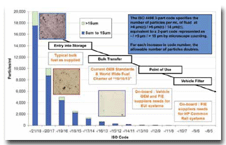 Managing Fuel Supply Chain Cleanliness


With new specific fuel cleanliness requirements for diesel engines, contamination control throughout the entire fuel supply chain is critical

By Christian Bauer, Ph.D.

Fuel is the life blood of most surface mining operations. Many mines face differing degrees of contamination challenges. Understanding the fuel supply system components and filtration systems, miners can better plan strategies for managing cleanliness. Typically diesel fuel is delivered to the mine by a tanker truck. A set of 300- to 400-gpm pumps places the fuel in a large storage system. From the main storage tanks, the fuel is transferred to localized secondary storage tanks before reaching the fuel islands or filling stations where the equipment is refueled. At all of these transfer points, filtration is recommended. Some mines use large bulk filtration systems initially combined with a water separator or coalescer. These systems can handle high flow rates and large contaminant loads. At the end of the line, point-of-use (PoU) filtration can be installed at the equipment fueling point. The diesel engines have onboard filtration systems..... read more

Top


For more companies with products in the Lubricants market -
Go Here
| | |
| --- | --- |
| APPS | |
Current and active 'Apps' from the mining market.
Sandvik Mining

- Offering Guide

Sandvik Mining offering to mining customers, showing the depth of our product range, as well as its functionality and suitability to the mining processes.
When you explore this Offering Guide, you will see not only the breadth of the line, but also the many ways our products and services work together to give you a synergistic effect

Get the App - Go Here


Grindex

- Toolbox

Grindex Toolbox, for hand held devices, provides a range of features to support a quick and easy selection of Grindex pumps as well as identification of Grindex original spares.
With this app you get a very convenient access to the wide range of Grindex offerings.

The application offers several powerful and easy to use functions: Pump selection, Spare parts identification, Cart function and Grindex Pumps school
All major languages are supported.

Get the App - Go Here


Michelin Truck Tire Locator



RFind the nearest MICHELIN® truck tire or service provider wherever you go. Now you can find the nearest MICHELIN® truck tire or service provider wherever you go. Use the app to search for a provider by category or use it to call MICHELIN® ONCall™ directly. The app finds the nearest service providers based on your GPS location, or another location you enter yourself.

Get the App - Go Here


Sleipner

- Benefit Calculator

The Sleipner benefits calculator is an innovative tool that just with a few steps gives you the opportunity to calculate the benefits of using the groundbreaking Sleipner System in your mine. This powerful tool will provide you with information such as increase in production, fuel savings, reduction in CO2 emissions and all the other benefits you get out of the Sleipner Systems.

Get the App - Go Here


Orica



Pocket Blast Guide from Orica Mining Services provides access to blast calculations, conversions, product information and tools for managing blasting operations on mobile devices.

Get the App - Go Here

For more details on our Apps listing or details on how to list your App - Go Here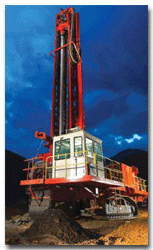 Sandvik's New Electric Rotary Rig Sparks Productivity at Chinese Mine


With population growth and rapid urbanization fueling an unprecedented demand for minerals and metals throughout Asia, mining companies there are looking for ways to increase capacity while also improving operating costs and safety levels. One way these companies are cutting operating and maintenance costs is by purchasing equipment powered by electricity rather than diesel. Recently, the Taihe Mining Industry Company of Chongqing Iron & Steel Group partnered with Sandvik Mining to launch the Swedish equipment manufacturer's 1175E electric rotary blast hole drill. Sandvik Mining has been operating in China since 1997, and its operations currently include more than 800 local employees and facilities in Jiading, Wuxi, Luoyang and Tai'an. Sandvik Mining proceeded to…. read more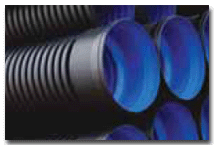 Polypipe Brings its Piping Systems to the African Mining Market


Polypipe, one of Europe's largest manufacturers of plastic piping systems, is set to expand its presence in the African market. The company is focusing on the mining industry in the region, having already secured contracts to supply pipework systems to major projects in Kenya and Sierra Leone. Polypipe said it is able to offer pipework and water management systems to meet the needs of mining operations themselves, which involve both pressurized pumping and gravity systems, mining process pipework, and all of the water…… read more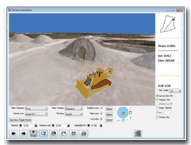 Software Offers Improved Pit Road Design Features


Carlson Mining 2014 gives users enhanced commands in designing benched pits, with many new options for road layout and safety berm placement and construction. The system provides support for AutoCAD 2014 and also works on AutoCAD versions 2004 and up. All Carlson 2014 office software comes with IntelliCAD 7.2 built in, which offers a CAD platform for no extra expense. Another important area of improvement in Carlson Mining 2014 is the new Range Diagram command for dragline design. Additional options for dozer push, extended bench and spoil side mining have been added to further enhance…. read more

Top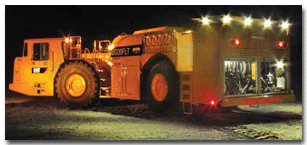 Lube and Fuel Hauler for Underground Operations


Underground Force's UG30FLT articulating fuel and lube truck is designed to offer high versatility in transporting large volumes of products in extreme underground mining applications. The fluids truck is built around the Cat AD30 underground articulated dump truck chassis for reliability and efficiency, according to the company. The UG30FLT is capable of carrying more than 1,500 gallons of fuel and 400 gallons of lubricant and coolant, along with other customizable product options. Its design includes fully baffled product tanks, product filtration and metering, product tank heating if required, and an enclosed reel compartment with roll-up doors. Other features include new or used filter storage .…… read more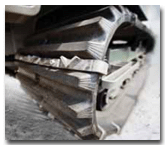 Cleats Improve Rubbertracked Carrier Performance


Terramac has introduced custom-made, removable cleats for its RT9 rubber track crawler carrier. The steel cleats provide a solution for crews working in icy or snowcovered terrain, on extremely muddy ground or whenever additional traction is required. The RT9 carrier may be used to mount exploration drills, spray booms for dust control or other equipment as needed. According to the company, unlike traditional screw-on spikes, these bolt-on, boltoff cleats do not harm the track; the design…. read more



PLC Designed for Harsh Mining Environments


ABB said its new ruggedized PLC system provides an easy-to-implement solution for controlling equipment operating in harsh conditions and extreme climates. The AC500-XC PLC is protected against a wide variety of threats including high and low temperatures, high humidity, low air pressure, salt mist and hazardous gases, and vibration and shock—thus typically reducing facility building costs by eliminating the need for sophisticated protective enclosures with special seals, HVAC, shock absorbers, EMC protection, etc. The AC500-XC PLC is a ruggedized variant of ABB's well-known modular AC500 PLC. Almost all of the modules in…. read more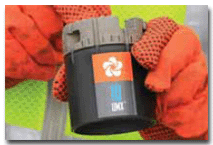 Diamond Bit Effective in Hard Ground


Boart Longyear describes its new 10UMX bit as a high-performance diamond coring bit with the freest-cutting matrix available, enabling the bit to penetrate the hardest rock formations in extreme conditions, according to the company. UMX bits are engineered to outperform existing bit technology in a wide range of drilling conditions and ground formations. UMX bits use advanced metallurgical formulas to provide increased penetration capabilities, turning easily from one ground formation to another  .…. read more

Top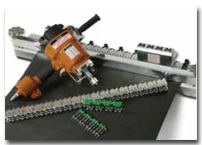 Rivet Driver Speeds Installation


Flexco's pneumatic single rivet driver is designed for use with Flexco SR fasteners and installation bases, and speeds installation by up to 33%. The driver features a dual handle for balance and ergonomic gripping, a heavy-duty drive rod for high-quality splices, and pneumatic driving power for a robust installation. A single trigger pull per rivet saves both time and reduces worker fatigue, according to Flexco. Collated rivets with washers and a specially designed steel guide block ensure that each trigger pull contributes to a consistent splice….read more
OCTOBER 1–3, 2013: Minex Russia 2013, Moscow, Russia. Contact: Irina Yukhtina; Tel: 44 (0)207 520 9341; Fax: 44 (0)207 520 9342; E-mail: ira.y@minexforum.com; Web: www.minexrussia.com
OCTOBER 31–NOVEMBER 2, 2013: Mining 2013 Myanmar, Yangon, Myanmar. Contact: Shaun White, Allworld Exhibitions; Tel: 44 2078402130; E-mail: swhite@oesallworld.com; Web: www.miningmyanmar.com
FEBRUARY 9–12, 2014: 40th Annual Conference on Explosives and Blasting Technique, Denver, Colorado, USA Contact: International Society of Explosives Engineers; Tel: 440-349-4400; Fax: 440-349-3788; Web: www.isee.org
FEBRUARY 23–26, 2014: 2014 SME Annual Meeting & Exhibit, Salt Lake City, Utah, USA. Contact: SME Meetings Department; Tel: 303-948-4200; E-mail: meetings@smenet.org; Web: www.smenet.org/meetings
MARCH 3–6, 2014: PDAC 2014, Metro Toronto Centre, Toronto, Canada. Contact: Prospectors and Developers Association of Canada; Tel: 1 416 362 1969; E-mail: convention@pdac.ca; Web: www.pdac.ca
MARCH 4–8, 2014: 2014: CONEXPO-CON/AGG, Las Vegas, Nevada, USA. Contact: CONEXPO-CON/AGG Show Management; Tel: 1-800- 867-6060 (USA and Canada), 1 414-298-4167 (International); E-mail: info@conexpoconagg.com; Web: www.conexpoconagg.com
APRIL 21–25, 2014: Expomin 2014, Santiago, Chile Contact: FISA S.A.; Tel: +56 (2) 530 7000; E-mail: info@fisa.cl; Web: www.expomin.cl
MAY 11–14, 2014: CIM 2014 Convention, Vancouver, Canada. Contact: Lise Bujold, director of events; Tel: 514-939-2710 ext. 1308; E-mail: lbujold@cim.org; Web: www.cim.org/en.aspx
For a full calendar of mining industry conferences and events - click here
| | |
| --- | --- |
| WHO'S MOVING WHERE | |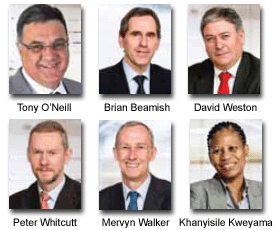 Tony O'Neill has been appointed group director–technical for Anglo American, with responsibility for mining and technology, business performance, asset optimization, projects, and safety, health and environment. O'Neill brings 35 years of mining experience across a wide range of commodities, including precious metals, iron ore and base metals, most recently serving as joint acting CEO and EVP– Business and Technical Development at AngloGold Ashanti. Brian Beamish, group director–mining and technology, and David Weston , group director– business performance and projects, will be retiring. Responsibility for Anglo American's Commercial activities, currently managed by Weston, will be assumed by Peter Whitcutt, group director–strategy and business development. René Médori, finance director, Mervyn Walker, group director– HR and corporate affairs, and Khanyisile Kweyama, executive director of Anglo American South Africa, will continue in their current roles.

Thompson Creek Metals Company Inc. appointed Jacques Perron as CEO and director, effective November 1. Perron will succeed Kevin Loughrey , chairman and CEO, who previously announced his retirement. Timothy Haddon, lead director, will succeed Loughrey as chairman of the board of directors. Perron previously worked at St. Andrew Goldfields Ltd. where he served as president and CEO since 2007.

Verde Potash announced Antônio Schettino has joined the company as the COO. Schettino joins from MMX Mineração e Metálicos, where he was COO. Pedro Ladeira , current COO, will continue with Verde as a technical advisor focusing on the company's pyro process.

Åke Roos has been appointed general manager for Boliden Rönnskär, succeeding Roger Sundqvist who has decided to leave Boliden. Roos has extensive experience in the metal business and joins Boliden from Sandvik.

Midway Gold announced that John Labate, effective August 20, will step down as CFO for personal reasons. Fritz Schaudies will re-join the company as interim CFO.

Anglo American announced the appointment of Hennie Faul as CEO of its copper business following John MacKenzie's decision to leave. Faul is currently Anglo American's Group head of mining.

Gindalbie Metals Ltd. advised that Karara Mining's board has decided to combine the roles of CEO and the CFO. Paul Sims , the CFO, will take over as acting CEO. In line with this transition, CEO Steve Murdoch will step down from his position.

Evrim Resources Corp. announced the appointments of Mahesh Liyanage as CFO and Jeff Geier as senior geologist.
About - providing an abreviated version of the current print edition of E&MJ, WOMP is distributed throughout the world to decision makers in the global mining industry, the last week of every month.

Subscribe to E&MJ - To receive your own copy of the print edition of E&MJ, click here , and complete your details. E&MJ is available free of charge to qualified readers.

Contact - if you have views, opinons or comments or editoral that you would like to submit, we would be delighted to hear from you - click here

Top