Sagittarius Revising Approach to Tampakan
---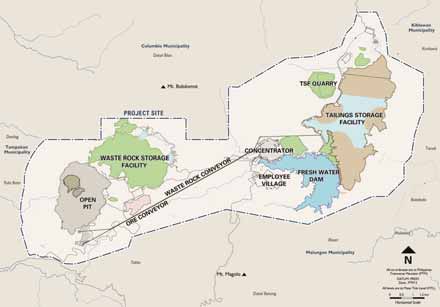 Proposed site layout for the joint venture (Glencore Xstrata-Indophil Resources) Tampakan copper/gold
project.

Sagittarius Mines Inc. (SMI) announced in mid-August that it is taking a new approach to the Tampakan copper-gold project in the Philippines to allow it to focus on key challenges facing the project. The project is operated by SMI, whose 40% controlling equity is a joint venture between Glencore Xstrata (62.5%) and Indophil Resources NL (37.5%). The 60% non-controlling equity shareholders are Tampakan Mining Corp. and Southcot Mining Corp., known as the Tampakan Group of Companies.

The Tampakan project is located on the southern Philippine island of Mindanao, approximately 40 km north of General Santos City. It is situated on the boundaries of four provinces—South Cotabato, Sarangani, Sultan Kudarat and Davao del Sur.

The 2.9-billion-mt deposit contains 15 million mt of copper and 18 million oz of gold at a 0.2% copper cut-off grade. If the project is approved, the mine is expected to produce an average of 375,000 mt/y of copper and 360,000 oz/y of gold in concentrate over a 17-year mine life.

At an estimated capital cost of $5.9 billion, development of the Tampakan project would represent the single largest foreign investment in Philippines' history. To date, more than $500 million has been invested on exploration, studies, and community programs in and around the project area.

In an updated project development plan dated December 12, 2012, SMI outlined the potential for commercial production to begin at Tampakan in 2019; however, that target date is probably no longer viable.

In announcing a revised approach to the project, SMI executive Vice President, Justin Hillier said, "Over the past few months, SMI has carried out a review of the project, including an assessment of progress to date, ongoing and emerging challenges, and the current approach to advancing the project. The outstanding issues and challenges facing the Tampakan project include the resolution of the South Cotabato open-pit mining ban, the definition of pathways to project approvals from all levels of government, and the gaining of consent and the resettlement of impacted communities.

"With these challenges as yet unresolved, it has not proved possible to make adequate progress toward our project goals and, without a fundamental change in approach, progress is unlikely to improve in the foreseeable future. Therefore, it is timely for a change of approach to give the project every opportunity to progress in a reasonable timeframe.

"Today, we have commenced a revised work plan that tightens our focus on resolving these issues. We look forward to working with the national government through the Mining Industry Coordinating Council to address these challenges."

SMI anticipates that some time will be needed to resolve these issues effectively before the project can resume a path toward development. The project workforce is being cut by about 85%, and spending is being sharply reduced. The company will continue to support its host communities through committed development programs.
---
As featured in Womp 2013 Vol 09 - www.womp-int.com