Thompson Creek Commissioning Mount Milligan
---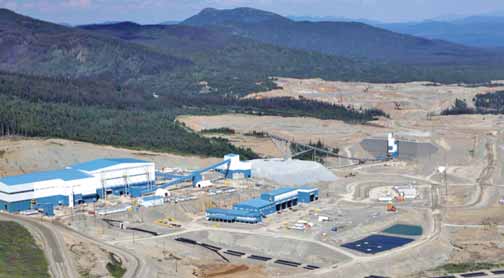 Thompson Creek Metals said it has begun the phased start-up of its Mount Milligan copper/gold mine in British Columbia,
with the first feed sent to the concentrator in mid-August. The company expects to reach commercial production in the
fourth quarter of this year. (Photo courtesy of Thompson Creek Metals Co.)

Thompson Creek Metals reported in early August that mill commissioning was under way and progressing on schedule at its Mount Milligan open-pit copper-gold project approximately 90 miles northwest of Prince George in central British Columbia. The primary crusher and conveyor had been commissioned, the coarse ore stockpile had been bedded, and the mine was positioned to deliver ore to the crusher.

First ore feed to the plant occurred in mid-August, and concentrate production was expected to begin soon thereafter. All of the concentrator grinding and flotation circuits were expected to be operational in September. Commercial production was scheduled to begin in December, followed by a 12-month ramp-up to full design production and recovery.

Mount Milligan is expected to produce an average of 89 million lb/y of copper and 262,000 oz/y of gold in concentrate during its first six years of operation. Life-of-mine production over a mine life of 22 years is planned at about 81 million lb/y of copper and 194,000 oz/y of gold in concentrate.

Mount Milligan will mine 60,000 mt/d of ore from two low-grade copper orebodies, using conventional truck-and-shovel methods. Proven and probable reserves stand at 482 million metric tons (mt), averaging 0.2% copper and 0.39 g/mt gold and containing 2.12 million lb of copper and 6.02 million oz of gold.

The life-of-mine strip ratio is 0.84:1.

The 60,000-mt/d Mount Milligan processing plant utilizes conventional crushing, grinding, and rougher and cleaner flotation to produce a gold-rich copper concentrate. The overall design philosophy was to select large equipment in order to maintain a simple, conventional, single-line flowsheet.

Construction at Mount Milligan began in mid-2010. Through June 30, Thompson Creek spending on the project totaled C$1.41 billion, and total capital spending is expected to reach C$1.57 billion at project completion.
---
As featured in Womp 2013 Vol 09 - www.womp-int.com