| | |
| --- | --- |
| | To receive your own edition of the print version of E&MJ - Go Here |




Indaba Debates the Future of African Mining



During April 2013, the mining business suffered some setbacks. As can be seen on the cover of this month's edition, the miners at Kennecott Utah Copper's Bingham Canyon mine now face an uncertain future. Prices for most metals declined during the month, but it was the falling price of gold that garnered the most attention. Many new mining CEOs were preparing first quarter earnings reports, announcing their plans for the future, deciding what paths to pursue, and which projects to table. Scaling back ambitious plans is never easy for mining engineers. Sometimes the market or natural forces make the decision for them.

Bingham Canyon symbolizes the advances the open-pit copper mining and processing industry has made over the last century. Starting with Daniel C. Jackling, who was a visionary as far as the approach to mining and processing a massive low-grade porphyry deposit, the engineers that earned their stripes at the mine and the Copperton mill revolutionized the copper industry. That's why it should come as no surprise that the engineers knew it was going to happen and they were able to prepare for itt......... read more



Steve Fiscor, Editor in Chief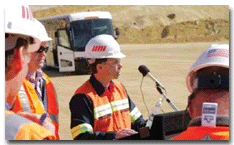 Huge Landslide Halts Ore Production at Rio Tinto's Bingham Canyon Mine
Operations at Rio Tinto's flagship copper mine, the Kennecott Utah Copper Bingham Canyon complex near Salt Lake City, Utah, USA, have been severely curtailed by a massive pit-wall failure that occurred April 10. Latest estimates from the company indicate the slide, which took place in the northeast corner of the pit, involved at least 150 million tons of material and filled the bottom of the pit to a depth of 300 ft (91 m) in some areas. The landslide was described by KUC's president and CEO, Kelly Sanders, as one of the largest in mining history........ read more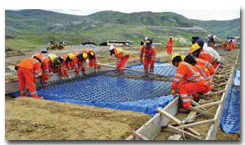 Glencore, Xstrata Merger Set Following Approval


Glencore International announced on April 16, 2013, that the Ministry of Commerce of the People's Republic of China had approved the merger of Glencore and Xstrata, originally proposed in February 2012. Regulatory approval from China was the last obstacle standing in the way of the merger, and with the approval in hand, Glencore said it expected the merger to become effective May 1, 2013, with Xstrata shares to be delisted on May 2 and "New Glencore" shares to begin trading May 3. The approval under China's anti-monopoly law came with conditions, including post-merger sale of Xstrata's Las Bambas....... read more

Top
Sundance Terminates Agreement with Hanlong


Sundance Resources announced in early April that it had terminated its Scheme Implementation Agreement (SIA) with Hanlong (Africa) Mining Investment Ltd. under which Hanlong was to have acquired 100% of Sundance. The termination was based on failure by Hanlong to meet a funding condition in the SIA and notification from Hanlong that it was unlikely to meet other required conditions. Sundance is an Australian junior company based in Perth that is developing the Mbalam-Nabeba iron ore project, which spans the border between Cameroon and Republic of Congo in central-west Africa. The project includes development of two..... read more

Top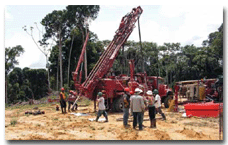 Troy to Take Over Gold Producer Azimuth


Troy Resources and Azimuth Resources, both headquartered in Australia, have agreed to an all-share takeover of Azimuth by Troy. Troy has two producing gold operations: the Casposo gold and silver mine in San Juan province, Argentina and the Andorinhas mine in Para state, Brazil. Azimuth has more than 8,700 km2 of gold exploration permits and licenses in Guyana, including its advanced West Omai project.
The Casposo mine produced 70,989 oz of gold and 937,208 oz of silver during Troy's 2011-2012 financial year ending June 30, 2012. The Andorinhas mine produced 48,632 oz of gold during the year..... read more
| | |
| --- | --- |
| AROUND THE WORLD - USA & CANADA | |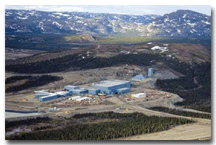 Vale Commits to Underground Mine at Voisey's Bay


The government of Newfoundland and Labrador and Vale have agreed to amendments to Vale's Voisey's Bay development agreement, the centerpiece of the amendments being a commitment by Vale to develop an underground mine at Voisey's Bay. Vale currently operates an open-pit nickel-copper-cobalt mine and concentrator at Voisey's Bay near Labrador's east coast about 1,200 km north-northwest of St. John's, the provincial capital. The underground mine will have capacity to produce approximately 40,000 mt/y of nickel in concentrate and will extend mine life at Voisey's Bay by at least 15 years. The underground mine will extract...... read more
Dominion Diamond Acquires BHP Billiton's Ekati Interest


Dominion Diamond Corp. (formerly Harry Winston, Inc.) has completed its acquisition of the interests of BHP Billiton Canada Inc. and its various affiliates in the Ekati diamond mine in Canada's Northwest Territories, as well as the associated diamond sorting and sales facilities in Yellowknife, Canada, and Antwerp, Belgium. The Ekati diamond mine consists of the Core Zone, which includes the current operating mine and other permitted kimberlite pipes, as well as the Buffer Zone, an adjacent area hosting kimberlite pipes having both development and exploration potential. On March 26, Dominion Diamond had announced the sale of its luxury brand diamond jewelry and timepiece division, Harry Winston, Inc., to The Swatch Group.... read more

Top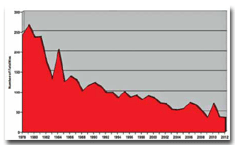 U.S. Mine Fatalities at All-time Low in 2012


The U.S. Mine Safety and Health Administration (MSHA) reported in early April 2013 that preliminary data indicate that the mine fatality rate in 2012 was the lowest in the history of U.S. mining, with 0.0107 deaths per 200,000 hours worked. The rate of reported injuries was 2.56 per 200,000 hours worked, also the lowest rate on record.
"While one death is too many, and there are still improvements needed to reduce injuries, it is important to take a moment and acknowledge progress toward those goals," the MSHA statement said.
"These improvements are the result of the work and dedication of all in the mining community, including MSHA, mine operators, miners and their representatives, and others.".... read more

| | |
| --- | --- |
| AROUND THE WORLD - Latin America | |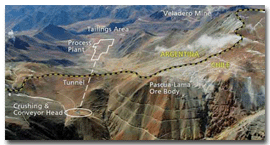 Barrick Suspends Construction on Chilean Side of Pascua-Lama


Barrick Gold announced on April 10, 2013, that construction work on the Chilean side of its cross-border Chile/Argentina Pascua- Lama gold-silver project had been suspended while the company worked to address environmental and other regulatory requirements to the satisfaction of Chilean authorities. In the interim, activities deemed necessary for environmental protection were continuing as authorized. Construction activities were not affected in Argentina, where the majority of Pascua- Lama's critical infrastructure is located, including the processing plant and tailings storage facility. Barrick said it was too early to assess the impact, if any, on the project's
overall capital budget and schedule…… read more
Project Development Resumes at Antucoya


Antofagasta plc announced on March 27, 2013, that Minera Antucoya, owned 70% by Antofagasta and 30% by Marubeni, will resume development of its Antucoya copper project in Chile's Antofagasta region. The decision followed completion of a full review of the project announced in December 2012, when project development was temporarily suspended. The review included renegotiation of principal construction contracts, additional detailed engineering, and an updated resource model following further drilling of the deposit…. read more

| | |
| --- | --- |
| AROUND THE WORLD - Australasia | |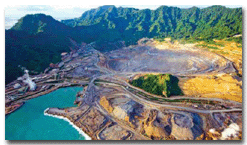 Newcrest Ramping-up Two Major Projects


Newcrest Mining reported in late March 2013 that production ramp-ups of both its Cadia East panel cave mine in New South Wales and its Lihir Million Ounce Plant Upgrade (MOPU) on Niolam island, New Ireland province, Papua New Guinea were progressing in line with expectations. The Cadia East panel cave mine began commercial production on January 1, 2013, and ongoing drawbell development was ahead of schedule. As of the date of the announcement, 58 drawbells had been fired, and a further 24 had been drilled and were ready to fire, which was ahead of the 75 drawbells planned to be opened by the end of June 2013…. read more



Koniambo Produces First Nickel Metal


Xstrata Nickel's Koniambo laterite nickel project in the North Province of New Caledonia tapped its first nickel metal in early April 2013. The start of production marked a key milestone for the complex, $5-billion greenfield project, which has been under construction for the past six years.
Xstrata Nickel holds a 49% interest in the Koniambo project. Société Minière du Sud Pacifique, the development arm of the North Province of New Caledonia, is its 51% joint venture partner…. read more

Top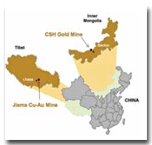 Landslide Buries Workers' Camp in Tibet
Early in the morning of March 29, 2013, a major landslide engulfed a worker's camp of China Gold International's Jiama copper-gold mine 68 km northeast of Lhasa, Tibet. A total of 83 workers were buried under the rubble, and 66 bodies were recovered within a week of the disaster. No survivors were found. The mineworkers buried in the landslide were employed by four external independent contractors engaged by Tibet Huatailong Mining Development Ltd., a wholly-owned subsidiary of China Gold International…. read more


Kaloti Building New Gold and Precious Metals Refinery in Dubai
Kaloti Jewellery Group, one of the world's largest gold and precious metals refiners and trading houses, has begun construction of one of world's largest gold and precious metal refineries in the Jumeirah Lakes Towers Free Zone, Dubai. The refinery is expected to be completed in late 2014. The new refinery will cost $60 million; will cover an area of about 15,000 m2; will have capacity to produce up to 1,400 mt/y of gold and 600 mt/y of silver and other precious metals; and will include a mint department to produce gold ingots and coins…. read more



Ivanplats Secures Power Boost for Kamoa Project


Ivanplats has signed a memorandum of understanding with the Democratic Republic of Congo's state-owned power company, La Société Nationale d'Electricité (SNEL), to upgrade a third hydroelectric power plant, Nzilo 1, to secure an additional supply of sustainable electricity for Ivanplats' underground Kamoa copper project in Katanga province. The proposed Nzilo 1 upgrade is in addition to planned upgrades by Ivanplats of the Mwadingusha and Koni hydroelectric plants. The three plants could produce a combined 200 MW of long-term, clean electricity for the grid, which would be more than sufficient to launch production at Kamoa…. read more

GWMG Reports Positive PEA for Steenkampskraal
Great Western Minerals Group (GWMG) has reported positive results from a preliminary economic assessment (PEA) of its Steenkampskraal rare earth element (REE) project in Western Cape province, South Africa. The project includes an underground mine and future reprocessing of tailings, a rare earth chloride plant that produces mixed rare earth chloride, and a solvent extraction separation plant that produces separated rare earth oxides (REOs). Thereafter, GWMG's business model includes installation of metal-making capacity and expansion of current alloy production capacity at Less Common Metals Ltd., a GWMG subsidiary in the United Kingdom.…… read more

Top
| | |
| --- | --- |
| THIS MONTH IN COAL | |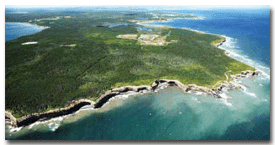 Morien Wants to Move Forward with Donkin Coal Project


Morien Resources Corp. is determined to bring big time coal mining back to Nova Scotia even if it has to do much of the heavy lifting itself. The company, spun off from Erdene Resource Development Corp. late last year, was negotiating this spring to buy Xstrata Coal Donkin's 75% ownership stake in the $500 million Donkin coal project proposed for Cape Breton on the Canadian province's northeast coast. Morien already controls a 25% interest in Donkin that it acquired from Erdene, based in Dartmouth, Nova Scotia, just across a bay from Halifax, the largest city in Atlantic Canada. Purchasing Xstrata's share would give Morien full control over the fate …. read more

D.C. Appellate Court Rules in Favor of Permit Revocation


The National Mining Association has condemned a ruling by the U.S. Court of Appeals for the D.C. Circuit allowing the U.S. Environmental Protection Agency officials to "clearly and unambiguously" revoke Clean Water Act 404 (c) permits after prior issuance by the U.S. Army Corps of Engineers. The move reversed a lower court ruling annulling the EPA's authority to void the Spruce No. 1 permit held by the Mingo Logan Coal Co., an Arch Coal subsidiary in West Virginia  …. read more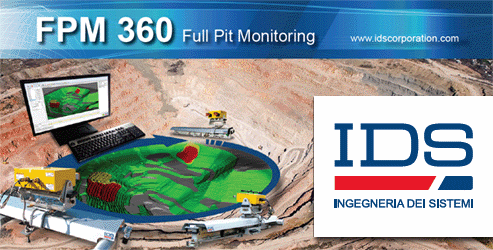 | | |
| --- | --- |
| FEATURE - Slope Monitoring | |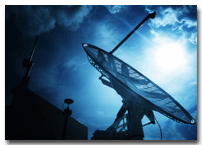 Careful Monitoring: The Key to Pit-wall Safety
As mines get deeper, and economic pressures provide an incentive for steeper pit walls, the potential for instability increases. E&MJ looks at some of the systems that can help mine engineers keep an eye out for signs that all may not be well within the wall.

By Simon Walker, European Editor

On Friday, April 11, Rio Tinto issued a press release that read: "At 9:30 p.m. local time on April 10, 2013, Kennecott Utah Copper's Bingham Canyon mine experienced a slide along a geotechnical fault line of its northeastern wall. Movement on the northeastern wall had accelerated in recent weeks and preemptive measures were taken to relocate facilities and roads prior to the slide. All employees are safe and accounted for." Speaking a few days later when presenting the company's first-quarter operational review, CEO Sam Walsh expanded a little on the effect that this may have on Rio Tinto's copper production for the rest of this year. "At Bingham Canyon, last week's pit-wall slide will have a significant impact on our copper production this year," he said. "A recovery plan is being implemented to minimize the economic impact……. read more


For more companies with products in the Slope Monitoring market -
Go Here
| | |
| --- | --- |
| FEATURE - Utility Equipment | |

Mine Utility Vehicles: Function Dictates Form


NFrom tiny tracked machines no taller than a table to heavy haulers with light-touch ground pressure, a wide selection of vehicles is available for moving workers and supplies where they're needed, underground or in rough terrain.

MINExpo 2012 offered a rare opportunity for manufacturers of all types of mining vehicles to display their product lines to the global mining industry at one venue. Interspersed with the heavyweight OEMs exhibiting at the show, such as Caterpillar, Komatsu, Hitachi and others, were mid-tier and smaller vendors that specialize in designing and building utility vehicles and equipment—the often-ugly but tough, no-nonsense machines that perform a wide range of jobs necessary to keep surface and underground mines supplied with the materials, manpower and support needed to maintain production at optimal levels.... read more

Top

For more companies with products in the Utility Vehicles market -
Go Here
| | |
| --- | --- |
| FEATURE - Water Management | |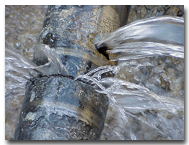 Mine Water Management: No Siimplle Reciipe


Mining must become more adept at finding acceptable water-source solutions in an increasingly complex, thirsty world

By Russell A. Carter, Managing Editor

Water and gasoline generally don't get along well together, but these two commodities have more in common than many people realize. When used in large volume, both must be managed carefully to control costs and ensure adequate supply. In the future, demand for both is expected to grow dramatically, driven by expanding population levels and lifestyle expectations from new middle-class consumers in rapidly developing countries. Consequently, both are also expected to become more expensive, inflated by heightened demand and limited supply. And, both have incendiary properties that can be useful or destructive: Gasoline is volatile, yet necessary to power much of the world's vehicular motion; while water—or more often, lack of it—has the ability to inflame civil unrest that can halt an industrial or mining project in its tracks…... read more


For more companies with products in the Water Treatment market -
Go Here
| | |
| --- | --- |
| FEATURE - Ministro Hales | |

Ministro Hales Approaches Production


Codelco will soon commission the next great Chilean copper mine

By Oscar Martinez Bruna, Latin American Editor

The world's largest copper miner, Corpración Nacional del Cobre (Codelco), has committed to building another world class mine: Ministro Hales. The Chilean state-owned copper company is investing a total of $3.1 billion—its largest mining investment ever. The project will extract copper from an orebody that contains more than 1.3 billion metric tons (mt) of ore with an average grade of 0.96% copper. When División Ministro Hales is commissioned later this year, it will yield an average annual production for the first five years (2014-2018) of 200,000 mt of fine copper and 350 mt of silver..... read more

Top


For more companies with products in the Crushers market -
Go Here
ABB to Deliver Hoist Systems to Russian, Canadian Potash Sites


ABB reported in April that it had won two major hoist-delivery contracts for large potash operations in Russia and Canada. ABB said it will provide 12 mine hoists—nine double and three single drum systems—as well as related shaft equipment to Uralkali, one of the world's largest potash producers. The hoist systems will be installed at Solikams and Polovodova in the Perm region of Russia. ABB's delivery package includes the mechanical hoists, skips, cages, four feeding conveyors for loading the skip hoists, and electrical equipment such as medium and low voltage drives, control system and shaft signal system. The deliveries are scheduled …. read more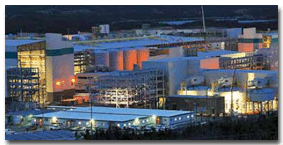 Flowserve Receives Valve Order for Hydromet Plant


Flowserve Corp. has received orders totaling more than $9 million for a range of valves installed in a new nickel ore processing facility located in Long Harbour, Newfoundland, Canada. At Long Harbour, Vale NL is constructing a large plant to process nickel-cobaltcopper concentrate using an innovative hydrometallurgical process. The plant is an integral part of the company's Voisey's Bay project development, which also includes a mine and concentrator in Labrador, as well as the Long Harbour facilities…… read more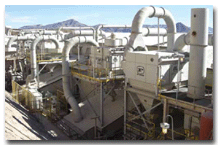 Comparing the Cost of Dust Collector Bags vs. Cartridge Filters for Mining Applications


There are two primary types of dry dust collection systems used to control dust at mine sites, mill transfer points and similar locations: baghouse collectors that use rows of large filter bags and cartridgestyle collectors that use much smaller pleated filter elements. Though baghouses have been the traditional choice, cartridge collectors have gained popularity over the past decade because they offer several advantages over baghouses. A cartridge collector has a much smaller footprint than a conventional (i.e., nonpleated) baghouse and operates at lower pressure drop. It can also achieve significantly higher filtration efficiencies— a potentially important advantage since, if emissions are too high, regulators may curtail production…. read more

Top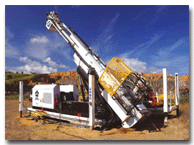 Coring Rig Monitors Itself for Efficiency and Safety


Boart Longyear has released its next generation exploration drill, the LF120A surface coring rig. The semi-automated rig features a hands-free operating system and self-monitoring technology, with critical information displayed on a large LCD screen that leads operators through startup, drilling and troubleshooting procedures. According to the company, common mistakes are avoided when the system alerts operators whenever defined parameters are exceeded. The LF120A also features a "hands-free" rod handling system comprising a rod handler, an autoadjusting breakout tool an innovative hoist plug spinner, and a wireless remote that allows the operator to control the process .…… read more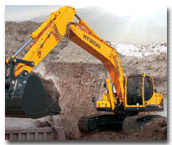 Excavator is Stronger and more Fuel Efficient


Hyundai Construction Equipment Americas' newest crawler excavator, the R260LC-9A, offers a certified Interim Tier 4 engine upgrade, improved hydraulics, increased operator comfort and more durability, according to the company. The R260LC-9A, part of Hyundai's new line of 9A series excavators, has an operating weight of 56,880 lb, a bucket digging force of 38,290 lb/ft and maximum digdepth of more than 22 ft. The 178-hp Cummins QSB6.7 engine powering the R260LC-9A features the Cummins Direct Flow air filter, and the new model carries other innovations such as variable speed fan clutch, two-stage auto decel system, and a new economy mode to conserve…. read more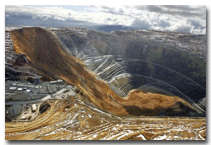 IDS Slope Monitoring Radar Supports the Prediction of a Massive Slide at Bingham Canyon


At IDS we are proud to announce that our technology has aided KUC technical staff in the quest to increase mine safety and protect the lives of their employees. Following the massive slide which occurred at Bingham Canyon (USA), on the 10th of April, Kennecott Utah Copper (KUC) openly acknowledged the use of slope monitoring radar at their mine site as part of their slope-stability monitoring activities.According to Kennecott, real-time data received through their radar monitoring systems has been used to anticipate areas that have shown movement as well as to assist in short-term and long-term mine planning and to maintain a safe and efficient operation, before and after the slide…. read more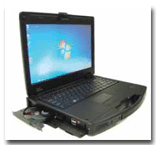 Tough, Versatile Notebook Computer


GammaTech Computer Corp. is set to introduce the model SA14 Durabook rugged notebook, offering a choice of Intel Core processors, battery life of up to 11 hours, and flexible options for wireless connectivity. It comes standard with a high-definition, 14-in. LCD display and can be configured with either an Intel Core i5-3360M or Core i7-3520M processor. It also offers a choice of mobile Intel Express chipsets, either of which provides integrated USB 3.0 protocol on a single-chip .…. read more

Top

Tophammer Rig is Safe and Stable in Rough Terrain


Atlas Copco's new FlexiROC T30 R radio remote control tophammer drill rig—designed for quarry or specialized, light-duty mine applications—can be equipped with either a COP 1240 or COP 1640 drill for 2- to 3.5-in.-diameter holes. The standard hydraulic carousel-type rod handling system uses 12-ft rods and can handle up to four rods for a maximum drilling depth of 57 ft. The FlexiROC T30 R comes with an interim Tier 4 Cummins QSB4.5 turbo charged engine providing improved diesel consumption over its predecessor, the ROC D3 RRC. A low center of gravity and high ground clearance provide mobility when working in….read more
JUNE 11–13, 2013: Longwall USA Exhibition & Conference, Pittsburgh, Pennsylvania, USA Contact: Tanna Holzer; Tel: 303-283-0640; E-mail: tholzer@miningmedia.com; Web: www.mining-media.com
JUNE 17–21, 2013: Exponor, Antofagasta, Chile. Contact: Antofagasta Industrial Association; Tel: 55-454300; Web: www.exponor.cl
AUGUST 11–15, 2013: 23rd World Mining Congress, Montreal, Canada. Contact: Canadian Institute of Mining, Metallurgy and Petroleum; Tel: 514-939-2710, ext. 1309; E-mail: wmc-secretariat@wmc-expo2013.org; Web: www.cim.org
AUGUST 20–23, 2013: AIMEX 2013 Asia-Pacific's International Mining Exhibition, Sydney, Australia. Contact: Reed Exhibitions Australia; Tel: 61 2 9211 7544; E-mail: aimex@reedexhibitions.com.au; Web: www.aimex.com.au
SEPTEMBER 4–6, 2013: China International Mining Expo 2013, Beijing, China Contact: Beijing Hiven Exhibition Co. Ltd.; Tel: 86-10-6863 8450; E-mail: information_bj@163.com; Web: www.bjminexpo.com
SEPTEMBER 11–12, 2013: EuroMining 2013, Tampere, Finland. Contact: Tampere Trade Fairs/Mikael Wänskä; Tel: 358 207 701 230; E-mail: mikael.wanska@tampereenmessut.fi; Web: www.euromining.fi
SEPTEMBER 16–20, 2013: Extemin, Lima, Peru Contact: El Instituto de Ingenieros de Minas del Perú; Tel: (51 -1) 349 4262, ext 352; E-mail: perumine@iimp.org; Web: www.iimp.org.pe
SEPTEMBER 16–20, 2013: XV International Congress for Mine Surveying, Aachen, Germany. Contact: RWTH Aachen, Institute for Mine Surveying; Tel: 49 241 80 95687; Fax: 49 241 80 92150; Web: www.ism-germany-2013.de
For a full calendar of mining industry conferences and events - click here
| | |
| --- | --- |
| WHO'S MOVING WHERE | |

BHP Billiton recently announced its new senior management team. The Group Management Committee (GMC) will comprise: CEO, Andrew Mackenzie; President, Copper, Peter Beaven; President, Petroleum and Potash, Tim Cutt; President, Coal, Dean Dalla Valle; Chief Legal Counsel, Geoff Healy; President, HSEC, Marketing and Technology, Mike Henry; CFO, Graham Kerr; President, Aluminum, Manganese and Nickel, Daniel Malchuk; President, Governance and Group Company Secretary, Jane McAloon; President, Iron Ore, Jimmy Wilson; and President, People and Public Affairs, Karen Wood. Mike Yeager will retire from the GMC and the company on July 1. Cutt will join the GMC as president, petroleum and potash and will retain responsibility for the potash development option. Alberto Calderon, previously chief executive, aluminum, nickel and corporate development will leave the GMC but remain as an adviser to the CEO. Marcus Randolph , previously chief executive ferrous and coal, is currently on sick leave and is not expected to return to the company until the middle of this calendar year. Wilson will retain his responsibilities for the Iron Ore business; Beaven's role as president, copper, will include all of his current responsibilities for the assets under the former Base Metals business; Valle, formerly president, energy coal, will assume responsibility for the whole of BHP Billiton's coal assets with the consolidation of the metallurgical and energy coal businesses; Malchuk, formerly president, minerals exploration, will assume responsibility for the assets that form part of the aluminum, manganese and nickel businesses; Cutt, currently president, diamonds and specialty products will re-join the petroleum business as president following Yeager's retirement. Geoff Healy will join the GMC as chief legal counsel and Jane McAloon will join the GMC as president, governance and will retain her responsibilities as group company secretary. Tom Schutte, currently president, manganese and Glenn Kellow, currently president, aluminum and nickel will work with Malchuk on the consolidation of these businesses. Hubie van Dalsen currently president, metallurgical coal will retire from the company.

Lonmin Plc has appointed Ben Magara CEO and a director.


The Mosaic Company has promoted Karen Swager to vice president of phosphate mining operations.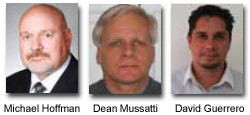 Goldrock Mines Corp. has appointed Michael Hoffman, Dean Mussatti and David Guerrero to its recently established a Technical Advisory Committee that will assist in advancing the development of its 100% owned Lindero heap leach gold project, located in northwestern Argentina. The company also announced that Bassam Moubarak has been appointed CFO.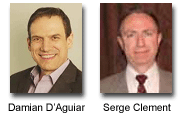 Damian D'Aguiar has been appointed director, safety, health and environment of AECOM's North American minerals and metals business. AECOM also announced that Serge Clement has been appointed director, sustaining capital services, Northern Ontari.
Jonathan Price , former director of the Nevada Bureau of Mines and Geology at the University of Nevada, Reno and state geologist emeritus, recently received a Gold Medal from the Mining and Metallurgical Society of America (MMSA). The highest honor awarded by the society, the Gold Medal is presented to individuals who have made significant contributions to the mineral industry. Price retired from his position in the University of Nevada, Reno's College of Science in July and is now an independent mining consultant. He earned his bachelor's degree in geology and German at Lehigh University and worked at the Mineralogisch-Petrographisches institute at the University of Heidelberg in Germany before getting his master's and doctorate degrees in geology at the University of California, Berkeley..
The Mining Foundation of the Southwest educates the public on the importance of mineral resources in everyday life. The officers for 2013 were elected at the foundations recent Annual Meeting. Corolla (Cori) Hoag has been elected president; Mark Baker has been elected vice president and Hall of Fame chair; William H. Dresher has been elected treasurer; and Robert Metz has been elected secretary.

The Wits School of Mining Engineering announced that late Professor Danie Krige recently passed away. His work was recognized by such varied sources as Moscow State Mining University, which awarded him an honorary doctorate, and the United States National Academy of Engineering, where he was the first South African ever to be elected a Foreign Associate in Earth Resources Engineering. As recently as last year, he received the Order of the Baobab (Silver) from the South African President, for exceptional and distinguished contributions in business and the economy, science, medicine and technological innovation and community service. In a seminal 1951 paper published in the Journal of the Chemical, Metallurgical and Mining Society of South Africa, he pursued a statistical explanation of the conditional biases in ore block valuations—the basis for the practice of kriging. He retired from the private sector in 1981, taking up the post of Professor of Mineral Economics at the School of Mining Engineering at Wits University until 1991. His research continued unabated—especially into practical applications of geostatistics in ore evaluation—leading to his publication of some 90 technical papers world-wide over the course of his career.
About - providing an abreviated version of the current print edition of E&MJ, WOMP is distributed throughout the world to decision makers in the global mining industry, the last week of every month.

Subscribe to E&MJ - To receive your own copy of the print edition of E&MJ, click here , and complete your details. E&MJ is available free of charge to qualified readers.

Contact - if you have views, opinons or comments or editoral that you would like to submit, we would be delighted to hear from you - click here

Top