Mine Utility Vehicles: Function Dictates Form
From tiny tracked machines no taller than a table to heavy haulers with light-touch ground pressure, a wide selection of vehicles is available for moving workers and supplies where they're needed, underground or in rough terrain
---
MINExpo 2012 offered a rare opportunity for manufacturers of all types of mining vehicles to display their product lines to the global mining industry at one venue. Interspersed with the heavyweight OEMs exhibiting at the show, such as Cater-pillar, Komatsu, Hitachi and others, were mid-tier and smaller vendors that special-ize in designing and building utility vehi-cles and equipment—the often-ugly but tough, no-nonsense machines that per-form a wide range of jobs necessary to keep surface and underground mines sup-plied with the materials, manpower and support needed to maintain production at optimal levels.

E&MJ looks at products recently intro-duced in this sector—both at MINExpo and in the months following—ranging from go-anywhere personnel carriers and carry-all transporters to specialized haulers and handlers designed to accommodate the oversized components commonly found on mine production equipment.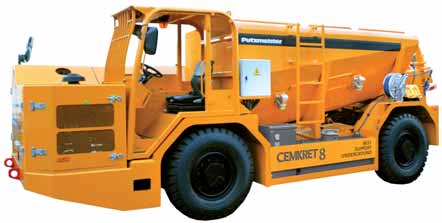 Putzmeister's Cemkret 8 can carry more than 8 tons of cement or dry mix,
and offers an optional 120-liter additive tank. Discharge rate is 50 mt/h.
Low-Profile Cement Transporter
Germany-based Putzmeister Group has been designing, developing and producing concrete spraying equipment for mining and tunneling for more than 30 years. Following the launch of its Mixkret 4 low-profile concrete mixer, Putzmeister has further expanded its concrete transport range by adding a low-profile cement and dry mix transporter for mine applications, the Cemkret 8.
According to Putzmeister, the Cemkret 8 is intended to expedite ground-control work processes commonly used in under-ground mining. The transporter has a dry-bulk transport capacity of 8.25 metric tons, and can offer a speedy discharge rate of 50 mt/h due to its four-electric vibrator, dual hydraulic auger design. An optional 120-liter-capacity additive tank also is available.
It features a 6-cyliner, 130-kW (174-hp) turbocharged diesel engine, providing sufficient power to give the vehicle a 20-km/h (12.5 mph) top speed and strong tractive capacity up to a 30% grade, as well as the ability to work at high altitudes. The unit has a hydrostatic transmission with continuous variation (ICVD), which, according the company, ensures an ideal torque-to-speed ratio.
Compact design and state-of-the-art axles provide mobility and maneuverability in narrow galleries and tunnels. The cabin, mounted in-line with machine direction, along with a night-vision camera at the rear, give the operator a high level of visi-bility and control when operating in tight spaces. The Cemkret 8 also features an automatic speed control system for safe movement down-ramp while fully loaded at the maximum secure speed.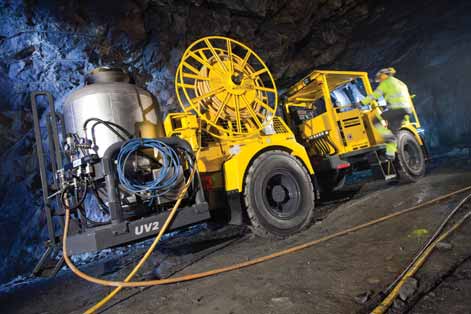 Atlas Copco's Chargetec UV2 multidirectional ANFO charging truck is the latest in a line of charging trucks
originally developed by the underground products division of GIA Industri AB, acquired by Atlas Copco in 2012
Quick-Charging, High-Capacity ANFO Trucks
Among the many items of utility equipment introduced at MINExpo 2012 were two new explosives charging trucks for underground production blasting operations.
Atlas Copcolaunched its new multi-directional ANFO charging truck, the Chargetec UV2, designed to offer high-speed charging capacity of 286 lb/min (130 kg/min) with high density. This model is the latest generation of charging trucks originally developed by the underground products division of GIA Industri AB, acquired by Atlas Copco in 2012.
The single-boom truck is equipped with one or two vessels for optimized charging of a full drill pattern with fixed carrier posi-tioning. The vessels are available in vol-umes of 300, 500, 750 or 1,000 liters (537, 895, 1,342 or 1,790 lb).
The heavy-duty carrier has articulated frame steering and four-wheel drive, giving it flexibility and high maneuverability in narrow drifts. It may be equipped with diesel or electric hydraulics. The operator is provided with a FOPS-II approved canopy or cabin, and a comfortable seat with arm rests. A passenger seat is also standard, and both seats come with a two-point safety belt.
Also at MINExpo, Finnish mine equip-ment manufacturer Normetintroduced the Charmec MF 605 D, powered by a 110-kW Tier 3 diesel engine that provides a maximum speed of 15 mph (25 km/h) on the flat and 5 mph (8 km/h) up a 1:7 ramp. The unit features a new layout pro-viding space for ANFO or emulsion units in the center of the machine, and its mod-ular structure makes it easy to convert an ANFO charger to emulsion charger and vice versa if necessary, said Normet. An operator's work stand behind the ANFO vessels makes filling the unit more con-venient, while an optional vacuum extrac-tor mechanizes ANFO filling, allowing prills to be loaded directly from ANFO bags to the vessels.

Normet's Charmec MF 605 D ANFO truck provides sufficient tank capacity to eliminate the need to refill during most charging operations.
According to Normet, the machine's standard 2 x 500-liter ANFO vessels pro-vide enough explosive capacity to charge most tunnel faces without need for refill during charging. Optional 2 x 250 / 360 / 720-liter vessels are available if desired.
Dedicated storage spaces for stick pow-der boxes, primers and detonators allow workers to bring all needed explosives to the workplace at once and eliminate the need for an additional explosive service vehicle.
The Charmec MF 605 D is equipped with a NBB 3XS boom, carrying a two-per-son-capacity basket and providing a lifting capacity of 500 kg, that is specially de-signed for charging work in stopes. The machine can be fitted with a safety bar or a hydraulic FOPS-approved safety canopy to protect the operator. Using the basket boom, a maximum 28-ft-high by 28-ft-wide (8.5 m) face can be charged from one setup.
Normet points out that a new turntable design has resulted in a compact boom structure providing a shorter length in tramming position and better maneuver-ability in narrow tunnels. Accordingly, the Charmec MF 605 D can turn a 90° corner in 14-ft-wide (4.2-m) tunnels. During tramming, the basket rests on the rear plat-form, which protects the basket from colli-sion and damage. With the basket resting on the platform, there is less load on the boom cylinders and pins.
Among the many options available is a compressor that enables self-powered charging in areas where reticulated air is not available. An optional enclosed cabin reduces the noise level to less than 75 dB. Manual or automatic fire suppression sys-tems, and an automatic lubrication sys-tem, are also available.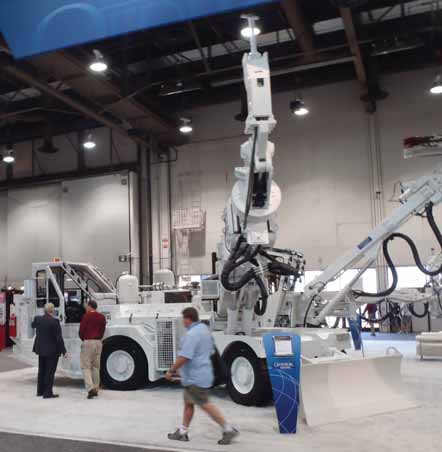 Oldenburg's SV-11 small-heading scaler was introduced at MINExpo 2012.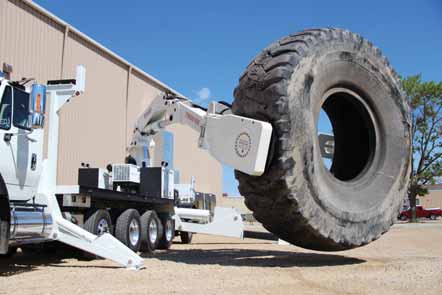 Featuring high lifting capacity and long reach, Stellar's TM20165 manipulator can handle the
largest OTR tires—at both inside and outside position on duals—without repositioning.
Badger Equipment's CD4415 rough-terrain crane has four-wheel drive/steering for high maneuverability.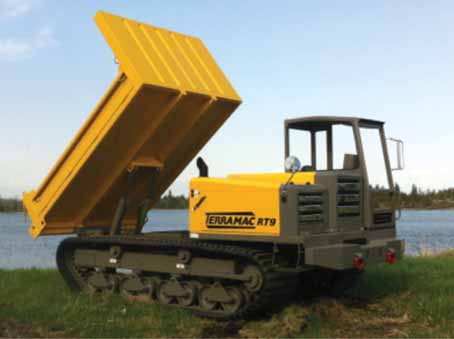 The Terramac RT9 carrier from Rig Source is shown here outfitted with a dump body.
It's available in both open-and closed-cab models.
Safety at a Smaller Scale
U.S.-based Oldenburg Miningunveiled a small-heading scaler claiming to have the smallest minimum heading width in its class, giving operators the ability to navi-gate low heading mines with optimum safety, speed and precision.
"The SV-11 was built in response to a growing emphasis on mine safety in opera-tions around the world," said John Howard, general manager at Oldenburg Mining. "It's specifically engineered to improve how oper-ators see and navigate low heading mines, boosting productivity while putting a keen emphasis on operator safety and comfort."
The purpose-built SV-11 scaler features a slanted design for optimum visibility with headings as low as 14 ft, and the smallest minimum heading width in its class at 11 ft 2 in. (3.41 m). A boom extension of 5 ft 10 in. (1.8 m) enables the SV-11 to hit a maximum scale height of 24 ft 8 in. (7.5 m) and a minimum pick height of 4 ft 1 in. (1.2 m). At 32 ft 3 in. (9.8 m) long and 6 ft 9.5 in. (2.07 m) wide, it has an inside turning radius of 13 ft 3 in. (4 m) and an outside turning radius of just more than 20 ft 8 in. (6.32 m).
The low-reach scaler combines an artic-ulated chassis and independent boom swing to achieve optimum setup coverage. Additional features include a ROPS/ FOPS-certified enclosed cab, bulletproof Lexguard shield, standard scaling pick that provides high breakout force, dual joystick operating, slanted design for optimum scaling view, standard air filtration, air con-ditioning and heat. In addition, an option-al hydraulic hammer can be added to fur-ther enhance scaling abilities.
Heavy Lifting, High Maneuverability
Stellar Industries unveiled what it claims is the industry's largest truck-mounted OTR tire manipulator. The TM20165 is capable of changing the largest OTR tire on the mar-ket today, the 59/80R63. The TM20165 can handle tire and rim combinations weighing up to 20,000 lb (9,100 kg) and has more than 24 ft (7.3 m) of reach capa-bility. The unit's capacity rating also allows it to mount and dismount outside as well as inside duals without repositioning the tire manipulator truck. The TM20165 has a clamping span of 44–165 in. (112–419 cm), with continuous manipulator pad rota-tion and 315° body rotation. It comes stan-dard with a fully proportional radio remote control system and also has a low-profile quad stabilizer package, and a hydraulically extendable foldover rear stabilizer set that provides high stability when lifting large mounted OTR tires.
Badger Equipment's new CD4415 rough terrain crane is compact—slightly more than 11 ft (3.35 m) tall—but offers a number of features including four-wheel drive/steering for maneuvering in tight spaces, multiple boom configurations, an ergonomically engineered two-door cab with joystick controls and integrated safety features such as steps and handrails. In standard configuration, the crane offers a three-section hydraulic actuated boom reaching from 24 ft to 62.5 ft (7.3 to 19 m) and boom elevation angle range of 0°–70°. An optional configuration provides a one-section, 20-ft (6-m) jib giving maxi-mum tip height of 85.5 ft (20 m).
Carriers for All Seasons, and Surfaces
Illinois, USA-based Rig Sourceoffers the Terramac RT9 rubber-tracked multipurpose carrier, featuring 18,000-lb (8,200-kg) car-rying capacity, powered by a 230-hp (170-kW) Cummins diesel engine, and available in both open cab and closed cab options. The unit has rollover protective structure (ROPS) as well as falling object protective structure (FOPS) components. The Terra-mac RT9 is slightly more than 17.5 ft (5.3 m) long, almost 8.5 ft (2.6 m) wide, 9.25 ft (2.8 m) high and provides 20 in. (500 mm) of ground clearance. The unit has a 10-ft turning radius and travel speed is in the range of 4.7 mph to 7 mph (7.5-11 km/h). Ground pressure when fully loaded is only 4.9 psi (0.3 bar). Ease of maintenance was a primary design consideration, according to the company, and consequently the RT9 has bolt-on cylinder mounts, front and rear attachment plates and pivot shaft blocks for easy replacement. It also features conven-ient cleanout points to help clear mud and water from the frame rails.
Core Industrial, based in Alabama, USA, has served the underground mining, steel and recycling industries since 2004 by rebuilding, servicing and providing parts for a wide range of mobile industrial equip-ment. The company now offers rugged wheeled vehicles under the Extreme Duty Vehicles (EDV) label, designed for rough-duty utility or personnel-carrier applica-tions. The company's CoreMax utility vehi-cle includes a long list of standard external and internal features for off-road usage, ranging from special engine and transmis-sion shielding, remote suspension lubrica-tion, and a Lexan windshield; to suspen-sion-equipped seating for driver and front passenger, stainless steel instrument panel and convenient handholds and foot braces for occupants, to name just a few. Optional equipment includes air conditioning, solid-fill tires and a fire suppression system. The CoreMax is powered by a Cummins QSB4.5 turbocharged diesel rated at 110 hp, mated to a Dana T20000 power shift transmission. The vehicle is 204 in. long with a 144-in. wheelbase, offers more than 12 in. of ground clearance, and weighs slightly less than 12,000 lb.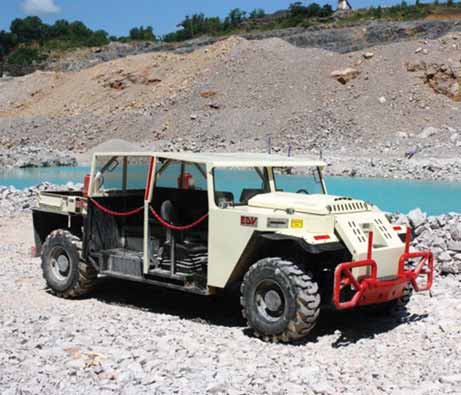 Core Industrial's diesel-powered CoreMax utility vehicle and personnel carrier, shown here, is designed
to operate in rough terrain. Many options are available for customization to meet job requirements.
Prinoth's Go-Tract line of tracked carriers offers payload capacities up to 46,000 lb (20,865 kg).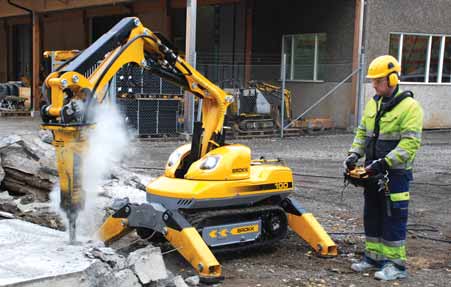 The Brokk model 100 can handle a range of attachments weighing up to 331 lb (150 kg).
EDV's mining personnel carrier offers similar features and is equipped with dual coil over suspension on each wheel. According to the company, a patent-pend-ing axle mounting system allows it to use the most durable axles available while free-ing customers from maintenance headaches associated with external braking sys-tems and leaf spring suspensions.
Prinoth AG, based in Italy, builds a com-prehensive line of tracked carriers and spe-cial-purpose machines. It exhibited its new Panther T6 carrier at the Prospectors and Developers Annual Conference held earlier this year in Toronto, Ontario, Canada.
Prinoth had the T6—the smallest unit in the Panther line, featuring a pay-load capacity of 12,000 lb (5,443 kg)— on display at PDAC fitted with a core drill to demonstrate how it can be a versatile and reliable tool in mineral exploration activities.
The Panther T6 is part of a family that includes the Go-Tract series of low-ground-pressure, tracked vehicles and Trooper personnel carriers. With a maxi-mum payload of 46,000 lb (20,865 kg), a Go-Tract can carry drilling rigs up to 171 ft (52 m) in height. Go-Tract vehi-cles, according to Prinoth, can operate in the most extreme conditions, including temperatures as low as 45°C (-49°F) or as high as 52°C (125°F).
Prinoth also markets the Trooper series personnel carriers, featuring extremely high stability and gradeability capacity on both uphill and side hill terrain. The standard cabin holds four to five people. An addi-tional six-person cab can be added for larg-er work crews. The standard cabin is ROPS (roll-over protective structure) certified and is climate controlled. Despite a maximum payload rating of 3,000 lb (1,360 kg), the Trooper remains lightweight and can be towed on a trailer by a pickup truck, elimi-nating the need for tractor-trailers.
On Track, On Balance
Brokk AB, headquartered in Sweden, has been a leading manufacturer of remote-controlled carrier-type machines and attachments for three decades. The com-pany recently introduced its model 100 tool carrier, a tracked unit featuring a more compact design and 35% greater breaking power than the model 90. Although primarily designed for demoli-tion operations, the 100 is a versatile device adaptable for many uses—includ-ing drilling in small stopes. Its low-profile shape, featuring a three-piece boom design, is less than 4 ft high and offers a low center of gravity for stability in many types of environments. A new load-sens-ing hydraulic system with improved hydraulic capacity helps generate superior breaking power when paired with the included Atlas Copco SB152 breaker. Maximum horizontal reach is 12 ft (3.6 m), with vertical reach of 14 ft (4.2 m).
According to Brokk, the new machine is the first to deliver the flexibility of true 360° working performance, without com-promising stability, productivity or reliabili-ty. The 100 is powered by a 32-amp, 20-hp electric motor and weighs 2,183 lb (990 kg) excluding attachments. Recom-mended maximum weight of attachments, such as breakers or drills, is 331 lb (150 kg). Additional improvements and features include upgraded cooling capacity, impact-resistant steel covers, improved rubber pads on the outriggers and LED lights with virtually unbreakable covers.
In addition to the new 100, Brokk offers eight models, ranging in size from the 50, at 1,100 lb, up to the 800, weighing 11 tons. The company also engi-neers and builds custom machines with special equipment such as cameras, extended arms, side-angling devices and cable drums.
---
As featured in Womp 2013 Vol 05 - www.womp-int.com