Newcrest Ramping-up Two Major Projects
---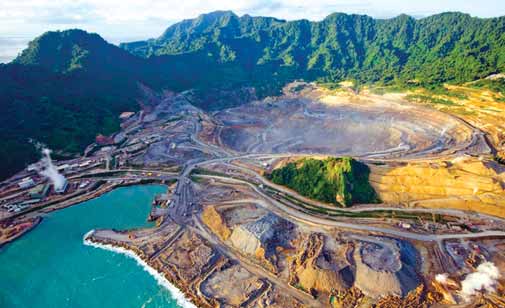 Newcrest says its Lihir mine's Million Ounce Plant Upgrade (MOPU) is now operational and meeting or exceeding
expectations. (Photo courtesy of Newcrest Mining)

Newcrest Mining reported in late March 2013 that production ramp-ups of both its Cadia East panel cave mine in New South Wales and its Lihir Million Ounce Plant Upgrade (MOPU) on Niolam island, New Ireland province, Papua New Guinea were progressing in line with expectations.

The Cadia East panel cave mine began commercial production on January 1, 2013, and ongoing drawbell development was ahead of schedule. As of the date of the announcement, 58 drawbells had been fired, and a further 24 had been drilled and were ready to fire, which was ahead of the 75 drawbells planned to be opened by the end of June 2013.

The primary underground crusher for panel cave 1 at Cadia East had operated at rates exceeding 1,000 mt/hr and had been handed over to operations in March, enabling increased material movement from Cadia East and higher-grade feed to the Cadia plant. Development of panel cave 2 continued according to plan, with the excavation of transfer stations and development of extraction drives currently the major activities.

Newcrest's board of directors approved development of the Cadia East panel cave mine in April 2010 as the next major ore source for its Cadia Valley operations. The construction schedule included under-ground mine development, modifications to the existing processing plant to increase capacity from 24 million mt/y to 26 million mt/y, and further development of bulk under-ground mining technologies, including the application of automated remote loaders.

The Cadia East orebody is one of the world's largest gold deposits, with an ore reserve at the start of construction of 961 million mt grading 0.61 g/mt gold and 0.33% copper and containing 18.7 million oz of gold and 3.16 million mt of copper. Indicated and inferred resources total 2.3 billion mt grading 0.44 oz/mt gold and 0.28% copper for 33 million oz of gold and 6.59 million mt of copper.

The panel cave mine is expected to underpin Newcrest's Cadia Valley production for at least the next 30 years. The provision-al mine schedule calls for production of about 4 million mt/y by year three of opera-tions and buildup to a design production rate of 27 million mt/y in year nine of operations.

In Newcrest's financial year ending June 30, 2012, its Cadia Valley operations produced 473,195 oz of gold and 44,778 mt of copper. The company has a medium-term objective of increasing Cadia Valley production to 800,000 oz/y of gold and 90,000 mt/y of copper.

At Lihir, the new MOPU plant was handed over to operations in February. All aspects of the planned ramp-up were meeting or exceeding expectations.

In Newcrest's financial year ending June 30, 2012, Lihir produced 604,336 oz of gold. With the MOPU in production, Newcrest has a medium-term objective of increasing Lihir production to 1.2 million oz/y.

The MOPU project was a complex, multi-system expansion of the existing Lihir processing facility. The major compo-nents of the new system (a 450-mt/hr autoclave and a 70-mt/hr oxygen plant) have performed well and operated at full design capability. All other major systems, including crushing, conveying and grinding circuits, were also in full operation.

The gold deposit at Lihir is located within the Luise Caldera, an extinct vol-canic crater that is geothermally active, and is one of the largest known gold deposits in the world. Most of the ore is refractory and is treated using pressure oxi-dation before the gold is recovered by a conventional leach process, followed by production of gold doré.

Newcrest also reported that one of the four autoclaves in the existing Lihir plant would be shut down for five to seven weeks to repair damaged internal brickwork. The other three autoclaves and the rest of the processing plant were continuing to oper-ate to capacity.
---
As featured in Womp 2013 Vol 05 - www.womp-int.com