Glencore, Xstrata Merger Set Following Approval
---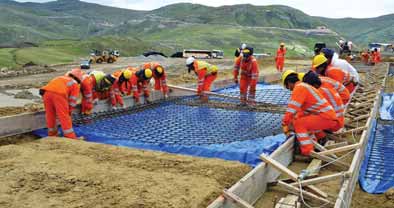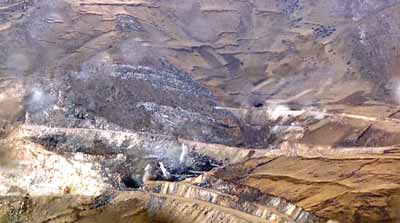 As part of an agreement to obtain approval of a pending merger between Glencore and Xstrata,
Glencore pledged to sell, post-merger, Xstrata's Las Bambas copper project in southern Peru to
a buyer approved by the China Ministry of Commerce. Construction and pre-mining activities
in the pit are reported to be currently well under way at the $5.2-billion project.
(Photos courtesy of Xstrata)

Glencore International announced on April 16, 2013, that the Ministry of Commerce of the People's Republic of China had approved the merger of Glencore and Xstrata, originally proposed in February 2012. Regulatory approval from China was the last obstacle standing in the way of the merger, and with the approval in hand, Glencore said it expected the merger to become effective May 1, 2013, with Xstrata shares to be delisted on May 2 and "New Glencore" shares to begin trading May 3.

The approval under China's anti-monop-oly law came with conditions, including post-merger sale of Xstrata's Las Bambas copper project in southern Peru to a buyer approved by the China Ministry of Com-merce and commitments from Glencore regarding supply of copper, lead and zinc concentrates to Chinese customers.

The sale of the Las Bambas project must take place before September 30, 2014 for not less than a pre-determined price (unless otherwise agreed by Glencore), with completion of the sale by June 30, 2015. Glencore will make a pub-lic announcement of its offer to sell its ownership interest in Las Bambas within three months of April 16, 2013, and will thereafter keep the Ministry of Commerce regularly updated regarding its search for potential purchasers.

If Glencore fails to enter into a binding sale and purchase agreement for Las Bambas by September 30, 2014, or fails to complete the transfer of its ownership interest by June 30, 2015, then, unless, otherwise agreed by the Ministry of Com-merce, Glencore must appoint a divestiture trustee to sell by way of auction its owner-ship interest in one of the following pro-jects: Tampakan in Peru, Frieda River in Papua New Guinea, or El Pachón or Alumbrera in Argentina, at no minimum price, within three months from October 1, 2014, or July 1, 2015, as the case may be.

The Las Bambas project is currently in full construction mode and is expected to produce 400,000 mt/y of copper in con-centrates, plus significant gold, silver and molybdenum by-products, for at least its first five years of operation beginning in 2015. Capital cost to develop the project is estimated at $5.2 billion.

As of year-end 2012, almost 65% of the Las Bambas' construction capital costs had been committed, including costs for process plant equipment, bulk materials handling equipment, mining fleet, EPC/CM services, and third-party engineering and site con-struction contracts. All major process plant equipment was committed and either in Peru or in transit from global suppliers.

Regarding concentrate sales to Chinese customers, the Chinese regulatory approval mandates that for an eight-year period from January 1, 2013, Glencore will con-tinue to offer to supply Chinese customers with a minimum of 900,000 dry mt/y of copper concentrate under long-term con-tracts. The price for a minimum of 200,000 dry mt/y will in accordance with the applicable annual benchmark price agreed between major miners and major smelters, and the price for the remaining 700,000 dry mt/y of copper concentrate will have reference to that applicable annual benchmark price.

During the eight-year period and begin-ning January 1, 2014, if there is an increase or reduction in Glencore's forecast copper concentrate production, the mini-mum volume of copper concentrate to be offered for supply to Chinese customers will be adjusted pro rata. Also for an eight-year period from January 1, 2013, Glencore will continue to offer to supply Chinese customers with zinc concentrate and lead concentrate through long-term and spot contracts.

Glencore's April 16 announcement also reported that Xstrata CEO Mick Davis had agreed not to take a six-month role as CEO and executive director of the combined company following completion of the merg-er, as had previously been contemplated. Instead, Glencore CEO Ivan Glasenberg will assume the role of CEO of the com-bined Glencore/Xstrata from the effective date of the merger.
---
As featured in Womp 2013 Vol 05 - www.womp-int.com