ABB to Deliver Hoist Systems to Russian, Canadian Potash Sites
---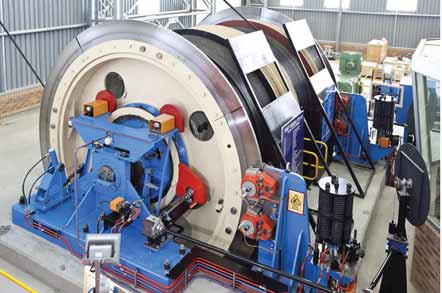 These 4.88-m double drum hoists installed by ABB at Impala Platinum are similar to those the company
will deliver to Russian potash producer Uralkali.

ABB reported in April that it had won two major hoist-delivery contracts for large potash operations in Russia and Canada.

ABB said it will provide 12 mine hoists—nine double and three single drum systems—as well as related shaft equipment to Uralkali, one of the world's largest potash producers. The hoist systems will be installed at Solikams and Polovodova in the Perm region of Russia.

ABB's delivery package includes the mechanical hoists, skips, cages, four feeding conveyors for loading the skip hoists, and electrical equipment such as medium and low voltage drives, control system and shaft signal system. The deliveries are scheduled to take place between 2014 and 2018.

Installation of the new hoists, said ABB, will reduce energy consumption per ton by up to 30% compared with the performance of the older hoists that will be replaced. ABB had previously installed two mine hoists for the company, and the customer's experience with those systems contributed to selection of ABB for the recent order, said the Baden, Switzerland-based company.

ABB also reported it had been selected by BHP Billiton to supply mine hoisting systems for the Jansen potash project, located 130 km east of Saskatoon, in the province of Saskatchewan, Canada.

The contract includes the overall design, manufacturing, supply and installation of four complete mine hoist systems to be delivered between 2015 and 2018. This includes mechanical components as well as the electrical systems including ACS6000 AC drive systems and the highpower, low-speed synchronous motors.

According to ABB, the 6-m-diameter friction hoists to be supplied for the production shaft will be the largest mine hoists ever designed and manufactured, each with a total connected motor power of almost 14,000 kW. Nearly as impressive are the service shaft hoists, which are electrically identical to the production hoists but will carry smaller payloads. The company said the complexity and ultra-high performance requirements of the brake systems on these massive hoisting systems required the development of new mine hoist brake system technology.

"BHP Billiton and ABB agreed to jointly develop a project safety plan that meets the high safety standards required by both companies," said Gabe Azeroual, vice president of ABB Process Automation in Canada.

Once the four hoisting systems at the BHP Billiton Jansen mine are installed, ABB will have an installed base of 11 friction hoisting systems in Saskatchewan alone. Overall, ABB said it has supplied more than 700 mine hoist and automation projects and more than 100 stand-alone hoist brake system projects in more than 30 countries worldwide.
---
As featured in Womp 2013 Vol 05 - www.womp-int.com