Features

Haul Roads
Haul Road Design Considerations.......read more

Ore Analysis
New Analyzer Service Brings the Lab to the Mine.... read more

Plant Design
A 3-D Approach to Integrating Mining Structures with Process Equipment.......read more

Conveyor Design 1
Siemens Specializes in Innovative Bulk Material Handling Solutions......read more

Conveyor Design 2
Reducing Energy Consumption on Overland Conveyors......read more






To update your details or renew your current print subscription or to receive your own edition of the print version of E&MJ -

CLICK HERE

Takeaways from Haulage & Loading 2009 - The theme and the overall tenor of Haulage & Loading 2009 was surprisingly different than past conferences. The event, which was held during May in Phoenix, is geared specifically toward truck-shovel mining and sponsored by E&MJ and its sister publication, Coal Age. Obviously, the Bigger is Better theme from year's past would not work in the current economic climate. The group organizing the technical program decided to take a different approach, Cost Control for an Uncertain Economy, and it paid off. More than 20 presenters, mining professionals from educational institutions, the mines, and equipment and service providers offered ideas on how to optimize systems and still mine safely......... read more

Steve Fiscor, Editor in Chief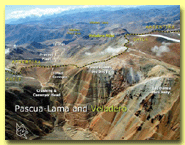 Chile-Argentina Tax Agreement Clears Way for Barrick's Pascua-Lama Project - A bi-national taxation agreement between the governments of Chile and Argentina, announced April 29, 2009, removed the last stumbling block to a construction start at Barrick Gold's huge, cross-border Pascua-Lama gold and silver project. On May 9, Barrick announced its decision to begin Pascua- Lama construction, with pre-production development costs estimated at $2.8 billion to $3 billion. The taxation agreement removed concerns about possible double taxation, clarified how trans-border services (loading and hauling) are to be applied, and defined procedures for customs, immigration, labor, health and security matters......... read more
USGS Updates Oil Shale Resource Assessment - The U.S. Geological Survey has updated its assessment of in-place oil shale resources in the Piceance Basin in western Colorado. "For the first time in 20 years, we have an updated assessment of in-place oil shale in the Piceance Basin of Colorado," said Secretary of the Interior Ken Salazar. "The USGS scientific report shows significant quantities of oil locked up in the shale rocks of the Piceance Basin. I believe it demonstrates the need for our continued research and development efforts." The Piceance Basin has an estimated 1.525 trillion barrels....... read more

Top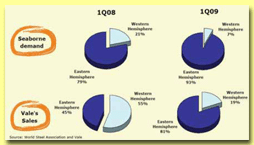 Vale Reduces 2009 Capex Spending - On May 21, 2009, Vale announced a downward revision of its planned 2009 capital expenditures to $9 billion from a previously announced budget of $14.2 billion. The revised budget reflects changes in the average price of currencies in which Vale's expected spending is denominated, revised equipment and implementation costs, delays mainly associated with environmental licenses and simplification or change in the scope of certain projects. The revised budget calls for investment of $6.9 billion in organic growth, of which $5.9 billion will be for projects and $1 billion will....read more
Kazatomprom Starts Uranium Production - Kazatomprom, Kazakhstan's state nuclear holding company, has started production at two new in-situ leach uranium mines in the Kyzylorda region of southern Kazakhstan. The larger of the two mines, the Khorassan-1 mine, is scheduled to produce 180 mt of U308 in 2009 and to build to a design capacity of 3,000 mt/y in 2014. The smaller Irkol mine is expected to reach design capacity of 750 mt/y within 12 months. The Khorassan-1 mine is operated by LLP Kyzylkum, with participation by Kazatomprom, a consortium of Japanese power generating companies.... read more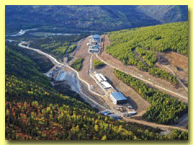 Teck Agrees to Sell Pogo Interest - Teck Resources announced on April 30 that it had entered into a non-binding memorandum of understanding (MoU) with Sumitomo Metal Mining regarding the proposed sale of Teck's 40% interest in the underground Pogo gold mine in Alaska for $245 million subject to adjustment for working capital. Sumitomo Metal Mining holds an indirect 51% interest in Pogo, and an affiliate of Sumitomo Corp. holds a 9% interest. Teck reported that the MoU with Sumitomo Metal Mining followed receipt by Teck of a third-party offer to acquire Teck's interest in Pogo on comparable terms. Completion of the transaction remained..... read more
Federal Jury Acquits W.R. Grace in Asbestos Case - A federal jury in Montana acquitted W.R. Grace & Co. and three of its executives in early May 2009 on all counts in a long-running asbestos environmental case that grew out of the company's operation of a vermiculite mine at Libby, Montana, from 1963 to 1990. The case had been brought by the U.S. Justice Department's Environment and Natural Resources Division and the U.S. attorney for the district of Montana. The prosecution failed to convince the jury that Grace and its executives knowingly endangered the lives of mine workers and Libby residents.... read more

Top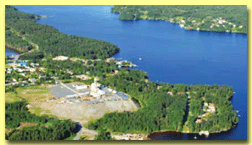 Goldcorp Developing Cochenour Gold Project - Goldcorp is proceeding with plans to develop its Cochenour project in the Red Lake district of Ontario, Canada. The project combines the existing workings of Goldcorp's historic Cochenour mine with the contiguous and down-dip Bruce Channel gold discovery acquired by Goldcorp when it acquired Gold Eagle Mines in September 2008. No mineral resource yet exists for Cochenour, but for purposes of initial scoping estimates, Goldcorp is sizing the project at approximately 5 million oz of gold.... read more
Stingray Developing Sonora Copper Project - Stingray Copper, a Toronto-based Canadian junior company, is proceeding with development of its El Pilar copper project in Sonora, Mexico, 45 km northwest of Grupo Mexico's Cananea copper mine and 15 km from the Mexico-United States border. Stingray acquired the project when it purchased Noranda Exploracion Mexico from Xstrata in April 2007. Based on the results of a definitive feasibility study released in April 2009, Stingray's board of directors has approved development, subject to financing, of a low-cost, open-pit mine and solvent extraction and electro-winning facilities to treat oxide reserves…… read more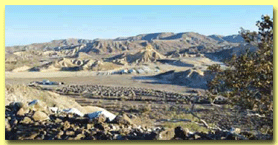 Baja Selects ICA Fluor to Perform EPCM at Boleo - Baja Mining has signed a letter of intent with ICA Fluor to perform the engineering, procurement and construction management (EPCM) for Baja's Boleo coppercobalt- zinc-manganese mining project near Santa Rosalia, Baja California Sur, Mexico. ICA Fluor's work will be performed in two phases. Phase I will consist of the development of an open-book capital cost estimate and project construction schedule. The cost estimate will reflect current market conditions and be supported by work…. read more

Scoping Study Considers Choco 10 Expansion - Rusoro Mining has received a scoping study from Micon International that indicates favorable economics for an expansion of gold production to more than 500,000 oz/y from reserves and resources at the company's 95%-owned Choco 10 mine and its Increible 6 deposit (4 km from Choco 10) in the El Callao district of Bolivar state, Venezuela. Choco 10 currently produces about 100,000 oz/y of gold. The scoping study indicates optimal results for an expansion utilizing the existing 5,000-mt/d processing plant plus a new 15,000 mt/d-facility. Based on the encouraging results of the study, Rusoro is targeting…… read more
BHP Billiton Releases Draft EIS for Proposed Olympic Dam Expansion - BHP Billiton has released a Draft Environmental Impact Statement (EIS) to seek government approvals for a potential six-fold expansion of its operations at Olympic Dam in northern South Australia. The Olympic Dam Draft EIS is an extensive document of 963 pages. The proposed expansion centers on the creation of a new open-pit mine that would lift ore production six-fold at Olympic Dam and would require expanded minerals processing facilities. Major support infrastructure to be built would include a coastal desalination plant, a new power line and possibly a gas-fired power station, a rail line…. read more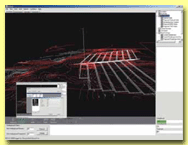 Mine Safety System Goes Global- A real-time risk management system intended to improve safety and boost productivity in underground mines will be available globally after a Queensland company was awarded a license to commercialize the CSIRO-developed technology. Mackay-based Mining Logic Solutions has signed an exclusive global license agreement with CSIRO Exploration and Mining to commercially develop CSIRO's Nexsys real-time risk management system. Nexsys allows underground mines to interrogate vast amounts of digital information from a variety of sensors and systems throughout the mine…. read more

Top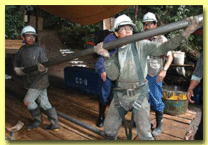 Study Estimates $5.2 Billion Cost for Tampakan Copper-Gold Project - Sagittarius Mines, the operating company developing the Tampakan copper-gold project on Mindanao island in the Philippines, has completed an extended prefeasibility study that outlines a project costing $5.2 billion to develop into a mine producing 340,000 mt/y of copper and 350,000 oz/y of gold over 20 years of operation. Sagittarius is owned 62.5% by Xstrata Copper, 34.2% by Indophil Resources and 3.3% by the Alsons Corp. The study includes a potential schedule for development, commissioning, and first production in early 2016. Mill recovery rates are estimated at…. read more

Oxus Revises Amantaytau Planning - Oxus Gold, owner of a 50% interest in gold and silver producer Amantaytau Goldfields in Uzbekistan, has downsized plans for development of an underground sulphide mine at its Amantaytau operations. The new plan calls for investment of $74 million to develop a 450,000 mt/y underground mine producing about 100,000 oz/y. Previous planning, based on a June 2008 feasibility study, assumed investment of $170 million to mine 750,000 mt/y (increasing to 1.2 million mt/y) and produce as much as 270,000 oz/y of gold. Commissioning of the downsized sulphide plant is expected in the first quarter of 2011. Amantaytau surface oxide mining operations produced 66,465 oz of gold in 2008, down from 83,339 oz in 2007 .…. read more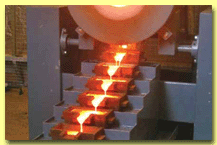 Gold Production Under Way at Sabodala - Melbourne, Australia-based Mineral Deposits Ltd., joined the ranks of the world's gold producers on March 15 when it poured the first gold at its new Sabodala gold project in southeastern Senegal, West Africa. The project ramped up to full production at the end of April and had poured more than 32,000 oz by mid-May. Sabodala is expected to produce 160,000 oz of gold by year-end 2009. Project design calls for steady-state production of 200,000 oz/y of gold over a period of 10 years …. read more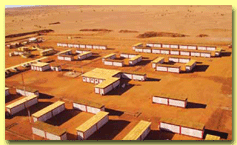 Areva Developing Major Uranium Mine in Niger - French nuclear company Areva has started construction of what will be a major new uranium mine in north-central Niger, North Africa. The open-pit Imouraren mine will require an investment of about $1.5 billion to reach a production rate of 5,000 mt/y of U308 in about three years. Reserves are reported to be sufficient to support that production rate for 35 years. The operating company will be owned two-thirds by Areva and one-third by the state of Niger. Areva currently produces about 3,100 mt/y…… read more

Top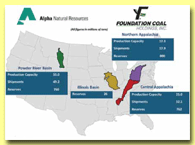 Alpha Makes All Stock Offer for Foundation Coal - Alpha Natural Resources and Foundation Coal Holdings announced that they have signed a definitive agreement under which the two companies will merge in an allstock transaction. The combined company will be the third-largest coal producer in the U.S., with 2008 pro forma revenues of $4.2 billion. Alpha and Foundation together operate 59 coal mines and 14 prep plants and in combination will have one of the most expansive geographic footprints in the industry with reserves of more than 2.3 billion tons of coal.…... read more

Top
UtahAmerican Energy Announces Settlement - All of the plaintiffs and defendants in the civil lawsuits stemming from the August 2007 accidents at Genwal Resource, Inc.'s Crandall Canyon mine have reached a comprehensive settlement for a confidential amount, according to a joint statement issued by all parties involved. The settlement culminates almost a year of negotiations between 16 groups of plaintiffs, seven defendants (five companies and two public entities) and six insurance companies. "The geomechanics of coal mining under a mountain are extremely complex and difficult to assess. We have spent considerable time and effort attempting to determine what happened at the Crandall Canyon mine. And while we have.…... read more

Top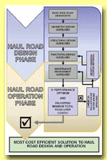 Haul Road Design Considerations
Recognizing, managing and eliminating safety critical defects on mine haul roads

By Dr. Roger Thompson

The design and management of mine roads has developed over the past decade, both in response to the requirements of mine operators for more safe and efficient haulage systems, and the truck manufacturers' requirements for a more predictable and controlled operating environment. These developments have been paralleled by the need to minimize haulage hazards, from both a health and safety perspective. Generally, both objectives have been achieved, but with some specific areas of design and operation still presenting on-going potential health and safety hazards……. read more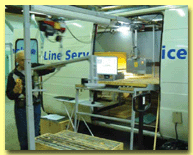 New Analyzer Service Brings the Lab to the Mine
Combining XRF technology and an Internet-based remote logging system, Mine On-Line Service provides sample analysis results in real time

By Steve Fiscor, Editor-in-Chief

Sampling for exploration and grade control purposes can be a time-consuming process. Typically, a drill core has to be shipped to a lab for analysis. The cores have to be handled properly, identified and logged into a system based on depth and location. Depending upon the region and the current state of the mining business, getting the results from this process could take as long as several months. And, if a mine is using this information for grade control, the delay could lead to unnecessary drilling costs to say the least and perhaps increased dilution in the mining process. The long lead time for results could also jeopardize a bankable feasibility study...... read more

Top
A 3-D Approach to Integrating Mining Structures with Process Equipment
When designing and building a facility as complex as a large mineral processing plant, good communications between the designers and owner are essential. The use of 3-D modeling in the design process can facilitate efficient interaction among the various disciplines involved

By Edward Nemetz and Troy Bernhardt

Unified Theory, Inc. (UTI) engineers are using a three-dimensional (3-D) modeling approach to improve the design speed and quality of plant facilities. This allows engineers to address the complexity and short design schedules for projects while integrating mechanical and structural systems. One of the many challenges for designers of facilities is the coordination of structural systems with the process equipment due to changes that occur during design development…... read more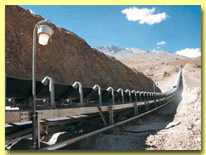 Siemens Specializes in Innovative Bulk Material Handling Solutions

By Norbert Becker

Despite high initial investment costs, in day-to-day operations and especially in the face of increasing energy prices no other transportation medium comes close to the cost effectiveness of belt conveyors for transporting large amounts of bulk material over long distances. In recent years, system designs have become more complicated through increasing length between the axes on long-distance belt conveyors, higher belt speeds and more challenging routes with horizontal and vertical curves. To ensure that belt conveyors maintain their cost effectiveness well into the future, a robust design is needed that allows for high levels of plant availability, high productivity, low training costs and a long service life. Further considerations include a low-wear design to extend service intervals and reduce costs associated with spare parts and operation..... read more

Top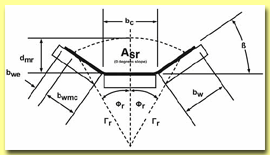 Reducing Energy Consumption on Overland Conveyors
When designing conveyor systems, bigger is not always better. Power consumption of overland conveyors can be optimized using readily available design tools, combining the optimum selection of design capacity, idlers and belting

By Sergio Zamorano

The Talvivaara nickel project is a rising star in the small galaxy of mines comprising the Northern European hardrock mining industry. And, like many astronomical events, the value of developing a deposit such as the Talvivaara sulphides has taken quite a bit of time before the point was reached where it became visible and understandable. The Talvivaara deposits represent one of Europe's largest sulphide nickel resources known to date. The 266-million-ton ore reserve is expected to support production for a mine life of 25 years. When production starts in late 2008, the Talvivaara mine will produce approximately..... read more

Top


New Chutes For Desert Diamonds - Seven years ago, South Africa-based Weba Chute Systems designed and installed a scrubber chute at Debswana's then-new fourth diamond mine at Damtshaa in Botswana. This unit has now been replaced with a new Weba scrubber chute redesigned to use the latest technologies and flow characteristics and to help Damtshaa attain a throughput of 600 metric tons per hour (mt/h) rather than the 250- to 300- mt/h provided by the previous system. The application, with the scrubbing process replicated within the chute is very unusual …. read more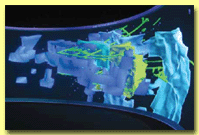 Vale Installs Underground Visualization System - The findings of a six-year research collaboration between Vale Inco and Mirarco are now being applied to operations at Vale Inco's Creighton mine in Sudbury, Ontario, Canada. The Virtual Reality Laboratory (VRL) installed at the mine site will initially be used to understand seismicity underground but will also be used for mine planning, exploration and optimization purposes. The lab was officially inaugurated in a ceremony at the mine held March 12. Mirarco (Mining Innovation, Rehabilitation and Applied Research Corporation), founded in 1998…… read more

Outotec Tests and Proves TankCell-300 at Chuquicamata - Finland-based Outotec recently announced the completion of a joint testing program for its TankCell-300 at Codelco's Chuquicamata Division in Chile. This follows the installation last year of three of these cells, which are the world's largest mechanical flotation cells with an active volume of over 300 m3, at OceanaGold's Macraes operation in New Zealand. During the program the new cell was tested against the plant's existing TankCell- 160 units, with an active volume of over 160 m3, which Outotec had installed in 2001.…. read

Top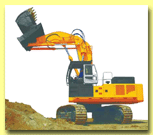 Hydraulic Front Shovel for Smaller Mines - Hyundai Heavy Industries has re-entered the mining and quarrying sector by producing the R800-7A FS, a front shovel crawler excavator weighing 86.5 mt—a size class that has become increasingly popular. The new shovel is based on the R800LC-7A backhoe with Hyundai-developed front attachments configured for heavy-duty work requiring high breakout forces. Hyundai says the new shovel also creates less noise and lower emission levels than competing machines, with a Tier III Cummins QSX15 engine delivering 497 hp. Performance and .…… read more

Ready-to-Run, Skid-Mounted Metering Pump Systems - Peristaltic pump builder Watson-Marlow Bredel now offers complete chemical skidmounted metering systems designed for chemical feed applications at water/ wastewater treatment facilities and industrial applications. These skid systems come with a calibration column and all piping needed for an easy-to-operate and easy-to-maintain metering pump system. The systems require minimal ancillary equipment—no back-pressure regulators, de-gassing valves…. read more

Insulation Coating for Underground Engines - Firwin Corp., a Canadan-based manufacturer of removable insulation blankets, recently launched a new insulation product— Firwin HC Hard Coat insulation. In contrast with insulation blankets, which are designed to be removable and reusable, Firwin HC is an insulation coating that is affixed to the product. Featuring a lightweight and durable exterior that clings to the part, Firwin HC prevents fluids from igniting on hot engine and exhaust components. "Certain industries, such as underground mining, have a need for…. read more

European Suppliers Introduce New Tire Chains - RUD-Erlau's TerraPlus is a tire chain developed from standard snow chain specifically for use in mining, quarrying, forestry and snowfield applications on equipment working in either deep snow or soft ground. This traction chain features distinctive Zshaped links with self-cleaning characteristics and studs to ensure optimal grip. TerraPlus is available in 11-, 14- and 16- mm diameters.…. read

Top

Developing the Power Chain - The high productivity of modern longwall shearers and plows puts immense pressures on face conveyor chains. To ensure that working panels can be completed without having to replace the chain and/or chain sprocket, Bucyrus has developed Power Chain 42 x140 featuring larger contact surfaces to reduce surface pressure and wear. Production involves hot-forming of chain links, combining the use of round-steel and forged elements, or rolled profiles and forged elements. A 42-mm-diameter vertical link is rolled to form.….read more

Four-Cylinder Diesels Meet Tier 4 Interim Standards- The latest versions of its QSB3.3 and QSB4.5 engines in the 75–160 hp power range will meet 2012 EU Stage IIIB and U.S. EPA Tier 4 Interim off-highway emissions standards, according to Cummins. The new four-cylinder engines still retain 3.3 and 4.5 liter proven platforms and will be sold as a fully integrated air-intake-toexhaust system. The engines' low emissions output is due to cooled Exhaust Gas Recirculation (EGR) for NOx control and exhaust after-treatment to remove particulate matter…. read more
AUGUST 18–21, 2009: XVI Symposium on Mining Engineering, USACH, Santiago, Chile Contact: Tel: 56 02 718 21 38; E-mail: contacto@simin.cl; Web: www.simin.cl
SEPTEMBER 15–18, 2009: ESCC 2009—European Symposium on Comminution and Classification, Espoo, Finland Contact: Web: www.escc2009.fi
SEPTEMBER 30–OCTOBER 2, 2009: EnviroMine 2009—International Seminar on Environmental Issues in the Mining Industry, Santiago, Chile Contact: Olga Cherepanova; Tel: 56-2 652-1519; E-mail: info@enviromine2009.com; Web: www.enviromine2009.com
OCTOBER 14–17, 2009: Mining Indonesia 2009, Jakarta, Indonesia Contact: Maysia Stephanie; Tel: 62 21 316 2001; Fax: 62 21 316 1983/84; E-mail: maysia@pamerindo.com; Web: www.pamerindo.com
For a full calendar of mining industry conferences and events - click here

René Dufour was presented the Vale Inco Medal during the 2009 Annual CIM Conference and Exhibition, which was held in Toronto during May. This award is the most prestigious award of merit given by the Canadian Institute of Mining, Metallurgy and Petroleum (CIM) to an individual in recognition of exceptional contribution to the Canadian Mineral Industry. During his career, Dufour was the director on a number of boards, including Noranda for 14 years; chief mining engineer and manager of a 100,000 mt/d operation; full professor and director of the mineral engineering department for Ecole Polytechnique; advisor to the World Bank, the United Nations, Hydro Québec, the Québec Securities Commission, the Canadian International Development Agency and numerous mining companies; and CIM president..

Top

Territory Resources has appointed Andy Haslam CEO.

The 2009 John E. Willson Distinguished Alumnus Award was presented to Bart J. Hyita, currently COO-coal for CONSOL Energy Inc. He has accumulated more than 28 years of professional experience in underground and surface coal. The John Award was established in 2000 to recognize a graduate of the University of Utah's Mining Engineering Program who has set a high standard by his or her accomplishments in the mining industry.

Greg Adel, a 27-year veteran of the department of mining and minerals engineering at Virginia Tech, has become department head. He has served as the interim head for the past academic year. Adel has served as chair of the Mineral and Metallurgical Processing Division of SME and as a member of the SME board of directors. He also has chaired and organized numerous technical sessions and symposia, and has more than 75 publications and five patents in the areas of image analysis, optical sensors, mineral and coal characterization, and modeling and simulation of mineral and coal processing operations.

Dr. Alex Heath has been appointed principal research engineer, CFD and process modeling, for Outotec's thickener technology development group.

Flanders Electric announced that Piet Steyn has been named service engineer to support Flanders mining products in Southern Africa. He is based in Middelburg, Mpumalanga, South Africa.
Manitowoc has added Latin America to Ingo Schilller's responsibilities as vice president of sales and marketing for the Americas.
About - providing an abreviated version of the current print edition of E&MJ, WOMP is distributed throughout the world to decision makers in the global mining industry, the last week of every month.

Subscribe to E&MJ - To receive your own copy of the print edition of E&MJ, click here , and complete your details. E&MJ is available free of charge to qualified readers.

Contact - if you have views, opinons or comments or editoral that you would like to submit, we would be delighted to hear from you - click here

Top