Alpha Makes All Stock Offer for Foundation Coal
---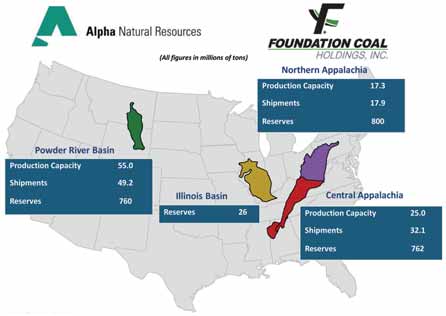 The new Alpha will be the third largest U.S. coal producer.

Alpha Natural Resources and Foundation Coal Holdings announced that they have signed a definitive agreement under which the two companies will merge in an allstock transaction. The combined company will be the third-largest coal producer in the U.S., with 2008 pro forma revenues of $4.2 billion. Alpha and Foundation together operate 59 coal mines and 14 prep plants and in combination will have one of the most expansive geographic footprints in the industry with reserves of more than 2.3 billion tons of coal. According to a press statement issued by Alpha, the combined company's scale of operations, diverse revenue stream, free cash flow generation capability, and management depth will provide a platform to compete successfully in today's market and capitalize on projected future growth in coal demand.

Alpha is a leading eastern U.S. coal producer and the nation's largest supplier of metallurgical coal, operating 50 mines and 10 prep plants in four states. Foundation has a diverse thermal coal production portfolio, with nine active mines, four prep plants, and coal reserves in Northern Appalachia (NAPP), the Powder River Basin (PRB), and Central Appalachia (CAPP) as well as reserves in the Illinois Basin. The combined company would have a market capitalization of $3.5 billion and enterprise value of $4 billion.

Under the terms of the agreement, Foundation stockholders will receive 1.084 shares of the new company for each share of Foundation, and each share of Alpha will automatically become one share of the combined company. Based on the closing price of Alpha on May 8, 2009, consideration received by Foundation stockholders was valued at $32.73/share. This will result in Foundation stockholders owning approximately 41% and Alpha stockholders owning approximately 59% of the new company on a fully diluted basis.

The all-stock transaction is valued at approximately $2 billion. The combined company will have one of the strongest balance sheets and credit profiles in the U.S. coal industry. The combined company expects to realize approximately $45 million in annual revenue and cost savings through administrative, sales and operating synergies beginning in 2010.

Upon completion of the merger, Michael Quillen, chairman and CEO of Alpha, will become chairman of the combined company; Kevin Crutchfield, president, Alpha, will become CEO of the combined company, and Kurt Kost, Foundation's president and COO, will become president of the combined company. Upon completion of the merger, James Roberts, Foundation's chairman and CEO, will become a member of the combined company's board of directors, which will consist of six directors from Alpha and four directors from Foundation.

The combined company will retain the Alpha name and will be headquartered in Abingdon, Virginia. The new company will continue to trade on the New York Stock Exchange under Alpha's current ticker symbol ANR. The transaction is expected to be completed later this year.
---
As featured in Womp 2009 Vol 05 - www.womp-int.com