Gold Production Under Way at Sabodala
---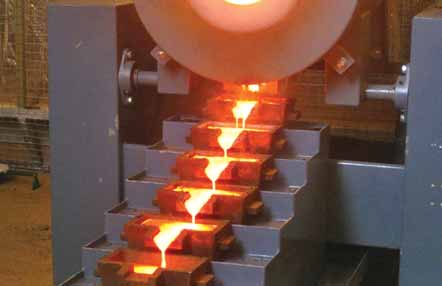 Mineral Deposits Ltd. reported that the first gold pour at its new Sabodala mine in Senegal took place in mid-
March. Sabodala is expected to produce 160,000 oz of gold in 2009. (Photo courtesy of Mineral Deposits Ltd).

Melbourne, Australia-based Mineral Deposits Ltd., joined the ranks of the world's gold producers on March 15 when it poured the first gold at its new Sabodala gold project in southeastern Senegal, West Africa. The project ramped up to full production at the end of April and had poured more than 32,000 oz by mid-May. Sabodala is expected to produce 160,000 oz of gold by year-end 2009. Project design calls for steady-state production of 200,000 oz/y of gold over a period of 10 years.

The Sabodala deposit is located in the West African Birimian belt near the Senegal-Mali border, about 650 km east of Senegal's capital, Dakar, and about 90 km west of the Sadiola and Yatela gold mines in Mali. The project is owned 90% by Mineral Deposits and 10% by the government of Senegal.

The Sabodala mine plan calls for mining of a total of 22 million mt of ore and 142 million mt of waste from a pit that will eventually measure 1,000 by 600 m and reach a depth of 250 m. Mining is by conventional open-pit methods, using 170-mt and 280-mt Komatsu hydraulic shovels and 90-mt-capacity Komatsu haul trucks.

The Sabodala plant is designed to process 2 million mt/y, and Mineral Deposits reported that it had comfortably exceeded that rate in initial operations, processing softer oxide material at gold recoveries of about 95%. The flowsheet was designed by Ausenco and includes primary jaw crushing, followed by SAG and ball milling, with a recycle crushing circuit to handle critical-sized competent ore that has the potential to accumulate in the SAG mill. Milling is followed by gravity concentration, with gravity tails feeding to a CIL circuit. The gold room produces gold doré for shipment to the Metalor Technologies refinery at Marin, Switzerland.

Sabodala reserves as of November 2008 totaled 1.63 million oz of gold in 24.3 million mt grading 2.1 g/mt gold. Total resources were estimated at 3.51 million oz of gold.
---
As featured in Womp 2009 Vol 05 - www.womp-int.com