Vale Reduces 2009 Capex Spending
---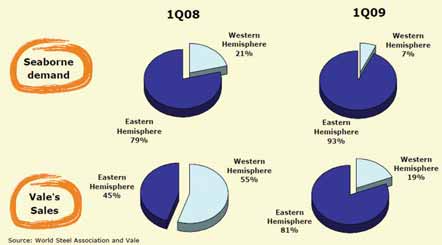 This series of charts, presented in Vale's Q1 2009 financial report, illustrates the dramatic shifts in
global iron ore consumption and sales that affected Vale's income over the course of a year.

On May 21, 2009, Vale announced a downward revision of its planned 2009 capital expenditures to $9 billion from a previously announced budget of $14.2 billion. The revised budget reflects changes in the average price of currencies in which Vale's expected spending is denominated, revised equipment and implementation costs, delays mainly associated with environmental licenses and simplification or change in the scope of certain projects. The revised budget calls for investment of $6.9 billion in organic growth, of which $5.9 billion will be for projects and $1 billion will be for R&D. Maintenance of existing operations has been estimated at $2.1 billion.

Vale will invest approximately $3.1 billion in non-ferrous minerals, while ferrous minerals will receive investments of $2.3 billion. Vale also plans to invest $578 million in its coal business in 2009. Expenditures in infrastructure include $630 million for power generation and $1.9 billion for logistics, of which the bulk will be in support of Vale's plans to expand its iron ore production capacity.

Ferrous minerals projects targeted for substantially lower spending in 2009 include expansions in the Carajás region; the Apolo project in Vale's Southeastern System; expansion of the Vitória a Minas railroad and the port of Tubarão; construction of a pelletizing plant at the port of Tubarão; and construction of a pelletizing plant in Oman.

Expenditures for the company's Carajás operations will be spread over three projects. The "Carajás 130 million mt/y" project (revised 2009 budget, $455 million/original 2009 budget, $798 million) will add 30 million mt/y to current capacity. It involves installation of a new plant, composed of primary crushing, processing and classification units; as well as significant investment in logistics. The purchase of equipment and work on the fourth car dumper and stockyards is under way. Start-up is targeted for the first half of 2011. The "Carajás additional 10 million mt/y" project ($85 million / $84 million) will add 10 million mt/y of iron ore to current capacity. It involves overhaul of an existing plant and acquisition of a new one. Start-up is expected later this year. Vale's "Carajás Serra Sul Mine S11D" project ($233 million/$675 million) is located on the Southern range of Carajás, in the Brazilian state of Pará. This project will have a rated capacity of 90 million mt/y. Completion is scheduled for the first half of 2013, subject to acquisition of environment licenses and final approval by the company's board of directors.

Most of Vale's non-ferrous minerals projects will also see lower spending during 2009. However, planned spending at its Goro nickel project in New Caledonia is unchanged at $520 million, and its 2009 budget for spending at the Bayóvar phosphate project in Peru has been increased from $279 million to $309 million.
---
As featured in Womp 2009 Vol 05 - www.womp-int.com