The latest from the
World Mining Equipment
Video Library
View



Chile Proposes Raising Taxes on Miners

On July 1, Chile's Minister of Finance introduced a new tax reform bill that increases royalties on copper miners producing more than 50,000 metric tons per year (mt/y). The plan has two components. One is an ad valorem tax between 1% and 2% for companies that produce between 50,000 and 200,000 mt/y of fine copper and a rate between 1% and 4% for those that produce more than 200,000 mt/y.
The other component is a rate between 2% and 32% on profits for copper prices between $2/lb and $5/lb. Both components vary based on copper prices. The proposed tax reform bill as a whole will be submitted to the Chilean congress within the next few months for approval. The measures related to the mining royalty bill currently .... read more


Steve Fiscor, Publisher & Editor in Chief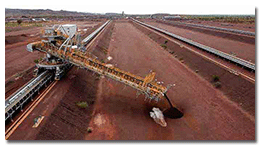 Rio Tinto's Gudai-Darri Delivers First Iron Ore
Rio Tinto has delivered fi rst ore from the Gudai-Darri iron ore mine as the company brings its first greenfield mine online in the Pilbara, Western Australia, in more than a decade. Rio Tinto described the operation as its most technologically advanced mine. With an expected life of more than 40 years and an annual capacity .... read more
Nutrien Will Increase Fertilizer Production Capability
Nutrien Ltd. plans to increase fertilizer production capability in response to structural changes in global energy, agriculture and fertilizer markets. Nutrien is accelerating the ramp-up of its annual potash production capability to 18 million metric tons (mt) by 2025 in response to the uncertainty of supply from eastern Europe. This represents an increase of more than 5 million mt, or 40%, compared to production in 2020. The acceleration pathway is through existing low-cost capacity that is unmatched in the industry and supported .... read more

Top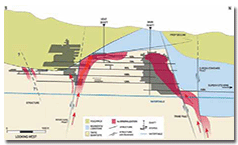 Osisko Completes Acquisition of Tintic
Osisko Development Corp. completed the previously announced acquisition of Tintic Consolidated Metals LLC, which owns the producing Trixie test mine, as well as mineral claims covering more than 17,000 acres (including more than 14,200 acres of which are patented) in central Utah's historic Tintic Mining District. "With the acquisition of Tintic..... read more


Rio Tinto Studies Green Steelmaking
Rio Tinto and the Salzgitter Group have signed a Memorandum of Understanding (MOU) to work together toward carbon-free steelmaking by studying optimization of Rio Tinto's high-quality Canadian and Australian iron ore products for use in Salzgitter's SALCOS green steel project in Germany. Under the MOU, Rio Tinto and Salzgitter will explore optimization of iron ore pellets, lump and fines for use in hydrogen direct- reduction steelmaking. The two companies will also explore the potential for greenhouse gas emission certification across the steel value chain ..... read more


| | |
| --- | --- |
| AROUND THE WORLD - USA & CANADA | |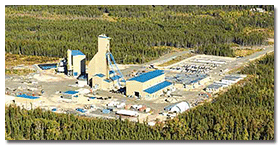 Hudbay Winds Down 777 After 18 Years of Steady Production
Hudbay Minerals announced that mining activities at the company's 777 mine in Flin Flon, Manitoba, have concluded after the reserves were depleted following 18 years of steady production. Closure activities at the 777 mine have commenced and employees and equipment are transitioning to the company's .... read more


i-80 Intersects High-grade Gold at Granite Creek
i-80 Gold Corp. reported some impressive results from the first 16 holes drilled in the 2022 underground program at its Granite Creek mine, located in Humboldt County, Nevada. The program seeks to define mineralization for mining and test for extensions of the Ogee Zone, Granite Creek's primary target. During the fourth quarter of 2021, underground drilling platforms were established providing access to test the expansion opportunity of the Ogee Zone, the bulk of the ore to be mined in the next 12 months. Initial drilling is primarily focused on ....read more

Top
Allied Receives Permits for the Klondike Property in Colorado
Allied Copper Corp. has received the required permits to begin the 2022 drilling program at the Klondike property, located in southwestern Colorado, United States. The Klondike property consists of 76 unpatented mining claims, a state of Colorado exploration permit and an exclusive right to a state lease. "Our previous mapping and sampling work, in conjunction with the recently completed magnetics survey, results of which will be published shortly, have identified a number of compelling targets for drill testing," Allied Copper Chairman Warner Uhl said .... read more


| | |
| --- | --- |
| AROUND THE WORLD - Latin America | |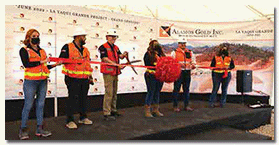 Production at La Yaqui Grande Begins
Alamos Gold announced initial gold production from the La Yaqui Grande mine in Sonora, Mexico, following the completion of construction in June, ahead of schedule. Stacking rates continue to ramp up with leaching activities beginning earlier in June. To mark the occasion, the company held a ceremony... read more


Top
Repairs Begin on Los Pelambres Pipeline
Restrictions on access to Antofagasta's Los Pelambres copper mine in Chile have been partially eased after a leak in the concentrate pipeline on June 7. As a result, repairs to the pipeline have commenced, however, some access restrictions remain that will prolong the time required to complete the scheduled work, according to the company. The company said it continues to engage with authorities and communities to remove the remaining road access restrictions ... read more


| | |
| --- | --- |
| AROUND THE WORLD - Australasia | |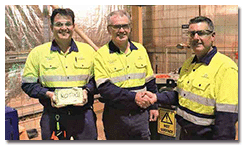 King of the Hills Pours First Gold
Australia's Red 5 completed the first gold pour at King of the Hills (KOTH) gold project in Western Australia on June 5. The first smelt delivered two gold doré bars weighing 1,588 ounces (oz), following the recent commissioning of the gravity and elution circuits. The gyratory crushing circuit has been running on a combination of oxide …. read more


Top

Arrangement Between IGO, Western Areas is Effective
IGO Ltd. has received approvals from Western Areas Ltd. shareholders and the Supreme Court of Western Australia and the lodgement of the orders with the Australian Securities and Investment Commission (ASIC) for IGO to acquire 100% of Western Areas. IGO has been working closely with Western Areas to integrate the two businesses. The trading of Western Area shares was suspended at the end of business on June 8 and the scheme was expected to be implemented on June 20  …. read more

Kamoa Copper Produces Record 29,800 MT of Copper in May
Kamoa Copper set a new monthly production record in May, producing 29,800 metric tons (mt) of copper in concentrate from the Kamoa Copper Mining Complex in the Democratic Republic of Congo. Kamoa Copper achieved record monthly production despite planned interruptions during the month, which included scheduled maintenance on …. read more
Top
High Court Denies Challenge to Sale of Maseve Mine
On June 14, Platinum Group Metals Ltd. reported that the High Court of South Africa delivered a judgment dismissing a challenge brought by Africa Wide Mineral Prospecting and Exploration Ltd., a subsidiary of Wesizwe Platinum Ltd., to the 2018 sale of the Maseve mine. In its judgment, the high court dismissed all of the claims for which Africa Wide contended and ordered Africa Wide to make payment of the defendants' costs. On November 23, 2017, definitive agreements were concluded to dispose of the share interests .... read more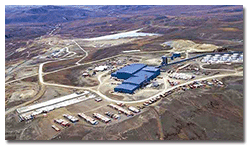 Kinross Gold Sells Russian Assets for Half of What It Expected
Kinross Gold Corp. has completed the sale of 100% of its Russian assets to the Highland Gold Mining group of companies for total consideration of $340 million in cash. Kinross has received $300 million in U.S. denominated cash in its corporate account and will receive a deferred payment of $40 million on the oneyear anniversary .... read more


Top
Turquoise Hill Fires First Drawbell at Hugo North
Turquoise Hill Resources fired the first drawbell for the Hugo North underground mine at Oyu Tolgoi (OT) on June 17. This took place ahead of schedule and represents continued progress in terms of caving-related milestones for the underground operations at the OT Complex in Mongolia. In its first-quarter earnings report, the company said the first drawbell would be fired in the third quarter of 2022 and that was contingent on undercut blasting and other construction-related activities. The undercut development started at the beginning of the year .... read more



| | |
| --- | --- |
| THIS MONTH IN COAL | |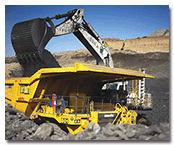 Queensland Increases Royalties on Coal Operators
The Queensland Government announced changes to its coal royalty regime as part of its 2022-2023 budget, making royalties paid by coal producers in Queensland the highest in the world. Three new progressive royalty tiers were introduced above the current structure. The existing royalty structure was: .... read more


Top
MSHA Finds Illinois Mine Operator Tried to Conceal Underground Fire
The U.S. Department of Labor's Mine Safety and Health Administration (MSHA) has proposed nearly $1.2 million in civil penalties to M-Class Mining LLC, which operates the Sugar Camp mine near Macedonia, Illinois. MSHA cited the operator for continuing to operate the mine without evacuating miners with a fire underground and failing to notify MSHA of the fire. The fire broke out on a longwall section on August 13, 2021.  …. read more

| | |
| --- | --- |
| FEATURE - Blast Hole Drilling | |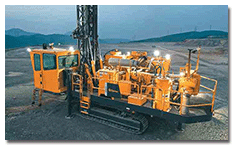 New Solutions Address Trending Challenges
New hardware and software can help a mine hit production numbers amid staffing shortages, declining grade and strict sustainability goals

By Jesse Morton, Technical Writer

The newest solutions and technologies for blast hole drilling help address some of the bigger trending challenges of the day. For example, a new compact but powerful rig that can navigate easily on tight benches is competitive with bigger models but uses less fuel. Conversely, a big rig released in 2019 for large-scale production at extremely hard rock mines is increasingly in demand as customers race to grow production. Separately, a scalable drill automation solution offers improved general rig performance and can help operators, whatever their skill level, meet their productivity goals. And two software solutions can help optimize drill plans and improve blast outcomes, slashing drill-and-blast costs ..... read more



For more companies with products in the Blasting market -
Go Here
| | |
| --- | --- |
| FEATURE - Drones | |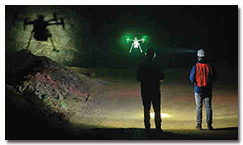 Mine Mapping Goes Mobile
We explore the future of mine mapping through drones, robots and autonomous mining equipment

By Carly Leonida, European Editor

The use of drones in mining has experienced a boom in recent years. Aside from being widely available and affordable to use, they offer a multitude of safety benefits, particularly in mapping applications. Drones support an automated workfl ow and allow data to be collected quickly , more frequently, in many cases, with better coverage than through manual methods. Campaigns that traditionally required a full team for days or weeks can now be completed in hours or days with the help of drones. 3GSM is dedicated to the detailed analysis of rock and terrain using 3D images or models generated using drone-collected data, explained Markus Pötsch, customer support and sales manager ..... read more

Top

For more companies with products in the Drones market -
Go Here
| | |
| --- | --- |
| FEATURE - Preconcentration | |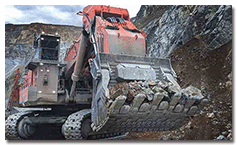 How to Make the Most of Your Orebody
There's more to preconcentration, or progressive waste rejection, than meets the eye

By Carly Leonida, European Editor

It's no secret that ore grades across key commodities are declining. For decades, mines have sought to counteract lower grades by extracting and processing greater volumes of material and, for many years, this approach worked well. But the industry is now facing unprecedented pressures. For many operations, resources like energy and water are at an increased premium, as is space. Mining and processing costs are rising. New projects and extensions are getting harder to permit. Metallurgy is becoming more complex, many tailings storage facilities are full and social opposition to the creation of new ones is at an all-time high. The "bigger is better" mentality is no longer serving us. ..... read more


For more companies with products in the Processing market -
Go Here
| | |
| --- | --- |
| FEATURE - Yukon Mining | |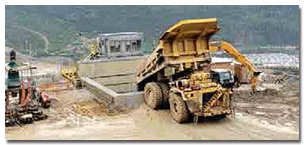 Yukon Attracts Renewed Interest
Production and development activities gear up in a favorable mining district

By Steve Fiscor, Editor-in-Chief

Yukon has a rich mining history that dates back to a period before the Klondike Gold Rush of the late 1890s. While a lot has changed, some things have not. What would those early prospectors, like George Carmack and Skookum Jim, think about today's equipment and technology? Claims are certainly more accessible, and today miners and prospectors work with First Nations and regulators to carefully plan and develop mining operations. What has not changed is the seasonal daylight, climate, terrain and geology. Today's prospectors are still learning about Yukon's geology. The climate and mountainous terrain as well as the amount of daylight dictates what activities can take place and when, which runs counterintuitive to the quarter- to-quarter performance expectations for publicly held companies .... read more

Top


For more companies with products in the Mineral Processing market -
Go Here
| | |
| --- | --- |
| Video Presentations | |
The latest listings from the World Mining Equipment Video Library - to view the video, click the image.
For more details on the Video Hub -

Go Here

Epiroc wins large order for surface drill rigs in Mauritania
Société Nationale Industrielle et Minière, (SNIM), one of Africa's largest iron ore producers has ordered a package of Epiroc Pit Viper 351 drill rigs with advanced automation solutions that will be used at the new F'Derick mining site. In addition to the rigs Epiroc will provide service supervision and spare parts .... read more

BinMaster BM-25 diaphragm level switch alerts when bins are full
BinMaster recently unveiled a new sensor, the BM-25 bin level indicator. It provides a new way to manage materials in bins or silos, alerting operators to high or low levels or when chutes or conveyors are clogged.....read more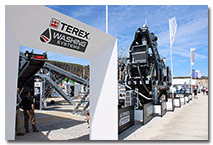 2 new machines from Terex Washing Systems (TWS)
At the recent Hillhead show, TWS introduced two new machines, the latest in the FinesMaster range, the FM Pentium, with a capability to wash one grade of sand and one aggregate on a single chassis. The machine combines a collection tank, centrifugal slurry pump, hydrocyclone(s) and a dewatering screen. With a feed rate of up to 150tph .... read more

Top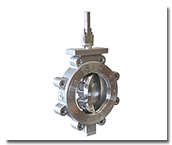 Valmet launches Neles™ Q-Disc™ – a unique solution to improve process performance in demanding control valve applications
Valmet is extending its versatile butterfly valve product range with Neles™ Q-Disc™, a new high-performance feature to help flow balancing in control valve applications. The launch complements the offering of the modular Neles™ Neldisc™ and Jamesbury™ Wafer-Sphere™ butterfly valve platform that was introduced to the market in June 2021 ....read more
Trelleborg Launches New EMR1031 Tough Earthmover Tire for Loading Operations
Trelleborg has taken on the challenge to improve earthmoving operations with the release of its newest radial tire, the EMR1031, designed to perform on the most demanding terrain, from sand to rock or extra hard surfaces. Manufactured using a cut-resistant compound, the tire features a premium sidewall protector for damage .... read more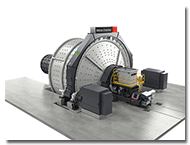 Metso Outotec to deliver worlds's largest PremierTM grinding mills
Canadian First Quantum Minerals (FQM) has awarded an order to Metso Outotec for two very large horizontal grinding mills for the company's copper mine expansion in Zambia. The delivery includes two Planet Positive PremierTM grinding mills with a total installed power of 50MW. The ball mill will be equipped with the Metso Outotec Megaliner™ .... read more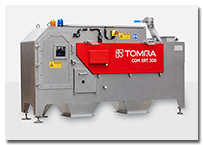 TOMRA Mining to Demonstrate Diamond Final Recovery Sorter
TOMRA Mining will showcase its sensor-based sorting solutions at the Electra Mining 2022 exhibition, which will be held in Johannesburg, South Africa from 5-9 September. There will be live demonstrations of its COM XRT 300 /FR final recovery sorter to illustrate its advantages for diamond operations. .…. read more

Top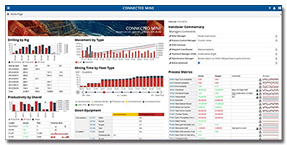 Caterpillar launches Cat® MineStar™ Reporting
Cat MineStar Reporting platform for MineStar Solutions, is a powerful reporting and analytics product that can consolidate information from MineStar products. MineStar currently supports information from MineStar Fleet, Terrain, Health and Command for hauling. Support for MineStar Edge is ....read more
SEPTEMBER 26-30, 2022: Extemin/Perumin, Centro de Convenciones Cerro Juli, Arequipa, Peru.
Contact: Web: www.perumin.com
OCTOBER 24-30, 2022: bauma 2022, Munich, Germany.
Contact: Web: www.bauma.de
NOVEMBER 23-24, 2022: ABMEC Conference, Forest Pines, Lincoln, UK.
Contact: Web: https://abmec.org.uk/abmec-conference-exhibition-2022/
DECEMBER 6-9, 2022: American Exploration & Mining Association Conference, The Nugget, Reno, Nevada, USA.
Contact: Web: www.mining-america.org
FEBRUARY 3-8, 2023: International Society of Explosives Engineer's 49th Annual Conference on Explosives and Blasting Technique, San Antonio, Texas, USA.
Contact: Web: www.isee.org
APRIL 2-5, 2023: Haulage & Loading, El Conquistador Resort, Tucson, Arizona USA.
Contact: Web: www.haulageandloading.com
SEPTEMBER 26-30, 2022: Extemin/Perumin, Centro de Convenciones Cerro Juli, Arequipa, Peru.
Contact: Web: www.perumin.com
JUNE 13-16, 2023: Expomin, Santiago, Chile
Contact: Web: www.expomin.cl
| | |
| --- | --- |
| WHO'S MOVING WHERE | |

Adam Melnyk recently joined Victoria Gold's senior management team as vice president of business development. He was previously head of mining research for a precious- metals focused investment fund and has worked in Equity Research since 2007 with both bank-owned and independent investment dealers.

Discovery Silver Corp. announced that President and CEO Taj Singh has stepped down after five years and has resigned from the board of directors for personal reasons. Tony Makuch, an independent director, has been appointed interim CEO, effective immediately. Makuch was most recently CEO of Kirkland Lake Gold Ltd.

OceanaGold Corp. appointed Brian Martin as senior vice president, business development and investor relations. Martin is a mining finance professional with 15 years of experience in the metals and mining sector. Prior to joining OceanaGold, he held senior corporate development and investor relations roles at both SSR Mining Inc. and Liberty Gold Corp.

Fortuna Silver appointed Salma Seetaroo as an additional director. She has spent the last 17 years working on debt, equity and special situations investments in Africa as an investment banker. Salma is the co-founder and CEO of Cashew Coast. She currently sits on the board of GoviEx Uranium Inc.

Eloro Resources Ltd. announced that Peter Marrone, a shareholder of Eloro, has agreed to serve as an independent advisor to provide support and strategic advice to management on matters related to its Iska Iska project. Marrone is executive chairman of Yamana Gold Inc., which he founded in 2003.

Epiroc announced Jonas Albertson, current president of the Technology and Digital division, was appointed chief technology offi cer, with responsibility for the development of common automation and digital platforms as well as for Group IT. Ashleigh Braddock, vice president of sales, will be acting division president.

Whitmore Manufacturing announced that Paul McKowen has joined the company as vice president of operations. Prior to joining Whitmore, Mc- Kowen was vice president of operations for Niteo Products.

President of Business Area Sandvik Mining and Rock Solutions Henrik Ager will leave the Sandvik Group. Ager has been with Sandvik for eight years, and for the past three years as business area president. President and CEO Stefan Widing will assume the role as interim business area president of Sandvik Mining and Rock Solutions.
About - providing an abreviated version of the current print edition of E&MJ, WOMP is distributed throughout the world to decision makers in the global mining industry, the last week of every month.

Subscribe to E&MJ - To receive your own copy of the print edition of E&MJ, click here , and complete your details. E&MJ is available free of charge to qualified readers.

Contact - if you have views, opinons or comments or editoral that you would like to submit, we would be delighted to hear from you - click here

Top