Production at La Yaqui Grande Begins
---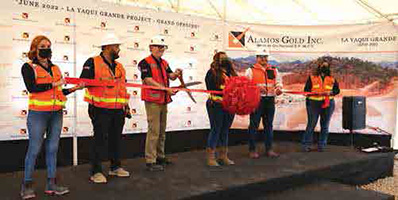 A ribbon-cutting marks the launch of operations at La Yaqui Grande.
From left to right: Construction Administrator Monica Rodriguez, Mexico Projects Director Marcelo
Martinez, Alamos Gold President and CEO John McCluskey, Safety Supervisor Monica Suarez,
Sahuaripa Mayor Luis Carlos Galindo, and Mine Trainer Vianney Barragan.

Alamos Gold announced initial gold production from the La Yaqui Grande mine in Sonora, Mexico, following the completion of construction in June, ahead of schedule. Stacking rates continue to ramp up with leaching activities beginning earlier in June. To mark the occasion, the company held a ceremony at the site with President and CEO John McCluskey, members of the Alamos Gold Board of Directors, and mine employees.

"This represents a significant achievement with the construction of La Yaqui Grande having been completed ahead of schedule while navigating a challenging environment over the past few years with COVID-19," McCluskey said. "On behalf of Alamos, I would like to congratulate our entire team at Mulatos. La Yaqui Grande represents another in a long line of discoveries that have continued to extend the mine life of the overall Mulatos Complex since it began producing in 2005."

A total of 991 ounces of gold were produced from the initial pour. La Yaqui Grande was expected to produce approximately 3,000 ounces in June which is already factored into second-quarter consolidated production guidance of between 100,000 and 110,000 ounces of gold. Consistent with full-year 2022 guidance, stacking rates at La Yaqui Grande are expected to ramp up through the second half of the year driving production higher and costs lower at Mulatos and company- wide starting in the third quarter.
---
As featured in Womp 2022 Vol 07 - www.womp-int.com