New Solutions Address Trending Challenges
New hardware and software can help a mine hit production numbers amid staffing shortages, declining grade and strict sustainability goals

By Jesse Morton, Technical Writer
---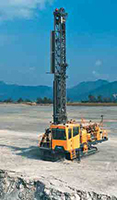 The DM30 XC handles a 101-
to 159-mm drill pipe, has a
weight-on-bit of up to 20,000 kg,
and features a 9.1-m drill pipe
change and a standard carousel.
(Photo: Epiroc)

The newest solutions and technologies for blasthole drilling help address some of the bigger trending challenges of the day. For example, a new compact but powerful rig that can navigate easily on tight benches is competitive with bigger models but uses less fuel. Conversely, a big rig released in 2019 for large-scale production at extremely hard rock mines is increasingly in demand as customers race to grow production.

Separately, a scalable drill automation solution offers improved general rig performance and can help operators, whatever their skill level, meet their productivity goals. And two software solutions can help optimize drill plans and improve blast outcomes, slashing drill-and-blast costs. The suppliers said the solutions were developed to answer the specific and expressed needs of valued customers, and, more importantly, that they deliver beyond expectations.

Compact, Nimble Rig Cuts Costs
Epiroc said the design and features of the new DM30 XC blasthole drill make it the ideal small mining-class rig for tight benches. "The DM30 XC is built tough for the most demanding jobs, and high quality at an excellent value is what sets it apart from other drills in its class," said Mark Stewart, regional business manager, surface division, Epiroc. "The DM30 XC combines high performance with great value. Our drive to reduce TCO will improve customers' bottom line."

The rig "is suitable for a variety of multipass rotary and down-the-hole (DTH) drilling applications," Epiroc said. "The DM30 XC is designed for maximum productivity and efficiency due to increased rotary torque, increased pulldown and a larger hole range capability." The rig is designed to handle a 101- to 159-mm drill pipe and has a weighton- bit of up to 20,000 kg. It features a 9.1-m drill pipe change and a standard carousel.

"With a starter rod under the rotary head, the DM30 XC can achieve a total clean-depth capacity of 45.1 m for multipass applications, and 8.5 m for single- pass applications," Stewart said. While relatively diminutive, the rig is robust and durable, he said. It "is designed for mining, so the structural components will hold up to the heavy-duty cycles required in a mining drill," Stewart said. "The robust frame and tower weldments are manufactured to last the lifetime of the machine," he said. "A robust cylinder and cable feed system features large-diameter sheaves to extend cable life and provide smooth operation by naturally dampening vibration."

Design and development was inspired and furthered by input from customers. "We focused on safety, productivity and reliability," Stewart said. "The upgraded hydraulic and feed systems, plus our unique engine air intake system allowed us to provide up to 33% more power in terms of bit load and rotary torque, utilizing the same engine as the previous model," Stewart said. "We also expanded the drill pipe selection to pursue larger holes to utilize the additional power."
The DM30 XC offers a total clean-depth capacity of 45.1 m for multipass applications, and 8.5 m for
single-pass applications. (Photo: Epiroc)

The rig offers numerous other benefits, plus options to suit any application, Epiroc said. "Customers can choose a low- or high-pressure compressor to create the right configuration for their drilling operation," the company said. The top-listed benefit is reduced costs. "This model will prove to have a lower cost of operation per drilled meter due to the rugged components, construction and efficiency of the systems," Stewart said. "Both fuel and repair costs were targeted in the design, as well as providing a sturdy platform for a long economic life."

The unit's compactness "enhances setup on tight patterns and transportability between benches and pits," Stewart said. The Electronic Air Regulation System provides low-load startup and easy adjustment of bailing air to save horsepower and lower fuel consumption, Epiroc said. "This saves wear and tear on the engine, extending life due to lower load factor and saving fuel," Stewart said.

The rig can handle almost continuous operation. With a 300-gallon fuel tank, "the DM30 XC has sufficient fuel to run 16 hours between fueling for uninterrupted operation," Stewart said. Another top-tier benefit offered is improved performance. "The triple spur gear reduction rotary head can give speeds of up to 180 rpm for increased performance in softer material," Stewart said. "High-pressure air compressor option for DTH drilling makes it suitable for hard rock."

The latest version of Epiroc's flagship control system comes standard and prepares the rig for future upgrades. "Scalable technology options from RCS Lite enhance safety and productivity, providing real-time information for informed decision making by all stakeholders," Stewart said.

The system "provides a convenient foundation to add more functionality and technology options in the future without a major rebuild of the machine," Epiroc said. "RCS Lite also allows all Epiroc rotary drills to have the same onboard display and system for consistent operator training and service." The system is available in three packages. "It is a modular solution that delivers efficiency now, along with the opportunity for customers to enhance their equipment down the road as their mining requirements grow," Epiroc said.

Operators can benefit from numerous cab design features. "A spacious one-piece FOPS-rated cab with electric- over-hydraulic controls offers enhanced safety, visibility and operator comfort," Epiroc said. The cab is "vibration isolated to provide a quiet, comfortable environment," Stewart said. "Ergonomic seating and control layout reduce fatigue and enhance productivity."

For users accustomed to operating other DM-series units, the new rig will be easy to operate, Epiroc said. "The controls layout allows immediate switchover from drilling to tramming mode, maximizing time available to drill." Maintenance technicians can also benefit from the design. "Component layout, electric-over-hydraulic controls and self-cleaning decking access make for easy routine maintenance and troubleshooting," Stewart said. "Robust components give long service life, extending time between rebuilds for lower overall cost."

In prototype testing, the rig went up against competitor machines and fared well. "We were on the pattern with larger, high-pressure rigs using DTH due to the hardness of the rock," Stewart said. "We were rotary drilling the same size hole to use as much of the additional bit load and torque as possible." The DM30 XC achieved roughly 89% of the production rate of the larger units, while using roughly 35% less fuel. "We were pleased the unit could drill the harder formation as productively and efficiently as it did," Stewart said.

The unit was designed to answer "a trend in smaller or lighter equipment in progressively larger volume applications," Stewart said. "We took a look at our product line and determined the DM30 class with a few improvements could fit nicely into this niche and still provide the dependable service for which the Epiroc DM series is known."

Hefty Rig Delivers Results at Big Mines
On the opposite end of the size spectrum, Caterpillar reported the large MD6310 rotary blasthole drill for extremely hard rock at iron and copper sites is increasingly in demand at large-scale operations throughout Australia, Latin America and the western USA. Configurable for both single- and multipass drilling, the unit features a matched powertrain for exceptional power and efficiency, Caterpillar said. It has a Cat crawler undercarriage; 100% Cat electronics, parts and components; redesigned hydraulic and electrical systems; advanced technologies to improve operator performance; Cat electronic compressor controls; and an upgraded cab and operator station with precision controls, touchscreens and camera systems.
The MD6310 rotary blasthole drill is designed for extremely hard rock at iron
and copper sites. (Photo: Caterpillar)

A molybdenum mine in Arizona, USA, runs one with a 17.5-m tower with a 100- psi compressor. "The mine selected a drill string with a 219-mm outside pipe diameter and used a 270-mm tricone bit or rotary percussive system to handle their hardground formations, complicated bedding planes and rock jointing," Caterpillar said. The unit offers "a heavier operating weight, increased pulldown, and the ability to run compressed air systems at higher pressures than other drills used at the mine."

The mine uses Cat MineStar with Cat Terrain for drilling on all drills. "The MD6310 specifically is fitted with Cat drill-assist to automate the drilling cycle and improve precision and speed at the press of a button," Caterpillar said. Thus far, the MD6310 has drilled at an average penetration rate of 30.48 m per hour. That translates to, on average, between 12,192 m to 15,420 m per month. It typically drills a single-pass hole to a depth of 15.8 m to 16.5 m in less than 30 minutes.

A separate mine in Arizona pitted the MD6310 against two competitive models over the course of several months. "After hundreds of thousands of linear feet drilled, the Cat MD6310 was chosen as the preferred drilling system for the mine site because of its exceptional performance," Caterpillar said. The mine now plans to run three MD6310 drills by the end of this year.

AI Improves Rig Performance
In February, Hexagon Mining partnered with Phoenix Drill Control to develop and integrate its autonomous drilling platform. Hexagon said the platform has a proven production track record demonstrating that it outperforms the industry's existing automated drills.

"Phoenix Drill Control's simplified, scalable automation platform is commercially available immediately," said Ryan Hawes, chief operating officer, Hexagon's Mining division. "It will bring profound benefits to customers, including faster decisions with greater accuracy, improved health and safety, greater efficiency by eliminating errors and a smaller environmental footprint." The OEM-agnostic blast-hole-drill-automation control platform "uses a layer of technology approach and artificial intelligence (AI)-enabled control algorithms to provide measurable performance increases across all operator skill levels while preserving the OEM machine control system," said Curtis Stacy, senior product manager, autonomous drills, Hexagon Mining.

The system "interfaces with the machine at the component level, reducing installation time to less than five days and preserving the machine operating status while installation work is not being performed," he said. "Rather than requiring weeks of downtime to install an aftermarket drill automation solution, Hexagon can now do this on preventative maintenance days across several weeks without causing additional downtime to install the solution." The system amounts to a layer of technology integrated with, but technically separate from, the preexisting control system. "With the layer of technology approach, Hexagon preserves the OEM control system," Stacy said.
During trials at Capstone Pinto Valley
copper mine, Phoenix Drill Control's
automation platform outperforms all
human operators. Recently, Hexagon
Mining partnered with the supplier to
further develop the solution.
(Image: Hexagon Mining)

"Hexagon's approach only automates those systems on board the drill that are required for the desired level of automation, thereby limiting the intrusion into the existing control system even further," he said. "The system automates only those functions of the machine required to meet the scope of work developed with the mine site." The layer of technology approach benefits "the customer who has spent decades developing reliable supply chains for their operational equipment," Stacy said.

When the drill is not under autonomous control, "the machine is exactly as delivered from the factory," he said. "This dramatically reduces the amount of retraining required for the mine site's technicians and maintenance personnel." The AI layer offers unique capabilities and crucial benefits. "It is used to adjust drilling parameters, determine downthe- hole ground conditions and trigger down-hole fault mitigation strategies, to determine hardness of the ground being penetrated by the bit, and to test new drilling parameters for performance increase in real time," Stacy said.

One of the top benefits is improved ease of operability of the rig. "Hexagon is unique in being the only autonomous drill automation solution on the market using AI to perform core automation functions," Stacy said. "The implementation of AI control algorithms means the only human interaction required is to start and stop the operation of the machine." That means the system requires no manual actions to adjust drilling parameters. "All other solutions on the market today require adjustments to be made by operators depending on the ground conditions the machine is currently operating in," he said.

Another premier benefit is improved rig performance. "Our goal is to penetrate ground as efficiently as the drill rig is capable of while creating a high-quality hole inventory that results in the best possible blast and fragmentation," Stacy said. "Imagine taking your best operator, making them 15% better, and then cloning their talents and making your entire operator staff just as effective," he said. "That's exactly what the system accomplishes." Using the system, each operator is equal in performance to the others. "Both in terms of productivity and hole inventory quality, while reducing wear and tear on the equipment," Stacy said.

The AI system delivers improved hole quality. In field trials, "hole quality in all drilling conditions was excellent, resulting in holes that stood up and reducing required redrills prior to blasting," Stacy said. "The ability to control the applied process resulted in drill-to-elevation variances of less than 6 in. on 99% of all auto drilled holes," he said. "Controlling the end-of-hole elevation results in a mined bench that is to grade that does not require ripping and dozing to either cut the hard toes or fill in low spots." Thus the system contributes to improved production metrics. "Production increases of more than 30% can be immediately realized," Stacy said. "In addition, in the field, the utilization of the technology exceeded 85% without any management change being required to achieve this. This remarkable utilization number indicates the operator confidence in the technology."

The solution was conceived roughly five years ago. Initial testing was on a CAT 6420 single-pass rotary drill at Capstone's Pinto Valley copper mine. "During the two-month period, the automation system was tested drilling 50% of all holes," Stacy said. "Data analysis indicated the automation system effective rate of penetration was 24% higher than all human operators during that same time frame and over 30% higher than 50% of all operators," he said. "The increase in productivity would result in an annual reduction in cost of drilling of more than $270,000." This increase was achieved with only two weeks of training.

The system was then proven over a longer time frame. "Over a four-year period of operation, no drilling parameters were changed by the mine site or Phoenix engineers," Stacy said. "We recorded a system utilization increase in excess of 85% with a success rate of 95%," he said. "There were three component failures during that time frame, one pressure transducer and two head position sensors." During the same time frame, improvements were made to the interface and the training tutorial.
The MD6310 has a Cat crawler undercarriage, 100% Cat parts, redesigned hydraulic and
electrical systems, advanced technologies, Cat electronic compressor controls, and an
upgraded cab with precision controls, touchscreens, and camera systems.
(Photo: Caterpillar)

More recently, Hexagon partnered with Phoenix Drill Control to take it to the next level. "Hexagon has deep reach worldwide in the mining industry and a track record of successfully integrating technology products into their portfolio and is uniquely positioned to turn the data created by the automation technology into actionable information that can drive real value into the entire mining process," Stacy said. Hexagon said the companies aligned on core values, facilitating future development and integration. "Like Hexagon, Phoenix Drill Control creates technology that is scalable and platform-agnostic," Hawes said. "This ensures data is accurate, without operator-induced noise, and does its best work, arming customers with a feedback loop that points the way to a safer, more productive and sustainable future." Adoption requires a wireless communications system and little else.

Going forward, the system will be developed to integrate into Hexagon's AutonomouStuff portfolio of automated driving solutions. "Once the situational awareness integration is completed, autonomous drilling is right around the corner," Stacy said. "Integration into Hexagon's Mine- Operate platform will enable a single platform drill automation centralized command-and-control center where autonomous missions can be created and managed," he said. "Data generated and collected from the drill will provide additional insights into the ore body under the drill, enabling mine operators to maximize blast efficiency and lower total costs of mining."

That future is rapidly approaching. "Hexagon has a mining automation vision that is agnostic in its approach and the drill will be at the core of those efforts," Stacy said. "Hexagon will be the leader in mining automation and Phoenix will help them achieve that result."

Affordable Software for Blast Efficiency
Carlson Software said BlastOPS, blast plan software, is a low-cost solution that helps ensure blasts conform to any site constraints. "With a smart investment in our hardware and software, any end user can truly control their sites," said Daniel Nanthathammiko, sales director. BlastOPS "supports the precision and calculation necessary for the utmost blast efficiency," the company reported. It allows users to "work with point clouds to develop meshes, create blast pattern layouts, and ensure proper burden and borehole spacing for more productive blasting and project site optimization."

BlastOPS can register and consolidate multiple scans, remove anomalies with cloud cleaning tools, and filter unnecessary data. It can be used to design blast patterns, optimize patterns using inspection tools, and compare blast designs to as-drilled hole surveys. It can generate 3D models, clean surfaces, hole coordinates, volumes and profiles.

The solution is part of the CarlsonOPS software suite that includes CloudOPS. "It has been designed to walk users of varied technical skills through the process of generating blast-related deliverables such as automated blast patterns, critical safety reports and instructional reports on how to set out the digital designs on to the actual bench," Nanthathammiko said.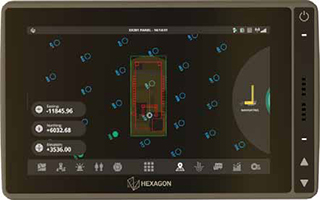 Phoenix Drill Control's automation platform provides measurable performance
increases across all operator skill levels while preserving the OEM machine
control system. Above, the concept operator interface.
(Image: Hexagon Mining)

CarlsonOPS integrates with several other Carlson Software solutions. "We have tight integration with our hardware such as the Boretrak2, Quarryman and BRX7, as well as the generated files from our hardware such as CRD and DRL files," Nanthathammiko said. "Our top features include full point-cloud manipulation within CloudOPS, with no real limit on data import, to suit all work flows."

Users can fly "a drone and use a Quarryman together on site, and so our CloudOPS module is equipped to handle processing of both together to create accurately modelled highwalls and benches," Nanthathammiko said. "The BlastOPS module automatically handles deliverables from CloudOPS so the end user can get started on blast design without hassles," Nanthathammiko said. "Accurate solids can be created for users working underground stopes, drives or cavities, and then exported."

Perhaps the foremost benefit offered is the ability to accurately model complex highwalls. "A significant benefit of CarlsonOPS is the modelling engine we utilize for our highwalls and solids," Nanthathammiko said. "Many competing packages cannot correctly handle undercut highwalls, creating spikes, which eventually leads to incorrect burdens being reported," he said. "We can handle complex highwalls to ensure users can truly rely on the critical safety information being conveyed." The suite is designed to be practical and affordable. "CarlsonOPS is simple and functional for users on purpose," Nanthathammiko said. "Our package includes features expected in a blast design package, but is priced as a reasonable investment for our end users."

More recently, a customer in Australia used CarlsonOPS to "achieve an exceptional result on a sensitive project that required very minimal environmental disturbance during a blast as the site was next to a bridge," he said. "The customer used their BRx7 and Carlson Layout to then stake out the designed blast pattern and make amendments as required," Nanthathammiko said. "By using CarlsonOPS, they were able to laser scan the blast area for modelling, move into BlastOPS to import the sites engineered finished surface data to design the blast, plan the loading of explosive product as well as the timing to achieve the goal of minimal disturbance while maintaining optimal powder factor to ensure the rock fragments without the rumble."

The suite helped the customer complete the project while "meeting both environmental and commercial goals," he said. CarlsonOPS traces its evolution back to predecessor software developed in 2018 to "handle data processing of our own hardware," Nanthathammiko said. "It quickly grew into a true blast package once we were able to develop the libraries to better model highwalls of varying angles."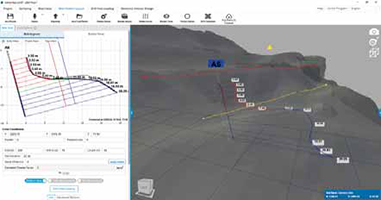 BlastOPS can be used to design blast patterns, optimize patterns using inspection tools,
compare blast designs to as-drilled hole surveys, and generate 3D models, clean surfaces, hole
coordinates, volumes and profiles. (Image: Carlson Software)

Developing a software solution that could accurately profile highwalls, "regardless of shape, has helped us to handle other aspects regarding blasting more accurately, such as blast volumes," he said. CarlsonOPS officially launched in 2019 and has since been regularly updated. The updates ensure the suite is both versatile and immediately useful upon adoption. "We have users of differing skills and requirements," Nanthathammiko said. "Not all users will be shotfirers directly planning the blasting." The suite "captures a neglected market and offers survey-grade solutions that are accessible," he said. "It allows the user to hit the ground running."

Software Improves Blast Outcomes
Dyno Nobel said several hard rock mining customers have seen improvements in fragmentation, muck profiles and dig rates, and lower overall drill-and-blast costs after implementing the ?E2 system. Evolving technologies across the mining industry are allowing for greater levels of geologic data collection and processing than ever before, said Russ Lamont, general manager, DynoConsult. ?E2 can successfully convert this information into the successful achievement of operational goals.

Using the company's PRELOAD and DYNOLOGIX software platforms, ?E2 processes data from drills or other sources that characterize rock properties to allow targeted placement of energy in the blast hole, said Jeff Averett, senior manager, bulk products and delivery systems, Dyno Nobel. "Measure-while-drilling data captured from each blasthole provides a high degree of resolution for creating a geology-based blasting model using Dyno Nobel's proprietary algorithms," he said. "This detailed understanding of how rock mass variations will respond across a planned blast pattern is then coupled with our TITAN Bulk Emulsion and end-of-hose gassing technology to allow a customized explosive loading in each blasthole." Variable density loading ensures the "explosive product is placed where it is most needed in the pattern and reduced in areas where it isn't," Lamont said. The list of benefits offered is topped by "optimized explosive usage" and "improved fragmentation, overbreak and wall damage, and floor grade," he said.

The system integrates into any Differential Energy bulk emulsion truck. "It improves operator efficiency by simplifying the loading process," Averett said. The information captured can be used as part of the shot reporting process. "Any mine manager interested in using the valuable information that modern smart drills are generating to improve their operation and reduce costs should be interested in this technology," he said. Engineers will relish the control it offers over the loading process "through easy-to-use software that sends loading instructions directly to the loading equipment," Lamont said. "Loading profiles allow a specific loading scenario to be created and used many times to speed up design," he said. "Reports can be printed for users and truck operators to have hard copies of the loading plan in the field."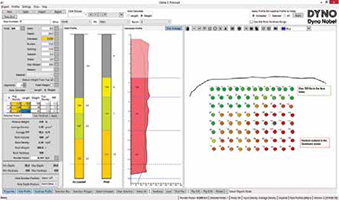 Using the PRELOAD and DYNOLOGIX software platforms, ?E2 processes
rock property data to allow targeted placement of energy in the blast hole.
(Image: Dyno Nobel)

Additional reports allow the user to see how the holes will be loaded, what the actual hole loads will look like in the shot with each density, and statistics on that information. "Shot plans are available that give powder factors, rock volume shot, rock hardness as an overall average for the shot, and color-coded visualizations," Averett said. "Actual loading data can be collected from the DYNOLOGIX system and compared to plan, and then compared to actual blast outcomes."

The history of the system dates back to the 1990s "when our bulk loading technology advanced enough to allow ways to load different product types in the same borehole," Lamont said. "When our Differential Energy product was developed in the 2000s, we were able to match that to new ways that the industry could quantify the borehole's geologic properties," he said. "In 2017, we created the ?E2 system to allow users to match explosives' energy to rock properties." Adoption typically requires some preexisting geological data, clearly defined goals, and then some change management.

"While the system is easy to use, it is different from what many currently use," Averett said. "The best results are obtained when best practices are followed on the bench," he said. "This includes good measurement of conditions on the bench." Now field proven, ?E2 advances the company mission of ensuring customer success, Lamont said.

"By leveraging our latest product technologies coupled with our technical expertise, Dyno Nobel can convert new sources and levels of data being collected across mining operations to improve not just blasting outcomes but overall operational goals for these mines," he said. "Our research and development teams are constantly working to integrate new capabilities in product, process, and digitization, allowing customers to move towards greater automation and efficiency."
---
As featured in Womp 2022 Vol 07 - www.womp-int.com