To receive your own edition of the print version of E&MJ -
Go Here





How Will They Be Remembered?



The locals simply refer to the massive discharge from a local mine as the Mariana tragedy. This month's news opens with the worst mining-related environmental disaster yet, the Fundão dam failure at the Samarco iron ore mine in Brazil. While one accidental release into the environment is one too many, this spill was different; civilians lost their lives. Beyond damaging the Rio Doce (Portuguese for Sweet River) and its ecosystem, this tailings release wiped out villages. In its news report, E&MJ offers a detailed explanation of what happened and the reaction from the executives at the two major mining companies that hold 50% stakes in Samarco (BHP Billiton and Vale).

Accidental releases such as this usually occur in fairly remote areas, where mining predominantly takes place. In Minas Gerais, however, many of the iron ore mines operate in close proximity to urban areas. The collateral damage was significant. Environmental activists are already making......... read more



Steve Fiscor, Editor in Chief

Tailings Dam Failure Shuts Down Brazilian Iron Ore Producer Samarco
A tailings dam failed at the iron ore mining operations of Samarco Mineração in Minas Gerais state, Brazil, on November 5. Mining was halted immediately, and the company's operating license was suspended. The dam failure released huge amounts of tailings and water that spread more than 500 km downstream in the Doce River and reached the Atlantic ocean around........ read more
Alcoa Idling Production at Three US Smelters


Alcoa announced on November 2 that it is suspending aluminum production at its Intalco and Wenatchee primary aluminum smelters in Washington state and at its Massena West smelter in New York state. The decision will leave the company with no active smelter production in the United States. The three smelters are all 100% owned by Alcoa. In total, the curtailments will reduce its worldwide primary aluminum smelting capacity by 503,000 mt/y. As of June 30, the company had worldwide attributable smelting capacity about 3.4 million mt/y....... read more

Top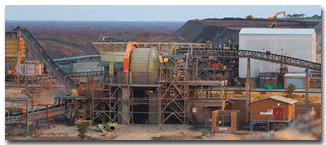 Lucara Mines Historic 1,111-carat Diamond


Lucara Diamond Corp. reported in mid- November the recovery of a 1,111-carat, gem-quality diamond at its Karowe mine in Botswana. The stone, which originated from the south lobe of the Karowe mine, is reportedly the world's second-largest gemquality diamond ever recovered and the largest ever to be recovered through a modern processing facility. It measures 65 mm x 56 mm x 40 mm. The largest diamond ever discovered was..... read more

Top
Barrick Sells Nevada Assets


Barrick Gold reached an agreement to sell a number of "noncore assets" in Nevada for $720 million in cash, including the Bald Mountain mine, the Ruby Hill mine, its 50% interest in the Round Mountain mine and the company's 70% interest in the Spring Valley project. Including these transactions, Barrick has announced asset sales, joint ventures and partnerships worth $3.2 billion since the start of 2015. The company said it remains on track to meet its debt reduction target of $3 billion for 2015, which would represent a 23% reduction in total debt. "The sale of these assets is consistent..... read more
| | |
| --- | --- |
| AROUND THE WORLD - USA & CANADA | |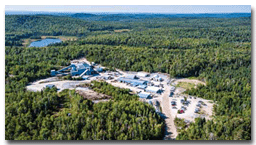 Richmont Considering Deeper Mining at Island Gold


Richmont Mines has completed a preliminary economic assessment (PEA) of development of mineral resources between the 450- and 860-m levels below surface at its currently operating underground Island Gold mine 83 km northeast of Wawa, Ontario. The PEA considered an 800-metric- tons-per-day (mt/d) mining operation. The Island Gold mine is accessed via ramp from surface and is mined by longhole stoping...... read more
PEA Supports Renewed Mining at Sleeper Property


Paramount Gold Nevada has announced the results of a preliminary economic assessment (PEA) of its 100% owned Sleeper gold project in northwest Nevada. The project includes the historic Sleeper open-pit mine, which operated from 1986 to 1996 and produced 1.66 million oz of gold and 2.3 million oz of silver. Metal Mining Consultants (MMC) conducted the Sleeper PEA. The study's basecase scenario assumes open-pit mining and a 30,000-mt/d heap-leach facility having throughput capacity of about 11 million mt/y. Production would average 102,000 oz/y of gold and 105,000 oz/y... read more

Top
Western Potash Planning Pilot-scale Start at Milestone


PolyMet Mining reported in early November that the Final Environmental Impact Statement (EIS) for its NorthMet polymetallic mining project in northeast Minnesota has been completed and posted on the Minnesota Department of Natural Resources (DNR) website. The EIS process was led by the DNR, the U.S. Forest Service, and the U.S. Army Corps of Engineers. The U.S. Environmental Protection Agency was actively involved as a cooperating federal agency. Three Minnesota Chippewa bands also participated as cooperating entities. The Minnesota Pollution Control Agency was actively involved in the EIS process regarding matters such as wate.... read more

| | |
| --- | --- |
| AROUND THE WORLD - Latin America | |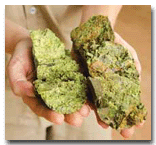 Pilot Tests Produce Ferronickel for Horizonte


Horizonte Minerals announced in early November completion of an integrated rotary kiln-electric furnace pilot plant campaign on ore from its 100% owned Araguaia laterite nickel project in Parà state, Brazil. The pilot campaign was conducted at the Morro Azul pilot plant in Minas Gerais state. The Morro Azul plant was originally built by Anglo American and is now operated by Morro Azul in association with IGEO of Sao Paulo, Brazil. The facility has been used by a number of major nickel companies, including Vale and Anglo American…… read more
Coeur Reports Enhanced Outlook for Palmarejo


Coeur Mining has reported positive results from an updated NI 43-101-compliant technical report on its Palmarejo silvergold mining complex in western Chihuahua state, Mexico. The report incorporates the Independencia Este deposit, which Coeur acquired when it purchased Paramount Gold and Silver Corp. in April. The updated mine plan calls for production of approximately 5.9 million oz/y of silver and 94,000 oz/y of gold over a seven-year mine life. Pre-tax net cash flow of $305 million represents a fourfold increase from the $75 million of pretax net cash flow in the previous Palmarejo…. read more

| | |
| --- | --- |
| AROUND THE WORLD - Australasia | |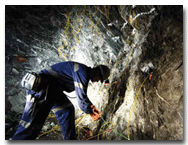 Newmont Expanding Tanami Gold Production


Newmont Mining has announced plans to expand its underground Tanami gold mine in Australia's Northern Territory by opening a second decline to the mine and increasing plant throughput capacity. The project will lift Tanami gold production by approximately 80,000 ounces per year (oz/y) to between 425,000 and 475,000 oz/y at all-in sustaining costs of between $700 and $750/oz during its first five years of operation. First commercial production from the expansion is scheduled for the second half of 2017…. read more



Metals X's Central Murchison Project Pours First Gold


Metals X Ltd. poured the first gold doré bar at its Central Murchison gold project in Western Australia on October 26. The bar weighed 11.76 kg and was predominately derived from gravity concentrates. The Central Murchison project is mining several historically mined properties, with ore trucked to and processed at the existing, 2-million-mt/y Bluebird plant. Metals X acquired the plant in 2014 and has made it the centerpiece of its Central Murchison development strategy. The plant has been fully recommissioned, is currently being optimized, and is operating at an average throughput rate of  …. read more

Top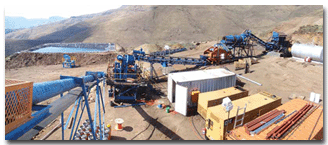 Paragon's Lesotho Projects to Focus on High-value Diamond Production
For all their status as a coveted jewel, diamonds have never really matched gold as an investment quality mineral; some wealthy investors now, however, are betting that this is set to change. U.K.-based Paragon Diamonds is developing the Lemphane and Mothae projects in the tiny mountain kingdom of Lesotho. Among the company's backers is a consortium of well-connected Gulf Arab investors who intend to…. read more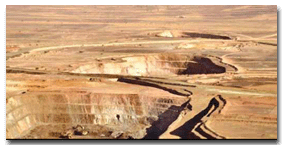 Kinross Considering Two-phased Expansion for Tasiast
Kinross Gold is completing early-stage engineering work on a potential two-phased expansion at its Tasiast gold mine in northwest Mauritania. A feasibility study of an initial Phase One expansion to increase mill throughput capacity from the current 8,000 mt/d to 12,000 mt/d is scheduled for completion in the first quarter of 2016. Following deferral in early 2014 of a previously studied 38,000-mt/d mill expansion…. read more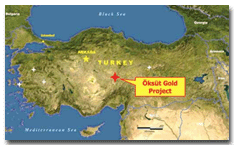 Centerra's Öksüt Gold Project Receives Environmental Approval


Centerra Gold reported that the environmental impact assessment (EIA) for its 100% owned Öksüt gold project in south-central Turkey has received final approval from the Turkish Ministry of Environment and Urbanization. The project is planned to produce a total of 895,000 ounces (oz) of gold over an eight-year mine life, including an average of 155,000 oz/y during the first four years. Pre-production expenditures and construction capital to develop the project are…. read more


Mesco On Track for Opening Cambodian Gold Mine
Indian mining company Mesco Gold seems set to operate Cambodia's first commercial mine, with infrastructure at the Phum Syarung mine in Ratanakiri Province advanced and government approvals pending. Mesco has established the required surface-level infrastructure and has submitted its environmental impact assessment. It said it can begin extracting ore within weeks of receiving its production license, although it could take up to a year before gold production begins …… read more

Top
| | |
| --- | --- |
| THIS MONTH IN COAL | |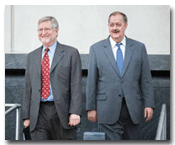 Former Massey CEO Blankenship Convicted


Don Blankenship, the ex-executive of Massey Energy charged with one conspiracy and two securities charges stemming from the 2010 Upper Big Branch mine explosion in West Virginia, was found guilty of one misdemeanor charge of conspiracy. After deliberating for nearly 10 days, a 12-member federal jury returned a split verdict: guilty of conspiracy for federal safety regulation violations, and two decisions of not guilty for charges of making false statements to securities officials and company shareholders. The trial was wrapped relatively quickly; jury selection began on October 1 and the jury heard evidence …. read more

Bowie Acquires Twentymile and El Segundo Mines


Bowie Resource Partners plans to purchase the El Segundo and Lee Ranch mining complexes in New Mexico and the Twentymile mining complex in Colorado from Peabody Energy for $358 million in cash plus the assumption of $105 million in liabilities. This acquisition will nearly double the size of Bowie's production output to 25 million tons per year (t/y), making it the largest bituminous coal producer in the western United States. This will also generate top line revenues of $1 billion annually. Bowie will operate five mining complexes in Colorado, New Mexico and Utah, employing more than 1,700 people…. read more

Eskom Terminates Supply Deal with Exxaro


After two years of talks and disagreements on its 40-year-long coal supply agreement, Eskom has confirmed that the pair's longtime coal deal will not be renewed. The existing contract was due to expire this month, and Eskom confirmed this week that it would no longer take coal as of December 31. Earlier this year, Eskom told Exxaro that the price for its coal, which Eskom used to fuel its Arnot power plant, was too high. Despite entering into a memorandum of understanding (MoU), negotiations dissolved; subsequently, Eskom advised Exxaro to commence closing the Arnot mine …. read more

| | |
| --- | --- |
| FEATURE - Haul Roads | |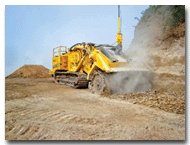 A New Approach to Building Haul Roads
Consultant finds surface miner improves quality of road, is faster than traditional method

There's a saying in the mining industry James Miedecke is fond of: Good roads, more loads. It's hard to overstate the importance of a haul road to a mining operation. Research has found that truck haulage costs can account for up to 50% of surface mining expenses. Yet Miedecke, who is roads and drainage specialist for mine road consultant Proof Engineers, said many mining companies don't put enough resources and forward-thinking into haul road construction and maintenance. "Often they'll go down a track that might be a short-term gain, but it gives them a little long-term pain," he said. He started seeing a change in attitude around the time commodity prices started to decline. Yes, budgets were getting squeezed, but finding efficiencies also became critical. Haul roads can ……. read more


For more companies with products in the Graders market -
Go Here
| | |
| --- | --- |
| FEATURE - Cranes & Rigging | |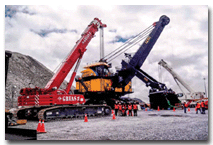 Lifting Safety and Versatily


Mining often requires heavy lifting capabilities for both construction and regular maintenance. Selecting the right crane for the job is key

Russell Simon Walker, European Editor

Look at the fleet list for a typical mine, and one will see trucks, excavators, dozers, wheel loaders and other production- orientated equipment. Underground, drill rigs, LHDs and mine trucks predominate. If they appear at all, cranes usually only make a minor appearance, somewhere near the bottom of the list.
The reason, of course, is that craneage is more often than not supplied by the rental market, and unless there are very sound economic reasons for doing so, individual mines rarely need to commit to owning their own cranes. It is usually more effective to hire in lifting capacity as and when it is needed, rather than having the commitment of maintaining machines that require regular safety certification yet may only be used infrequently. The exception here is in the use of small truck cranes, which typically provide fitters and electricians with..... read more

Top

For more companies with products in the Cranes market -
Go Here
| | |
| --- | --- |
| FEATURE - Controls & Sensors | |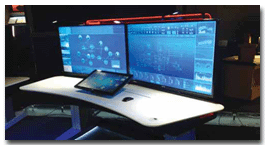 Turning Data Into Dollars


In the not-so-distant future, successful producers will need to be as proficient at moving data as they are now at moving dirt

By Russell A. Carter - Managing Editor

"Command and Control" is a term originating in military parlance, referring to a commander's authority and management of resources needed to accomplish a mission. Commonly shortened to "C2," it's a concept that can be usefully shifted to industrial campaigns—but in the case of mining, C2 might more appropriately stand for "Connection and Collection." Today, the main mission of most mineral producers is to survive in a fast-moving, hostile market environment, and some of the most promising weapons in their arsenal are emerging technologies that allow them to connect—taking advantage of better, quicker communications with all their productive assets; and collect—implementing cost-effective data collection and analysis that leads to better decision making…... read more


For more companies with products in the Controls & Sensors market -
Go Here
| | |
| --- | --- |
| FEATURE - Pumps & Piping | |

Pumping Out More Profit


Two 'success' stories illustrate the importance of choosing the correct pump type, materials, and accessories to cost-effectively meet common mine-site fluid and slurry transfer demands.

By Simon Walker, European Editor

Choosing the right pump for a specific application can have a major, lasting impact on overall operational efficiencies. In the first portion of this two-part article, Nate Maguire, Americas business unit director–industry and agriculture for Xylem's applied water systems business unit, highlights an all-important point: Pumps used in mining applications are subject to the harshest and most demanding conditions on earth. From dewatering to mineral extraction, pumps are required to perform efficiently in difficult conditions and for long hours. It is important to select the most appropriate pumps to efficiently handle these adverse environments and deliver the best application results.
As an example, Maguire told E&MJ that a large gold mine in Colorado, producing more than 200,000 ounces per year (oz/y), uses vertical turbines in its operations, which employs heap leaching for precious metal recovery.... read more

Top


For more companies with products in the Pumps market -
Go Here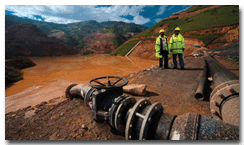 Gravity Flow vs. Pumped Systems: Are You Overspending on Pipes and Pumps?


Mine-duty plastic piping and water management systems present options to reduce costs for mine operators While many mining applications rely upon the delivery of high-pressure water requiring powerful pumps and heavy-duty pipework, elements of an effective water management system can often operate successfully without the need for pumps. Tailings management and heap-leach processes can sometimes be configured…. read more

Wet Scrubbers Handle Sticky Materials


A new line of Handte Vortex wet scrubbers from Camfil Air Pollution Control (APC) is designed to deliver high-performance wet dust collection with "plug and play" operation and low maintenance. The units are said to be ideal for capturing very sticky dusts and fibers, for processes with high fire  loads and flying sparks, and for filtration of highly explosive dusts, particularly for applications where dry dust collection systems are not appropriate. Because they provide wetting…… read more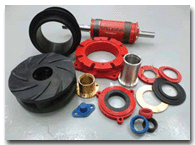 Popular Slurry Pump Design is Re-engineered for the Global Market


After acquiring the equipment division of Linatex North America in 2001, McLanahan Corp. has since assembled pumps and supplied spare parts for the original Linapump IIIr centrifugal slurry pump in the North American market. With a growing international presence, McLanahan is now offering its newly developed McLanahan M3H rubber-lined slurry pump for the global market…. read more

Top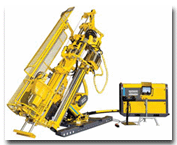 Safer Core Drilling Rigs


Atlas Copco said it now offers drill rigs that eliminate many of the hazards typically associated with underground core sampling. The risk of handling inner tubes and drill rods while extracting core samples, for example, is common for drillers everywhere, and despite safety regulations, accidents and severe injuries still occur. Atlas Copco noted that its Diamec Smart core drilling rigs have an advanced control system that enables automatic functions such as drilling and rod handling…… read more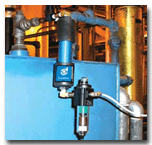 Air Dryer Solves Water Issues in Fluid Storage


Water in fluid tanks can cause major problems— corrosion, pump cavitation, viscosity changes, additive dropout, oxidation and other issues. To address this problem, Clean Fuel & Lubricant Solutions, a business unit  of Donaldson Co., recently introduced its Reservoir Air Dryer for tanks and reservoirs. The Donaldson Reservoir Air Dryer offers a solution to curb the damaging effects of moisture by dehydrating the reservoir headspace and removing dissolved moisture from exposed oils and fuels. The air dryer combats moisture by introducing a steady…. read more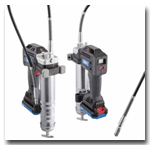 Battery-driven Grease Gun Makes Maintenance Easier


SKF's new battery-driven grease gun, the TLGB 20, includes an integrated grease meter to help prevent over- and underlubrication. Suitable for a variety of manual lubrication tasks, the SKF TLGB 20 features a durable, ergonomic design with a three-point stand for operator comfort and convenience and a 20-volt, lithium-ion battery. The tool's display indicates battery charge level, amount of grease dispensed, pump/motor speed and blocked lubrication points. Dispensing up to 15 grease cartridges per battery charge…. read more

Versatile Dock for Ruggedized Tablet


Havis, based in Pennsylvania, USA, has released docking stations designed for the new Dell Latitude 12 rugged tablet. The new DS-DELL-600 Series docking station offers computer charging, security and connection to peripherals in industrial workplaces. It has been tested to comply with industry safety standards, including 30-mph crash simulations per SAE J1455, military-grade vibration testing, hot/cold operation and storage testing, extensive cycle testing and compliance with RoHS (Restriction of Use of Hazardous Substances) regulations. The unit features recessed port replication  .…. read more

Top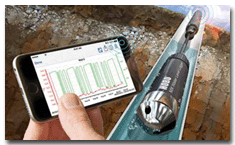 Bluetooth Device Simplifies Water Level Measurements


Data logger supplier Onset recently announced the relase of the Hobo MX2001, claimed to be the first water level data logger designed for convenient wireless setup and download from mobile  devices via Bluetooth Low Energy. The MX2001 simplifies and lowers the cost of field data collection by providing wireless access to high-accuracy water level and temperature measurements ….read more
NOVEMBER 30–DECEMBER 4, 2015: American Exploration & Mining Association annual meeting, Spokane, Washington, USA. Contact: Web: www.miningamerica.org
FEBRUARY 21–24, 2016: SME Annual Conference and Expo, Phoenix Convention Center, Phoenix, Arizona, USA. Contact: Web: www.smenet.org
APRIL 11–17, 2016: bauma, Messe Munchen, Munich, Germany. Contact: Web: www.bauma.de/
MAY 25–27, 2016: Coal Prep 2016, Kentucky Exposition Center, Louisville, Kentucky USA Contact: Web: www.coalprepshow.com
JUNE 7–10, 2016: Ugol Rossii Mining 2016, Kuzbass Fair Exhibition Center, Novokuznetsk, Russia Contact: Web: www.ugol-mining.com
JUNE 14–16, 2016: Euro Mine Expo, Skelleftea, Sweden. Contact: Web: www.eurominexpo.com
SEPTEMBER 12–16, 2016: Electra Mining Africa 2016, Expo Centre, Nasrec, Johannesburg, South Africa. Contact: Web: www.electramining.co.za
SEPTEMBER 26–28, 2016: MINExpo INTERNATIONAL 2016, Las Vegas Convention Center, Las Vegas, Nevada, USA. Contact: Web: www.minexpo.com
For a full calendar of mining industry conferences and events - click here
| | |
| --- | --- |
| WHO'S MOVING WHERE | |

Westmoreland Coal Co. announced that Brian Blackman has joined the company as director of investor relations. Most recently, Blackman served as vice president of investor relations for Molycorp..

Entrée Gold announced that its CEO Greg Crowe is departing pursue other opportunities. The board appointed Stephen Scott as the interim CEO Most recently, Scott was the CEO of Minenet Advisors.

n Kibaran Resources appointed former Resolute Mining Chairman and Australian-African resources executive Robert "Bob" Pett, to the company's board of directors as nonexecutive chairman..

Primero Mining appointed Ernest Mast as president and CEO and director of the board effective January 31. Joseph F. Conway, the company's CEO since its inception, will assume the role of executive vice chairman as part of an established succession plan. In mid-2016, Conway will transition to vice chairman and director of the board.

Dominion Diamond announced that Brendan Bell, CEO, has been appointed to the board of directors. Bell joined the company in July 2013 with responsibility for external affairs and human resources and led the team tasked with conducting permitting negotiations for the Jay Project with the government of the Northwest Territories.

Turquoise Hill Resources announced the resignation of Stewart Beckman, senior vice president, operations and technical development. Beckman has accepted a new position within Rio Tinto.

Alamos Gold announced that Alan Edwards has resigned from the board of directors and from his position as chair of the board. Paul Murphy has been appointed to serve as chair.

Atrum Coal NL appointed Ann Marie Hann as vice president, external relations. She was previously president of the Coal Association of Canada, a position she held for more than four years.
About - providing an abreviated version of the current print edition of E&MJ, WOMP is distributed throughout the world to decision makers in the global mining industry, the last week of every month.

Subscribe to E&MJ - To receive your own copy of the print edition of E&MJ, click here , and complete your details. E&MJ is available free of charge to qualified readers.

Contact - if you have views, opinons or comments or editoral that you would like to submit, we would be delighted to hear from you - click here

Top