Newmont Expanding Tanami Gold Production
---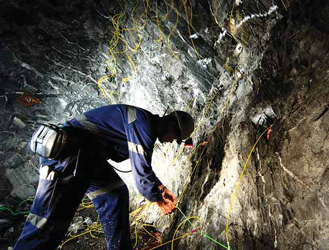 Newmont predicts that adding a second decline at Tanami will allow an increase
in the mining rate from 2.3 million to 2.6 million mt/y. (Photo: Newmont Mining)


Newmont Mining has announced plans to expand its underground Tanami gold mine in Australia's Northern Territory by opening a second decline to the mine and increasing plant throughput capacity. The project will lift Tanami gold production by approximately 80,000 ounces per year (oz/y) to between 425,000 and 475,000 oz/y at all-in sustaining costs of between $700 and $750/oz during its first five years of operation. First commercial production from the expansion is scheduled for the second half of 2017.

Adding the second decline at Tanami will allow an increase in the mining rate from 2.3 million metric tons per year (mt/y) to 2.6 million mt/y. The processing plant expansion will include addition of a ball mill, thickener, and gravity circuit to improve recoveries and increase throughput capacity to 2.6 million mt/y.

The expansion project will open access to about 2 million oz of gold resources and extend Tanami mine life by three years. The project will also create a platform for exploration drilling to support future growth. Recent exploration results demonstrate the potential to double Tanami reserves and resources by expanding existing deposits and developing adjacent discoveries.

Newmont estimates the Tanami expansion will cost between $100 million and $120 million, which it will fund from free cash flow and available cash balances. Of this amount, a quarter will be spent in 2015, half will be spent in 2016, and the remainder will be spent in 2017.

"Tanami is a Newmont success story," Newmont President and CEO Gary Goldberg said. "Since 2012, the team has more than doubled gold production while cutting costs by about two-thirds and significantly improving resource confidence. The expansion project continues this trajectory, offering robust returns of more than 35% at current gold prices."

Tanami is located in the Tanami desert 590 miles southwest of Darwin and 350 miles northwest of Alice Springs, making it one of Australia's most remote mining locations. It is a fly-in, fly-out operation. Newmont acquired the mine in 2002 through its merger with Normandy Mining. In 2014, Tanami produced approximately 345,000 oz of gold at all-in sustaining costs of $1,038/oz.
---
As featured in Womp 2015 Vol 12 - www.womp-int.com