Pilot Tests Produce Ferronickel for Horizonte
---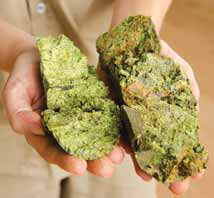 Ore sample from Horizonte's Araguaia laterite nickel
project in Para` state, Brazil.


Horizonte Minerals announced in early November completion of an integrated rotary kiln-electric furnace pilot plant campaign on ore from its 100% owned Araguaia laterite nickel project in Parà state, Brazil. The pilot campaign was conducted at the Morro Azul pilot plant in Minas Gerais state. The Morro Azul plant was originally built by Anglo American and is now operated by Morro Azul in association with IGEO of Sao Paulo, Brazil. The facility has been used by a number of major nickel companies, including Vale and Anglo American, for pilot test work, staff training and final product testing.

The Morro Azul plant processed a bulk sample of 160 wet metric tons (mt) of Araguaia ore over an 11-day period, 24 hours per day, and produced high-grade ferronickel to commercial specification on a continuous and sustained basis. The bulk sample was representative of ore that Horizonte anticipates will be processed during the first nine years of commercial operation at Araguaia.

Drying and agglomeration produced excellent feed material for processing in the pilot plant's high-temperature rotary kiln. The kiln produced good quality calcine, with very low dust generation and favorable pre-reduction levels of about 60% for iron oxide and 10% for nickel oxide.

Electric furnace smelting of the calcine produced high-quality ferronickel over a target range of commercial nickel grades and at a nickel recovery of more than 93%. Both ingot casting and nickel granulation of the ferronickel product were successfully demonstrated.

The full range of pilot plant technical data will be incorporated into a full feasibility study for final commercial rotary kiln-electric furnace design due in 2016. Prior to completion of the pilot plant campaign, Horizonte announced in late September that it had reached an agreement to acquire Glencore's "Glencore Araguaia Project," adjacent to Horizonte's Araguaia project. Horizonte plans to combine the projects to create one of the world's largest nickel saprolite projects in terms of size and grade. Data from the Glencore project will be included in the full feasibility study.

Horizonte anticipates that the combined resources of the two projects will provide ore grading 2% nickel over the first 10 years of a mine life of at least 25 years. An earlier prefeasibility study of Horizonte's standa-lone Araguaia project assumed plant feed grading 1.76% nickel over the first 10 years of operation, delivering 15,000 mt/y of contained nickel in a ferronickel product.

Horizonte CEO Jeremy Martin said, "The consolidation of the Araguaia district is a major achievement for Horizonte. The enlarged project is ideally placed in the commodity cycle to be advanced with the aim of commencing production within the next five years when the supply/ demand fundamentals for nickel are expected to be more favorable.

Horizonte Minerals is headquartered in London, England, and is listed on the AIM and Toronto stock exchanges.
---
As featured in Womp 2015 Vol 12 - www.womp-int.com