Former Massey CEO Blankenship Convicted
---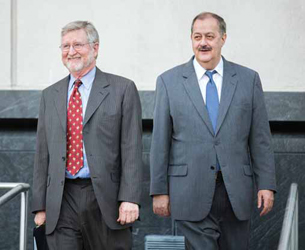 Former Massey Energy CEO Don Blankenship, right, and lead attorney
William Taylor, depart the Robert C. Byrd United States Courthouse
following the third day of jury deliberations in his trial in Charleston,
West Virginia, Thursday, November 19. (Photo: AP Photo/Walter Scriptunas II)


Don Blankenship, the ex-executive of Massey Energy charged with one conspiracy and two securities charges stemming from the 2010 Upper Big Branch mine explosion in West Virginia, was found guilty of one misdemeanor charge of conspiracy. After deliberating for nearly 10 days, a 12-member federal jury returned a split verdict: guilty of conspiracy for federal safety regulation violations, and two decisions of not guilty for charges of making false statements to securities officials and company shareholders.

The trial was wrapped relatively quickly; jury selection began on October 1 and the jury heard evidence from 27 witnesses in the following several weeks.

The group's decision came the morning of December 3, and U.S. Attorney Booth Goodwin held a press conference to confirm the results at 1 p.m. local time at the Robert C. Byrd U.S. Courthouse in Charleston, West Virginia. He was flanked by FBI Special Agent James Lafferty, U.S. Department of Labor Office of Inspector General Special Agent Jeffrey Carter, and Assistant U.S. Attorneys Steve Ruby, Greg McVey and Gabriele Wohl.

"The jury's verdict sends a clear and powerful message: It doesn't matter who you are, how rich you are, or how powerful you are—if you gamble with the safety of the people who work for you, you will be held accountable," Goodwin said.

"The evidence overwhelmingly showed an enterprise that embraced safety crimes as a business strategy. It was reprehensible, and the jury saw it for what it was. Time and time again the defendant chose to put profits over safety. He got rich and the coal miners who worked for him paid the price."

Sentencing for Blankenship is tentatively scheduled for March 23. He faces up to one year in federal prison as well as a fine of up to twice the gain or loss that resulted from his conduct. As the two left the courthouse, Blankenship's attorney William Taylor said the trial never should have been brought and they will appeal.
---
As featured in Womp 2015 Vol 12 - www.womp-int.com