Centerra's Öksüt Gold Project Receives Environmental Approval
---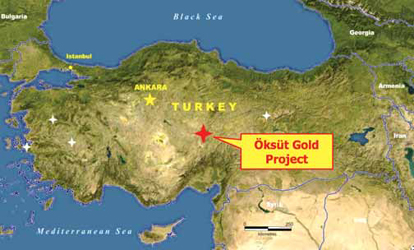 Centerra Gold reported that the environmental impact assessment (EIA) for its 100% owned Öksüt gold project in south-central Turkey has received final approval from the Turkish Ministry of Environment and Urbanization. The project is planned to produce a total of 895,000 ounces (oz) of gold over an eight-year mine life, including an average of 155,000 oz/y during the first four years. Pre-production expenditures and construction capital to develop the project are estimated at $221 million, including a $25 million contingency.

Regarding the EIA approval, Centerra CEO Scott Perry said, "We are very pleased that this milestone has been achieved and the timetable for Öksüt continues to move forward as planned. The company will now focus on obtaining all the necessary land-use and other operational permits to allow us to start construction and development of the project late in the first quarter or early in the second quarter of 2016. We are on schedule so far, with first gold production anticipated in the second quarter of 2017."

The Öksüt project's estimated mineral reserves as of June 30 stood at 26.1 million mt at an average grade of 1.4 g/mt gold, containing 1.2 million oz of gold, using a cut-off grade of 0.3 g/mt and a gold price of $1,250/oz. Production will be via a two conventional open pits (Keltepe and Guneytepe) and heap leaching. The Keltepe deposit accounts for 90% of the project's resources.

Centerra believes the Öksüt property has exploration upside, as evidenced by recent drilling that extended the Guneytepe deposit and identified additional oxide material in the Keltepe NW prospect 1 km from the existing reserve area. Additional drilling is planned once the necessary drill permits are approved.
---
As featured in Womp 2015 Vol 12 - www.womp-int.com