| | |
| --- | --- |
| | To receive your own edition of the print version of E&MJ - Go Here |




Strategic Decisions in Moscow Rattle Potash Markets



The "cartel" that sets prices for potash began to unravel at the end of July in Russia, causing market value to plunge. This is good news for farmers, not so good news for potash miners. The announcement by Russian potash producer Uralkali that it would withdraw from its sales partnership with Belarusian Potash Co. (BPC) attracted attention and agitated a somewhat calm sector of the mining business. According to Uralkali's CEO Vladislav Baumgertner, the company's cooperation with its "Belarusian partner" had reached a deadlock. He said Belaruskali had made a number of deliveries outside of the partnership with BPC and that violated the underlying principles of their agreement. "We have repeatedly informed our Belarusian partners that such actions were unacceptable and they have ultimately destroyed the fundamentals of our prolonged fruitful cooperation" Baumgertner said. Uralkali currently produces......... read more



Steve Fiscor, Editor in Chief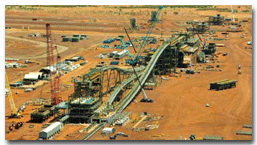 BHP and Rio Tinto Producing Iron Ore at Record Pace
BHP Billiton and Rio Tinto continued to report record levels of iron ore production in Western Australia for their reporting periods ending June 30 (the end of BHP's fiscal year and the end of Rio Tinto's fiscal first half.) BHP's Western Australia Iron Ore unit delivered its 13th consecutive annual production record of 187 million metric tons (mt) (100% basis, including production attributable to minority partners). During the June quarter, shipments were running at an........ read more
Barrick Extends Pascua-Lama Development Schedule


Barrick Gold has submitted a plan, subject to review by Chilean regulatory authorities, to construct the water management system on the Chilean side of its huge Pascua- Lama gold-silver project to bring it into compliance with permit requirements by the end of 2014. Under this scenario, ore from Chile is expected to be available for processing by mid-2016, and Barrick is extending the construction timelines for the project's process plant and other facilities in Argentina, targeting first production by mid-2016, compared to its previous schedule of the second half of 2014....... read more

Top
Newmont and Goldcorp Report Impairment Charges


Newmont Mining and Goldcorp each reported major impairment charges in their second-quarter 2013 financial results, released in late July. Newmont reported that as a result of lower gold and copper prices and in accordance with U.S. GAAP, its second quarter net income was adjusted by $1.8 billion, net of taxes and minority interest, for impairments and revaluation. Of that amount, $272 million was related to impairments of stockpiles and ore on leach pads. The remaining $1.5 billion was related to impairments of property, plant and mine development, and other..... read more

Top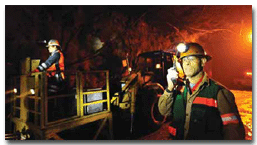 Freeport Indonesia Returns to Production


In an operations update included in its first-half 2013 report, Freeport-McMoRan Copper & Gold reported that its Indonesian subsidiary, PT Freeport Indonesia, resumed open-pit mining and concentrating activities at its Grasberg operations on June 24, and underground mining operations on July 9. The mines were shut down following an accident on May 14 that resulted in 28 deaths and 10 injuries. For the period from July 10 to July 19, the Grasberg mill averaged ore throughput..... read more
| | |
| --- | --- |
| AROUND THE WORLD - USA & CANADA | |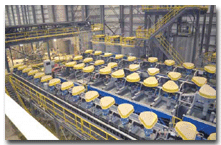 Canada Lithium Starts Production in Quebec


Canada Lithium Corp. produced its initial run of 99.1% lithium carbonate from its processing plant 60 km north of Val d'Or, Quebec, in early July. The material was then upgraded to 99.5% battery-grade material during the commissioning of the plant's solvent extraction and bicarbonate circuits. The first shipment to the Tewoo Group in China under a five-year off-take agreement occurred soon thereafter. All circuits of the Canada Lithium mine and plant had been tested at commissioning-level volumes...... read more
Lundin Reports Progress at Eagle Project


Lundin Mining said on July 17 it had closed its acquisition of the Eagle nickel- copper mine construction project on Michigan's Upper Peninsula from Rio Tinto, previously announced on June 12. In a project update, Lundin reported that Eagle project construction is more than 50% complete, and initial production is expected to begin during the fourth quarter of 2014. Project ramp-up is proceeding well, according to the company. Earthworks, concrete installation, and steel erection are under way at the mill site. The contract for mine-site coarse ore storage has been awarded, and the contractor and all vendors have been mobilized. New delivery dates are being finalized. Most equipment has been ordered and is expected to be delivered to site prior to year-end.... read more

Top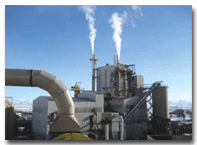 Veris and Newmont Announce Toll Mill Deal


Veris Gold announced on July 24 entry into a toll milling agreement with Newmont Mining to process ore produced from Newmont mines at Veris' Jerritt Canyon mill complex in Elko County, Nevada. Under the terms of the agreement, which ends December 31, 2014, Newmont will deliver up to 45,000 st/month of ore to the Jerritt Canyon mill. The Newmont ore will be batch processed, and all doré produced from the ore will remain the property of Newmont throughout the process. Veris will treat the associated toll milling fee as.... read more

| | |
| --- | --- |
| AROUND THE WORLD - Latin America | |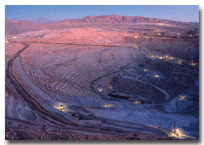 Sea-water Desalination Project Approved for Escondida


BHP Billiton and Rio Tinto announced on July 25 approval of their shares of investments in a new, $3.43-billion, 2,500-liter/ sec sea-water desalination facility that will be built to ensure continued water supply to the Escondida mine in northern Chile. Escondida—the world's largest copper mine—is located in the Atacama Desert 170 km southeast of the city of Antofagasta at an elevation of 3,100 m above sea level. A new, 152,000 metric tons…… read more
Tahoe Targeting Early 2014 for Production at Escobal


Tahoe Resources reported on July 10, that Guatemala President Otto Perez Molina, in an effort to promote consensus in Guatemala's Congress and advance support for mining in Guatemala, asked the Congress to approve a two-year temporary moratorium on the granting of new mining and exploration licenses in Guatemala. Tahoe received the final permit for its high-grade, underground Escobal silver project in southeast Guatemala in April, and the company reported that the proposed government action will not affect the permit. Surface plant construction and underground…. read more

| | |
| --- | --- |
| AROUND THE WORLD - Australasia | |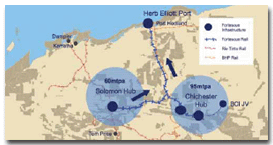 Fortescue Sees Solomon Hub at Capacity by Year-end


Fortescue Metals expects to have the two iron ore mines, Firetail and Kings, at its Solomon Hub in Western Australia operating at combined design capacity of 60 million metric tons per year (mt/y) of iron ore by year-end 2013. The mines are separated by a distance of 5 km. Associated infrastructure includes two ore processing facilities, crushing hubs, 15 km of overland conveyors, and a stockyard and train loadout facility…. read more



Atlas Iron Developing Mount Webber Mine


Atlas Iron is proceeding with development of the Mount Webber iron ore project 230 km via road south-southeast of Port Hedland, Western Australia. The direct shipping ore project spans property owned by Atlas (70%) and Altura Mining (30%), and an adjoining northern tenement owned 100% by Atlas. Mount Webber mining operations are scheduled to begin before year-end 2013, with first ore shipments from the second quarter of 2014. The initial production rate will be 3 million mt/y, and initial mine life is estimated at 18 years. Atlas is targeting a second stage of development that would increase production to 6 million mt/y…. read more

Top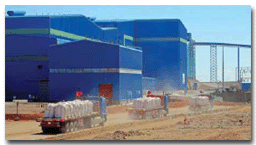 Oyu Tolgoi Begins Concentrate Shipments, Hits Snag in Underground Development Funding
Rio Tinto announced on July 9 that Oyu Tolgoi had begun shipping copper concentrate to customers from its copper and gold mine in Mongolia. The event, according to the company, marks the culmination of a three-year, $6.2-billion project to build the first phase of one of the world's top five copper mines. Oyu Tolgoi is owned by Turquoise Hill Resources (66%) and Erdenes Oyu Tolgoi (34%)…. read more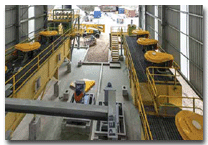 Vietnam's First Nickel Mine Begins Production
Production of concentrate has started at Asian Mineral Resources' (AMR) Ban Phuc nickel project, 160 km west of Hanoi in Son La Province, Vietnam. At the official opening ceremony on June 29, local and national dignitaries noted the significance of the opening of the first nickel mine in Vietnam and the importance of the continued development of the nickel industry for the province and Vietnam's economy. Operations at the underground mine started May 10, and with the commissioning of the processing plant…. read more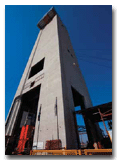 Implats Commissions New Shaft in South Africa


Impala Platinum (Implats) has commissioned the new No. 16 shaft complex at its operations near Rustenburg, South Africa. The complex consists of a 10-m-diameter, 1,675-m-deep main hoisting shaft and a 6.8-m-diameter, 1,440-m-deep ventilation shaft. The seven levels of the main shaft will access both the Merensky and UG2 reef horizons, with the emphasis being on mining the Merensky reef during the initial ramp-up phase. The No. 16 shaft's 108-m-tall headgear is the tallest known concrete headgear in the world. The headgear is equipped with two Koepe winders for man/material transport and rock hoisting…. read more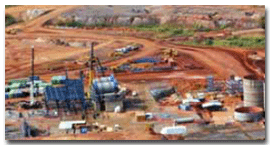 Randgold Preparing for Start-up at Kibali
Randgold Resources reports that the Kibali gold project in northeastern Democratic Republic of Congo (DRC) has advanced to its immediate pre-production stage, and final preparations are being made for the first gold pour, targeted for October this year. Kibali development is based on a 10-million- oz-plus gold deposit and is owned by Randgold (45%), AngloGold Ashanti (45%), and the Congolese parastatal, Sokimo (10%). The life-of-mine plan envisages average production of.…… read more

Top
| | |
| --- | --- |
| THIS MONTH IN COAL | |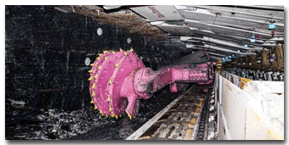 Kestrel Extension in Australia Begins Production


Rio Tinto officials have announced that coal production is under way at their Kestrel mine extension, a $2-billion project near Emerald in central Queensland, Australia. The extension, according to Rio Tinto, will add 20 years to the Kestrel mine, the company's only underground coal operation. Kestrel uses longwalls to produce metallurgical grade coal. John Coughlan, Kestrel's general manager for operations, called the event a "milestone" following four years of …. read more

Bowie Resource Partners Acquires Canyon Fuel Mines


Bowie Resources and the Galena Private Equity Resource Fund created a joint venture, Bowie Resource Partners, to purchase Canyon Fuel Co. from Arch Coal for $435 million in cash. The sale has been approved by the Arch board of directors and is expected to be completed in the third quarter of 2013. Bowie Resource Partners (BRP) will own the Bowie and Canyon Fuel mines and will be based in Louisville, Kentucky, with a regional office in Grand Junction, Colorado. It will have an annual productive  …. read more

Pike River Says it has No Money for Families
Pike River Coal says there is no cash in its coffers to pay court-ordered compensation to the families of victims of the 2010 mine explosion—despite the personal wealth of its former directors and the assets of its biggest shareholder, according to The New Zealand Herald. The company was sentenced in the Greymouth District Court on July 4 over health and safety failings that led to the deaths of 29 miners in November 2010. Judge Jane Farish ordered Pike River Coal to pay a total of $3.41 million in reparation…. read more
| | |
| --- | --- |
| FEATURE - Flotation | |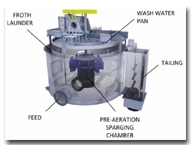 New Technology and Applications for Flotation through Systematic Product Development
Key elements for success are close partnerships with customers, and an effective productdevelopment management system that minimizes cost and technological risks.

By Dr. Eric Bain Wasmund

More than a century ago, froth flotation became one of the key technologies for enabling the development of modern infrastructure and societies. For the first time, industrially important metalliferous ores such as those containing copper could be concentrated in an economical way and to concentration levels that would allow them to be processed on a large "mass production" scale to produce metals. Great strides have been made in the unit operations and processes for concentrating metals, and major improvements continue to be made. The main objective is to improve recovery of the mineral to some acceptable level of enrichment while reducing the amount of energy required. In other words, the primary goal is to minimize……. read more


For more companies with products in the Flotation market -
Go Here
| | |
| --- | --- |
| FEATURE - Loading Technology | |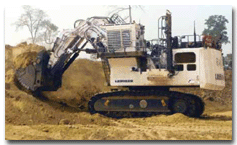 OEMs Make Improvements to Hydraulic Shovels


During the last year, modifications for several mining class excavators were announced and more announcements are expected.

Steve Fiscor, Editor-in-Chief

When it comes to shovels, mine operators have two choices: electric rope shovels and hydraulic excavators. Both offer distinct advantages in certain settings. Rope shovels easily load 360-ton trucks and they run on electricity. Hydraulic excavators are more maneuverable and can selectively extract rock, ore and coal. Loading 190- to 240-ton payload haul trucks is one gray area, however, where excavators are starting to compete directly with shovels. During the last year, the OEMs that build mining-class hydraulic excavators in the 100- to 800-ton weight range, or hydraulic shovels, announced improvements to several models. Many of the improvements.... read more

Top

For more companies with products in the Loaders market -
Go Here
| | |
| --- | --- |
| FEATURE - Production Blasting | |

Mine Water Management: No Siimplle Reciipe


Study reveals significant discrepancy between the vibration energy released and what was measured in highly stressed stopes

By B. Mohanty, D. Zwaan and F. Malek

An extensive blast monitoring program has been carried out to study explosive performance and the effectiveness of blast designs in production blasts in a deep underground mine. Comprehensive monitoring of blasting vibrations through multi-station high-capacity, high-frequency accelerometers, and borehole deformation history have been the main tools of such analysis. The mining activity involves relatively unstressed stopes as well as highly stressed stopes. More than 30 production blasts have been monitored, and the respective vibrations from close-range as well as distant seismic stations have been analyzed, and the vibration parameters (amplitude and frequency) have been correlated with explosive charge weight in the holes. The correlation between blasting rounds and the corresponding vibration…... read more


For more companies with products in the Blasting market -
Go Here
| | |
| --- | --- |
| FEATURE - Maintenance | |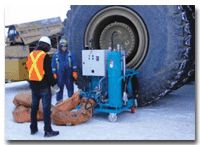 Improve Equipment Reliability and Reduce Costs with Clean Oil



By Caren Caffrey

While many companies struggle to contain costs and reduce their environmental footprint, quite a few underestimate the value found in keeping oil clean and dry. Oil is traditionally changed at recommended time intervals rather than when the key features of the lubricant, such as AW and EP additives, no longer function. Removing or reducing the primary contaminants responsible for additive consumption and oil degradation will extend the life of the lubricant and the equipment it is designed to protect. Most oil problems can be attributed to the following types of contaminants..... read more

Top


For more companies with products in the Maintenance market -
Go Here
Metso, CSIRO to Collaborate in Mineral Processing R&D, Technology Transfer


A new initiative announced between industry supplier Metso and Australia's Commonwealth Scientific and Industrial Research Organization (CSIRO) holds promise of strengthening the ability of both organizations to further develop and provide advanced technological services and solutions to the industry, according to the two participants. As part of the collaboration, Metso Process Technology and Innovation (PTI) has relocated its global head office to the Queensland Center for Advanced Technologies (QCAT) facilities in Brisbane, Australia …. read more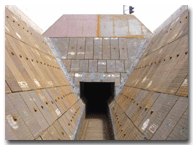 BHP Billiton Iron Awards Wear Liner Contract to CME


Crushing & Mining Equipment (CME) announced that it has been awarded a 10- year contract to supply wear liners to BHP Billiton Iron Ore's (BHPIO) Pilbara sites in Western Australia. In addition, CME said it has been awarded the sole contract to conduct wear management advisory services for all sites. Both contracts will run independently and will renew year-on-year dependent on achievement of key performance targets. The contract for wear liners involves supply of CME's wear products lineup, which includes…… read more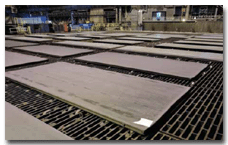 Ruukki Expands its Range of Raex Wear-resistant Steels


Helsinki, Finland-based steelmaker Ruukki said its line of wear-resistant special steels has been expanded to include thicker wear-resistant steels needed, for example, in the mining industry. Raex special steel is now available in a range of thicknesses from 2 mm to 80 mm. According to the company, thicker Raex steels up to 80 mm can be used to manufacture parts for heavy machinery and equipment designed for excavation, loading, transporting and crushing ore in mines. Such parts include the buckets for excavators and front-end loaders, tipper bodies…. read more

Top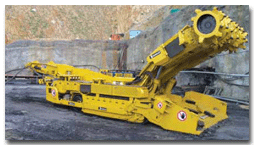 Kangra Coal Gives Green Light for Yellow Machines


At the beginning of 2013, two Eickhoff continuous miners commenced production at South African underground operation Savmore colliery after the owner of the mine, Kangra Coal (Pty) Ltd., commissioned their own mining operations in their 1.8- to 2-m Dundas low seam area. Currently one low profile Eickhoff CM2H-30 and another recently refurbished Eickhoff CM2H-37 are successfully cutting at the Maquasa Adits on a 10-production shifts per week roster and two maintenance shifts per month. Kangra Coal employs .…… read more
Remote-control Crawler Drill


Hütte Bohrtechnik has introduced a selfcontained, fully hydraulic crawler drill rig model. Similar in size to its HBR 203 model, the radio remote-controlled Hütte HBR 202 can be powered by an onboard electric motor or diesel engine, without need for a separate power supply. Although the 202 shares the same undercarriage and telescoping mast as the 203, the HBR 202 also offers unique kinematics resulting from an upper structure that rotates 140° left and right and extends fore and aft 350 mm. Another feature is a new 3-speed low profile rotary head…. read more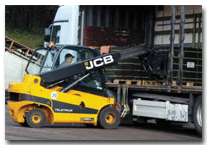 Forklift Works in Confined Spaces


JCB Construction Equipment's Teletruk forklift features the strength of a telehandler and the body of a forklift, qualities that make it particularly useful for service duties in mining environments where space is limited. The Teletruk, invented by JCB in 1997, is a forklift truck with a telescopic boom instead of a vertical mast. The mastless design enables the Teletruk to completely load flatbeds or open-sided trucks from a single side, while traditional forklifts must load one side of the truck first, then travel around…. read more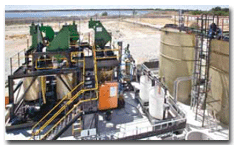 Suite Deal: Tenova Bateman Technologies Offers a Full Portfolio of Mineral Processing Solutions


Mining companies today are facing unprecedented pressure to perform more efficiently in all aspects of their operations. High on the list of management concerns and shareholder expectations, for example, are improved capital efficiency and asset utilization. With the average grade of ore taken from active deposits around the world falling each year, compounded by the need to replenish reserves from often-remote locations or difficult-to-process ore types, the pressure will .…. read more

Top

Portable XRF Analyzer Built for Field Use


Spectro Analytical Instruments said its new SpectroScout Portable Energy Dispersive Xray Fluorescence (ED-XRF) analyzer is designed to enable rapid, laboratory-class elemental analysis of environmental and geological samples, even in remote locations. The new unit is lightweight (12 kg/26.46 lb) and small (270 x 306 x 306 mm/10.7 x 12.1 x 12.1 in). Its features include a large sample compartment, X-ray tube, onboard processor and high-yield battery pack. An optional integrated video system allows precise spot testing, plus image….read more
SEPTEMBER 4–6, 2013: China International Mining Expo 2013, Beijing, China Contact: Beijing Hiven Exhibition Co. Ltd.; Tel: 86-10-6863 8450; E-mail: information_bj@163.com; Web: www.bjminexpo.com
SEPTEMBER 11–12, 2013: EuroMining 2013, Tampere, Finland. Contact: Tampere Trade Fairs/Mikael Wänskä; Tel: 358 207 701 230; E-mail: mikael.wanska@tampereenmessut.fi; Web: www.euromining.fi
SEPTEMBER 16–20, 2013: Extemin, Lima, Peru Contact: El Instituto de Ingenieros de Minas del Perú; Tel: (51 -1) 349 4262, ext 352; E-mail: perumine@iimp.org; Web: www.iimp.org.pe
SEPTEMBER 16–20, 2013: XV International Congress for Mine Surveying, Aachen, Germany. Contact: RWTH Aachen, Institute for Mine Surveying; Tel: 49 241 80 95687; Fax: 49 241 80 92150; Web: www.ism-germany-2013.de
SEPTEMBER 23–26, 2013: Exposibram, Belo Horizonte, Brazil Contact: Kallman Worldwide Inc.; Tel: 201-251-2600 ext. 127 or 56 2 843 3300 ext.3303; Web: www.kallman.com
SEPTEMBER 29–OCTOBER 2, 2013: Solution Mining Research Institute Fall Technical Conference, Avignon, France. Contact: John Voigt;Tel: 570-585-8092; E-mail: smri@solutionmining.org; Web: www.solutionmining.org
OCTOBER 1–3, 2013: Minex Russia 2013, Moscow, Russia. Contact: Irina Yukhtina; Tel: 44 (0)207 520 9341; Fax: 44 (0)207 520 9342; E-mail: ira.y@minexforum.com; Web: www.minexrussia.com
OCTOBER 31–NOVEMBER 2, 2013: Mining 2013 Myanmar, Yangon, Myanmar. Contact: Shaun White, Allworld Exhibitions; Tel: 44 2078402130; E-mail: swhite@oesallworld.com; Web: www.miningmyanmar.com
For a full calendar of mining industry conferences and events - click here
| | |
| --- | --- |
| WHO'S MOVING WHERE | |

Cliffs Natural Resources Inc. announced that Joseph Carrabba will retire as president and CEO by December. James Kirsch, who currently serves on Cliffs' board as lead director, has been elected non-executive chairman of the board, replacing Carrabba as chairman. The company also announced that Laurie Brlas has retired as executive vice president and president, global operations. Mark E. Gaumond, former senior vice chair, Americas of Ernst & Young, has been elected a new director.

Goldgroup Mining Inc. has appointed Chairman and Director Keith Piggott president and CEO, replacing Dr. Hans von Michaelis. Dr. von Michaelis has resigned as the company's president and CEO. The company also announced that Donald Siemens has been appointed a lead director.

Allied Nevada Gold Corp. has appointed Randy Buffington president and CEO.

Mechel OAO has appointed Pavel Shtark CEO of Mechel Mining Management Company OOO. He replaces Boris Nikishichev, who is retiring.

Verde Potash has appointed Antônio Schettino COO.

The National Mining Association Executive Committee has met to fill the vacancy of NMA chairman due to the retirement of Frank McAllister from Stillwater Mining. The committee selected Red Conger, president of Freeport-McMoRan Americas, as McAllister's successor. Conger currently serves as chairman of the Audit and Finance Committee and has agreed to continue in that capacity until the fall board meeting.

Philippi-Hagenbuch Inc. recently promoted Danette Hagenbuch Swank to president from her current position as vice president of internal operations.

Jessica Alm has been appointed executive vice president and head of group communications as well as a member of the Group Executive Management of Sandvik AB. She succeeds Jan Lissåker, who will become group senior adviser in larger projects.
About - providing an abreviated version of the current print edition of E&MJ, WOMP is distributed throughout the world to decision makers in the global mining industry, the last week of every month.

Subscribe to E&MJ - To receive your own copy of the print edition of E&MJ, click here , and complete your details. E&MJ is available free of charge to qualified readers.

Contact - if you have views, opinons or comments or editoral that you would like to submit, we would be delighted to hear from you - click here

Top