OEMs Make Improvements to Hydraulic Shovels
During the last year, modifications for several mining class excavators were announced and more announcements are expected
By Steve Fiscor, Editor-in-Chief
---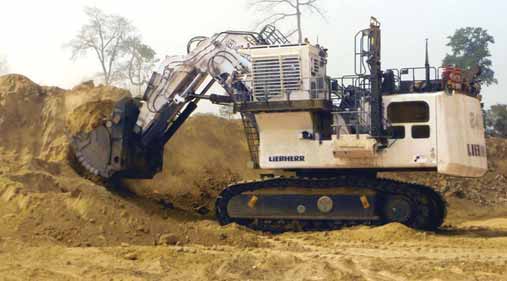 Weighing in at 770,000 lb, (349,000 kg) Liebherr Mining's R 9400 would be a mid-size, mining-class excavator.

When it comes to shovels, mine operators have two choices: electric rope shovels and hydraulic excavators. Both offer distinct advantages in certain settings. Rope shovels easily load 360-ton trucks and they run on electricity. Hydraulic excavators are more maneuverable and can selectively extract rock, ore and coal. Loading 190- to 240-ton payload haul trucks is one gray area, however, where excavators are starting to compete directly with shovels.

During the last year, the OEMs that build mining-class hydraulic excavators in the 100- to 800-ton weight range, or hydraulic shovels, announced improvements to several models. Many of the improvements include fuel efficiency, machine uptime, ease of maintenance, data management, and improved ergonomics for the operators. They are also making it clear that they are setting their sights on loading larger mining haul trucks more effectively.

Liebherr Grows with the Global Excavator Market
Liebherr Mining designs and builds its mining class excavators in Colmar, France. During MINExpo 2012, Dr. Jörg Lukowski, executive vice president (sales and aftersales), Liebherr-Mining Equipment Colmar SAS, spoke about the company's current hydraulic excavator fleet and shared news about future models and research and development.

"Today, the mining market is four times larger than it was in 2002," Lukowski said. "For 2011, we have seen close to 1,000 machines more than 100 metric tons sold worldwide. For 2012, sales figures are indicating again a potential increase in the global market by roughly 20%."

Liebherr Mining has increased global hydraulic excavator market share of close to 20% in 2011. "We are in the process of making the required investments to further increase our market share," Lukowski said. "Yearly production output will increase to more than 300 units."

To support increasing machine population in the field, Liebherr Mining is expanding its worldwide support network. The sales and support companies are Liebherr-owned, and are operated by Liebherr personnel. New Liebherr support companies have been established in Colombia and in Mozambique. In terms of commodities, the majority of Liebherr Mining's business is still in coal, representing 48% of its sales.

"A major focus in our strategy and work has been and will continue to be the use of Liebherr-designed and built components, such as cylinders, gears, engines and other hydraulic components," Lukowski said.

Liebherr offers a full range of eight models of hydraulic mining excavators from 220,000 lb (99,800 kg) to more than 1.6 million lb (725,750 kg) operating weight.

At MINExpo 2012, Liebherr Mining presented the new Liebherr R 9150 hydraulic mining excavator and the R 9400, and the company displayed the R 9400 again at bauma 2013. (Editor's note: For a full description of the face shovel version of the R 9400 operating weight of 770,000 lb and a 29-yd3 bucket, readers should refer to the Bauma Preview, March 2013 E&MJ, p.50).

The new Liebherr R 9150 hydraulic mining excavator, is equipped with a Liebherr 12 V engine rated at 757 hp (565 kW). Its operating weight is 280,000 lb and the machine is equipped with a 10.5 yd 3 backhoe or face shovel attachment.

"In hard digging we have seen an even higher output from the R 9150 than from the R 984 C [an increase of as much as 15%]," Lukowski said.

Field tests have proved that the fuel economy for the R 9150 with the Liebherr engine is excellent, in either the current Tier 2 EPA certified version, or in Tier 0 mode, he said "We have seen fuel savings of 10% if compared with other machines in this class," Lukowski added. The first units will be available to customers in mid-2013.

During MINExpo 2008, Liebherr Mining announced the 800-mt R 9800. "Since then we have sold seven units," Lukowski said. "With a total of approximately 50,000 accumulated operating hours...the R 9800 delivers superior production with instantaneous digging rates around 8,000 mt per hour at a similar or even lower fuel consumption than we see from other machines. We have seen confirmed data from mine sites that indicate a 15% fuel saving per ton."

In regard to the development of new machines, Lukowski believes that an additional product in the 200-mt class will pave the way for Liebherr Mining to offer the most complete product range. "We are currently closely looking at this size class, and you should be expecting news from us in this regard in the near future," Lukowski said.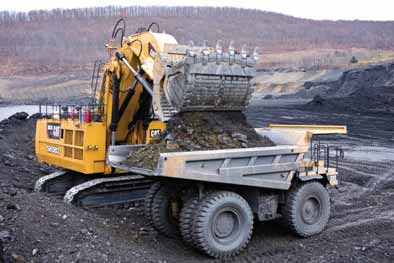 The Cat 6030B will be commercially available by the fourth quarter of 2013.
Cat Deploys Largest Hydraulic Shovel
After acquiring the Bucyrus line of miningclass excavators, Cat began to pursue the larger haul trucks. At MINExpo 2012, Caterpillar displayed the Cat 6030B FS hydraulic excavator and announced the 6120B H FS, which will be the largest hydraulic mining shovel ever built, according to Cat. The 6120B H FS significantly exceeds the size of the 6090 FS to deliver highly productive 3- or 4-pass loading of ultra-class mining trucks. Hybrid technologies reduce fuel use per ton by an estimated 25%—through the use of hydra-electric regenerative technologies and an energy storage system.
The 6120B was designed to be the most productive and efficient ultra-class hydraulic shovel. An operating weight of approximately 2.8 million lb (1.27 million kg) and engine output of about 4,500 hp enable the shovel to efficiently handle dipper sizes of 60 to 85 yd3 (46 to 65 m 3 ), depending on material density.
The energy management system uses large capacitors to store energy created by the shovel during swing deceleration and boom-down movements. That stored energy then helps power the hydraulic system when the machine requires peak power, such as during the digging portion of the cycle. The hybrid technology features longlife components and design for ease of service, as do other systems within the shovel. Isolated, modular systems within the 6120B offer easy access and enhanced serviceability.
The new hydraulic shovel will fill the need for a safe, cost-efficient and highly mobile ultra-class shovel for short-term mining operations and sites with no electrical power or electrical power limitations. Improved hydraulics apply strong bucket forces through a wide range of heights. The Tri Power linkage technology enhances digging capabilities of the 6120B. Similarly, the new shovel makes best use of proven Cat shovel features, such as the ergonomically designed, state-of-the-art operator's cabin.
The 6030B FS hydraulic excavator on display at MINExpo 2012 is the first of the B Series machines. The 6030B FS features a new cab with advanced ergonomic design and superior visibility to the work area and clear lines of sight to the stick and boom for enhanced operator comfort and efficiency. Access walkways and hand rails too, have been redesigned to enhance the safety of operators and technicians.
The 6030B, available in backhoe configuration as well as front shovel, incorporates a number of components that enhance reliability and durability. The 6030B FS on display featured Cat power— two C27 diesel engines producing 1,530 hp (1,140 kW). A full line of diesel and electric drive options are available. The B series also retains advanced hydraulics control, independent oil cooling, intuitive on-board electronics and durable structures. It also features Cat C95 GET with hammerless design for simplified removal and installation of bucket teeth.
The 6030B FS payload of 33 tons remains the same as the 6030 FS that the new model replaces when it becomes commercially available in the fourth quarter of 2013. Machine weight remains at approximately 632,000 lb (287,000 kg).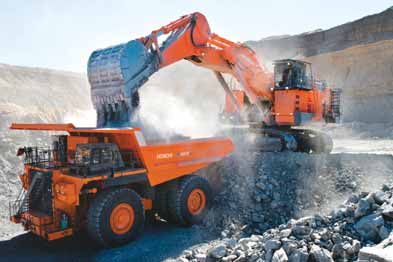 The loading capacity for the Hitachi EX5600-6 has been improved.
Hitachi Improves the EX5600-6
Hitachi Mining's EX5600-6, as well as its other mining-class hydraulic excavators— the EX8000-6, EX2500-6, EX3600-6 and EX1900-6—have been highly valued by mining customers for their production and high availability, based on reliability. In response to requests by mine owners and operators to increase the production capability without significantly increasing the footprint, last year Hitachi Mining introduced the new EX5600-6.
The EX5600-6 has a number of improvements, while retaining many proven features. It's somewhat heavier than its predecessor, has more engine horsepower, and the BE-backhoe version has increased bucket capacity. Estimated productivity increases are 17% for the short-reach BH backhoe, and 12% for the loader version. Loading time per truck has been lessened as well, according to Hitachi Mining.
The bucket capacity for the EX5600-6 backhoe version has been increased to 44.5 yd3(34 m 3) from 38 yd 3 (29 m 3 ). The reach of the backhoe front attachment has been shortened and the engine output boosted to achieve higher productivity with a cycle time equivalent to the -5 version.
The loader bucket capacity has been increased as well, to 38 yd 3 from 35.5 yd 3 .
Hydraulic pump output has been increased by 10%, without degrading conventional cycle time performance. This results in a higher flow rate at the same pressure. Higher flow rate means faster speed. Pump speed is increased through a change in the pump drive gear ratio.
The hydraulic oil cooler has changed. The manufacture of the core has been changed, along with the type of core row and fin shape. Fan speed has been increased to provide additional cooling capacity due to increases in hydraulic horsepower.
Inside the cab, LED lighting has been adopted for longer life and less heat generation. An optional interface with major mine management systems commonly used in many mine sites, including Wenco Fleet Management Systems (provided by Wenco International Mining Systems Ltd., a subsidiary of Hitachi Construction Machinery Co. Ltd.) is also available.
Although the Cummins engine model number remains the same, it is a different engine configuration to provide the increased horsepower. There is now a spin-on type filter for pilot system for easier serviceability.
The EX5600-6 is offered in both backhoe and loader shovel configurations. The exclusive auto-leveling crowd mechanism increases job efficiency with one-lever control. Hitachi's computer-aided EnginePump Control coaxes optimum efficiency from the engine and hydraulic pumps. This innovative system senses load demand and controls the engine and pump output for maximum operating efficiency.
For the undercarriage and hydraulic cylinder, parts common to the original EX5500-6 are used. The cab remains the same—roomy and comfortable with an air suspension seat, low-effort short-throw levers with electric fly-by-wire, and support for diagnosing the failure portion via the monitoring function of the large size LCD monitor.
Provisions for extreme operating conditions, from tropical to arctic, are still available. Also retained are the convenient 45° folding-type service ladder and Hitachi Global e-Service that enables owners to download critical field data to their office for remote field monitoring. Complete Machine Information Center (MIC) data can be downloaded in the field with a laptop.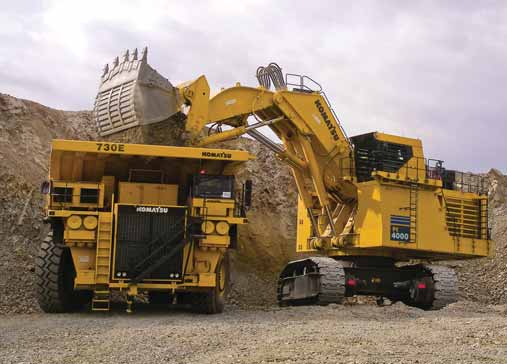 The Hydropilot hydraulics on the Komatsu PC 4000 deliver precise control.
Komatsu Makes Reliability a Priority
During MINExpo 2012, Komatsu discussed improvements to its PC4000 hydraulic shovel. With an operating weight between 855,500 lb to 879,800 lb (388,000 to 399,000 kg) and a bucket capacity of 29 yd 3 (22.1 m 3 ), it was designed with the goal of helping miners move more material in less time at a reduced cost per ton, according to Komatsu. A Komatsu SDA16V160E-2 diesel engine and 4-circuit advanced "Hydropilot" hydraulics are two of the major improvements.
The Komatsu SDA16V160E-2 diesel engine has a rated power of 1,875 hp. The shovel's low engine emission levels meet EPA regulations for Tier 2 and an oil management system, which saves time, is fitted as standard on all machines. Electric drive 4,160 to 7,200 volts, 50 or 60 Hz, is also available.
The PC4000 has some of the highest digging forces in its class with a backhoe break-out force of 250,000 lb and loading shovel crowd force of 300,000 lb. All cylinders are mounted in the shadow of the attachment's steel structure for component protection. A wide-range of wear packages, buckets and track shoes are available to suit applications. Komatsu's PC4000 is recommended for use with haul trucks with payloads that range from 150 to 240 tons.
The insulated cab has been engineered to reduce noise and vibration. The cab has a deep wide front window with the operator positioned and seated on a multiadjustable air suspension seat for improved comfort and visibility. The cab has A/C climate control with pressurized filtered air ventilation. An optional back up A/C or heater is available.
The Hydropilot hydraulics reliably deliver precise control, according to Komatsu. The single engine is connected to a gearbox driving four identical main pumps that draw hydraulic oil from an unpressurized tank. The open circuit system is fitted with swing out oil coolers and monitored filtration that enhance machine efficiency and operating life.
The machine has been designed to be maintenance-friendly with quick access to major components. Access to all major service points are at the machinery's house level and there is also ground-level access to the hydraulically-powered swing-down service arm with Wiggins connections.
The PC4000 is equipped with Komtrax Plus (formerly VHMS) technology, which sends machine operating information to a secure website wirelessly. Data such as operating hours, component trends, machine utilization (including idle time and fuel consumption) and production information are relayed to the web application and made available online for analysis.
---
As featured in Womp 2013 Vol 08 - www.womp-int.com