Freeport Indonesia Returns to Production
---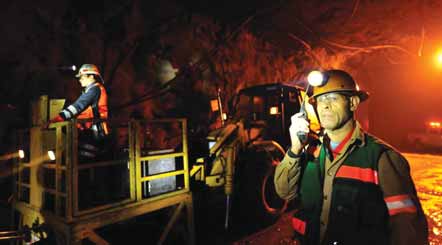 PT Freeport Indonesia restarted underground mining operations on July 9 after a tunnel collapse killed
28 miners in May. (Photo courtesy of PT Freeport Indonesia)

In an operations update included in its first-half 2013 report, Freeport-McMoRan Copper & Gold reported that its Indonesian subsidiary, PT Freeport Indonesia, resumed open-pit mining and concentrating activities at its Grasberg operations on June 24, and underground mining operations on July 9. The mines were shut down following an accident on May 14 that resulted in 28 deaths and 10 injuries (E&MJ, June 2013, p. 9).

For the period from July 10 to July 19, the Grasberg mill averaged ore throughput of approximately 200,000 mt/d, almost back to its pre-accident operating rate of 220,000 mt/d.

Freeport-Indonesia's second quarter 2013 sales totaled 158 million lb of copper and 151,000 oz of gold, down from 183 million lb of copper and 247,000 oz of gold in the second quarter of 2012.

Freeport-McMoRan also reported that it took actions during the second quarter of 2013 to reduce or defer capital expenditures and other costs, and initiated efforts to identify potential asset sales to reduce debt and maintain financial strength and flexibility in response to recent declines in metals prices. As a first step, Freeport has reduced budgeted capital expenditures, exploration spending, and other costs by a total of $1.9 billion for 2013 and 2014.

Freeport Indonesia has several projects in progress in the Grasberg minerals district, primarily related to the development of large-scale, high-grade underground orebodies. In aggregate, these underground orebodies are expected to ramp up over several years to produce approximately 240,000 mt/d of ore, following the currently anticipated transition from the Grasberg open pit in 2017.

Developments of the Grasberg Block Cave and of the Deep Mill Level Zone (DMLZ) are advancing according to schedule, which would enable the DMLZ to begin production in 2015 and the Grasberg Block Cave mine to begin production in 2017. Over the next five years, capital spending on these projects is expected to average $760 million per year.

At its Morenci mine in Arizona, Freeport-McMoRan is expanding mining and milling capacity to process additional sulphide ores. The project is targeting an increase in milling rates from 50,000 mt/d to approximately 115,000 mt/d in 2014. As of June 30, approximately $600 million had been spent on the project, with another $1 billion remaining to be spent. Cost estimates for the project are now approximately 15% higher than previous estimates as a result of increased equipment and material costs and higher labor costs.

In South America, Freeport has started construction activities associated with a large-scale expansion at Cerro Verde, Peru. The project will expand concentrator throughput capacity from 120,000 mt/d to 360,000 mt/d. As of June 30, approximately $800 million had been incurred for this project, with approximately $3.6 billion remaining to be spent.

Freeport continues to evaluate a potential large-scale milling operation at El Abra, Chile, to process additional sulphide material and achieve higher recoveries. Future long-term investments will require completion of feasibility studies and will be dependent on overall market conditions.
---
As featured in Womp 2013 Vol 08 - www.womp-int.com