Sea-water Desalination Project Approved for Escondida
---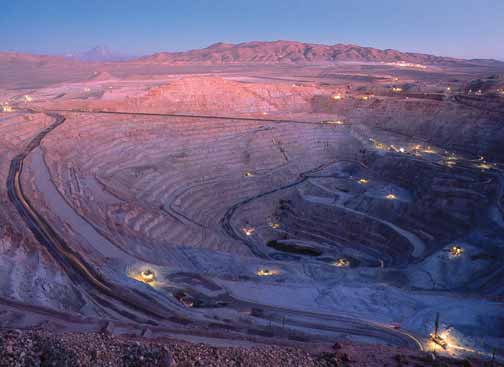 Escondida, the world's largest copper mine, will soon have a new, high-capacity sea-water desalination plant to ensure
adequate water supply. (Photo courtesy of Rio Tinto)

BHP Billiton and Rio Tinto announced on July 25 approval of their shares of investments in a new, $3.43-billion, 2,500-liter/ sec sea-water desalination facility that will be built to ensure continued water supply to the Escondida mine in northern Chile.

Escondida—the world's largest copper mine—is located in the Atacama Desert 170 km southeast of the city of Antofagasta at an elevation of 3,100 m above sea level. A new, 152,000 metric tons per day (mt/d) concentrator is currently under construction that will increase water use at the mine.

Ownership at Escondida is BHP Billiton (57.5%), Rio Tinto (30%), JECO Corp. (10%), and JECO 2 Ltd. (2.5%). BHP Billiton is the operator. BHP Billiton's share of the sea-water desalination investment will be $1.972 billion; Rio Tinto's share will be $1.03 billion.

Construction of the new desalination facility has begun and will include development of two pipelines, four high-pressure pump stations, a reservoir at the mine site, and high-voltage infrastructure to support the system. The new facility will be commissioned in 2017.
---
As featured in Womp 2013 Vol 08 - www.womp-int.com