Fortescue Sees Solomon Hub at Capacity by Year-end
---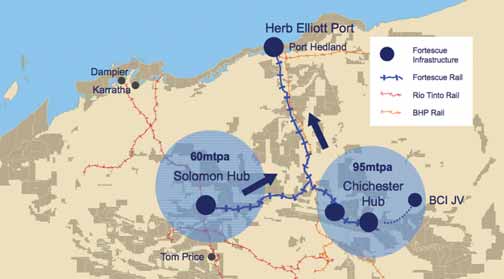 When both of its major production hubsóSolomon and Chichesteróreach design capacity in 2014, Fortescue Metals
Group will reach its long-term goal of an operating rate of 155 million mt/y iron ore.

Fortescue Metals expects to have the two iron ore mines, Firetail and Kings, at its Solomon Hub in Western Australia operating at combined design capacity of 60 million metric tons per year (mt/y) of iron ore by year-end 2013. The mines are separated by a distance of 5 km. Associated infrastructure includes two ore processing facilities, crushing hubs, 15 km of overland conveyors, and a stockyard and train loadout facility.

Fortescue formally opened the 20 million mt/y Firetail mine in early May. In late June, the company announced that it had awarded the mining contract for the Kings deposit to Leighton Contractors, with expectations that the mine would reach its design capacity of 40 million mt/y by yearend 2013.

Fortescue's Solomon Hub is located 60 km north of Tom Price, Western Australia, and 120 km west of Fortescue's Chichester Hub, which is ramping up during 2013 to its targeted capacity of 95 million mt/y from the Cloudbreak and Christmas Creek mines. With both Chichester and Solomon at design capacity in 2014, Fortescue will have achieved its long-held goal of an operating rate of 155 million mt/y of iron ore production, and it will be able to blend ore from the two hubs into an enhanced product called the new "Fortescue Blend."

Leighton Contractors is mining the Firetail deposit under a five-year, A$1.5-billion contract for "whole-of-mine" management. The Firetail contract was varied to include the Kings mine, with the variation valued at an additional A$1.3 billion. The full scope of Leighton's Solomon Hub contract now includes operating and maintaining the open-cut mining fleets, mine planning, ore quality control, ore processing facilities, and associated infrastructure, such as the airport and village.

Mining at Firetail began in 2012, with ancillary in-pit crushing used to produce ore and commissioning feed for the processing and train load-out facilities. Fortescue dispatched the first trainload of Firetail iron ore in early December 2012, as it opened a new, 130-km rail link from the Solomon Hub to its existing mainline railway from the Chichester Hub to Herb Elliot Port.
---
As featured in Womp 2013 Vol 08 - www.womp-int.com