Australia Imposes Unfair Taxes on Miners


Australia's federal government recently announced a carbon tax scheme to reduce the country's greenhouse gas emissions. The announcement came at a time when the Australian mining industry is still trying to calculate the impact of the draft legislation for the Mineral Resource Rent Tax (MRRT). Even though similar choices cost her predecessors their political careers, Australian Prime Minister Julia Gillard has stayed the course on MRRT and decided to impose a carbon tax.
While the major miners, who had a hand in rewriting the MRRT, are supporting it, smaller miners and explorers are crying foul. They believe the policy affects the development of future projects disproportionately to existing operations and a study from the University of Western Australia supports that belief. The UWA model shows that, under the MRRT, the average total effective tax rate increases from 38% to more than 40% for projects that existed prior to May 2010, and more than 44% for future projects and those that have come online since......... read more

Steve Fiscor, Editor in Chief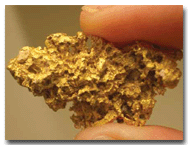 World Gold Council Launches Initiative to Combat Conflict Gold
The World Gold Council (WGC), working with its member companies and leading gold refiners, has produced a draft framework for two standards designed to combat gold that enables fuels or finances armed conflict. Released for review and comment in mid-June 2011, the 'Conflict Free Gold' and 'Chain of Custody' standards seek to ensure:
• Where gold is mined in a conflict   or high-risk zone, its production and/or transportation do not finance or benefit armed groups......... read more

BHP Billiton Receives Approval for Jansen Potash Project EIS


BHP Billiton received notice from the Saskatchewan Ministry of Environment in late June 2011 that ministerial approval had been granted to develop the company's Jansen potash project, located about 140 km east of Saskatoon. The company submitted the Environmental Impact Statement (EIS) for the project in December 2010. A week prior to announcing approval of the Jansen project EIS, BHP Billiton reported plans to invest a further $488 million to support development of the project during its feasibility study stage. The funding will go....... read more

Top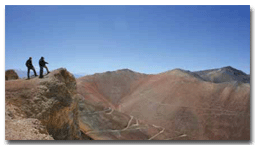 M&A Activity Steps Up at Mid-year


Mining merger and acquisition activity generated numerous headlines during the second half of June and the first half of July 2011. Brief details of seven proposed transactions are reported here. Additional details of the offers and agreements are available on the companies' websites.
Jinchuan/Metorex : Jinchuan Group, of China, in early July topped a previous bid by Vale for South Africa-based Metorex, and Vale declined to match Jinchuan's offer. Vale had offered $1.125 billion for Metorex on April 8, 2011, Jinchuan offered $1.3 billion..... read more

Top

National Mining Hall of Fame Names 2011 Inductees and Prazen Award Winner


The National Mining Hall of Fame and Museum (NMHFM) has announced the 2011 National Mining Hall of Fame inductees. Representing the coal, metallurgical/processing R&D, marble and lead industries, this year's inductees cover a diverse cross-section of the mining industry. William Diamond, Wayne Hazen, Redfield Proctor and Jeffrey Zelms will join 210 other mining industry pioneers when they are formally inducted into the National Mining Hall of Fame at the 24th Annual Induction Banquet & Ceremony. They were selected for..... read more
| | |
| --- | --- |
| AROUND THE WORLD - USA & CANADA | |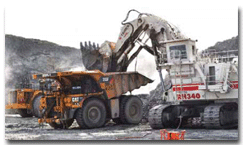 Osisko Attains Commercial Production at Canadian Malartic


Osisko Mining's Canadian Malartic mine, located 20 km west of Val d'Or, Quebec, achieved commercial production during the 30-day period ending June 17, 2011, processing an average of 33,300 mt/d during that period. Commercial production was defined as the first continuous 30-day period of plant operation at 60% of design capacity. Design capacity at Canadian Malartic is 55,000 mt/d. Construction of the Canadian Malartic mill was completed in the first quarter of 2011. Following a..... read more
HudBay Adds New Concentrator to Lalor


HudBay Minerals reported in early July 2011 it will build a new 4,500-mt/d concentrator to process ore from the Lalor underground mine it is developing in the Snow Lake district of Manitoba. This change in planning results from an optimization study of Lalor development and replaces an initial plan to refurbish and upgrade the company's existing Snow Lake concentrator to a capacity of 3,500 mt/d. The new concentrator will add C$144 million to estimated capital spending for Lalor development, bringing total estimated capital cost for the project to C$704 million.... read more

Top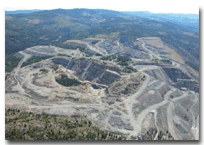 Copper Mountain Processes First Ore


Copper Mountain Mining began commissioning the concentrator at its Copper Mountain mine 15 km southwest of Princeton, British Columbia, in late May 2011. Mechanical adjustments were completed quickly, and production began June 4. The company was targeting full production by mid June. An official mine opening ceremony was scheduled for mid-August. At full production, the Copper Mountain mine will move an average of 55 million mt of material per year, and the mill will produce about 105 million lb/y of copper in concentrates, plus gold.... read more
| | |
| --- | --- |
| AROUND THE WORLD - Latin America | |
Xstrata Studying Expansions at Collahuasi and Lomas Bayas


In separate announcements in June 2011, Xstrata Copper reported it has begun prefeasibility studies for expansions at Cía. Minera Doña Inés de Collahuasi, where it has 44% ownership, and at its 100%-owned Lomas Bayas mine. Both mines are located in northern Chile. The Collahuasi study is considering expansion of production of copper in concentrates from 500,000 mt/y to either 800,000 mt/y or 1 million mt/y. The Lomas Bayas study is considering expansion of production from 75,000 mt/y of copper cathodes…… read more
Exeter Reports Positive PFS for Caspiche Oxides


Exeter Resource Corp., a Vancouverbased Canadian junior company, has received a positive prefeasibility study (PFS) from Jacobs Engineering for development of a stand-alone, oxides-only heap leach mine at its Caspiche project in the Maricunga region of northern Chile. Such development would be based on the thick oxide blanket that covers the very large underlying Caspiche sulphide deposit. A combined oxide-sulphide development is the subject of a much larger PFS currently under way and scheduled for release in the fourth quarter of 2011…. read more

| | |
| --- | --- |
| AROUND THE WORLD - Australasia | |

Rio Tinto Accelerates Pilbara Iron Ore Expansion


Rio Tinto reported in mid-June it is accelerating its iron ore expansion program in the Pilbara region of Western Australia with $676 million of funding for early works and procurement. As a result, capacity expansion to 333 million mt/y at the company's Pilbara operations will be reached in the first half of 2015, six months earlier than previously planned. The investment (Rio Tinto's share is $350 million) will be used to bring forward engineering work for the longest-lead-time components of port…. read more

Cobar Commits to Wonawinta Silver Project


Cobar Consolidated Resources (CCR) announced in mid-June its board had formally committed to development of its Wonawinta silver project 100 km south of Cobar, New South Wales. Site work has begun, and expenditures have been approved for processing plant and infrastructure. The project is expected to produce 2.5 million oz/y of silver over an initial project life of five years. Silver production is targeted before the end of 2011. Wonawinta is Australia's largest 'pure' silver project, with 14 million oz of probable silver reserves and 51 million oz of indicated and inferred   …. read more

Top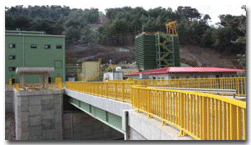 Eldorado Starts Up at Efemçukuru
Eldorado Gold began production at its Efemçukuru underground gold mine in Izmir province, Turkey, in June. Low-grade ore was initially fed to the mill, mining activities were in progress on the South ore shoot, and about 16,000 mt of ore grading 10.5 g/mt had been stockpiled at the plant. Mine design calls for production of 120,000 oz/y of gold, and Eldorado is studying the potential to increase production to 150,000 oz/y. As of December 31, 2010, proven and probable reserves totaled 1.5 million oz grading 9.10 g/mt; measured and indicated…. read more

OceanaGold Begins Construction at Didipio
OceanaGold began construction of its Didipio gold-copper project on northern Luzon, Philippines, in mid-June. Production is planned to average 100,000 oz/y of gold and 14,000 mt/y of copper over a 16- year mine life. Cash costs are estimated at negative $79/oz of gold net of byproduct credits over the first six years of operation and $356/oz over the life of the mine. Production will be from an open-pit throughout the life of the operation, with additional production from underground mining from 2020 onward…. read more



KCM Bottoms Out New Shaft for Konkola Deep


Konkola Copper Mines (KCM) announced in late June 2011 it had completed the sinking phase for the new shaft 4 at its flagship Konkola Deep mining project in Chililabombwe, Zambia, a town located near the Zambia-Zaire border. The shaft has been sunk to a depth of 1,505 m. With shaft sinking completed, the next phase of the project will be equipping the shaft. Konkola Deep shaft 4 is the first major shaft to be sunk in Zambia since the nation gained its independence in 1964. It is the deepest shaft in Zambia and will have the largest hoisting capacity of any shaft in southern Africa. The announcement the shaft sinking had been completed made…. read more

Orezone Reports Positive PEA for Bomboré
Orezone Gold has reported positive results for an NI 43-101 compliant preliminary economic assessment (PEA) of its Bomboré gold project in central Burkina Faso, West Africa. The PEA evaluated two near-surface, open-pit development scenarios—heap-leach and carbonin- leach (CIL)—and demonstrated both are potentially economically feasible if inferred resources can be substantially upgraded to indicated and more extensive technical studies confirm the preliminary information available for the study. Based on the results of the PEA, Orezone has…… read more

Top
| | |
| --- | --- |
| THIS MONTH IN COAL | |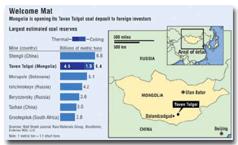 Three to Develop Mongolia's Tavan Tolgoi


Arch Coal and International Coal Group (ICG) announced they have signed a definitive agreement under which Arch will acquire all of the outstanding shares of ICG for $14.60 per share, in an all-cash transaction valued at $3.4 billion. The combined company will be the second largest U.S. metallurgical coal supplier and a top-five overall global coal producer and marketer. Arch said it will have a balanced met and thermal coal portfolio with unparalleled operational diversification in every major U.S. supply basin and the No. 1 or No. 2 position in each of its three core operating regions, according to Arch Coal…. read more

Oxbow Battling with U.S. Railroads


Oxbow Mining and several affiliates are accusing the two largest Western U.S. railroads— Union Pacific (UP) and Burlington Northern Santa Fe (BNSF)—of conspiring to raise prices and corner the freight hauling market in violation of federal anticompetitive laws since 2003.The mining and rail companies are battling in both legal and regulatory arenas. Oxbow, owned by businessman Bill Koch and operator of the Elk Creek underground mine in Gunnison County, Colorado, has filed a federal antitrust suit against UP and BNSF in U.S. District Court for …. read more

Adverse Weather Impacts BHP's Coal Production
BHP Billiton recently reported annual results for 2010-2011 Fiscal Year. Met coal production at BHP Billiton's Queensland operations, which was severely curtailed due to flooding in the region, decreased 13% to 32.7 million metric tons (mt). Quarter to quarter met coal production decreased 28% to 7.9 million mt. The remnant effects of wet weather that persisted for much of the 2011 financial year continued to restrict BHP's Queensland Coal (Australia) business, despite…. read more
| | |
| --- | --- |
| FEATURE - Paste | |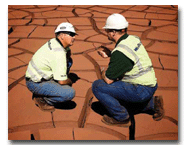 Paste: A Maturing Technology
Mining companies worldwide are gaining the benefits from optimizing their tailings-disposal systems

By Simon Walker, European Editor

Paste technology covers a range of applications, all of which are founded on one basic concept: reducing the moisture content of a processing plant's tailings stream to produce a material that remains sufficiently fluid to pump yet sufficiently stiff to gain early stability. Drivers for the use of paste technology include the need to conserve water resources, reducing the environmental impact of tailings disposal, hastening tailings restoration, and producing a material that has better properties for use as backfill underground. Key to the more widespread use of paste technology, whatever the reason for its application, has……. read more

| | | |
| --- | --- | --- |
| | For more companies with products in the Mineral Processing - Go Here | |
| | |
| --- | --- |
| FEATURE - Tires | |
OTR Tire Supply Comes Under Pressure


Another haul-truck tire shortage may lie just around the corner, but this time both miners and mobile equipment manufacturers should be better prepared to cope

By Russell A. Carter, Managing Editor

With images of the earthmover tire shortages of 2007 still etched on the industry's rear-view mirror, mine fleet operators and potential customers are again facing the prospect of ultra-large tire scarcity down the road—and once again, at a time when the industry's strong resurgence after a major slump could be slowed by rising costs and material shortages. Overall operating costs are growing. Just recently, Wall Street research firm Sanford Bernstein reported that an average of announced first-quarter 2011 mining unit cost increases indicates they have risen by 18% year-on-year ..... read more

Top
| | | |
| --- | --- | --- |
| | For more companies with products in the Tires & Tubes market - Go Here | |
| | |
| --- | --- |
| FEATURE - Flotation | |

Exploration Bounces Back


New flotation-cell designs and process-control tools keep bubbling to the surface.

By Russell A. Carter, Managing Editor

In the never-ending battle to gain tighter control over flotation circuit performance, plant operators already have a wide spectrum of tactics and tools to choose from, ranging from eyeball inspection of froth characteristics based on prior experience, up to complete optical- or statistics-based control systems. Recent technological developments from two companies—one well-known to the industry, the other not quite as familiar—add even more options to the operator's arsenal. Floating the Fines According to Wolfgang Krieglstein, sales and product manager, Siemens AG Mining, a mounting challenge to minerals processing is the issue of steadily declining head grades for valuable minerals in ore …... read more

| | | |
| --- | --- | --- |
| | For more companies with products in the Flotation Equipment market - Go Here | |
| | |
| --- | --- |
| FEATURE - Australian Technology | |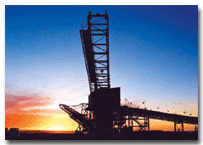 Australian Expertise Comes with the Raw Materials



By John Miller, Australian Editor

Australia is not only supplying many of the raw materials feeding the ongoing economic development of emerging nations such as China and India, and supporting the industrial powers of Japan and South Korea, it is arguably the world's premier supplier of mining technologies and services. The importance of Australia's mining technology, services and equipment sector domestically and internationally was outlined at Austmine 2011 in Brisbane, Queensland. An under-recognized segment of Australia's world-class minerals industry, the sector has expanded rapidly in the past decade, such that it is now estimated to generate A$30 billion a year of sales with annual exports worth more than A$8 billion. Significant..... read more

Top

BASF MEYCO Expanding Horizons Underground
BASF Construction Chemicals, with its global customized MEYCO® solutions, is a leading supplier of innovative product technologies, offering specialized equipment and engineering knowledge. Tackling all your underground engineering requirements safely and cost and time effectively, BASF® has been instrumental in bringing new methods to tunnel construction and the mining industry... watch the video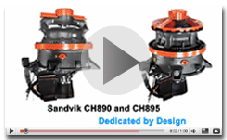 Sandvik - Cone crushers CH890 CH895
Sandvik introduces two new powerful mining cone crushers -- CH890 and CH895, which are designed to increase operational performance in secondary, tertiary and pebble crushing ... watch the video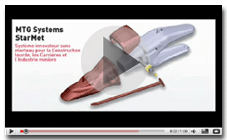 MTG Systems - StarMet
Tooth adapter system for mining - increasing the productivity of excavators from 60 to 400 tonnes and loaders from 70 to 350 tonnes.
- Safety: No impact acidents from flying metal particles.
- Ease: Tooth changing effort lower than using a hammer.
- Easier to Use: One person can change the tooth.... watch the video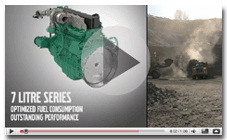 Volvo Penta - Industrial Engines
Our product range covers engines for electrical power generation, 50 and 60 Hz. Industrial engines for stationary and off-road applications. This, combined with a complete range of genuine parts, a world-wide service network and full technical support, is our offer to you .... watch the video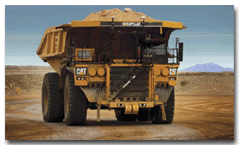 Cat Launches New MineStar System with Expanded Features and Capabilities


In June, Caterpillar formally introduced the latest version of its MineStar system technology suite to the mining press, along with MineStar's first 'capability set'—a sub-suite of products and functionalities that can operate in stand-alone applications or can be combined with other capability sets to expand the scope of equipment- management tools up the full range available in the complete MineStar suite, including …. read more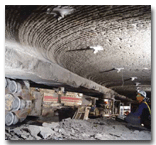 Sandvik's Rock Cutting Technology Advances to Meet Industry Demands


In mid-June, Sandvik Mining and Construction (SMC) hosted the latest in its series of rock-cutting symposia at its center for continuous-miner production at Zeltweg, Austria. Six years have passed since the previous such meeting, so the 140-strong attendance, drawn from Sandvik's staff and customer base, had the opportunity to hear what the company has achieved in that time, as well as to visit the machine assembly plant. Coincidentally, the Zeltweg factory, which Sandvik acquired…… read more

Personal Communications — Anywhere


Navigation technology developer DeLorme has announced the Fall 2011 release of DeLorme inReach, which it claims to be the first Iridium-based personal communicator to deliver truly global two-way satellite text messaging; delivery confirmations; SOS capabilities; remote tracking; and an Android smartphone interface. The core communications component of the inReach is the Iridium 9602 short-burst data (SBD) transceiver, which provides a two-way communications connection via a satellite network. According to DeLorme, inReach users can send and receive messages anywhere on the planet …. read more

Top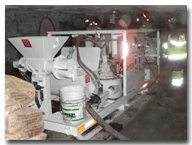 Dry Shotcrete Machine for Low-roof Underground


SpacesBlastcrete Equipment says its new transportable Mine Mate is designed to mix and pump concrete material for underground mine sealing and stabilization, grouting and various other shotcrete applications. Mine Mate, which applies wet-mix shotcrete instead of dry, features a compact, low-profile configuration that allows it to operate within a 4-ft ceiling; a 3-in. highpressure swing tube pump; and a highshear continuous mixer. The unit is capable of mixing and pumping 12 yd3/hr, and can handle aggregate  .…… read more
Shaft Sleeve Seal Provides Reliability, Extended Maintenance


An improved version of the Speedi-Sleeve line for radial shaft sealing, claimed to offer exceptional performance, is now available from SKF, which says its newgeneration Speedi-Sleeve and radial shaft seals offer an enhanced sealing system performance with better reliability and extended maintenance intervals, while enabling users to restore malfunctioning sealing systems without having to disassemble machines or regrind shafts. The new-generation Speedi-Sleeve, according to SKF…. read more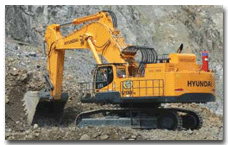 120-ton Excavator Tops the Product Line


Hyundai Construction Equipment plans to introduce its largest excavator, the 120-metric ton RC1200LC-9, later this year at the AIMEX trade show in Australia. The new excavator is the latest addition to Hyundai's Dash 9 family and features Hyundai's Hi- Mate remote management system, which uses GPS-satellite technology to enable users to remotely evaluate machine performance, access diagnostic information and verify machine location. The Dash 9 series also incorporates a 7-in. (178-mm) high-resolution color display on the cabin console…. read more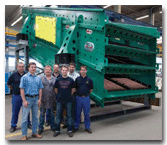 New Screening Machines are Larger and More Versatile


Haver & Boecker, which introduced its Niagara T-Class screening machine in 2007, recently developed a newly designed drive system for this product line, allowing more amplitude and rotary speed combinations. This new feature, according to the company, allows small cut sizes to be achieved and also offers the capability of handling difficult classifying jobs with large cut sizes. In addition, the machines now feature a new wearprotection system .…. read more

Top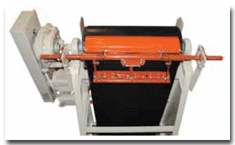 Unit Combines Primary and Secondary Belt Cleaners


Superior Industries has released what it says is the market's first primary/secondary belt cleaning system sharing a common mounting point. With only one pole needed, the Exterra SFL dual belt cleaner system eliminates further additions to a conveyor's structure—a step commonly required to accommodate secondary cleaners. Another key feature is the unique tensioning system….read more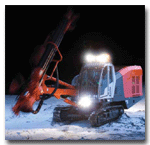 New DTH Rig Offers Efficient Drilling and Easier Maintenance


Introduced earlier this year, the DI550 is Sandvik Mining & Construction's newest down-the-hole drilling rig, powered by a 324-kW (435-hp) diesel engine and providing compressed-air flow at 24 bar pressure— making the rig a perfect match for a 5-in. (127-mm) DTH hammer, according to the company. The DI550 features a modern, positive-pressure cab offering advanced ergonomic design and excellent visibility, says Sandvik. A new, high-efficiency dust collector with continuous cleaning extends filter life and reduces maintenance requirements, as do other features that include the engine…. read more
SEPTEMBER 6–9, 2011: AIMEX 2011, Sydney, Australia. Contact: Reed Exhibitions, Chris Ghosh; Tel: (02) 9422 2518; E-mail: chris.ghosh@reedexhibitions.com.au; Web: www.aimex.com.au
SEPTEMBER 7–9, 2011: MAPLA 2011—8th International Mining Plant Maintenance Meeting, Antofagasta, Chile. Contact: Carolina Barahona, Gecamin Ltd.; Tel: (56-2) 652 15 42; E-mail: carolina.barahona@gecamin.cl; Web: www.mapla.cl
SEPTEMBER 7–9, 2011: 6th International Mine Equipment Maintenance Meeting, Antofagasta, Chile. Contact: Web: www.mantemin.cl
SEPTEMBER 7–9, 2011: MEMSA Annual Technical Symposium, Clearwater, Florida, USA. Contact: Mining Electrical Maintenance & Safety Association; E-mail: memsa@tampabay.rr.com; Web: www.miningelectrical.org
SEPTEMBER 21–24, 2011: Mining Indonesia 2011, Kemayoran, Indonesia. Contact: PT Pamerindo Indonesia; Tel: 62 21 316 2001; Fax: 62 21 316 1983/4; E-mail: maysia@pamerindo.com; Web: www.mining-indonesia.com
OCTOBER 10–12, 2011: Mineral Processing Conference, Lake Tahoe, Nevada, USA Contact: Steve Fiscor; Tel: 904-721-2925; Fax: 904-721-2930; E-mail: sfiscor@mining-media.com; Web: www.mining-media.com
OCTOBER 17–19, 2011: International Seminar on Bauxite Residue (Red Mud), Goa, India. Contact: Tanisha Dutta De, ICSOBA (International Committee for Study of Bauxite, Alumina and Aluminum); Tel: 91 9975372011; E-mail: info@icsoba.org/tanisha@icsoba.org; Web: www.icsoba.org
NOVEMBER 21-24, 2011: Québec Exploration 2011—From Knowledge to Discovery, Québec, Canada. Contact: Gladys Chamberland; Tel: 418- 627-6292; E-mail: info@QuebecExploration.qc.ca; Web: www.QuebecExploration.qc.ca
For a full calendar of mining industry conferences and events - click here
| | |
| --- | --- |
| WHO'S MOVING WHERE | |

Alcoa has appointed Chris L. Ayers president of its Global Primary Products business. He succeeds John Thuestad, who will be handling special projects for the company..

Lundin Mining Corp. announced Phil Wright will be stepping down as CEO. Paul Conibear, current senior vice president of corporate development, has been appointed interim CEO.

Teck Resources Ltd. has appointed Greg Belland general manager of Trail Operations.

Clough Ltd. has appointed Kevin Gallagher CEO.

Ryan Youngblood has been appointed ground support sales manager, northwest, for Atlas Copco CMT USA.

Fortress Interlocks has appointed Josie Dewald marketing coordinator.

Eriez has promoted Dave Heubel director of North American Sales.

Eric S. Graves has been promoted to regional sales manager for the W. H. Miner Division of Miner Enterprises.
About - providing an abreviated version of the current print edition of E&MJ, WOMP is distributed throughout the world to decision makers in the global mining industry, the last week of every month.

Subscribe to E&MJ - To receive your own copy of the print edition of E&MJ, click here , and complete your details. E&MJ is available free of charge to qualified readers.

Contact - if you have views, opinons or comments or editoral that you would like to submit, we would be delighted to hear from you - click here

Top