OTR Tire Supply Comes Under Pressure
Another haul-truck tire shortage may lie just around the corner, but this time both miners and mobile equipment manufacturers should be better prepared to cope
By Russell A. Carter, Managing Editor
---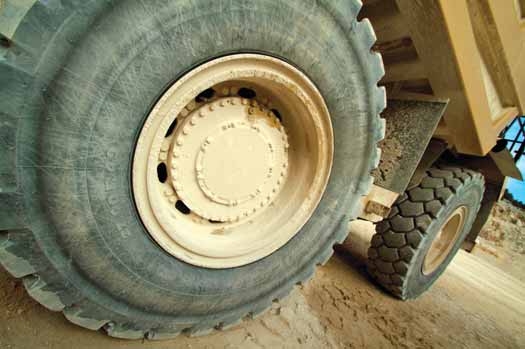 Michelin's XDR2 is the largest model in its haul-truck tire lineup. The XDR2's new tread pattern provides an increased ground
contact patch as it wears, according to the company.
With images of the earthmover tire shortages of 2007 still etched on the industry's rear-view mirror, mine fleet operators and potential customers are again facing the prospect of ultra-large tire scarcity down the road—and once again, at a time when the industry's strong resurgence after a major slump could be slowed by rising costs and material shortages.
Overall operating costs are growing. Just recently, Wall Street research firm Sanford Bernstein reported that an average of announced first-quarter 2011 mining unit cost increases indicates they have risen by 18% year-on-year.
And, in a widely quoted interview given during a copper conference in South America, Caterpillar Global Mining head Chris Curfman hinted the industry could experience a "potentially serious tire shortage situation" similar to the last one in the mid-2000s, starting as early as the end of this year or early 2012. Meanwhile, reports of giant tires fetching prices of $100,000 or more in the black or gray markets continue to circulate, although the average spot price range is considerably lower.
In all fairness, the major OTR suppliers haven't been standing still since the last shortage. In May 2011, Michelin North America announced a $200-million expansion at its South Carolina, USA, tire production facilities aimed at increasing production of earthmover as well as passenger car tires. Completion of the expanded facilities is targeted for the first half of 2013. It also opened an earthmover tire plant in Campo Grande, Brazil, in 2007 and will open another plant in India in 2012.
In October 2010, Bridgestone Corp. disclosed plans to expand production capacity of its Kitakyushu, Japan, plant to "address increases in global demand for large and ultra-large off-the-road radial tires used on construction and mining vehicles," and also announced it would expand production of steel cord used in large and ultra-large tires manufactured at another of its Japanese plants.
Noting that it was responding to strong signs of growth in the OTR market, the company said it already had initiated a second-phase expansion of production capacity at the Kitakyushu plant in April 2010, following on from start-up of operations at the plant in June 2009, and the latest announcement represents a third phase of expansion. However, full production from the most recent plant expansions is not scheduled to come online until 2013. And, although Bridgestone has stated none of its plants were significantly affected by the earthquake and tsunami that struck Japan in mid-March, it's difficult to determine the exact level of impact from the disaster on current and future commercial activities in that nation and global region.
Eurotire announced the startup of production of radial OTR tires at a new plant in Romania in 2010, and the CEO of another large OTR supplier, Titan International, predicted earlier this year that 2011 would be the company's best ever for OTR sales.
Despite these expansions, the robust investment rate in new mining projects following the industry's 2008–2009 slump lends a high degree of credence to predictions of looming tire shortages, particularly in the giant sizes required by the latest generation of ultra-class, rigid-body haul trucks. Mobile mine equipment OEMs have learned from the experience of the last tire shortage, however; Curfman said his company had since established closer ties with tire suppliers, and top-tier customers such as BHP Billiton, Rio Tinto and others have strong alliances with suppliers as well.
For smaller producers and contract mining companies, the outlook could be less encouraging if demand exceeds supply. The largest OTR tires—such as the 59/80R63, for example—are essentially hand-built and it may take a pair of experienced workers a full shift to fabricate a single unit, so mid-tier or smaller miners intent upon rapid expansion of a project involving large-payload surface haulage may find their plans at least temporarily detoured by lack of tire availability—or by high prices on the spot market.
Coming to Attention
Balancing the risk of supply shortfalls is the fact that mine fleet operators also learned the value of tire management from the last shortage. Tire care, monitoring and safety programs have consequently risen several levels in their maintenance hierarchy, along with increased attention to haul road design and upkeep. Driving the importance of well-planned tire life management are two budgetary sledgehammers: studies show tire costs can exceed 25% of total haul-truck operating costs per ton; and total tire service and replacement costs over the useful service life of a haul truck can exceed the original purchase price of the truck.
Tire pressure management systems (TPMS) have been available to mining customers for a number of years and, depending on the vendor and system capabilities, may provide a range of data that allows both on-site and remote observers to keep historical and real-time track of tire status—an essential capability for an effective tire management program. At the 2011 Haulage & Loading conference sponsored by E&MJ publisher Mining Media International, Chris Brothen, regional manager-Latin America for British Columbia-based Kal Tire, expressed curiosity, from a tire supplier's perspective, about possible reasons why a technology that offers an avenue to potential tire-cost savings hasn't gained more traction with fleet operators.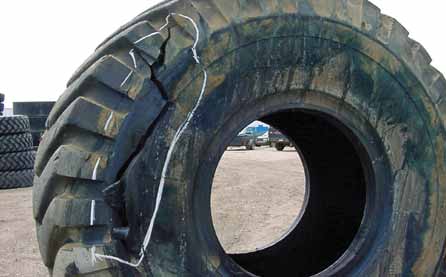 Under heavy loads and high speeds, a tire just 13% underinflated will begin to incur damage that can
eventually lead to catastrophic failure such as this.

Comparing the value of TKPH or TMPH (ton kilometer per hour / ton mile per hour) tire ratings—a ratio of speed, distance and time used by manufacturers to provide a theoretical rating for the capacity of a given tire—with the value of real-time tire status data, Brothen said the key to preventing a significant portion of tire damage is to know the exact current status of contained inflation pressure and temperature inside a tire. Given the range of factors that can cause a tire to overheat—underinflation, type of tread compound, cycle speeds, site conditions and load distribution, to name a few—it's important to know exactly what is happening inside the tire, for both economic and safety's sake.

"If the tire is underinflated, it will flex, and you will have internal heat buildup," said Brothen. "If a tire is hot, it becomes more susceptible to separation problems, cuts and other types of damage. This is the type of situation TPMS can help you avoid."

There are a number of TPMS systems currently available, said Brothen, but what are the fundamental technological capabilities a user should expect from these systems? "It should be Internet accessible via WLAN, but most importantly, it needs to be bi-directional," said Brothen. "It should feature transceivers that are 'pingable,' and should allow you to adjust transmitting frequency to avoid interference with other mine systems."

Acknowledging mines have reported "both good and bad experiences" with TPMS over the years, Brothen explained state-of-the-art technology now enables users to more efficiently "control the controllable" factors that can affect tire performance—by providing higher accuracy, reliability and two-way communications between the tire sensor and base station via a wireless network. Circuit board fabrication and component miniaturization progress has resulted in significantly smaller onboard units that are much faster and more responsive than previous units.

"A TPMS system has to be compatible with an operation's truck dispatch system, be capable of providing not only warnings and alarms but also return-to-normal notifications, and should offer nonproprietary design to allow future expansions and upgrades," said Brothen. "Kal Tire also firmly believes the communications link should be redundant—it should be capable of alerting the mine dispatcher to a tire problem and allowing the dispatcher to request an action, but the tire people on site also need to receive tire status information directly in order to respond properly.

"Improved [TPMS] technology is available now, and it can be useful," said Brothen. Apart from the considerable actual cost of buying and maintaining tires for a haulage fleet, there are other economic parameters that can be enhanced through proper use of TPMS, he explained, quite possibly the largest being the cost of 'lost opportunity'—the payload dollars lost when a truck is suddenly sidelined by a tire problem that may have been avoidable with the correct management technology.

Kal Tire offers a TPMS, as do most OEM tire manufacturers and some tire support service vendors. For example, Michelin says its MEMS provides a simple way to check pressure/temperature and offers real-time alerts of pressure/temperature deviations outside of established norms.

MEMS includes sensors inside each tire on the vehicle and an onboard receiver, which communicates directly to the mine operations control center. The sensor transmits the real pressure and internal temperature in the tire each minute, and the onboard receiver stores the data and transmits it to the mine control room every 10 minutes. The system also maintains a pressure/temperature history for each tire. The pressure/temperature can also be read remotely with a handheld unit while the vehicle is in operation. MEMS monitors the initial inflation pressure of the tire, taking into account manufacturer recommendations and the ambient temperature at that time. When the pressure and/or temperature of a tire reaches or exceeds the configured alert levels, the receiver sends an alarm transmission to the mine control room.

As mining enterprises become increasingly globally oriented, the value of maintaining a tire database throughout scattered operations also gains importance. Bridgestone Firestone Off Road Tire (BFOR), which displayed the next generation of its tire management software, TreadStat 3.0, at the CONEXPO-CON/AGG trade show held earlier this year, began offering the latest TreadStat package with the option to perform tire tracking and analysis from anywhere online as well as from a PC, as of May 1. The program can be accessed from any computer with an Internet connection, allowing sites around the world to share real-time data. Enhanced functionality includes:
• Consolidated reporting—locations can be combined across area, region, division or company, and all locations can be merged for a "super set" of data to analyze;
• Improved reporting—sub-reports can be accessed that allow the user to drill all the way down to a single tire's full history, reports can be exported directly into PowerPoint, PDF, Excel or Word, and can be e-mailed directly to contacts;
• An improved database that includes all currently published off-road tires as well as many vehicles complete with engineering data; • Enhanced repair tracking, and more.

An Expanding Lineup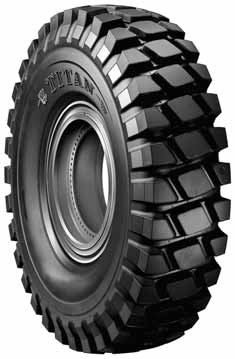 Titan Tire's new DTE4 haul truck tire.

Meanwhile, new tire models and designs continue to roll steadily into the market. Michelin unveiled its XDR2 tire for severe mining and quarry applications at the CONEXPO-CONAGG trade show. The XDR2, according to Michelin, is designed for rigid dump trucks and offers up to 20% more tread life than its predecessor, the XDR. The XDR2 is initially available in 27.00R49 size with additional sizes to be introduced later in 2011. Before its market introduction, the XDR2 underwent more than 2 million hours of real-world testing at Michelin's Almeria, Spain, proving grounds, according to the company.

Michelin said the XDR2 also delivers up to a 10% thicker undertread between the protective plies and tread base for better cut and impact resistance. With a new self-cleaning tread pattern, the XDR2 combines full-depth blocks, a 13% larger central lug (compared with the XDR) and non-directional tread design to provide increased protection against cut separations. According to the company, the "evolving" tread design provides an increased contact patch as the tire wears.

The XDR2 incorporates Michelin's C2 Technology, a design approach that reduces the overall mass of the tire's shoulder area through modifications to the internal shape of the tire. This offers the XDR2 a better TKPH capability because it now runs cooler. Compared with the previous design, the XDR2's steel protective plies are 60% stronger to provide a significant improvement in shielding the tire against aggressions and separations. The XDR2 also provides twice the sidewall thickness of the previous generation to resist cuts and abrasions.

For use on smaller haul trucks, Michelin introduced the X-Traction tire in July 2010 to the North American market. This E4 tire, which has been available outside North America since 2004, is designed for equipment operating in rocky terrain. Tire sizes include 27.00R49, 24.00R35, 21.00R33 and 18.00R33. With the addition of the 33- and 35-in. sizes, Michelin said it is bringing to the North American market a new generation of the tire specially designed for smaller (100-ton) rigid dump trucks.

As with the XDR2, the X-Traction features Michelin's Cooling System shoulder design and C2 Technology casing architecture. The new tire features a tread up to 13% deeper, which extends tire life by up to 15%. According to the company, the X-TRACTION also reduces tire costs because it is easier to retread.

Earlier this year, Titan Tire introduced its DTE4 haul truck tire, offering radial construction and a deep lug tread pattern the company claims provides enhanced durability, excellent heat dissipation and superior traction in harsh mining conditions. The DTE4 features an E4 tread depth with an open, non-directional tread pattern designed to provide superior self-cleaning and improved traction. An open-center tread design helps reduce internal heat generation and allows heat to more easily dissipate, reducing tire fatigue and extending tire life. The DTE4 is available in four sizes—18.00R33, 24.00R35, 27.00R49 and 33.00R51—and in a variety of compounds.
---
As featured in Womp 2011 Vol 06 - www.womp-int.com