Eldorado Starts Up at Efemçukuru
---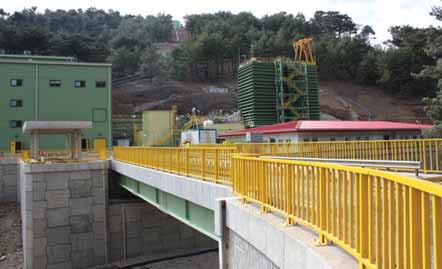 Eldorado Gold, which recently commenced production at its Efemçukuru gold mine in Turkey at a projected
annual rate of 120,000 oz/y, is already studying the possibility of increasing the underground operation's
output to 150,000 oz/y. The mine's entrance is pictured here. (Photo courtesy of Eldorado Gold)
Eldorado Gold began production at its Efemçukuru underground gold mine in Izmir province, Turkey, in June. Low-grade ore was initially fed to the mill, mining activities were in progress on the South ore shoot, and about 16,000 mt of ore grading 10.5 g/mt had been stockpiled at the plant. Mine design calls for production of 120,000 oz/y of gold, and Eldorado is studying the potential to increase production to 150,000 oz/y. As of December 31, 2010, proven and probable reserves totaled 1.5 million oz grading 9.10 g/mt; measured and indicated resources totaled 1.7 million oz grading 9.55 g/mt; and inferred resources totaled 352,000 oz grading 6.43 g/mt.
Efemçukuru ore is being processed through a 1,000-mt/d milling and flotation concentrate circuit on site. The flotation concentrate is transported to Eldorado's Kişladağ mine in Uşak, Turkey, for further processing and recovery of gold. Tailings are filtered to recover water, producing dry stack tailings for surface disposal and paste backfill for underground mine support.
Site access to Efemçukuru is via local paved roads from Turkey's west coast and the city of Izmir 20 km to the north.
The Efemçukuru mine is based on a low-sulphidation epithermal vein system. The main vein system extends approximately 1,200 m in a northwest direction, dipping between 55° and 60° to the east. The mineralized zone forms three distinct shoots (South, Middle and North) that are currently open at depth. Widths of the mineralized zone vary considerably from less than 1 meter to as much as 27 m in stockwork zones.
Two portals, one at each end of the deposit, have been developed to intersect the orebody via adits and ramps at mid-depth. Trackless mining extracts ore by mechanized cut-and-fill and long-hole stoping methods, with consolidated back-fill. Crushed ore is transferred from underground via a conveyor to the process plant on surface. Efemçukuru planning calls for mining and processing of 254,000 mt of ore grading 11.06 g/mt of gold during its first year of production.
Eldorado also reports its Kişladağ operation has now produced more that 1 million oz of gold at cash costs of about $285/oz. The mine started up in 2006.
---
As featured in Womp 2011 Vol 06 - www.womp-int.com