M&A Activity Steps Up at Mid-Year
---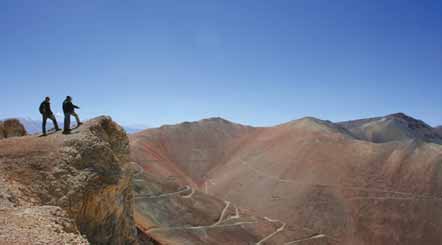 Stillwater Mining plans to acquire all assets of Peregrine Metals for about $487 million, and will spend $75
million over three years to delineate Peregrine's Altar copper-gold deposit, shown here.
(Photo courtesy Peregrine Metals)
Mining merger and acquisition activity generated numerous headlines during the second half of June and the first half of July 2011. Brief details of seven proposed transactions are reported here. Additional details of the offers and agreements are available on the companies' websites.
Jinchuan/Metorex: Jinchuan Group, of China, in early July topped a previous bid by Vale for South Africa-based Metorex, and Vale declined to match Jinchuan's offer. Vale had offered $1.125 billion for Metorex on April 8, 2011 (E&MJ, May 2011, p. 5). Jinchuan offered $1.3 billion. On July 14, Metorex announced its board would recommend the Jinchuan offer to Metorex shareholders.
Metorex has two operating mines, Chibuluma located in Zambia, in which it holds an 85% interest, and Ruashi in the Democratic Republic of the Congo (DRC), in which it holds a 75% interest. Chibuluma has an estimated capacity of 18,600 mt/y of copper contained in concentrates and proven and probable reserves of 3.5 million mt grading 3.8% copper. Ruashi operates a mine and SX-EW plant that have an estimated capacity of 36,000 mt/y of copper cathodes and 4,500 mt/y of cobalt. Proven and probable reserves stand at 22.2 million mt grading 2.4% copper. Metorex also has three projects in the DRC, one in the development phase and two in the exploration phase.
In 2010, Metorex produced 51,569 mt of copper and 3,622 mt of cobalt.
Nyrstar/Breakwater: Nyrstar and Breakwater Resources announced a binding agreement on June 15 for Nyrstar to acquire Breakwater by way of a friendly, all-cash buyout. The agreement valued Breakwater at about C$619 million. Breakwater shareholders also received a one-time special dividend having a total value of about C$44 million, implying a total transaction value to Breakwater shareholders of about C$663 million.
Nyrstar was formed in 2007 through a combination of the smelting and alloying operations of Belgium-based Umicore and Australia-based Zinifex. Breakwater is headquartered in Toronto and has four underground zinc/poly-metallic mines: El Toqui in Chile; El Mochito in Honduras; Myra Falls in British Columbia, Canada; and Langlois in Quebec, Canada. Operations at Langlois were suspended in November 2008, but the mine is being restarted and is scheduled to be back in production during the first quarter of 2012.
The four Breakwater mines have a combined production capacity of about 140,000 mt/y of zinc in concentrates, 14,000 mt/y of lead in concentrates, 6,000 mt/y of copper in concentrates, 2.3 million oz/y of silver, and 40,000 oz/y gold.
Stillwater/Peregrine: Stillwater Mining and Peregrine Metals announced on July 11 a definitive agreement whereby Stillwater will acquire Peregrine for Stillwater shares and cash valued at about $487.1 million at the time of the announcement. Stillwater is the only U.S. producer of palladium and platinum. (The stock market did not react favorably to the announcement, and Stillwater shares lost more than 25% of their value during the week following the announcement.)
After the completion of the transaction, Stillwater plans to further delineate, develop and operate Peregrine's Altar porphyry copper-gold deposit, a large, undeveloped, open-pit resource located about 8 km from the Argentina-Chile border in San Juan province, Argentina. Altar has Canadian NI 43- 101 compliant measured and indicated resources of 7.4 billion lb of copper and inferred resources of 4.3 billion lb of copper, both at a 0.3% copper equivalent cut-off grade. The property also has 1.5 million oz of measured and indicated gold resources and 880,000 oz of inferred gold resources.
The resources at Altar are open to expansion laterally in three directions and at depth. The announcement stated Stillwater plans to invest approximately $75 million over the next three years to fully delineate the Altar resource and to advance exploration on the property.
US Gold/Minera Andes: Rob Mc- Ewen, chairman, CEO and largest shareholder of both US Gold Corp. and Minera Andes, announced a proposal on June 14 to combine the companies to create a high-growth, low-cost, mid-tier silver producer. McEwen would hold about 25% of the combined company, which would have a market capitalization of about $1.4 billion, based on the companies' mid-June stock prices.
The combined company would be named McEwen Mining Inc. Its assets would include the San Jose mine in Argentina; the El Gallo (Mexico), Gold Bar (Nevada) and Los Azules (Argentina) development projects; and the Limo (Nevada) and Cerro Negro (Argentina) exploration properties. Pro forma production of the combined company will be an estimated 2.5 million oz of silver in 2011 and is projected to increase to 7.5 million oz of silver by 2014.
McEwen Mining's silver resources would total 81.2 million oz measured and indicated and 51.1 million oz inferred; its gold resources would total 3.8 million oz measured and indicated and 900,000 oz inferred; and its copper resources would total 2.2 billion lb indicated and 10.3 billion lb inferred.
Northgate/Primero: Northgate Minerals and Primero Mining announced on July 13 an agreed acquisition of Primero by Northgate for Northgate stock valued at about $409 million. The transaction would create a company with a market capitalization of about C$1.2 billion. The combined company would have current production and expansion potential at the San Dimas mine in Mexico and the Fosterville and Stawell gold mines in Australia, together with the long-life Young-Davidson gold development project in Ontario. The three producing gold mines are expected to produce 320,000 gold equivalent oz in 2011, increasing to 550,000 gold equivalent oz in 2013 following startup at Young-Davidson and expansion at San Dimas.
Newcrest/Catalpa/Conquest: Newcrest Mining, Catalpa Resources and Conquest Mining announced sale and merger plans on June 15 whereby Newcrest will sell its 70% interest in the Cracow gold mine and exploration joint ventures and its 100% interest in the Mt. Rawdon gold mine, both in Queensland, Australia, to a company to be formed through the merger of Catalpa Resources and Conquest Mining. Catalpa holds the other 30% of the Cracow mine, and both Catalpa and Conquest have other producing and exploration interests in Queensland. The merged company will have current production capacity of about 294,000 oz/y of gold, increasing to between 400,000 and 450,000 oz/y by 2013. Market capitalization of the merged company is expected to exceed A$1.1 billion.
Newcrest will receive shares in the merged company as consideration for the assets, resulting in Newcrest holding in a 38% interest in the company. This interest will be diluted to about 33% following a planned equity raising by the merged company.
Focus Minerals/Crescent Gold: Focus Minerals and Crescent Gold on June 20 announced plans for a merger that will create a 230,000-oz/y gold producer in Western Australia. The combined group will have open-pit and underground operations in the Laverton and Coolgardie regions and will have a JORC resource inventory of 4.3 million oz of gold.
---
As featured in Womp 2011 Vol 06 - www.womp-int.com