Data Management
Mine Your Data.......read more

Mapping and Surveying
Laser Scanning: There's more than one option.... read more

Iron Ore
Iron Ore: Facing a slow climb out of the pit.......read more

Ground Control
Challenges at Depth......read more






To update your details or renew your current print subscription or to receive your own edition of the print version of E&MJ -

CLICK HERE

China Risks Its Trading Partner Image with Arrests - On July 5, the Chinese State Security Bureau arrested Stern Hu, an Australian mining executive working for Rio Tinto and three colleagues, who are Chinese citizens. As of press time they had not been formally charged. Early reports circulating in the media alleged they bribed steel mill operators for information. On July 14, a China Foreign Ministry spokesperson told a news briefing, "It's an individual judicial case, in which the employees of Rio Tinto stole Chinese state secrets and posed a grave risk of damage to China's economic security and interests." Rio Tinto issued a statement saying that they believed the bribery allegations in the media were false and that they were concerned about the detention......... read more

Steve Fiscor, Editor in Chief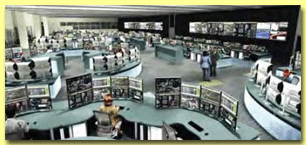 Rio Tinto and BHP Pursue Western Australia Joint Venture - Rio Tinto and BHP Billiton signed a non-binding agreement on June 5, 2009, to establish a production joint venture covering their iron ore assets in Western Australia. The joint venture would encompass all of the companies' current and future Western Australian iron ore assets and liabilities and would be owned 50% each by BHP Billiton and Rio Tinto. Iron ore production would be delivered......... read more
Anglo American Rejects Xstrata Merger Proposal - On June 22, 2009, Anglo American's board of directors issued a statement rejecting a proposal from Xstrata that the two companies engage in discussions regarding a potential merger. As proposed by Xstrata, the combination would be a merger of equals, with shareholders of each company holding half of the combined group. Xstrata defended this "nil-premium" proposal, arguing that the benefit to Anglo American shareholders would come through operational and other synergies inherent in the combined group. Anglo American's board responded that a combination with Xstrata....... read more

Top

Measuring Mining's Financial Loss from 2008 - It's likely that anyone with even a remote connection to the mining industry is aware that, in contrast to the exuberance that characterized 2007, 2008 was a dismal year, particularly for junior miners. A recent report issued by PricewaterhouseCoopers Canada illustrates just how much value the industry lost. The market capitalization of the top 100 companies declined marginally from $20.2 billion on June 30, 2007, to $18.1 billion a year later. But by the end of November....read more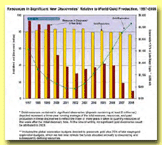 Gold Producers Must Increase Rate of Reserve Replacement - Metals Economics Group's (MEG) recently issued Strategies for Gold Reserves Replacement study concludes that between 1999 and 2008 the world's largest gold producers (those with production of 450,000 oz or more in 2008) overcame rising costs, equipment and labor shortages, electrical outages, wars, permitting hurdles, typhoons, political opposition, and other obstacles to replace almost twice their reserves lost through production. The group's average cost of replacing reserves through a combination of acquisitions and exploration was $83/oz. At the same time...... read more

Top
China Buys Equity Stake in Teck - China Investment Corp. (CIC), a China state-owned investment company headquartered in Beijing, and Teck Resources announced on July 3 that CIC would invest approximately C$1.74 billion in Teck through purchase by a wholly owned CIC subsidiary of 101.3 million Teck Class B subordinate voting shares. Following completion of the purchase, CIC will indirectly hold approximately 17.5% of Teck's Class B Shares, representing 17.2% of Teck's equity and 6.7% of the aggregate voting rights attaching to Teck's Class A common shares and Class B Shares.... read more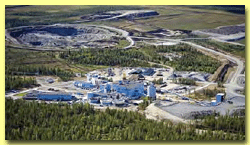 First Gold Poured at Agnico-Eagle's Kittila Mine - During June, Agnico Eagle Mines (AEM) celebrated the first gold pour at its Kittila mine in Finnish Lapland. Kittila is AEM's first operation outside of Quebec. "We made the construction decision to build this mine back in 2006," said Sean Boyd, vice chairman and CEO, AEM. "In early 2004 we purchased 14% of Riddarhyttan Resources, a Finnish mining company, for $14 million. We were able to assist...... read more

Top
Iamgold Upgrading Niobec Operations - Iamgold has initiated construction of a $28-million mill expansion and an $18- million paste backfill plant at its Niobec niobium mining and processing operations near Chicoutimi, Quebec. The mill expansion will increase mill throughput by 24%, and the paste backfill plant, by eliminating the need to leave ore underground in un-mined pillars, will increase proven and probable reserves at the mine by 36% and inferred resources by 72%. The Niobec mill currently has an average..... read more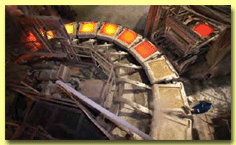 HudBay Plans Closures of Copper Smelter and Refinery - HudBay Minerals announced in June that it expects to close its copper smelter in Flin Flon, Manitoba, before July 1, 2010, and its copper refinery in White Pine, Michigan, shortly thereafter. The Flin Flon copper smelter is part of a mining and metals producing complex that includes the 777 and Trout Lake mines, a concentrator and a zinc plant, in addition to the smelter. The closure applies only to the smelter, which processes concentrates produced by HudBay mines as well as.... read more

Top
Teck Says Pit Wall Problem Will Reduce Copper Output - Goldcorp is proceeding with plans to develop its Cochenour project in the Red Lake district of Ontario, Canada. The project combines the existing workings of Goldcorp's historic Cochenour mine with the contiguous and down-dip Bruce Channel gold discovery acquired by Goldcorp when it acquired Gold Eagle Mines in September 2008. No mineral resource yet exists for Cochenour, but for purposes of initial scoping estimates, Goldcorp is sizing the project at approximately 5 million oz of gold.... read more
| | |
| --- | --- |
| AROUND THE WORLD | Latin America |
Goldcorp Commissions First Sulphide Line at Peñasquito - Goldcorp reported in mid-July 2009 that construction was complete on the first sulphide processing line at its Peñasquito project in Zacatecas, Mexico, and that commissioning was advancing on schedule. The sulphide line is scheduled to begin shipping concentrates during the second half of 2009 and is expected to reach commercial production by January 1, 2010. Goldcorp also reported that construction of Peñasquito's second sulphide process line was under way and progressing toward planned completion in the third quarter of 2010. Many of the components for the second line were already…… read more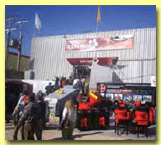 Trade Shows Display Facets of Latin America Mining - E&MJ's Latin America contributing editor, and editor of sister magazine Equipo Minero, Oscar Martinez, reports on two of the region's most popular and well-attended expositions. In late April, Buenos Aires hosted ARMINERA—Argentina's mining exposition— which has become one of the largest mining events in South America. The exposition comprised four pavilions and attracted more than 350 exhibitors. It's estimated that more than 5,000 people visited the show, organized by the Argentine Chamber of Mining Entrepreneur…. read more

Quadra Nearing Start-up at Franke Project - Quadra Mining expects to produce the first copper cathode at its Franke open-pit, heap-leach, SX/EW project in Chile's Antofagasta Region (Region II) during the third quarter of 2009. Quadra acquired the project in April 2009 when in acquired Centenario Copper in an all-share transaction. Design capacity is 70 million lb/y over a mine life of 8.6 years. As of early June, commissioning…… read more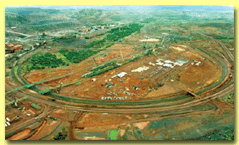 Celebration Marks Four Decades of Iron Ore Deliveries from Mt. Newman - On July 8, BHP Billiton Iron Ore and Western Australia's Pilbara communities celebrated a significant milestone in Australia's mining history by marking the 40th anniversary of the railing and shipping of the first iron ore mined from the Mt. Newman project (now known as BHP Billiton Iron Ore's Newman Joint Venture). The anniversary highlighted the combined achievements of BHP Billiton Iron Ore…. read more

Bendigo Buys Henty Mine from Barrick- Bendigo Mining announced on July 10, 2009, that it had acquired the Henty gold mine in western Tasmania from Barrick Gold for A$8 million plus potential royalties of up to $22 million from future production arising from exploration discoveries. The non-royalty consideration includes A$5 million in cash and A$3 million in Bendigo ordinary shares, giving Barrick an approximate 2.2% interest in Bendigo. The acquisition includes the operating underground Henty mine, a 300,000-mt/y process plant, infrastructure…. read more

Top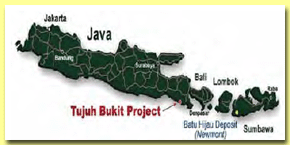 Vale Acquires Option for Indonesian Copper-Gold Prospect - Intrepid Mines, an Australian junior company headquartered in Brisbane, and Brazil's Vale Exploration have signed a non-binding heads of agreement granting Vale an option to acquire rights to Intrepid's Tujuh Bukit sulphide copper-gold project in Indonesia. Under the terms of the agreement, Vale could earn a 60% shareholding in a jointventure company holding the rights to the project by, amongst other terms…. read more

AngloGold and Thani Dubai Form Exploration Alliance - AngloGold Ashanti and Thani Dubai Mining Ltd. have formed a 50:50 alliance to explore for, develop, and operate mines across the Middle East and parts of North Africa. The alliance has identified and is evaluating opportunities in the region. A technical and business development group is being assembled and will operate from Dubai, United Arab Emirates .…. read more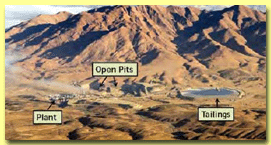 Paladin Expanding Langer Heinrich, Again - Paladin Energy announced in late June 2009 that it is undertaking a Stage III expansion at its Langer Heinrich uranium mine in Namibia. The new project is planned to lift production at the mine to 5.2 million lb/y of U3O8 by late 2010. Paladin is currently rounding out a Stage II expansion at Langer Heinrich that targets annual production of 3.7 million lb of U3O8. The Langer Heinrich mine came into production in 2007 at a design capacity of 2.6 million lb/y of U3O8 …. read more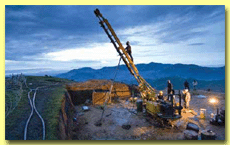 Banro Advances Twangiza - Banro Corp. announced on June 8 results of an updated feasibility study of its whollyowned Twangiza open-pit gold project in South Kivu province in eastern Democratic Republic of the Congo (DRC). Subsequently, on June 25, the company reported that it had closed the sale of approximately C$100 million in common Banro shares, of which about $75 million will be applied to advancing its DRC gold projects. Banro is currently estimating a mine life of more than 20 years for the project, with concurrent mining of two open pits based on the Twangiza Main and Twangizay…… read more

Top
Mechel Ships Coking to China - Mechel OAO, one of the leading Russian mining and metals companies, recently signed contracts to deliver coking and steam coal supplies to Chinese, Japanese and South Korean companies for 2009. Having an established relationship with Japanese and South Korean customers, in 2009 the company also entered the Chinese coal market having signed a number of new large contracts with local customers. The company has already shipped coking coal from its Yakutugol mine and steam coal of various grades to China …. read more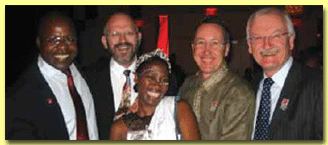 Anglo American Wins Award for HIV/AIDS Program - Anglo Coal South Africa, a subsidiary of Anglo American, has been recognized by the Global Business Coalition (GBC) on HIV/AIDS, Tuberculosis and Malaria for its pioneering workplace program focused on tackling HIV and AIDS in South Africa. Anglo American is South Africa's leading private sector employer, with more than 100,000 people employed at its operations. The Business Excellence Award for Best Workplace Program.…... read more

Top
NRG Energy Sells Its Stake in MIBRAG - NRG Energy, Inc. sold its 50% ownership interest in mining company Mibrag B.V. for $260 million to a consortium of Severočeské doly Chomutov, the largest brown coal mining company in the Czech Republic and member of the CEZ Group, and J&T Group, a Czech Republic-based investment company. Mibrag B.V.'s principal holding is Mitteldeutsche Braunkohlengesellschaft mbH (MIBRAG), an integrated coal mining.…... read more

Top
CNR Acquires Guizhou Dayun Mining - China Natural Resources (CNR) announced during July that it closed a deal to acquire Pineboom Investments and its whollyowned subsidiaries, including the Guizhou Dayun Mining Co., which owns a coal mine located in Jinsha County, Guizhou Province. "Pineboom is the second coal mine acquisition in our continued development of China Natural Resources' coal business.…... read more

Top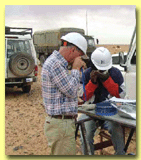 Mine Your Data
Why mining companies must improve efficiency through better management of the data they gather

By John Bacon and Christie Webb

Driven by a need to maximize return on investment, many mining companies use the latest technologies to squeeze out the maximum recoveries in the ore they process. Yet most of them do not fully leverage their return on another type of investment— in the data that they have gathered about the mine site. Those that do, can gain a significant advantage in shorter timelines, lower costs and more certain regulatory approvals through all stages of the mine's life……. read more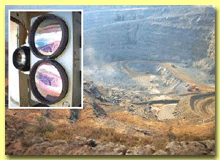 Laser Scanning: There's More Than One Option
Recent applications of laser scanning technology within the mining community have achieved improvements in operational efficiency, reduced costs and minimized risk to personnel and equipment

By Graham Hunter

The use of lasers to capture highly accurate measurements is not a new concept for those charged with managing and monitoring mining operations across the world. For example: Fixed/Static The laser scanning system used by Gold Fields to help improve safety and increase production at the Damang gold mine in Ghana, West Africa, includes a Riegl LMSZ420i long-range laser scanner, which can capture up to 11,000 point measurements per second, to an accuracy of 10 mm and at a range of up to 1,000 m. A rugged and fully portable sensor, the system also...... read more

Top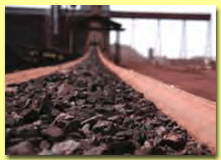 Iron Ore Outlook: Facing a Slow Climb Out of the Pit
A review of 2008–2009 market developments concludes that an oversupply situation will continue for the remainder of this year and into the next, when prices could begin to stabilize in preparation for a possible upturn in 2011

By Magnus Ericsson and Anton Löf

Steel is a key input in the construction, mechanical engineering and transport vehicle industries—all sectors that are among the hardest hit in the current global economic recession. Consequently, the steel industry is currently facing the worst demand downturn since the oil crisis of 1974-1975 and the iron ore market has, of course, been affected. Iron ore is used almost exclusively to produce pig iron and direct reduced iron (DRI), the main raw materials, along with coke, that are used in the production of crude steel. World crude steel production decreased by 1.5% to 1,325 million metric tons (mt) in 2008. China now accounts for more than a third of world production (38%), but while Chinese production is still rising (1.9%), growth was much slower than the 16% rate achieved in 2007…... read more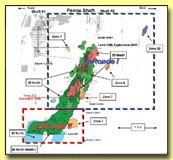 Ground Control Challenges at Depth

As miners pursue deeper orebodies, engineers will need to find new approaches to effectively develop headings

By Steve Fiscor, Editor-in-Chief

Some of the deepest mines in North America are located in eastern Canada. Many of them have operated comfortably for years in what would be typically referred to as good geology. Today they are experiencing a paradigm shift in rock mechanics as they access deeper ore bodies. Speaking at a Sandvik customer event during September of last year in Burlington, Ontario, Frederic Langevin, rock mechanics engineer for Agnico- Eagle Mines Ltd.'s LaRonde Division discussed some of the ground control issues the mine was ecountering with its LaRonde II expansion. He explained that mines operating in the conditions encountered at deeper levels will have to adopt an integrated approach to mining because conditions will only deteriorate with depth..... read more

Top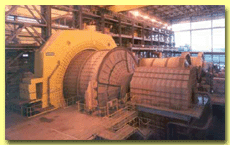 Siemens Strengthens Russia Presence, Sets Strategy for New Investment Climate - Siemens AG, the large German equipment and services supplier, has been doing business in Russia for almost 160 years. And, having survived wars, revolutions and other social and economic upheavals, it appears that Siemens' business presence there is on solid footing to carry on for many more years. Dr. Dietrich Möller, president of Siemens Russia/Central Asia and vice president of Siemens AG, speaking to a gathering of business journalists in Moscow in mid-May, noted that Siemens …. read more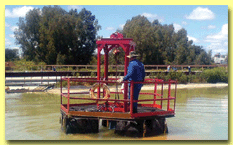 AngloGold Ashanti Settles with a Waterspider - Settling ponds used for dewatering typically are drained and mechanical means then used to remove the silt. "This was a time consuming and costly exercise," according to Ian Farquhar, dewatering manager at Weir Warman Africa. But at Klerksdorp in South Africa, AngloGold Ashanti is now using a Multiflo Waterspider which is the first such unit to be locally manufactured and commissioned by Weir Warman Africa. The Multiflo Waterspider will allow ongoing cleaning of the settling ponds with minimal fuss and interruption to normal activitie…… read more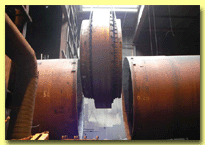 Metso Completes Large Kiln Repair Project for LKAB - Kiruna, a remote region in the northernmost part of Sweden, is home to the iron ore pelletizing plant at Svappavaara, owned and operated by LKAB, a major producer of upgraded iron ore products for the steel industry and a growing supplier of industrial minerals products. When LKAB needed to replace a section of kiln shell, riding ring, kiln support rollers and associated bearings on a 20 x 140-ft rotary iron ore pelletizing kiln, they called on Metso to plan and execute the project, having had a four-year working relationship with this supplier.…. read more

Top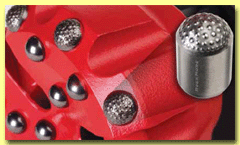 Carbide Drill Insert Extends Bit Life, Improves Penetration - Rockmore International has developed a new carbide insert design for their button bits. As the company explains, in percussion drilling penetration rates depend on efficient crack propagation. With a conventional hemispherical insert, there is a single tangent point striking the rock, resulting in the rapid development of wear flats. Rockmore says its new MultiPoint carbide insert design provides multiple strike points for more efficient rock fracture and longer insert life .…… read more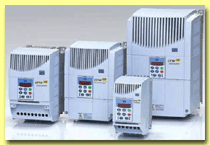 New Drive Handles Up to Four Pumps - WEG Electric recently unveiled the CFW- 08 multipump drive, a new system that allows control of up to four pumps with one frequency drive. By controlling multiple pumps simultaneously, the CFW-08 keeps constant pressure in pipelines regardless of fluctuations in outflow demand. In addition, the VFD (variable frequency drive) also monitors pressure and the level of the capture reservoir. The CFW-08 has the capability to control in two modes: fixed control…. read more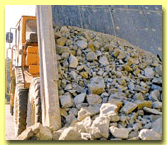 Rubber Linings Protect Metal Frames and Surfaces - Sandvik Mining & Construction says it has developed a simple solution to problems of truck-bed and hopper damage from impact of falling rocks during loading. Sandvik WT 6000 rubber linings are delivered as a tailored solution, complete with rubber elements, bolts and plugs, and can be installed with stud welds or through-bolts. The supplier can also arrange the removal of old lining and assemblies. The linings absorb kinetic energy on impact, subsequently returning to their previous shape. This protects the underlying structure, lengthening the life of the truck dump body or hopper itself and also reducing the risk…. read more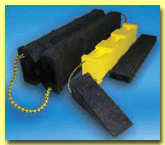 Plastic Cribbing for Heavy- Duty Stabilization - Tasks Enerpac has introduced a new system of plastic cribbing blocks and wedges to optimize safety when stabilizing heavy loads after they have been lifted. The blocks— intended as a more stable, longer-lasting and easily cleaned alternative to wooden blocks—feature an aggressively patterned, slip-resistant pyramid locking surface for stability in cribbing, chocking and shoring. According to the company, plastic material offers a stable, predictable load capacity which deforms slowly under load because of the homogeneous material used. The cribbing won't splinter or absorb most fluids.…. read more

Top

Hydraulic Rock Drills with External Flushing Head - Atlas Copco has released two new versions of its COP 1838 hydraulic rock drill—the COP 1838MUX and COP 1838HUX—intended for use in underground long-hole drilling. The new versions feature an external flushing head combined with the extractor unit to improve serviceability; this is now standard on all Atlas Copco top hammer rock drills that have an extractor unit. An upgrade kit with external flushing head will be available for older versions. The external flushing head provides improved serviceability when changing flush seals because the extractor.….read more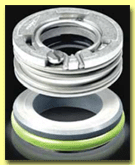 New Pump Seals Handle High Temperatures - ITT Water & Wastewater says its new line of Griploc mechanical face seals is well suited to the needs of its customers. The uniform design of the 20- to 35-mm seals allows the mounting procedure to be the same for all seals in the product line, while solid seal rings and clog-resistant design enable the seals to offer low leakage, better reliability and longer life. A lock spring is tightened around the shaft, offering axial fixation and torque transmission; this prevents damage to the shaft and eliminates the need for grub screws…. read more
SEPTEMBER 15–18, 2009: ESCC 2009—European Symposium on Comminution and Classification, Espoo, Finland Contact: Web: www.escc2009.fi
SEPTEMBER 30–OCTOBER 2, 2009: EnviroMine 2009—International Seminar on Environmental Issues in the Mining Industry, Santiago, Chile Contact: Olga Cherepanova; Tel: 56-2 652-1519; E-mail: info@enviromine2009.com; Web: www.enviromine2009.com
OCTOBER 14–17, 2009: Mining Indonesia 2009, Jakarta, Indonesia Contact: Maysia Stephanie; Tel: 62 21 316 2001; Fax: 62 21 316 1983/84; E-mail: maysia@pamerindo.com; Web: www.pamerindo.com
NOVEMBER 2–8, 2009: 2009 Alaska Miners Association Annual Convention, Anchorage, Alaska, USA. Contact: Alaska Miners Association; Tel: 907-563-9229; Fax: 907-563-9225; E-mail: ama@alaskaminers.org; Web: www.alaskaminers.org
NOVEMBER 9–10, 2009: Flotation '09: 4th International Flotation Conference, Cape Town, South Africa Contact: Barry Wills; Tel: 44 (0)7768 234121; E-mail: bwills@min-eng.com; Web: www.min-eng.com
DECEMBER 2–4, 2009: PROCEMIN 2009—VI International Mineral Processing Seminar Santiago, Chile. Contact: Fabiola Bustamante; Tel: 56-2 6521555; E-mail: info@procemin2009.com; Web: www.procemin2009.com
FEBRUARY 28–MARCH 3, 2010: 2010 SME Annual Meeting & Exhibit, Phoenix, Arizona, USA Contact: Colorado School of Mines; Tel: 800- 446-9488; E-mail: space@mines.edu; Web: www.inside.mines.edu/Outreach/cont_ed/econeval.shtml
MARCH 7–10, 2010: PDAC2010, Toronto, Canada. Contact: Prospectors & Developers Association of Canada; Tel: 416-362-1969; Fax: 416-362-010; E-mail: convention@pdac.ca; Web: www.pdac.ca
For a full calendar of mining industry conferences and events - click here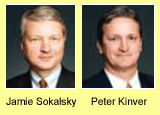 Barrick Gold Corp. announced changes to its senior leadership team and organizational structure. As part of the company's efforts to streamline its organization, the various functions under Organizational Effectiveness are being assigned to other existing departments. As a result, Gordon Fife, executive vice president of organizational effectiveness, will be leaving Barrick. Information Technology will be the responsibility of Executive Vice President and CFO Jamie Sokalsky, and Supply Chain Management will be the responsibility of Peter Kinver , executive vice president and COO. The Human Resources and Continuous Improvement functions will now be led by Don Ritz, who has been appointed senior vice president, safety and leadership development. The company also announced that Alex Davidson, executive vice president, exploration and corporate development, has decided to retire. His responsibilities for corporate development will be assumed by Darren Blasutti, senior vice president, corporate development, and the exploration function will continue to be led by Rob Krcmarov, senior vice president for global exploration.

Top

Baja Mining Corp. announced the appointment of Michael F. Shaw as COO.

BHP Billiton announced the appointment of Wayne Murdy as a non-executive director to the board.

Alcoa announced that Kevin B. Kramer has been named president, growth initiatives.

Eriez announced the promotion of Mike Shattuck to project manger-heavy industryp.

Minera Andes Inc. announced that Robert R. McEwen has been appointed interim president and CEO, replacing Allen Ambrose, who has been re-elected to the board of directors. Noront Resources Ltd.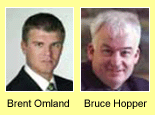 Ivernia Inc. announced the promotions of Brent Omland to vice president finance and CFO and Bruce Hooper to vice president corporate development and exploration. Kodiak Exploration Ltd. has appointed Brian J. Maher president.

Anglo American plc announced the appointment of Sir John Parker as chairman. He succeeds Sir Mark Moody-Stuart, who is retiring from the board.
About - providing an abreviated version of the current print edition of E&MJ, WOMP is distributed throughout the world to decision makers in the global mining industry, the last week of every month.

Subscribe to E&MJ - To receive your own copy of the print edition of E&MJ, click here , and complete your details. E&MJ is available free of charge to qualified readers.

Contact - if you have views, opinons or comments or editoral that you would like to submit, we would be delighted to hear from you - click here

Top