Features

E&MJ's Annual Survey of Global Mining Investments
The mining boom continues—but signs of a slowdown appeared in 2007.......read more

Finsch Automates Diamond Mining
Integrating AutoMine with an ore management system, De Beers... read more

Location, Location, Location
The steadily improving performance of GPS
.......read more

Leaf Filters Provide Clarification Essential for Efficient Merrill-Crowe Precipitation
Effective cyanide leach clarification is important ......read more






To update your details or renew your current print subscription or to receive your own edition of the print version of E&MJ -

CLICK HERE

Postcards from the Kalahari - Being a mining history/trivia buff is part of the job requirement here at E&MJ. It's one of those addictions that teaches humility, where the more one learns, the more they realize how little they know. So, when the invite to see the Finsch mine arrived at my desk, arrangements were made immediately to visit South Africa again. Who could resist a chance to visit Kimberley? The diamond mining business can trace its roots to Kimberley and the rush of the 1870s. It's where Cecil Rhodes made his fortune, the home of De Beers, and, of course, the Big Hole.
The Finsch mine visit was a three day journey. The group arrived at the Finsch guesthouse in the ........ read more

Steve Fiscor, Editor in Chief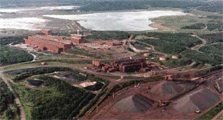 NorthMet Project Ahead of the Pack in Minnesota Polymetallic Resource Rush - Polymet Mining, owner of the large NorthMet polymetallic deposit in northeastern Minnesota, USA, is hoping that a logjam in the state's natural-resource regulatory bureaucracy will break early in 2008, allowing the Vancouver, B.C.-based company to move forward with draft Environmental Impact Statement preparation and to eventually obtain permits leading to an anticipated startup of production sometime in the first half of 2009—making it the first nonferrous metal mine in modern times to obtain official approval from this upper Midwestern state. ......... read more
POSCO to Buy Into Mount Hope Moly Joint Venture - General Moly said it has entered into a letter of intent with POSCO, the world's third largest steel producer, that gives POSCO the right to acquire a 20% interest in General Moly's Mount Hope molybdenum project located in central Nevada, subject to negotiation and execution of final documentation. In order to facilitate the investment, General Moly plans to form a new entity that will operate....... read more

Top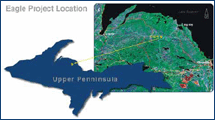 Eagle Nickel-Copper Project Takes Flight on Permit OK - Kennecott Eagle Minerals Co., a subsidiary of Rio Tinto Group's Kennecott MineralsCo., based in Salt Lake City, Utah, USA, said it has received state regulatory approval of three principal environmental permits needed to launch construction of its Eagle nickel and copper mine in the state of Michigan's Upper Peninsula, 30 miles northwest of Marquette. The Michigan Department of Environmental Quality (MDEQ) issued mine, air, and groundwater discharge permits, following an application review process that began.... read more
KORES, COMIBOL to Develop Bolivian Copper Mine - South Korea and Bolivia have agreed to jointly develop a copper deposit in Bolivia estimated to contain at least 15 million mt of copper. Officials from South Korea's Ministry of Commerce, Industry and Energy said that the deal was made in talks between South Korea's Vice Minister of Commerce....read more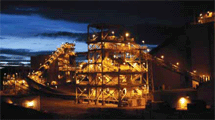 AngloGold Ashanti to Acquire 100% of Colorado Gold Mine - AngloGold Ashanti has agreed to acquire 100% of Golden Cycle Gold Corp. (GCGC) through a merger transaction which will pay GCGC's shareholders approximately $149 million in AngloGold Ashanti American Depositary Receipts (ADRs are a U.S. dollar-denominated form of equity ownership in a non-U.S. company.) GCGC is a Colorado-based holding company with its primary asset being a joint-venture interest in Cripple Creek & Victor Gold Mining Co. (CC&V) in Colorado, an operating mine that is majority owned and operated by Anglo- Gold Ashanti. AngloGold Ashanti said its principal intent is to acquire GCGC's interest in the CC&V joint venture...... read more

Top
Katanga, Nikanor Merger Completed - Katanga Mining shareholders approved a merger with Nikanor PLC at a special meeting held recently in Toronto, Ontario. According to the company, with over 90% of shares tendered by Nikanor shareholders at the first closing date of the offer, all conditions of the offer were satisfied. The merger brings together the adjacent properties in the Democratic Republic of Congo owned by Katanga and Nikanor to create a major single-site operation ... read more
Donlin Creek Drill Results Favorable, But Project Cost Will Increase - NovaGold Resources Inc. in mid-December released final drill results from the 2006 Donlin Creek infill drill program and the majority of results from the 2007 program, and said the drill data continue to indicate resource expansion potential beyond the 2006 Preliminary Economic Assessment pit limits. These drill results, according to NovaGold, will be included in a resource update and a final feasibility study for the project, and are expected to convert a significant amount of the previously reported inferred resources to the measured and indicated category..... read more

Newmont Sells Royalty Assets to Franco-Nevada - Newmont Mining Corp. agreed to sell its royalty assets and certain other non-core investments to Franco-Nevada Corp. in a transaction valued at approximately $1.3 billion.The agreement marks the culmination of the process announced earlier this year by Newmont to monetize components of its royalty and equity portfolio to fund the development of its core gold business. Newmont expects to record a pre-tax gain from discontinued operations of approximately $0.95 billion in the fourth quarter in connection.... read more

Top

Baffinland Sees Interest in Mary River Iron Ore from European Customers - Baffinland Iron Mines Corp. on December 14, 2007, announced the signing of a letter of intent for future sale of up to 3 million mt/y of iron ore to ThyssenKrupp Steel AG, representing 15%–20% of the potential initial output of its Mary River project currently under early development on Baffin Island, Nunavut Territory, Canada. Two weeks later, on December 27, the company also announced signing of another letter of intent for sale of up to 1.2 million mt/y to voestalpine Rohstoffbeschaffungs GmbH. The company noted that the letters of intent are an expression of interest only, and any binding contract of purchase and sale will be subject .... read more

Los Bronces Gets the Green Light - Anglo American recently announced the start of construction on the Los Bronces Development Project in Chile, following approval by government authorities of the project's Environmental Impact Study submitted in October 2006.
The project will raise the mine's production of fine copper to 400,000 mt/y from the current level of 226,000 mt/y, an increase of some 170,000 mt/y by 2011. Molybdenum production will reach 5,400 mt from the current level…… read more

MMX Starts Amapá Operations, Acquires AVG, Looks at Asset Sale to Anglo American - Brazilian iron-ore producer MMX Mineração e Metálicos S.A. announced in December that an operating license has been issued by the Amapa State Environmental Secretariat, authorizing operations by subsidiary MMX Amapá Mineração which include the project's ore-processing installations and infrastructure such as the Amapá Railway and Port of Santana. The railway is operated under a 20-year concession agreement with the State of Amapá signed in March 2006. The Port of Santana, rebuilt and modernized by MMX Amapá, is reportedly now in its operational phase, equipped to receive…. read more

Top

Coeur Completes Bolnisi, Palmarejo Acquisitions - In late December 2007, Coeur d'Alene Mines Corp. said it had successfully completed its acquisition of Bolnisi Gold NL and Palmarejo Silver and Gold Corp., following shareholder approval of the $1.1- billion transaction earlier in the month.
Bolnisi Gold is an Australian company with a portfolio of precious metals projects in Mexico which includes the Palmarejo silver-gold project in Chihuahua; the Yecora gold-silver project in Sonora, and the El Realito gold-silver project, also in Chihuahua. Palmarejo is an exploration and development company focused on gold and silver properties in the Temoris District of Chihuahua, Mexico…. read more


New Zealand Underground Mine Commissioned - OceanaGold Corp. on January 17 reported successful commissioning of the Frasers Underground mine at its Macraes operation on the South Island of New Zealand. This is the second new gold mine that the company has commissioned in the past 12 months, following startup of the Reefton mine; and according to Oceana- Gold, was completed on schedule, at a capital cost net of gold revenue of NZ$33.4 million. The company also plans development of two additional mines in the near future …. read more

OceanaGold on Track for 2009 Startup at Didipio Copper-Gold Project - Oceana Gold Philippines Inc. (OGPI) is on track in the Didipio copper-gold project development in Nueva Viscaya, Philippines, with a road upgrade that has enabled it to transport mining equipment to a plant that will reportedly start up in early 2009. "We are on schedule with our development timeline. The road upgrade now allows us to get in large mining equipment and large infrastructure components to construct the plant," said OceanaGold CEO Steve Orr…. read more


Tampakan's Estimated Resources Rise 10% - Xstrata Copper announced on December 5, 2007, that the mineral resource estimate for its Tampakan copper-gold project in the Philippines has increased by over 10% in both tonnage and contained copper, consolidating Tampakan's position as one of the largest undeveloped copper deposits in southeast Asia.
According to the company, the upgraded measured, indicated and inferred resource now totals 2.2 billion mt at a grade of 0.6% copper.…. read more



Kolwezi Tailings Project to Proceed in DRC - First Quantum Minerals announced that the board of Kingamyambo Musonoi Tailings SARL (owned by First Quantum, 65%; Gecamines, 12.5%; Industrial Development Corp. of South Africa, 10%; International Finance Corp.,7.5%; and the Government of the Democratic Republic of Congo, 5%) has committed to proceed with the development of the Kolwezi tailings project. First Quantum with support from its contributing equity partners of KMT (specifically IDC and IFC) will finance or procure third party debt project financing totaling up to $593 million. This satisfies the…. read more


Impala will Process SmokeyHills PGM Concentrates - Platinum Australia Ltd. has signed a life of-mine off take agreement with Impala Refining Services (IRS) for the PGM concentrates to be produced at PLA's 80%- owned Smokey Hills mine on the eastern limb of the Bushveld Complex in South Africa. It covers annual production of approximately 95,000 oz of PGMs contained in flotation concentrates over the projected mine life of some seven years. Smokey Hills will exploit a resource of 1 million oz of 4E PGM in the UG2 Reef which will be mined initially as an open cut and progress to a shallow underground mine. The on-site processing plant…… read more

Top
South African Coal Mines Resume Work - At the end of January, South Africa's coalmines resumed production after being idled January 25 because of power cuts, according to BBC News. And the main gold, diamond and platinum mines had also been idled, but powered up. Full power, was expected to be restored by February 1. Coal is used to generate about 90% of electricity supplies at state power company Eskom. The government admitted it was wrong…. read more

Miner-Owned Coal Pit Closes in Wales - The Welsh miners who invested their own money in keeping Tower Colliery going for 13 years ceased operations at the end of January because the coal had run out, The Associated Press reported. Miners with blackened faces, their families and friends carried flags and banners in a short procession marking the end of operations. One red banner, bearing the number 1831, recalled the year that the socialist red flag was first raised in Hirwaun, the nearby town.…... read more

Top

Australia May Lose 10 Million mt of Coking Coal - Coking-coal miners in Australia may lose at least 10 million metric tons of output because of flooding, Bloomberg reported. That's equal to about 8% of Australia's annual coking coal exports, based on 2006 data. This month's weather forced Macarthur Coal Ltd., the world's biggest coal exporter, and Wesfarmers Ltd. to declare force majeure. Producers including BHP Billiton Mitsubishi Alliance, the world's largest coking-coal exporter.…... read more


Indonesian Exports Remain Strong in 2008 - Indonesia, the world's second largest coal exporter, will export about 179 million metric tons (mt)—75% of total coal production--next year to benefit from the surging demand from overseas buyers, especially China. The Indonesian Coal Producers Association said the country's total production would increase by 9%, reaching 234 million mt next year from about 215 million mt this year. The 9% increase was expected, as local coal producers were mostly raising production to benefit from higher global demand. Next year, of total coal production.…... read more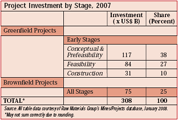 E&MJ's Annual Survey of Global Mining Investment
The mining boom continues—but signs of a slowdown appeared in 2007
By Magnus Ericsson and Viktoriya Larsson, Raw Materials Group

During 2007, 175 new mining investment projects with a total projected cost of US$58 billion were registered in Raw Materials Group's Raw Materials Data Metals (RMD Metals) Mines/Projects database. This level of investment value is considerably higher than the $38 billion recorded in 2006. However, even though the dollar volume of projects has increased steadily since the trough of the mining cycle in 2002, when only 65 projects valued at $11 billion entered……. read more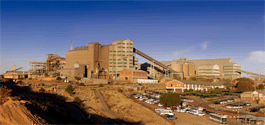 Finsch Automates Diamond Mining
Integrating AutoMine with an ore management system, De Beers pushes production levels to new highs at its largest block caving operation.
By Steve Fiscor, Editor-in-Chief

Last year, De Beers and its partners mined roughly 50 million carats of diamonds. South Africa remains one of the world's largest diamond mining regions. The Northern Cape Province and Kimberley in particular have a rich diamond mining history that dates back to the diamond rush of the 1870s. De Beers was a leading diamond miner then and today De Beers Consolidated Mines (DBCM), the South African operating entity of De Beers, is setting a new benchmark for underground...... read more

Top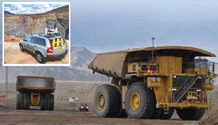 Location, Location, Location
The steadily improving performance of GPS machine location and guidance systems means that production equipment can run — with greater precision and productivity— but it can't hide
By Russell A. Carter, Managing Editor

Perhaps the best indication of how widely a specific technology has been accepted by an industry is the amount of "wow" factor a new announcement must pack in order to make people stop and think about where that technology has come from, and where it's going.
That appears to be the case with GPS-assisted location and guidance of mining equipment, a technology sector that has had its moments…... read more


Leaf Filters Provide Clarification Essential for Efficient Merrill-Crowe Precipitation
Effective cyanide leach clarification is important in achieving efficient precipitation when using the Merrill-Crowe process. Automated, self-cleaning pressure leaf filtration systems can reduce suspended solids content to less than 1 ppm
By Ken Severing

Merrill-Crowe zinc precipitation is a popular process choice for large-volume gold and silver operations. Although the process involves more steps than the carbon filter process, Merrill-Crowe typically offers more efficient precipitation and higher grade bullion with less operational costs in large-volume operations and operations with high silver-to-gold ratios. The proven effectiveness of the process for producing a clean effluent stream, its relatively small equipment..... read more

Top

Magnetic Separation System Enhances Nepheline Syenite Production - Master Magnets Ltd., a U.K.-based manufacturer of magnetic separation equipment, announced that it recently supplied one of its Induced Roll high-intensity magnetic separators to Iran Industrial Design Co. for use in the production of high quality nepheline syenite. According to Master Magnets, the installation is the culmination of some 10 years of discussions with the user and product …. read more

Hydraulic Wrenches Add a New Twist to Maintenance - The Century mine in northwest Queensland, Australia, reports that it has experienced good results following a changeover to steel-bodied Enerpac hydraulic torque wrenches for maintaining its heavy vehicle fleet. Alloy-bodied hydraulic wrenches weren't up to the task of keeping a 45-strong fleet of Komatsu 830E 240-ton haul trucks maintained and operational .…… read more

Swedish Perspectives — from London - Toward the end of each year senior personnel from the Atlas Copco and Sandvik mining and construction business units in Sweden come to London to share with the trade press their thoughts on world markets and their companies' own roles in them and usually to review key technology developments as well. During 2007, both units made major acquisitions on the construction side and these were discussed at some length. Given the two companies serve similar…. read more

Top

Diesel Engines Receive Emissions Certification - Three new John Deere Power Systems 4.5L diesel engine models have received Tier 3/Stage IIIA certification from the U.S. Environmental Protection Agency and the European Union. The turbocharged PowerTech E 4.5L, the turbocharged PowerTech M 4.5L, and the turbocharged and air-to-air aftercooled PowerTech M 4.5L engines are the latest units to be certified. The turbocharged PowerTech E 4.5L engine features a power range of 63 kW–74 kW (85 hp–99 hp) and is the first John Deere engine under 100 hp to be electronically .…… read more

Shovel Dipper Offers Performance Improvements - VR Steel says its new rope shovel dipper offers an improved alternative to conventional products on the market. Major design features of the VR dipper include: A dual latching system that reduces maintenance and operating costs per ton; an overall optimized trapezoidal shape that enhances the dipper's filling capacity and…. read more

LHD Line Offers New Features - Sandvik Mining and Construction has added significant upgrades to their line of underground loaders. The new Sandvik LH series, which replaces the popular Toro and EJC brands, incorporates a long list of reliability and durability updates, as well as improved safety, serviceability and operator comfort features, according to the company. Improvements include…. read more

ROC Series Drills Get Redesigned Cabins - Atlas Copco's ROC surface drill rigs new cabins offer more space, comfort and safety, according to the company. The ROC operator's view has been improved by relocating the instrument panel—and with a new angled front window, roof window and the design of the cabin's frame, the operator can now observe the complete drilling process from surface collaring to the top of the feed. The forward angled front window…. read more

Top

Geophysical Software Gets New Name, Features - Encom has released the latest version of its geophysical interpretation package, Encom PA 7.0, which incorporates a change in name and feature packaging and a free viewer. Encom PA, previously called Profile Analyst, now supports drag and drop of 2-D and 3-D objects into 2-D maps and 3-D views using automatic interpretation of industry standard data formats and model objects. The range of acceptable formats is large.….read more

Inclined Screens Reduce Maintenance Requirements- Telsmith's new line of inclined vibrating screens, the Vibro-King TL series, is intended to replace the existing Vibro-King and Specmaker screen lines, offering longer service life, reduced maintenance and lower operating costs. At the heart of the Vibro-King TL is the new TL shaft assembly featuring a "Never-Wear" seal design that eliminates contact seals, reducing maintenance and providing longer service life. For greater bearing life, all TL shaft assemblies utilize wide-series bearings…. read more
MAY 14-15, 2008: The Canadian Mining & Industrial Expo 2008, Sudbury, Ontario. Contact: Darren Ceccarelli; Tel: 705-929-7469; Fax: 705-525-0626; E-mail: dac@vianet.ca; Web: www.dacshows.com

JUNE 9–11, 2008: MASSMIN 2008–5th International Conference & Exhibition on Mass Mining, Luleå Technical University, Luleå, Sweden. Contact: Prof. E Nordlund; E-mail: info@massmin2008.com; Web: www.massmin2008.com

JULY 22-24, 2008: Queensland Mining & Engineering Exhibition 2008, Mackay, Queensland. Contact: Reed Exhibitions; Tel: 02 9422 2955; Fax: 02 9993 8342; Web: www.qme.reedexhibitions.com.au

SEPTEMBER 22-24, 2008: MINExpo 2008, Las Vegas, Nevada, USA Contact: Hall Erickson; Tel: 800-752-6312; Fax: 630-434-1216; E-mail: minexpo@heiexpo.com; Web: minexpo.com

OCTOBER 1-3, 2008: PROCEMIN 2008, Santiago, Chile Contact: Fabiola Bustamante; Tel: 56-2 652 1555; Fax: 56-2 652 1570; E-mail: info@procemin.cl; Web: www.procemin.cl

For a full calendar of mining industry conferences and events - click here

Freeport-McMoRan Copper & Gold announced a new organizational structure that will follow the retirement of Tim Snider, president and COO, in April. CEO Richard C. Adkerson will become president; Phil Brumit will become president of Freeport-McMoRan Africa.
Endeavour Silver Corp. recently announced four new appointments: Fernand Rondeau has been appointed mine manager of the Bolanitos mines project; Nelson Peña has been appointed senior engineer, mine planning; Miguel Lampson has been appointed chief mine geologist of the Bolanitos mines project; and Francisco Gameros has been appointed financial controller. The company also announced the appointment of W.R. (Bill) Franklin as CFO. He replaces John Watkins who is retiring.

Top
ArcelorMittal announced that Joseph Kinsch has stepped down as chairman. Lakshmi Mittal has been appointed chairman and will continue his role as CEO.
Mechel OAO announced that Yuriy Efimenko has been appointed managing director and Konstantin Sen has been appointed development director at the Korshunov Mining plant.

Ambrian Commodities Ltd. announced the appointment of Alison Giles as marketing executive. Ambrian Capital plc announced that John Coles has been appointed finance director.
Pure Nickel Inc. recently announced the death of J. Jay Jaski, chairman and CEO. Jaski was a key figure in building and financing the corporation and was responsible for the acquisition of numerous property rights for Pure Nickel, including the most recent purchase in July 2007 of 10 properties from Xstrata Nickel. David McPherson has been appointed interim president and CEO and Robert Angrisano as interim chairman.

Bill Thiermann has joined Ultra Tech Pipe as project engineer.
Laurance Donnelly and Fred Bell of the British Geological Survey received the Edward Burwell Jr. Award. The annual award recognizes outstanding contribution to the field of engineering geology, in particular their book "Mining and its Impact on the Environment." The book provides an overview of various aspects of mining and how they affect the environment, and how they can be investigated and dealt with.
About - providing an abreviated version of the current print edition of E&MJ, WOMP is distributed throughout the world to decision makers in the global mining industry, the last week of every month.

Subscribe to E&MJ - To receive your own copy of the print edition of E&MJ, click here , and complete your details. E&MJ is available free of charge to qualified readers.

Contact - if you have views, opinons or comments or editoral that you would like to submit, we would be delighted to hear from you - click here

Top