The latest from the
World Mining Equipment
Video Library
View




RCEP Establishes Major Trading Bloc

During mid-November, 15 nations representing about 30% of global gross domestic product signed the Regional Comprehensive Economic Partnership (RCEP). This culminated after eight years of negotiations, and the signing ceremony took place virtually, another sign of the COVID-19 times.
The group included the ASEAN nations together with Australia, China, Japan, New Zealand and South Korea. It does not include India, which dropped out of negotiations last year. Both Australia and China touted the agreement as a major step forward despite the recent tension that has been brewing between the two major trading partners.
The agreement is largely a tariff reduction deal. Exporters will only need one certificate of origin, which will simplify

Usually engineers can apply those same inherent traits outside their work life with a great deal of success. What would happen if you found the cards were stacked against you? What if you found that some of the information you were being fed was fictitious? What would you think if you, your friends and your .... read more


Steve Fiscor, Publisher & Editor in Chief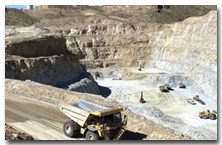 Northern Vertex, Eclipse Gold to Merge
Northern Vertex Mining Corp. and Eclipse Gold Mining Corp. plan to merge in an all-share transaction, creating a new gold growth resource business focused on the western United States. Combined company will be comprised of 71% Northern Vertex shareholders, 18% Eclipse shareholders and 11% new shareholders. Northern Vertex will be the resulting .... read more
Newmont Commits to Net Zero GHG Emissions by 2050
Newmont Corp. plans to implement industry- leading climate targets of a 30% reduction in greenhouse gas (GHG) emissions by 2030, with an ultimate goal of achieving net zero carbon emissions by 2050. The new 2030 target builds upon Newmont's existing GHG emissions reductions target of 16.5% over five years, concluding in 2020. "At Newmont, we hold ourselves to high standards — from the way in which we govern our business .... read more

Top

Lundin Family Donates $2M to UArizona Mining Program
The family of two University of Arizona alumni have donated $2 million to help the university expand its highly ranked mining and geosciences programs and set the stage for an interdisciplinary school of mining engineering and mineral resources. The Lundin family has made a $2 million commitment and will.... read more


Vale Lowers Iron Ore Production Guidance
Hosting its Vale Day recently, Vale discussed its plans for the future, and ultimately lowered its 2020 iron ore production guidance to 300 million to 305 million metric tons (mt). Earlier this year, it lowered its guidance to 310 million mt. The company said it planned to grow production to 315 million to 335 million mt per year (mt/y) in 2021 and was targeting 400 million mt/y of capacity by the end of 2022. .... read more


| | |
| --- | --- |
| AROUND THE WORLD - USA & CANADA | |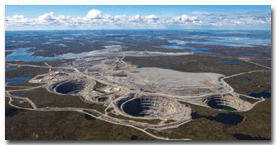 Dominion Will Sell Ekati Mine
Dominion Diamond Mines ULC settled a purchase agreement with DDJ Capital Management LLC and Brigade Capital Management LP, both investment managers to holders of the company's second lien notes. Under the agreement, an entity controlled by the purchaser would acquire substantially all of Dominion's .... read more


Full Production RestartHudbay's 777 Mine
Full production resumed at Hudbay Minerals' 777 mine in Flin Flon, Manitoba, on November 25 following the skip hoist incident in October. The shaft repair activities were completed well ahead of schedule and the total direct repair costs were under the estimated $5 million, the company said. While the shaft was under repair, the company temporarily reassigned equipment and personnel from the 777 mine to the Lalor mine in Snow Lake to partially ....read more

Top
Aquila Submits Dam Permit Application for Back Forty
Aquila Resources Inc. has applied to the Michigan Department of Environment, Great Lakes, and Energy (EGLE) for a dam safety permit for its Back Forty Project. The company has already been issued the four foundational state permits required for the commencement of construction and operations at Back Forty, with the mining permit, air permit, water discharge (NPDES) permit, and wetlands permit. The dam safety permit, which is required to build the proposed tailings management facility (TMF) and contact water basin, is the final state permit required .... read more


| | |
| --- | --- |
| AROUND THE WORLD - Latin America | |
Lundin Mining Reaches New Collective Agreement With Candelaria Union
Lundin Mining Corp. and the Candelaria AOS Union, which represents approximately 550 workers at the company's Candelaria operations in Chile, has ratified a new 30-month collective agreement. The union accepted the last formal offer that was presented by Candelaria on November 12. The safe resumption of partial operations is being assessed while the Candelaria Mine Workers Union, representing ... read more


Top
Glencore Closes Minera Aguilar Plant
After 91 years of uninterrupted activity, Glencore has decided to close its Compañía Minera Aguilar plant in the province of Jujuy, Argentina. The plant will go into maintenance because there is no more extractable mineral left, the company said. Glencore, which operates Minera Alumbrera, said the mine "has inexorably reached the end of its productive life." Guillermo Apraiz, president of Minera Aguilar, explained that the operation planned to run longer, but the current epidemiological situation has forced the company to close the plant ahead of schedule ... read more


| | |
| --- | --- |
| AROUND THE WORLD - Australasia | |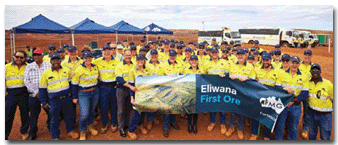 FMG Celebrates First Ore at Eliwana Mine
Fortescue Metals Group Ltd. (FMG) achieved a significant milestone in the development of its iron ore operations in the Pilbara, celebrating first ore through the ore processing facility at the Eliwana mine and rail project in the Western Hub. Fortescue CEO Elizabeth Gaines, and Deputy Chairman Mark Barnaba …. read more


Top

Dacian Gold Will Merge With NTM Gold
Dacian Gold Ltd. and NTM Gold Ltd. have agreed to a merger, which will combine two complementary West Australian gold companies and leverage Dacian's operational expertise and processing infrastructure to unlock the development potential of the Redcliffe Gold Project through regional consolidation, according to the companies. Dacian Gold owns the Mount Morgans Gold Operation, while NTM Gold's main project is the Redcliffe Gold Project. Under the agreement, each NTM shareholder will receive 1 Dacian share for every 2.7 NTM shares …. read more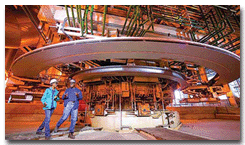 Amplats Completes ACP Phase A Rebuild
In early December, Anglo American Platinum (Amplats) safely and successfully completed the rebuild of the Anglo Converter Plant (ACP) Phase A unit. The unit was ramping up and on track to be operating at full capacity by the end of the year. "The ACP operations and projects teams have done an extraordinary job in safely completing …. read more
Top
EGC Signs Offtake Agreement With Trafigura for DRC Cobalt
Entreprise Générale du Cobalt (EGC) recently signed an offtake agreement with Trafigura Pte Ltd. EGC is a Congolese mining company, owned by the state of the Democratic Republic of the Congo (DRC), which holds the monopoly for the purchase, treatment, transformation, sale and export of cobalt extracted by artisanal miners or artisanal mining companies in the DRC. "For our country to benefit from the intrinsic value of cobalt, currently boosted by the development of carbon-free energies, it was essential .... read more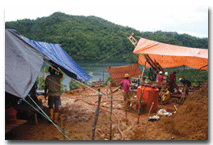 Baru Gold Moves Forward With Sangihe Project
Baru Gold Corp. is hiring mining contractors and has commenced the sourcing of heap-leach operational equipment for its Sangihe gold-silver project in Indonesia. "Baru Gold continues to move toward commencement of production and cash flow from gold production on the Sangihe project in the first half of 2021," Baru Gold CEO Terry Filbert said. "We have begun .... read more


Top
China's GEM, Glencore Extend Cobalt Partnership
Gold Glencore and GEM have extended their partnership for the supply of cobalt hydroxide by another five years and have formally embedded responsible sourcing and sustainability into the contractual relationship. Under the terms of the agreement, Glencore will provide around 150,000 metric tons (mt) of cobalt contained in hydroxide for GEM between 2020 and 2029. Glencore and GEM are committing each other to annual audits under OECD-aligned standards, specifically, the Cobalt Refiner Supply Chain Due Diligence Standard developed … read more



| | |
| --- | --- |
| THIS MONTH IN COAL | |
Aquila Investment Extends Life of Capcoal's UG Ops
Anglo American has invested more than A$240 million ($179 million) in its Aquila metallurgical coal project in Central Queensland, which it believes will be one of the world's most technologically advanced underground mines. Aquila forms part of the Capcoal Joint Venture between Anglo American (70%) and Mitsui & Co. Ltd. (30%) .... read more


Top

China Buys More Met Coal From Teck
Teck Resources reported increased metallurgical coal sales to China for the fourth quarter of 2020. These sales have been at higher pricing levels compared to markets outside China. Estimated total fourth quarter sales remain within Teck's existing guidance of 5.8 million to 6.2 million metric tons (mt), with approximately 20% of these sales now to Chinese customers. Pricing in China for Teck's met coal started to increase around the middle of the current quarter when a large portion of our overall sales were already concluded. Additional spot sales to  …. read more


-->
| | |
| --- | --- |
| FEATURE - Copper Processing | |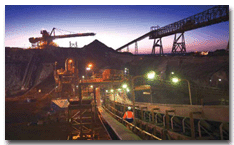 Copper Processing: The Quest for Efficiency at Scale
Where do the greatest optimization opportunities lie? And what will future flowsheets look like?

By Carly Leonida, European Editor

Advances in copper processing technologies from the past 30 years nearly all fall into the category of "the bigger, the better" — higher volume flotation cells, massive high-pressure grinding rolls (HPGRs), super-sized concentrators. For some time now, we have been chasing economies of scale, which will soon cease to exist. The trends that will characterize R&D to 2050 and beyond are quite different. Going forward, the lion's share of investment, for both vendors and miners, will lie in technologies and flowsheet designs that reduce energy consumption and greenhouse gas (GHG) emissions, enable water reuse and handle tailings responsibly, all while maintaining high safety standards.... read more



For more companies with products in the Mineral Processing market -
Go Here
| | |
| --- | --- |
| FEATURE - Autonomous Mining | |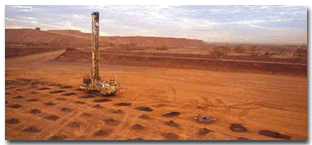 Autonomy Reloaded
With the influx of open, interoperable autonomous mining solutions will come new possibilities... meet some of the companies that are ushering in this change.

By Carly Leonida, European Editor

Despite autonomous haulage systems (AHSs) having been commercially available for more than 20 years and some incredible results publicized in terms of utilization and cost reductions, the technology is still yet to achieve mainstream adoption. But that could be set to change thanks to a new wave of open, interoperable solutions. We asked autonomy consultant Ben Miller, partner and principal at Autonomous Correct, to help it explore the market and its trajectory. "Today, there are only three commercially available AHS options," he explained. "There are two from OEMs — Caterpillar and Komatsu — which both have a bunch of deployments, and one from a third-party provider — ASI — which has a few smaller deployments plus a major contract to convert trucks for Roy Hill in Australia. Both Hitachi and Liebherr have trials under way, but their systems are slightly different."..... read more

Top

For more companies with products in the LHD market -
Go Here
| | |
| --- | --- |
| FEATURE - Diesel Engines | |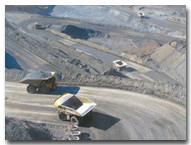 Industry Trends Drive Diesel Development
Diesel remains the heavyweight champion of high-volume haulage power, but BEVs, alternate fuels and other green-tech challengers are rapidly rising in the rankings

By Russell A. Carter, Contributing Editor

For the better part of a century, diesel power has rumbled along a wide, uncrowded path to dominance in surface haulage of mined materials. In the underground world, the path hasn't been quite as smooth — at coal operations in certain countries, for example, where only approved diesel engines are permitted in mines — but even so, diesels have consistently prevailed over electric-drive equipment in underground metal mining. However, the route ahead for both surface and underground diesel deployment is going to get tougher as competing technologies and evolving customer demands congest the traffic flow. Nobody is predicting that diesel will lose its prime position anytime soon, but high-horsepower engine builders and OEM earthmover equipment suppliers can be excused for having a lot on their minds..... read more


For more companies with products in the Engines market -
Go Here
| | |
| --- | --- |
| Utility Vehicles | |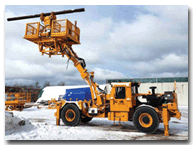 New Scalers, Carriers, Solutions Solve Specific Problems
The latest releases were developed based on customer feedback, and offer better control, more options and improve job satisfaction

By Jesse Morton, Technical Writer

The latest news from utility equipment suppliers show what happens when OEMs co-develop solutions with miner partners. The resulting solutions deftly solve specific challenges, inexpensively, and with a nod to sustainability. They give operators more control, and operations more options. The typical list of benefits is topped by cost savings or improved safety. Field tests give clear wins. The following stories also reveal that OEM-miner partnerships result in solutions that can simplify workflows and processes. They bestow upon the manager the chance to streamline. For operators, they offer not just improved KPIs, but improved job satisfaction. And, as one expert told me, a happy employee is a productive employee .... read more

Top


For more companies with products in the Utility market -
Go Here
| | |
| --- | --- |
| Video Presentations | |
The latest listings from the World Mining Equipment Video Library - to view the video, click the image.
For more details on the Video Hub -

Go Here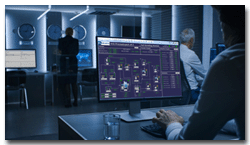 'FLSmidth brings AI to advanced process control to enable smarter mineral processing
Artificial intelligence (AI) is fast becoming a part of everyday life and an expected part of industrial process optimisation solutions in mining. To meet this growing trend, FLSmidth has launched the latest version of its advanced process control solution, ECS/ProcessExpert® V8.5 software, which now includes the ability to integrate new .... read more

JLT Mobile Computers - new rugged 10" tablet for workers on the move.
For mobile efficiency, the new JLT MT2010P™ Windows tablet, combines high performance and tough construction with a thin-and-light form factor to boost productivity in harsh environments. Vibration, shock and drop tested to MIL-STD-810G, the deceivingly slender JLT MT2010P tablet is designed to take a punch and can even....read more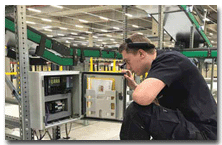 Beumer - Glasses Support Remote Troubleshooting
Beumer Group have released Smart Glasses, which allow the supplier's technicians to see what on-site technicians see. The glasses support live contact with BEUMER service experts anywhere, the supplier reported. To use, the on-site technician dons the glasses and launches the BEUMER Support app with a voice command. The service is password activated. The BEUMER technician then can see .... read more

Top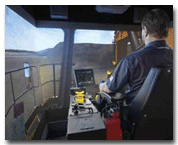 Norgold's Lefa Gets ThoroughTec Simulator
Norgold equipped its new West African Training Center at the Lefa mine in Guinea with a CYBERMINE Full-Mission Simulator by ThoroughTec Simulation. The simulator is a high-fi delity system that creates the sensation of operating equipment in a mine. The simulator cab uses OEM controls and the simulated ....read more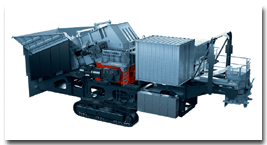 Metso:Outotec - Sizer Crusher for Soft Ore Applications
Metso:Outotec is complementing its line of mobile and modular stationary crushing solutions with a sizer option specially designed for soft ore and aggregate applications. The new additions to Metso Outotec's mobile Lokotrack® product line are equipped with Komatsu's sizer technology, and are available in.... read more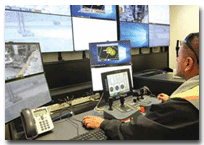 Updated RCS Offers Improved Tracking
Epiroc introduced an update to its Rig Control System (RCS). The new version, RCS 4.20, includes a range of general improvements and features such as the Time Usage Model, Real Time Data and AutoDrill optimizations, the company reported. The Time Usage Model allows for improved tracking of asset utilization against targets, which will help drive .... read more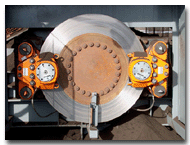 Svendborg Brakes – IIoT driven predictive maintenance
Bucket wheel excavators need robust and reliable braking systems to withstand the harsh operating and environmental conditions they are exposed to. The right solution helps them handle power cuts while protecting the BWE's components from shock loads. Svendborg Brakes has reported that their latest IIOT solution.…. read more

Top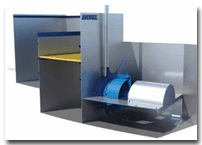 Dilution System for Thickeners
International technology Group ANDRITZ has developed the EvoLute NT dilution system, a new solution for diluting thickener feed that uses the overflow liquid from the thickener to dilute incoming slurries or suspensions to the optimum solid-liquid ratio. This new, patented system is designed for flow rates between 600 and 9,000 m3/h. The dilution system does not interfere with the thickener ....read more
MARCH 1-5, 2021: SME Annual Conference & EXPO, (Virtual)
Contact Web: https://www.smeannualconference.com/
MARCH 7-10, 2021: The annual meeting of the Prospectors & Developers Association of Canada, (Virtual)
Contact: Web: https://www.pdac.ca/ convention/attendee-info/pdac-2021-convention-goes-virtual
MARCH 14-17, 2021: Haulage & Loading 2021, Hilton El Conquistador Resort, Tucson, Arizona, USA.
Contact: Web: www.haulageandloading.com
APRIL 19-23, 2021: Expomin, Espacio Riesco, Santiago, Chile.
Contact: Web: www.expomin.cl
MAY 4-6, 2021: US Coal Show/Longwall Edition, Pittsburgh, Pennsylvania, USA.
Contact: Web: www.uscoalshow.com
MAY 4-6, 2021: Canadian Institute for Mining (CIM), Montreal, Quebec, Canada.
Contact: Web: www.convention.cim.org
JUNE 1-3, 2021: Euro Mine Expo, Kraft Center, Skelleftea, Sweden.
Contact: Web: www.eurominexpo.com
SEPTEMBER, 2021: MINExpo INTERNATIONAL, Las Vegas, Nevada. USA Contact Web: www.minexpo.com
Contact: Web: https://www.minexpo.com
For a full calendar of mining industry conferences and events - click here
| | |
| --- | --- |
| WHO'S MOVING WHERE | |

Glencore plc announced that Ivan Glasenberg will retire as CEO and as a member of the board during the first half of 2021. Gary Nagle will then become CEO and join the board. Nagle is currently global head of Glencore's coal industrial business based in Sydney, Australia. He joined Glencore in 2000 in Switzerland as part of the coal business development team.

André Sougarret returns to Codelco as vice president of north operations. After two and a half years out of the state company, the former general manager of the El Teniente Division will take over from January 2021 the operations of Chuquicamata, Radomiro Tomic, Ministro Hales and Gabriela Mistral. He was previously general manager of El Teniente.

ArcelorMittal Mining appointed Guy Belleau as COO. Prior to joining the ArcelorMittal team, he was general manager of the Horne 5 mine at Falco Resources. Previously, he worked with companies such as Goldcorp and Xstrata, where he was involved in mining operations management, engineering and mine construction project management.

Laurel Sayer has been appointed president and CEO and a director of Midas Gold Corp. She is currently president of the company's subsidiary Midas Gold Idaho Inc. Sayer replaces Stephen Quin, who resigned as president, CEO and a director of Midas Gold.

As part of the transaction to acquire the interests of Empire Metals in the Bolnisi gold and copper project in the Republic of Georgia, Candelaria Mining appointed Mike Struthers as CEO and to the board. Neil O'Brien will also join the Candelaria board. The appointments are subject to the closing of the above transaction.

Orex Minerals Inc. announced that Gary Cope has resigned as president, CEO and director of the company in order to focus his efforts on Barsele Minerals Corp. The company also appointed B.H. "Ben" Whiting as president and CEO and as a director of Orex effective immediately. Whiting had served as the company's vice president, exploration, since August 2015.

Torex Gold Resources Inc. appointed Andrew Snowden as CFO, effective January 4, 2021. He will be replacing Steven Thomas, who will be stepping down from Torex. Snowden is currently senior vice president and CFO at Sherritt International Corp.
Tanzanian Gold Corp. welcomed Stephen Mullowney as CEO and appointed him to the board of directors. Mullowney is a former partner and managing director of PricewaterhouseCoopers LLP (PwC) and PWC Canada's mining deal leader.
About - providing an abreviated version of the current print edition of E&MJ, WOMP is distributed throughout the world to decision makers in the global mining industry, the last week of every month.

Subscribe to E&MJ - To receive your own copy of the print edition of E&MJ, click here , and complete your details. E&MJ is available free of charge to qualified readers.

Contact - if you have views, opinons or comments or editoral that you would like to submit, we would be delighted to hear from you - click here

Top