Northern Vertex, Eclipse Gold to Merge
---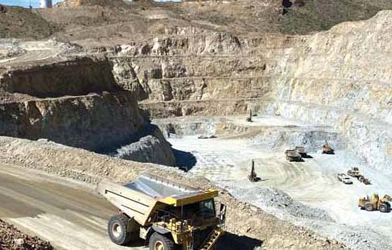 The merger includes Northern Vertex's Moss mine, the largest pure gold and silver mine in
Arizona. (Photo: Northern Vertex)


Northern Vertex Mining Corp. and Eclipse Gold Mining Corp. plan to merge in an all-share transaction, creating a new gold growth resource business focused on the western United States. Combined company will be comprised of 71% Northern Vertex shareholders, 18% Eclipse shareholders and 11% new shareholders. Northern Vertex will be the resulting company with offices in the US and Canada. Northern Vertex owns and operates the Moss mine, currently the largest pure gold and silver mine in Arizona. Eclipse Gold Mining is exploring the Hercules gold property within Nevada's Walker Lane trend.

"The result of this transaction will be a combined company with a greatly strengthened balance sheet, and an enhanced team with extensive experience growing multi-asset gold companies," said Northern Vertex President, CEO and Director Kenneth Berry stated. "This represents a significant step toward our unwavering vision of building a top of the class mid-tier gold producer. We plan to use this new platform to accelerate organic growth opportunities by targeting significant resource expansion at the Moss mine and execute an aggressive roll-up strategy focused on the western United States."

"Shareholders of the new combined company will now own a platform including two Walker Lane gold projects with multi-million-ounce potential, a producing mine with untapped production and cash-flow growth opportunities, and an executive team with demonstrated success building multi-asset companies organically and through M&A," said Eclipse President, CEO and Director Michael G. Allen stated. "This combination aligns all the key elements required toward building America's next mid-tier gold growth story." The management team will be comprised of President and CEO Kenneth Berry, CFO David Splett, EVP Corporate Development Michael G. Allen, and Dr. Warwick Board as Vice President of Exploration. Shareholders of Eclipse will receive 1.09 shares in Northern Vertex for each Eclipse share. The transaction has been unanimously approved by the board of directors of both Northern Vertex and Eclipse.
---
As featured in Womp 2020 Vol 12 - www.womp-int.com