Industry Trends Drive Diesel Development
Diesel remains the heavyweight champion of high-volume haulage power, but BEVs, alternate fuels and other green-tech challengers are rapidly rising in the rankings

By Russell A. Carter, Contributing Editor
---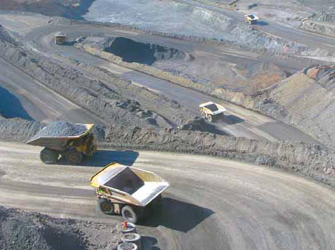 According to the International Council on Mining & Metals, large mining mobile
equipment currently produces roughly 30-50% and in some cases, up to 80% of
Scope 1 emissions at a mine. (Scope 1 emissions are direct emissions from sources
owned or operated by a company or organization.) ICMM's Innovation for Cleaner,
Safer Vehicles (ICSV) initiative has brought together 27 of the industry's leading
mineral producers and 19 major OEMs with the goal of introducing greenhouse
gas emission-free surface mining vehicles by 2040.

For the better part of a century, diesel power has rumbled along a wide, uncrowded path to dominance in surface haulage of mined materials. In the underground world, the path hasn't been quite as smooth — at coal operations in certain countries, for example, where only approved diesel engines are permitted in mines — but even so, diesels have consistently prevailed over electric-drive equipment in underground metal mining. However, the route ahead for both surface and underground diesel deployment is going to get tougher as competing technologies and evolving customer demands congest the traffic flow. Nobody is predicting that diesel will lose its prime position anytime soon, but high-horsepower engine builders and OEM earthmover equipment suppliers can be excused for having a lot on their minds as they piece together a product-line development strategy capable of solving issues ranging from basic power train configurations — diesel, hybrid or fuel cell, for example — to industry trends that will dictate how and to what extent diesel-powered haulage can be economically used, or eliminated.

For example, as mentioned in our September issue (see Futuristic Decisions Threaten Status Quo, pp. 60-69) Anglo American plc is moving ahead on a program that, if successful, could ultimately lead to conversion of more than 400 of its diesel-powered haulage trucks to use hydrogen fuel. A pilot project starting next year at Anglo American Platinum Ltd.'s Mogalakwena operation in South Africa will use a 3.5-megawatt electrolyzer to produce hydrogen on site. The company will convert a Komatsu 930E truck to run on a hydrogen fuel cell module paired with a scalable modular lithium-ion battery system from Williams Advanced Engineering. This arrangement, which replaces the existing vehicle's diesel engine and fuel tank, is controlled by a high-voltage power distribution unit delivering more than 1,000 kWh of energy storage. Meanwhile, Nouveau Monde Graphite is publicizing plans to develop the first all-electric open-pit operation at its Matawinie project in the Canadian province of Quebec. The company said the mine will have an all-electric, zero-emission mine fleet comprising electric battery-driven 36-ton mining trucks, battery-driven front-end loaders, cable reel excavators and bulldozers, and battery-driven service vehicles. It also will have an electric in-pit mobile crusher and overland conveyor system to feed crushed material to the plant.

In the underground sector, activity and interest in battery-powered equipment is on the rise: Late last year, Epiroc announced that Agnico Eagle Mines had just ordered a Boltec E Battery rig for the Kittilä gold mine in Finland, and orders from several other companies had been booked in previous quarters for battery electric versions of the Boltec rig, Boomer face drilling rig, Scooptram loader and Minetruck hauler. Agnico Eagle had previously been testing several Epiroc battery-powered machines at Kittilä as part of the Sustainable Intelligent Mining Systems (SIMS) project. SIMS, in which Epiroc serves as coordinator, is part of Horizon 2020, a large European Union research and innovation program. A Boomer E2 Battery had been operating for some months at Kittilä, and in midyear, a Minetruck MT42 Battery and a Scooptram ST14 Battery also arrived at the mine as part of the SIMS project.

In the U.S., Sandvik and Barrick signed a partnership agreement for trialing battery electric vehicles (BEVs) at the Turquoise Ridge gold mine, part of the Nevada Gold Mines joint venture (JV) in which Barrick serves as mine operator. During a three-year production trial, Sandvik will deploy four Artisan Z50 BEV trucks at the mine — the single-largest gold-producing complex in the world. The 50-t-payload Z50 BEV haul trucks are equipped with AutoSwap, a self-swapping system for the Artisan battery pack that is claimed to only take about six minutes per swap and that can be accomplished in a passing bay or old re-muck bay without need of overhead cranes or external infrastructure, according to Sandvik.

Diesel-powered loading and haulage fleets aren't the only area of focus of electrification: Iron ore producer Fortescue Metals announced a A$32 million renewable hydrogen mobility project that will deploy 10 hydrogen-powered buses to replace an existing fleet of diesel buses at its Christmas Creek mine in Western Australia starting in mid–2021. It will be supported by installation of a refueling station, which will harness renewable electricity from the Chichester solar gas hybrid project to generate renewable hydrogen onsite.

And in some cases, the stimulus for electrification comes from unexpected or nontraditional sources: In the U.S. in the state of Minnesota, for example, electric utility company Minnesota Power has asked state regulators to consider a pilot project involving site-specific analysis, replacement or retrofitting of a portion of existing diesel-electric haul truck fleets to trolley-assisted operation at its Iron Range mining customers' mine sites. The utility said mines in the region, along with paper mills, currently use about two-thirds of its power production. It plans to file a formal plan with state regulators next year that may include financial support for retrofitting an existing haul truck fleet and installing trolley-assist infrastructure at a mine.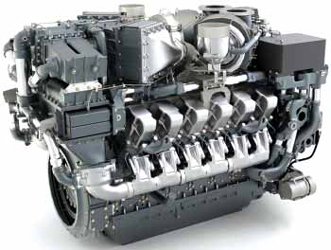 MTU says Series 4000 diesels are its most successful product range, with more
than 37,000 versions of the engine placed in service since its introduction.

Balancing the Benefits
There is no current effort under way to tighten emissions regulations applicable to high-horsepower off-highways diesels in North America, but the European Union's Stage V standards loom just over the horizon, now scheduled to take full effect in 2021 after a pandemic-related extension granted by the European Parliament. Logically, because the EPA and EU emissions-control standards in the regulatory tiers and stages have largely mirrored each other, there is an expectation that North American standards may be adjusted to reflect the more stringent standards of EU Stage V at some point in the future. However, most diesel engine suppliers would argue that due to the substantial reduction in emissions attained by recent engine-control strategies as well as improvements in fuel usage and power density, there's actually more benefit to be gained by taking earlier- tier or non-tier engines out of service and replacing them with Tier 4 models than there would be in achieving only incremental gains in emission control by imposing Stage V standards.

Recent reports indicate mining customers are indeed taking advantage of an opportunity to improve performance without investing in completely new equipment fleets. Rolls-Royce Power Systems, for example, said it will deliver 30 Series 4000 MTU engines this year to a large contract mining company in Brazil for a truck-repower program. The engines are going to U&M Mineração e Construção S/A, which will install the MTU 12V 4000 engines in its existing fleet of mining trucks and excavators. The engines to be delivered this year follow upon an earlier order by U&M for 20 of the same engines in 2019. "We prefer to have the same engine powering both our load and haul machines," Mauricio Casara, U&M's commercial director, explained. "We tested the MTU 12V 4000 at a mine where we had Komatsu 930s equipped with 16V engines so we could compare. We found that the cycle times for the 16V and the 12V were virtually the same."

U&M also has installed MTU 12V 4000 engines to repower its fleet of Hitachi EX5500-6 mining shovels. After working with an MTU support team to make necessary power calibrations, the company said shovel performance now exceeds previous levels obtained with the replaced engines. Mindful of the industry's enthusiastic interest in autonomous operations, Rolls- Royce also noted it had joined with Autonomous Solutions Inc. (ASI Mining) to ensure compatibility of MTU diesel engines with ASI's Mobius command and control software for autonomous vehicles. The two companies signed a memorandum of understanding enabling Rolls- Royce to offer autonomous-compatible, Mobius-ready MTU engine solutions for equipment in a wide range of mining applications. The companies said they plan to apply their expertise to offer customers engine solutions that are compatible with ASI's vehicle automation software to help optimize vehicle power performance and efficiency.

A potential benefit to MTU and ASI Mining customers is the ability to retrofi t power systems on existing haul trucks to convert them to autonomous operation. The companies said they are interested in exploring the value customers would receive by repowering trucks with higher-efficiency engines along with implementation of ASI's autonomous mining solutions. Cummins reported last year that it had helped an Arizona mine obtain better performance from its fleet of seven Komatsu 930E-1 haulers by repowering them with Tier 2 QSK60 engines. After a trial engine changeover involving two of the trucks, the mine achieved signifi- cantly improved operating performance from them, including MTTF improvement of 43%, an availability increase of 3%-4%, and a 1-2 gal/h reduction in fuel burn, impressing mine management enough to proceed with repowering the rest of its Komatsu fleet.

Looking at Options
Demand for conventional diesel engines remains healthy, but engine suppliers are hedging their bets, moving ahead with engine design and performance tweaks as well as expanded emission- reduction options to meet the demands of regional regulations — while concurrently securing, through investments and partnerships, new expertise and market presence in emerging non-traditional power technologies such as batteries and battery management systems, hybrid systems, fuel cells and hydrogen production technologies. Prospective diesel engine buyers now have access to a range of dual-certification (Tier 4F/Stage IV or V) options from most major suppliers that allow them to comply with differing regional emissions regulations as well as configurations for low- or non-regulated locales. These options cover the entire spectrum of engine ratings, from high to low. Caterpillar, for example, offers Tier 4 Final versions — standard (1,450) and high (1,600) horsepower — of the 3512E engine in the company's new Next Generation 785 mine truck, along with another version for sales in less-regulated markets. At the lower end of the size spectrum, Cat's new C3.6 in-line four-cylinder industrial diesel is offered in ratings up to 134 bhp at 2,200 rpm and provides a 5% increase in power density and a 12% increase in torque compared to earlier versions. It is dual-certified Tier 4 Final/ Stage V with no changes to the engine or aftertreatment systems.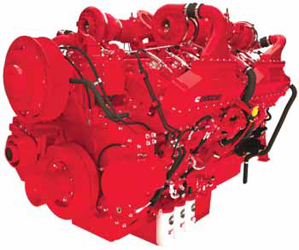 Introduced at the 2019 bauma trade show, Cummins' Tier 4 Final/Stage V
QSK60 engine offers up to 2,850 hp (2,125 kW) in mining applications,
with simplified air handling, reduced complexity and improved serviceability,
according to the company.

Balancing the Benefits
Cat's largest dual-certified diesel is the 78-liter V16 Cat 3516E industrial model introduced in late 2019, which uses dual SCR-only aftertreatment to meet EU Stage V and EPA Tier 4F standards. The 2,100- hp engine's aftertreatment system uses a diesel oxidation catalyst (DOC), diesel particulate filter and high-efficiency selective catalytic reduction (SCR) to eliminate the need for EGR. Fuel consumption, according to the company, is reduced up to 6% and the system is 63% lighter and 65% smaller than its current equivalent. It does require DEF, according to the company, but engine technology advances provide a lower rate of fluid consumption. Diesel OEMs know that engine effi- ciency improvements can attract new customers, and some notable technological advances have come from diesel suppliers that aren't top-of-mind in brand recognition, but nevertheless are major players — China's Weichai Group, for example, which sold a million engines last year.

In September, Weichai officially launched what it claims to be the world's first commercially available diesel engine with a brake thermal efficiency (BTE) over 50%. Brake thermal efficiency is a measure of the fuel efficiency of internal combustion engines. The higher the BTE, the lower fuel consumption will be, along with reduced emissions. Weichai's high-BTE six-cylinder engine has 13-L displacement, is rated at 560 hp at 1,900 rpm and features a Bosch 2,500-bar common rail fuel injection system. Increasing BTE from 46% to 50.26% reduces both fuel consumption and CO2 emissions by 8%, according to the company. Weichai said it has been involved in studying and designing internal combustion engines for more than 70 years and has invested 30 billion yuan ($4.6 billion) in related R&D over the past 10 years. Its investigations into BTE improvement got a boost in 2015 when it assigned a special technical research team to conduct large-scale simulations and bench tests that produced a steady stream of incremental (0.1%) BTE improvements and finally led to its recent breakthrough. Weichai said it had developed several proprietary technologies that contribute to the improvement, including advanced fields synergy combustion technology, exhaust energy distribution technology, subzone lubrication technology and WISE ECU technology.

Belarussian truck builder BelAZ now offers Weichai diesels in its 90-ton 7558 series, as well as other options that include a gas-turbine engine using CNG fuel and another that uses a valve-inductor electric drive configuration. The truck maker said it plans to offer Weichai diesel options in future models of its 45-, 136- and 220-ton-payload haul trucks as well.

Elsewhere, underground mining and tunneling equipment supplier Normet is now installing Volvo Penta's Stage V solution in its new L-Series platform, encompassing 12 different products that include transmixers, agitators, fuel, water, multipurpose and material carriers, a sprayer, dumper and charging unit. This is the first time the company has used Volvo Penta engines and Normet reportedly is already planning to roll the engines out in other products, such as Stage IIIA versions of the L-Series machines. "We started looking at updating the L-Series platform in 2018, when the Stage V emission regulations were on the horizon," explained Jarmo Husso, director, platform and module development, at Normet. "We decided to completely redesign and update the product platform with a new structure and features, as well as streamline our engine offer. Although we hadn't used Volvo Penta engines before, we'd heard good things about the company. Over the last couple of years, our two companies have been working together as one team on this project."

Volvo Penta's Stage V off-road lineup includes five engine models — D5, D8, D11, D13 and D16 — providing a power range from 105 to 585 kW (143– 796 hp). A particular focus has been on maximizing equipment uptime by reducing active regeneration requirements. Andreas Viktorsson, the company's chief project manager for Stage V, recently explained how it managed to achieve its goal in the latest D series engines. "The Stage V emissions legislation requires engines to have a diesel particulate filter (DPF), which captures and stores soot. This soot needs to be burned off periodically to regenerate the DPF and typically this is done while the machine is at a standstill — active regeneration. But who wants to keep having to put their machine aside for this process, where it is not working and earning?" Viktorsson commented. "From a strict technical point of view there will always be a need for at least some active regeneration if the engine is not loaded. However, we challenge ourselves to examine this and reduce it to an absolute minimum.
L-Series underground equipment from Normet will be available with Volvo Penta Stage V engines starting in 2021.
Normet says it also plans to offer Stage IIIA versions of Volve Penta diesels in future L-Series machines.

"For our Stage V off-road platform, we have developed the engine and aftertreatment system hand in hand, and it has been an ongoing optimization project for all engines in the range, which share a common architecture. For example, we have implemented new water pumps, new oil coolers, new piston rings and new thermostats — relatively minor changes all over the engine but combined they have made significant improvements. Connected to this design philosophy, we have also achieved impressive fuel effi- ciency figures, helping customers to save costs and the environment."

Cleaner Combustion
Ongoing research into utilization of alternative fuels for off-highway diesels has provided fleet operators with potential options for cutting hydrocarbon-fuel emissions while keeping diesel engine infrastructure largely intact. For example, ClearFlame Engine Technologies, a U.S.-based startup specializing in development of clean engine technology for the off-highway and industrial markets, announced in mid-October it had successfully matched the torque and power of a commercial diesel engine using ethanol in place of diesel fuel, delivering more than 500 hp and over 1,850 ft-lb of torque while eliminating the need for additional aftertreatment such as selective catalytic reduction or diesel particulate filter systems. ClearFlame said it achieved the results on a Cummins X15, a 500-hp, 15-liter-displacement engine by using a high-temperature stochiometric combustion process, which employs higher temperatures to achieve diesel-style combustion of decarbonized fuel. Temperatures are achieved by optimizing existing engine thermodynamics and adding insulation on key engine components. The fuel injection system is also engineered to accommodate decarbonized fuels like ethanol.

ClearFlame claimed its engine technology enables low-carbon and carbon- negative fuels to be easily integrated into existing diesel engine platforms, while providing equal performance to that associated with diesel engines and eliminating the need for aftertreatment solutions. dynaCERT, a Canadian company, reported in October 2019 that its HydraGEN technology had been approved for underground mining applications in Canada pursuant to a formal risk assessment commissioned by dynaCERT's dealer, Total Equipment Services, and one of TES's major underground mining customers in Northern Ontario. The Workplace Risk Assessment and Control (WRAC) was undertaken to develop a better understanding of any occupational health and safety hazards that could arise from the use of a HydraGEN unit, in this case installed on a boom truck currently being used by the mine in underground applications. Risk assessment involves the assigning of a level of risk to each known health and safety hazard, followed by the ranking of those hazards. The next step, according to the company, is a user case study currently under way to analyze effectiveness of the HydraGEN technology underground by measuring changes in emissions and fuel economy.

dynaCERT said its patented technology uses distilled water to extract hydrogen and oxygen on demand through a unique electrolysis system and supply both through the engine air intake to enhance combustion, resulting in lower carbon emissions and greater fuel efficiency. In October 2020, the company announced that Japanese conglomerate Marubeni Corp. had signed a distribution agreement with H2 Tek, a dynaCERT distributor, to market the HydraGEN system. Marubeni will sell HydraGEN primarily to mining equipment owners in Chile, Peru, Colombia, Mexico, Australia, Mongolia and Japan.

Plotting a Path to Electrification
All available indicators point to a gradually declining role for diesel-powered equipment in underground mining, with BEVs increasingly taking larger bites of responsibility for production duties rather than being limited to utility and light-duty tasks. However, unless a mine is specifically designed from the outset to operate a fleet of battery-electric vehicles, the changeover from diesel to electric power can be a lengthy and costly process, particularly if the anticipated benefits don't accrue in a reasonable time frame.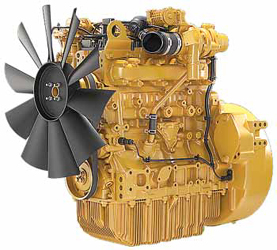 Cat's new 3.6L industrial diesel was designed to be physically smaller,
with flexible aftertreatment mounting options and a simplified
installation process, to provide equipment OEMs with more design
and serviceability options.

In order to plot an effective course, mine operators can get help from initiatives such as the International Council on Mining & Metals' Innovation for Cleaner Safer Vehicles Program, an initiative launched in October 2018 designed to connect ICMM members with equipment OEMs and suppliers and accelerate innovative development of a new generation of cleaner mining vehicles. ICMM said its producer members represent approximately 30% of the global metals market with more than 650 assets. The stated goals of the ICSV initiative are to introduce greenhouse gas emission-free surface mining vehicles by 2040, minimize the operational impact of diesel exhaust by 2025 and make vehicle collision avoidance technology available to mining companies by 2025. ICMM recently announced that eight new OEMs joined the initiative, raising the number of participating OEMs to 19. Diesel suppliers include Caterpillar, Cummins, Komatsu, Liebherr and MTU.

In what seems to be a common first step in the process of reducing DPM exposure, hardrock mines often fit their largest items of mobile production equipment — trucks and scoops — with diesel particulate filters (DPFs). As a 2019 report* from NIOSH indicated, operators primarily retrofit haulage trucks and LHD vehicles with DPF systems because they're perceived as the major contributors to exposure of workers to diesel aerosols and gases, and they operate over duty cycles that are characterized by higher DPM emissions and that favor passive regeneration of DPF systems. These modifications generally produce favorable results. One instance provided by ICSV showed that Barrick, for example, has been able to signifi- cantly reduce harmful emissions from a fleet of Cat R1700G LHDs and AD30 underground trucks at its Hemlo mine in Canada by switching to biodiesel and installing DPFs on all units. The objective was to minimize the frequency of occurrences when measured DPM exceeded a company-mandated OEL of 0.16 mg/m3 — significantly lower than the government standard OEL of 0.4 mg/m3.

Hannah Demers, an industrial hygienist at Barrick, reported at the Mine Diesel Emissions Council (MDEC) conference held in Toronto last year that timely inspection and replacement of the filters has helped the mine reduce the number of excessive DPM occurrences in underground work areas, and it is moving forward with other supportive measures such as making continual ventilation upgrades — doubling flows in the lowest and busiest mining areas — and purchase of BEVs and cleaner diesel-powered equipment, including BEV jumbos and bolters as well as scoops and trucks fitted with Tier 4F-compliant engines. In another example, workers at BHP's Broadmeadow underground metallurgical coal mine in Queensland benefi tted from a company-wide emissions monitoring program. It promotes the use of real-time monitoring technology to assess worker exposure to DPM and coal dust.

According to BHP, the mine approached the goal of reducing worker exposure in four stages. The effort began by implementing a DPM awareness campaign among mine workers to help identify improvements and increase the general discussion on how we can eliminate the risk of exposure to DPM. With the workforce engaged, the mine introduced an emissions-based maintenance project for the underground vehicle fleet. Maintenance activities relevant to DPM emissions were reviewed and exhaust DPM limits set that vehicles had to pass to be put back into service; failure to meet these limits triggered further maintenance. This led to a 40% reduction in DPM emissions from machinery used in the underground environment. Other options considered at this stage included the investigation of alternative fuels, a DPM health check and exhaust filtration.

After successfully reducing emissions through revised maintenance practices, the mine worked with a local company to develop a low-emissions engine for underground equipment. A new engine, from Japanese diesel builder Hino, was installed across the fleet and yielded a further 70% reduction in DPM emissions from each underground vehicle. While the first and second stages of the program led to a significant reduction in DPM emissions, the team determined the only way to eliminate DPM emissions entirely was to move away from diesel power for underground vehicles. The team was unable to identify a lithium- ion powered (LIP) electric mining vehicle supplier in Australia but found a manufacturer in Canada and worked with them to develop a tailored underground- approved electric vehicle for coal mining. The Broadmeadow team worked to enable the vehicle to be certified for use in most underground sections of the mine. Trials of the LIP electric vehicle in the underground environment were successful and Broadmeadow has acquired three more electric vehicles.

BHP said Broadmeadow was also one of the first BHP mines to pilot a new real-time mine emissions monitoring system. This technology has now been introduced at its Escondida operations in Chile and Whaleback iron-ore mine in Western Australia. It enables emissions such as DPM to be tracked in real time and allows additional controls to be implemented, where appropriate, to support those already in place for managing the risk of worker exposure to these emissions. The real-time data can be analyzed and accessed across a range of mobile devices and has the capability to issue automatic alerts and alarms to further protect workers. BHP said it was in the process of extending this capability to another 11 mines. And finally, the NIOSH report mentioned earlier called attention to the role that medium- and light-duty underground diesel equipment — shotcrete trucks, explosives carriers, graders, personnel carriers, side-by sides and pickup trucks — play in contributing to DPM exposure. In the U.S., for example, they're commonly perceived by mine operators as less-than-significant contributors to worker exposure to diesel emissions because they generally work in duty cycles that generate less DPM and are less favorable for passive regeneration of DPF systems. However, perceptions can be flawed: medium and light-duty vehicles also constitute an estimated 60% of the total number of units in underground fleets surveyed by NIOSH, and due to their numbers, generally higher attrition rate and diffi culty in retrofitting with DPF systems, represent a prime target for replacement by battery-powered vehicles, or repowering with cleaner, contemporary engines instead of like-for-like original equipment, according to the report.
---
As featured in Womp 2020 Vol 12 - www.womp-int.com