Dominion Will Sell Ekati Mine
---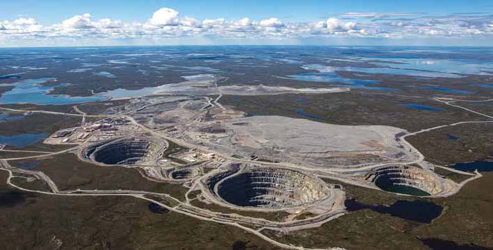 Ekati, which means 'fat lake' in Tlicho, is Canada's first surface and underground diamond mine.


Dominion Diamond Mines ULC settled a purchase agreement with DDJ Capital Management LLC and Brigade Capital Management LP, both investment managers to holders of the company's second lien notes. Under the agreement, an entity controlled by the purchaser would acquire substantially all of Dominion's assets, excluding its joint venture agreement and liabilities relating to the Diavik mine, in consideration for the assumption by the purchaser of various liabilities and the provision of a $70 million working capital facility. The capital will fund the post-closing satisfaction of certain assumed liabilities, operations at the Ekati mine and general working capital purposes.

Dominion filed for insolvency protection on April 22 under the Companies' Creditors Arrangement Act (CCAA) and obtained an order from the Alberta Court of Queen's Bench granting Dominion protection under the CCAA pursuant to an order from the CCAA Court. Upon completion of the proposed transaction, Dominion expects the ongoing business to pay or otherwise satisfy, obligations to certain stakeholders, including Dominion's employees; pension obligations; reclamation obligations at Ekati; and Dominion's Impact Benefit Agreement partners and other Indigenous groups and Northern communities.

The company said it has agreed to take all action reasonably necessary or appropriate to restart operations at the Ekati mine as soon as possible, and no later than January 29, 2021. Under the terms of the agreement, the proposed transaction must close no later than February 1, 2021. Dominion filed for insolvency in April, a month after operations were suspended and more than 300 employees were furloughed at the Ekati mine due to the COVID-19 pandemic. Under an order from the Companies' Creditors Arrangement Act (CCAA) Court, Dominion is protected from its creditors until December 15.

Last month, a deal to sell its assets for approximately $126 million in cash to an affiliate of The Washington Cos. fell through. Dominion Diamond Mines ULC owns a controlling interest in the Ekati diamond mine, which it operates, and 40% of the Diavik diamond mine, with Rio Tino holding the remaining 60%. The company also holds a controlling interest in the Lac de Gras diamond project.
---
As featured in Womp 2020 Vol 12 - www.womp-int.com