The latest from the
World Mining Equipment
Video Library
View





Price Swings and the Digital Age

Last month, we wrote and committed resources to the proposed mining charter in South Africa. In the time between E&MJ being printed, mailed and readers receiving the magazine, sanity prevailed. South Africa reversed course and the news story had run its cycle. A former E&MJ editor would occasionally cite the expression that "today's news is tomorrow's birdcage liner," and I immediately thought of him when the news broke. We are happy for the South African miners and we apologize for the inconvenience. People receive input instantaneously and can react upon it just as quick. It has reshaped how news is delivered and it's having a similar impact on traders as well as algo trades. Precious metals traders have been discussing the recent downward "spikes" in late June and the first half of July. For example, on June 26, Ross Norman, CEO, Sharps Pixley, reported.... read more

Steve Fiscor, Publisher & Editor in Chief

Washington Acquires Dominion Diamond
Dominion Diamond Corp. and The Washington Companies, a group of privately held North American mining, industrial and transportation businesses, announced they have entered into an arrangement where a subsidiary of Washington will acquire all of Dominion's outstanding common shares.... read more
Land Exchange Bill Introduced for PolyMet
U.S. Rep. Rick Nolan, D-MN, has introduced bipartisan legislation to direct the secretary of agriculture to move forward with the land exchange between PolyMet and the U.S. Forest Service (USFS). The USFS authorized an administrative land exchange for the PolyMet Mining NorthMet project in its Final Record of Decision on January 9. The purpose of House Resolution No. 3115, The Superior National Forest Land Exchange Act of 2017, is to accelerate transfer and provide certainty of process. The bill was introduced June 29 and referred to .... read more

Top
Rio Tinto Signs MOU With Serbia for Jadar Project
Rio Tinto has signed a Memorandum of Understanding (MOU) with the government of Serbia in respect to the implementation of the Jadar project. The MOU will enable the formation of joint working groups between the government and the company to progress the project through the study and permitting phases, as per the law. The Jadar project is related to a world-class lithium-borate deposit. If developed, the production could supply a significant proportion of global demand .... read more


Zwane Suspends South African Mining Charter
South Africa's contentious mining law update, which increased mandatory black ownership, management participation and suppliers has been suspended, the country's Chamber of Mines said on Friday, July 14. The new Mining Charter was introduced last month to the shock of the industry, which had not been consulted in its creation. Among the provisions were an increase of black ownership from 26% to 30%, and at least 70% of all suppliers were to be from black-owned fi rms. In response, the chamber has applied .... read more

| | |
| --- | --- |
| AROUND THE WORLD - USA & CANADA | |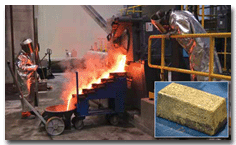 Pretium Pours First Gold at Brucejack
Pretium Resources announced on June 30 it has poured the first gold at its Brucejack mine in northwest British Columbia and followed up with an announcement on July 7 that the mine has reached commercial production. The gold pour announcement included a report that Brucejack's flotation and gravity circuits are operational .... read more
September Gold Pour Targeted for Rainy River
New Gold Inc. reported in late June that it is targeting first gold production from its Rainy River project in northwest Ontario in September, with the project expected to reach commercial production in November. Project planning calls for production of 325,000 oz/y of gold at full production. The processing rate will be 21,000 mt/d from a combination of openpit, underground and stockpiled ore. Project spending for Rainy River totaled $903 million through March, and spending of an additional $389 million was planned through to the ....read more

Top
Alcoa Plans Partial Restart of Warrick Smelter
Alcoa Corp. announced plans to restart three of five potlines at its Warrick Operations aluminum smelter near Evansville, Indiana. The process to restart the three lines, with 161,400 mt of annual capacity, will begin immediately and is expected to be complete in the second quarter of 2018. The three potlines will directly supply the Warrick rolling mill, which serves the North American market with flat-rolled aluminum. "By restarting a portion of the Warrick smelter, we will provide an efficient .... read more

| | |
| --- | --- |
| AROUND THE WORLD - Latin America | |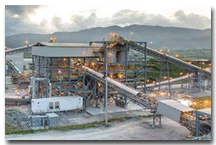 Guatemalan Lower Court Issues Ruling on Escobal Mining License
The Supreme Court of Guatemala has issued a provisional decision with respect to an action brought by the anti-mining organization, CALAS, against Guatemala's Ministry of Energy and Mines (MEM), alleging that MEM violated the Xinca Indigenous people's right of consultation in advance of granting the Escobal mining license to Tahoe .... read more


Top
Spence Mine Expansion Approved
The Chilean environmental authority has approved the expansion of the Spence copper mine, which would amount to an investment of about $2.5 billion. The execution decision, however, will have to wait until August, according to El Mercurio. The new expansion includes the construction of a concentrator plant to increase production and extend the life of the deposit about 20 years. The Committee on Environmental Assessment (CEA) of Antofagasta decided unanimously to approve the BHP initiative. Environmental approval of Spence's expansion could .... read more

| | |
| --- | --- |
| AROUND THE WORLD - Australasia | |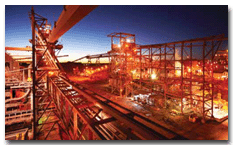 BHP Upgrading Smelter Operations at Olympic Dam
BHP's Olympic Dam smelter will be enhanced through a A$350 million investment in the operations, which produce copper products for global markets. Olympic Dam Asset President Jacqui McGill said the smelter maintenance campaign was the largest planned shutdown by BHP in the South Australia. "There will be 1,300 contractors …. read more


Top

Saracen Posts Record Gold
Saracen Mineral Holdings Ltd. reported exceptional all-round performance for the June quarter, which saw it post record gold production, achieve its goal of doubling annualized production to 300,000 ounces (oz), and deliver some impressive exploration results. Production for the June quarter was up 23% on the previous quarter at 79,985 oz, a record for the company, which is above the run-rate required to achieve its 300,000-oz-per-year (oz/y) production target. This strong performance, which was largely …. read more


AngloGold Starts Process to Shut Down 2 Mines
AngloGold Ashanti announced on June 28 that it was beginning a consultation process with employees in terms of section 189 and 189A of South Africa's Labour Relations Act that would lead to placing its Kopanang gold mine and the Savuka section of its TauTona gold mine on care and maintenance. In the first quarter of 2017, Kopanang produced gold …. read more
Top
Tanzania Slaps Huge Tax Bill on Acacia
The government of Tanzania has sent Acacia Mining a bill of $190 billion in unpaid taxes and fines for years 2000 to 2017. This comes after the government alleged Acacia underdeclared export revenues. Bulyanhulu Gold Mine Ltd. and Pangea Minerals Ltd., the owners and operators of the Bulyanhulu and Buzwagi mines, respectively, received a series of Notices of Adjusted Assessment from the Tanzania Revenue Authority for historical corporate income tax, covering the periods 2000 to 2017 for Bulyanhulu Gold Mine and 2007 …. read more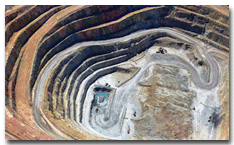 Eldorado Provides Update on Kişladağ
Eldorado Gold provided an update on its Kişladağ gold mine in Turkey. A lowgrade, bulk-tonnage, open-pit operation that uses heap leach for gold recovery, Kişladağ has been in operation since 2006 and is Turkey's largest gold mine. While the mine has placed the expected amount of ore on the leach pad, the gold solution grade …. read more


Top
| | |
| --- | --- |
| THIS MONTH IN COAL | |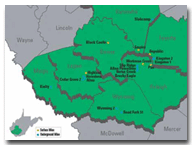 Alpha to Transfer Idle Assets, Eliminate Self-bonding in West Virginia
Alpha Natural Resources plans to pay Lexington Coal Co. (LCC) to take its idled assets. Included with these properties, which are located in Kentucky, Illinois, Tennessee and West Virginia, are approximately 280 permits, substantial reclamation equipment, ongoing royalty payments associated with these properties and 100 million tons of .... read more


Top

CONSOL Files Plans to Spin Off Coal Business
In mind-July, CONSOL Energy filed the necessary paperwork with the U.S. Securities and Exchange Commission (SEC) to split the company into two publicly traded companies, a coal company and a natural gas exploration and production (E&P) company. The spin-off would provide current shareholders ownership in two companies, each positioned to capitalize on distinct opportunities for future growth and profitability, the company said. "Today's filing represents a significant step toward completing the company's separation .... read more


India's Utility NTPC Bets Big on Coal
Contrary to the government's avowed policy, coal will continue to remain the mainstay of India's largest power generation company, NTPC Ltd. The company is forging ahead to become the country's second largest coal miner after Coal India Ltd. with plans for large investments in new coal-fired thermal power plants. Having made a mark as a coal producer from its captive coal mines in the current fiscal year, NTPC Ltd. aims to achieve coal production of 107 million metric tons per year (mt/y) over the next …. read more


-->
| | |
| --- | --- |
| FEATURE - Oil Sands | |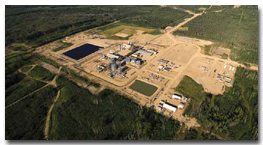 Consolidation Continues; Output Rises
With last year's wildfires overcome, Canada's oil sands industry is continuing its growth trend, while foreign producers have second thoughts and product transport infrastructure remains on the critical path

By Simon Walker, European Editor

In its last annual review of the Canadian oil sands industry (December 2016, pp.42-45), E&MJ described how the sector's participants had been handling the raft of challenges — commercial, political and environmental — that had impacted them over the previous 18 months. "Progress is being maintained and, from a rather predatory perspective, there has been a new round of consolidation within the participants," it said. The principal beneficiary of that consolidation bout was unquestionably Suncor, which increased its holding in the Syncrude joint venture — and by default its .... read more

| | |
| --- | --- |
| FEATURE - Mine Development | |
Block Cave Ops Benefit From Real-time Data
Proven monitoring systems help underground miners envision the previously unforeseeable, forge plans, streamline processes and cut costs

By Jesse Morton, Technical Writer

Technological advances are increasing the real-time data available to block cave operations. A system of magnetic beacons and readers first tested in 2007 and trialed in a diamond mine in 2014 have reportedly proven capable of tracking cave propagation and ore flow in real time. Separately, a system of RFID chips and readers that was upgraded in 2015 enables heightened draw control and material movement monitoring. Both are claimed to nix costs by enabling tight planning, controlling dilution ..... read more

Top
| | |
| --- | --- |
| FEATURE - Mining Tires | |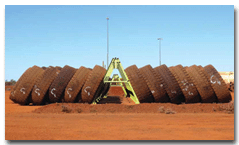 New OTR Tires to Run Cooler, Longer as Suppliers Crunch Data From Afar
Tire manufacturers and solutions suppliers now offer technologies that allow them to track performance in real time and double as consultants

By Jesse Morton, Technical Writer

For better or worse, Industry 4.0 has unleashed a race among the companies that service the mining sector to innovate based on real-time data and with a view of the automated mines of tomorrow. In the tire space, that means increased focus on field results for products, now captured by embedded sensors and streamed by satellite to support teams and business coordinators. Live data mandates prompt responses, both in the field and on the drawing board. Manufacturers said there are numerous .... read more


For more companies with products in the Tires market -
Go Here
| | |
| --- | --- |
| FEATURE - Safety and Training | |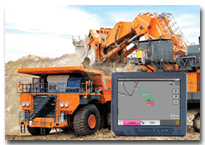 Mine Safety Moves to the Digital Domain
Electronic data collection, drawing information from myriad sources ranging from 'wearable tech' to sensors on the largest production equipment, is making real-time worker safety guidance and incident intervention possible

By Russell A. Carter, Contributing Editor

A successful work-site safety program might be described as a collection of good choices, selected from an ever-growing inventory of systems, products and services and shaped by a company's resources and commitment. At some time in the past, those choices may have mainly been influenced by how external regulations defined workplace safety. Nowadays, the list of "influencers" related to safety has expanded to include considerations based on workforce age, local culture, literacy and social license to operate, as well as concerns .... read more

Top


For more companies with products in the Safety market -
Go Here
| | |
| --- | --- |
| Video Presentations | |
The latest listings from the World Mining Equipment Video Library - to view the video, click the image.
For more details on the Video Hub -

Go Here
Autonomous Trucks Up Production 30%
Sandvik unveiled the TH551i and TH6631i autonomous hauling trucks. When paired with the company's AutoMine Trucking software package, the trucks can increase haulage production at a mine by as much as 30%, the company reported. Multi-machine control and improved .... read more

Cone Crushers Get Adjustable Stroke
All thyssenkrupp Kubria cone crushers now come standard with an adjustable stroke. Previously, the adjustable stroke feature was offered on only the Kubria 150 and 210 models. This will allow operators to change the stroke of the crusher shaft without needing to replace parts of the eccentric drive unit. An adjustment can be executed concurrently while replacing the crushing tools. The stroke can be adjusted to change ....read more

Hydraulic Rippers are Low Maintenance
Xcentric Ripper International (XRI) offers XR82, XR52 and XR42 hydraulic rippers. These models are part of the company's mining series, featuring a patented system that increases production by 80% over the competition, the company reported. Machines in the series are claimed to be virtually maintenance free, water resistant and less noisy than other digging tools. Although the mining series uses the same basic .... read more


Top

Tank Switch Detects Level
Hawk Measurement introduced the Gladiator Smart Admittance Level Switch, which detects the level of liquids, slurries, powders or solids in a tank or vessel. Able to operate at temperatures up to 450°C, the unit ....read more

Mammoth Tank for Emergency Shower
Speakman introduced the Gravityfl o Emergency Tank Shower, with a 2,000-liter (528-gallon) tank to meet worker safety standards on a job site with no or poor water pressure, the company reported. The tank is designed for older facilities or sites where the pipes cannot produce the 20 gallons per minute flow requirement. Features include a heater that maintains the water temperature between 60°F and 100°F, an integrated emergency eyewash station, heat .... read more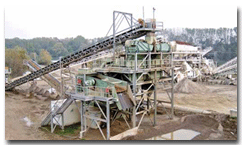 Air-pulse Jigs Bolster Spanish Tungsten Mine Production Plans
W Resources (WRES), operator of the La Parrilla tungsten/tin mine in southwestern Spain, has installed two alljig fines jigs from German supplier allmineral, and anticipates that the upgrade will provide a significant boost toward doubling annual output to 5,000 metric tons (mt) per year in the future. According to allmineral, the mining .... read more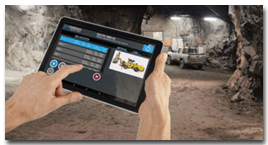 Atlas Copco's 6thSense Offers a Digital Path to Systems Integration
According to Atlas Copco, automation and digitalization are the future of the mining industry, but automation is not just about remotely controlled machines. The Swedish-based equipment supplier said it offers smart connected products, and its new 6thSense concept is a major advance in getting .…. read more


Top

Medusa Installs New Service
Thuthukani Engineering designed a full-service shaft hoisting infrastructure for a Medusa Mining-owned gold mine located in the Philippines and operated by Philsaga Mining Corp. The former was tasked with the design and drafting of the headgear, shaft collar and winder house for a new service shaft The project commenced in 2015 and was carried out in cooperation with the Tech Edge Group, which specializes in ....read more
SEPTEMBER 6-8, 2017: InterDrone 2017, Las Vegas, Nevada, USA.Contact: Web: www.interdrone.com
SEPTEMBER 18-21, 2017: Exposibram 2017, Belo Horizonte, Minas Gerais, Brazil.Contact: Web: http://exposibram.org.br/
SEPTEMBER 24-27, 2017: Solution Mining Research Institute (SMRI) Fall Technical Conference with optional technical class on "Well Integrity Management" (class subject will be repeat of spring 2017), Münster, Germany. Contact: Web: www.solutionmining.org
OCTOBER 23-28, 2017: XXXII Convención Internacional de Minería 2017, Guadalajara, Jalisco, Mexico.Contact: Web: www.mineross-cdmx.com

>
JANUARY 28-31, 2018: 44th Annual Conference on Explosives and Blasting Technique, San Antonio, Texas, USA. Contact: Web: www.isee.org
FEBRUARY 25-28, 2018: 2018 Society for Mining, Metallurgy and Exploration (SME) Annual Conference & Expo, Minneapolis, Minnesota, USA. Contact: Web: www.smenet.org
MARCH 4-7, 2018: Prospectors & Developers Association of Canada's annual meeting, Metro Toronto Convention Centre, Toronto, Canada. Contact: Web: www.pdac.ca
APRIL 23-27, 2018: Expomin 2018 Espacio Riesco, Santiago, Chile. Contact: Web: www.expomin.cl
For a full calendar of mining industry conferences and events - click here
| | |
| --- | --- |
| WHO'S MOVING WHERE | |

Gonzalo de Losada will succeed Felipe Ferraro as CEO and president of Batero Gold and join its board of directors.

Monarques Gold Corp. announced that Elisabeth Tremblay has been appointed to the position of senior geologist – communications, and Martin Lacaille Dufresne has been appointed a geologist.

Nevsun Resources Ltd. appointed Ian W. Pearce to the role of board chair. Pearce succeeds R. Stuart Angus, who will retire as a director on September 30. Pearce was appointed to the board of Nevsun at the beginning of 2017. Since 2013, Pearce has been a partner at X2 Resources.

X-Terra Resources Inc. appointed Michel Chapdelaine as vice president, exploration and development.

TNG Ltd. appointed Philippe Guillemaille as its titanium business manager. He has held positions as sales manager for Fuji Film, Metallgesellschaft and Monsanto/ Exxon Chemicals, among others.

The Mining Association of Canada (MAC) announced that Anne Marie Toutant, vice president, Fort Hills Operations, Suncor Energy Inc., has been elected chair of MAC for the next two-year term. Toutant replaced Robert (Bob) Steane, senior vice president and COO, Cameco Corp., who served as chair from June 2015 to June 2017.

Normet announced that Himanshu Kapadia has been nominated as head of GCCT (Ground Control and Construction Technologies) Business Line, and Odd-Björn Kleven will move to a new role to head Solutions Development. Kapadia is coming from BASF where he managed market operations for BASF Construction Chemicals across Asia and Pacific Region based in Singapore..

Norwest Corp. announced that Greg Gillian has been appointed president of Norwest Corp.'s U.S. operations. Most recently, he was vice president responsible for performance of Norwest's Processing and Industrial Minerals business units.
About - providing an abreviated version of the current print edition of E&MJ, WOMP is distributed throughout the world to decision makers in the global mining industry, the last week of every month.

Subscribe to E&MJ - To receive your own copy of the print edition of E&MJ, click here , and complete your details. E&MJ is available free of charge to qualified readers.

Contact - if you have views, opinons or comments or editoral that you would like to submit, we would be delighted to hear from you - click here

Top