Washington Acquires Dominion Diamond
---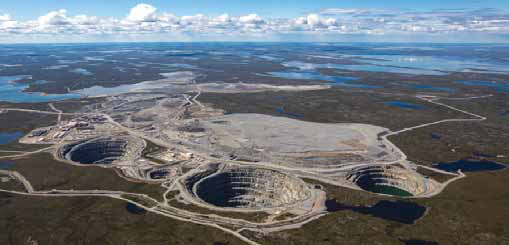 Washington plans to extend the mine life of the Ekati diamond mine (above) for decades.


Dominion Diamond Corp. and The Washington Companies, a group of privately held North American mining, industrial and transportation businesses, announced they have entered into an arrangement where a subsidiary of Washington will acquire all of Dominion's outstanding common shares for $14.25/share, a deal worth approximately $1.2 billion. The transaction represents a 44% premium to Dominion's unaffected share price of $9.92 on March 17.

The Dominion board unanimously approved the arrangement and recommended that Dominion's shareholders vote in favor. "Dominion Diamond has an excellent collection of mining assets and a talented and experienced management team and workforce," said Lawrence R. Simkins, president of Washington. "We are excited to work with their team to extend the mine life of the Ekati mine and continue partnering with Rio Tinto in the operation of the Diavik mine, while maintaining long-term employment for Dominion employees."

The Washington Companies has a long track record of building businesses throughout North America, experience in mining, as well as operating investments in Canada, Simkins said.

Washington said it plans to extend the mine life of Ekati for decades, consistent with the current development plan.

As part of this acquisition, Washington plans to operate Dominion as a standalone business. It will appoint a new CEO based in Canada to the Dominion management team. Dominion's headquarters will remain in Canada and it will be led by a significantly Canadian management team. Washington said it also plans to deploy capital to develop both the Jay and Fox Deep projects, while making new investments in a reinvigorated greenfield exploration program.

"The Washington Companies' commitments to safety, operational excellence, innovation and world-class management teams position us favorably for long-term success at the Ekati and Diavik mines for the benefit of all Dominion Diamond stakeholders," added Dennis Washington, founder of The Washington Companies. "I look forward to the next chapter of continuing to build and support successful, safe business operations in the Northwest Territories."

The transaction is subject to customary non-solicitation provisions, including Dominion's right to consider and accept superior proposals. In the event of a superior proposal, Washington will have a five-business- day right to match the superior proposal. If the arrangement is not completed as a result of a superior proposal, the company will be required to pay Washington a termination fee equal to $43.9 million (or approximately 3.75% of the equity value).

To fund part of the consideration payable in connection with the arrangement, Washington has obtained fully committed debt financing led by Credit Suisse with Citi, UBS Investment Bank and Natixis acting as joint lead arrangers. The balance of the consideration will be funded with an equity commitment from Washington and cash on Dominion's balance sheet.

Should Washington be unable to complete the arrangement due to a funding failure, or other limited circumstances, Washington will be required to pay the company a reverse termination fee equal to $70.2 million (or approximately 6% of the equity value).
---
As featured in Womp 2017 Vol 08 - www.womp-int.com