Eldorado Provides Update on Kisladag
---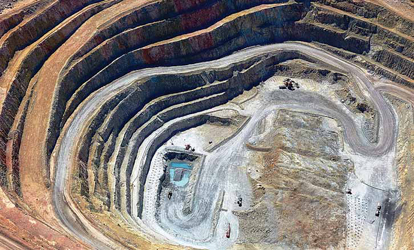 An aerial photo shows the size of the Kisladag pit in Turkey.


Eldorado Gold provided an update on its Kisladag gold mine in Turkey. A lowgrade, bulk-tonnage, open-pit operation that uses heap leach for gold recovery, Kisladag has been in operation since 2006 and is Turkey's largest gold mine.

While the mine has placed the expected amount of ore on the leach pad, the gold solution grade and, consequently, gold recovery from the leach pad has recently lagged projections. Recent laboratory and in situ tests where solution chemistry has been adjusted have indicated normal recovery rates are still expected. More time, however, is now required to adjust the overall pad solution chemistry and allow solution to flow through the current stack height of the leach pad, which is at approximately 80 meters (m) at the highest point.

"While Kisladag's decrease in production for the year is disappointing, our team has implemented a strategy to return our cornerstone asset to normalized production levels," said George Burns, president and CEO, Eldorado Gold. "We felt it prudent to inform the market of this information regarding Kisladag in view of our current agreement with Integra Gold Corp."

Kisladag is now expected to produce approximately 38,400 ounces (oz) of gold in the second quarter of 2017 and approximately 90,000 oz of gold for the first half of 2017. As such, Kisladag will not meet the Eldorado's original 2017 guidance of 230,000 oz to 245,000 oz. The company now expects 2017 gold production of 180,000 oz to 210,000 oz from Kisladag with cash costs in the new guidance range of $450/oz to 500/oz. The ounces that are not produced in 2017 are expected to be produced in the first half of 2018.
---
As featured in Womp 2017 Vol 08 - www.womp-int.com