Mine Safety Moves to the Digital Domain
Electronic data collection, drawing information from myriad sources ranging from 'wearable tech' to sensors on the largest production equipment, is making real-time worker safety guidance and incident intervention possible

By Russell A. Carter, Contributing Editor
---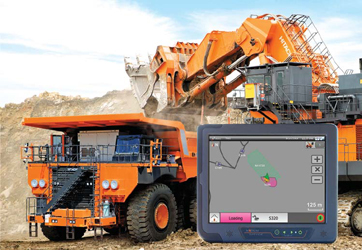 Safety in the pit depends heavily on equipment operators being aware of all that's taking
place around them — which can be difficult due to the dynamic nature of the work
environment. The latest systems from leading fleet management specialists aim to alleviate
the problem through better use of onboard sensors and 'smarter' software algorithms.


A successful work-site safety program might be described as a collection of good choices, selected from an ever-growing inventory of systems, products and services and shaped by a company's resources and commitment. At some time in the past, those choices may have mainly been influenced by how external regulations defined workplace safety. Nowadays, the list of "influencers" related to safety has expanded to include considerations based on workforce age, local culture, literacy and social license to operate, as well as concerns that might have once been fringe issues such as exposure to excessive vibration, fatigue monitoring and the behavioral problems associated with fly-in, fly-out job arrangements, to name just a few.

The ultimate safety objective for many, if not most, major mining companies is the eventual removal of as many workers as possible from the pit, stope or plant to reduce the potential risk level for harm in what usually has been, and probably will continue to be for most on-the-ground personnel, a challenging work environment shaped by a changing regulatory framework. For the near future, however, workers generally will be needed at the point of production, and corporate safety policies may be based on how much personal responsibility companies are willing to assign to those individuals to ensure their own safety and that of the workers around them, and at what point the company should turn to technology to take those decisions out of workers' hands. In this article, E&MJ takes a look at some of the digital technology available that can be used to tailor a safety system to fit a company's specific needs.

Expensive, But Essential…
Ensuring worker and asset safety is not a cheap endeavor, but the lack of an organized, effective safety program can be even more financially damaging — as illustrated by a saying that's popular with safety professionals: "If you think safety is expensive, try [paying for] an accident." Although costs are always a concern in any type of business venture, mining companies seem increasingly willing to bite the bullet and spend the money needed to ensure worker well-being. But most companies, particularly midtier and smaller companies with finite resources, want to do it "their way" and not just blindly follow the guidance of regulators and consultants interested in checking-off a series of boxes on a list.

Consequently, safety system flexibility and scalability are of increasing importance, and although data is now the lifeblood of industrial performance-measurement systems — and there is no lack of data sources, ranging from by-the-second inputs from remote sensors on a machine to long-term production trends generated by mine management systems — the key concern for most companies is how easily and effectively data can be used to identify potential problems or opportunities and make well-informed decisions.

E&MJ spoke with Jeff Brown, CEO of Focus FS, to get an idea of what mining- industry end-users may be looking for in the safety-software market. Brown, formerly with IBM, started the company, based in Newfoundland, Canada, in 2012 and recently announced a two-year collaboration agreement with DMC Mining Services that will employ Focus FS's mine safety software product, ShiftProcess, to develop innovations and improvements in DMC's safety effort. DMC Mining Services is a unit of KGHM Polska Miedz S.A., and is a major North American underground contractor with capabilities ranging from shaft sinking and raise boring to mine development and operation.

The agreement between Focus FS and DMC is the second step of a two-phase relationship between the companies and will include the rollout of Focus FS systems across DMC to enhance leading indicator and predictive analytics, along with risk management, and to provide digital H&S management systems that span the organization from corporate level down to each individual operating site.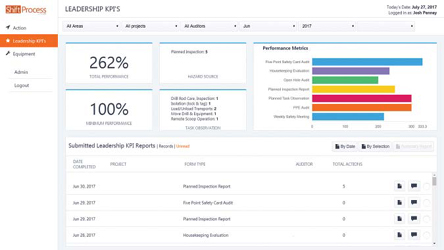 The Main Management Dashboard of ShiftProcess displays performance as it relates to compliance across
the mine site and the organization. Total Performance measures all work performed against a set of targets
(may exceed 100%), minimum performance reports against the minimum compliance target (would not exceed
100%). Dashboards are specific to the user and their role.


Brown said ShiftProcess evolved from initial efforts to develop a program for collecting and reporting safety-related data from operations in eastern Canada's growing offshore oil and gas industry, which shares many of the same site characteristics found in mining, such as remote locations, harsh environments and minimal infrastructure, and thus drew the attention of mining companies as well. Prior to the start of Focus FS's relationship with DMC, Brown said, the mining contractor had assessed a number of software packages designed for safety programs and found them lacking, as they seemed to be designed mainly for filling out forms to assure compliance. DMC wanted to build a safety culture that would be supported by information systems, not vice versa. With ShiftProcess, said Brown, they found an off-the-shelf software solution offering the capability to custom-configure a system that could meet their immediate and long-term safety goals.

"ShiftProcess can be configured to collect data from specific workflows at specific sites. It doesn't force users to do things in a certain way that doesn't meet their needs, but does allow easy standardization across sites, so new operations can be up and running, safety-wise, from day one," explained Brown. "We also designed it with typical mining sites in mind, where training can be difficult to schedule, particularly with operations at which employees are on site for a certain number of weeks and then home for a few weeks. Data collection is straightforward and users have access to 'cheat sheets' that quickly provide guidance."

The Focus FS/DMC joint effort is in line with the overall trend in the industry as it moves from 1990s paper-based reporting and compliance systems to electronic systems employing tablet-based data collection and cloud technologies. EH&S managers at several mining companies told E&MJ that the immediacy of response provided by electronic systems removes the basic flaw of paper-based systems: workers get quick responses to their safety concerns instead of long delays; and managers spend less time behind a desk, shuffling through paperwork. Electronic systems' capability for providing immediate feedback helps companies such as DMC that are working to forge a less management-focused environment, in favor of a safety culture based on employee engagement and accountability.

This approach is gaining popularity, particularly among companies that have committed considerable time and money to safety improvement but haven't seen results in proportion to the size of their investment. During an interview with CBC News during the Ontario Mining Health and Safety conference held in Sudbury in April, Alistair Ross, director of mining operations for Vale Canada, said the concept of "zero harm" adopted by most mining companies may be achievable at any given moment — but the key is "how long can you make that moment last. We've found that zero harm in work environments governed solely by management systems is not achievable. Bringing in a new style of leadership makes the potential for zero harm much greater.

"We need to start looking at the availability of each individual to become a leader and contribute to the goal of zero harm," he said, noting that it takes a concerted effort from all parties — corporate and middle management, unions and individuals — to recognize the opportunity and demand workers step up and take responsibility for safety concerns and policies.

"If I go to work and simply 'hope' to be safe, that's insufficient," said Ross. "We all need to 'work' to be safe. If we can get better at understanding what it takes to lead and follow this model, we can generate longer periods of zero harm."

Wearable Safety
The trend toward greater worker involvement in safety and health has brought with it a growing interest in wearable safety tech. Radio frequency identification (RFID) tags are increasingly being used in both personnel and asset tracking and safety applications in mining. Mojix, a California-based RFID solutions developer, pointed out that these tiny devices can contribute to safety, security and efficiency on many levels, with carefully placed RFID readers able to track the movement of all workers tagged with inexpensive, durable, lightweight tags. The RFID system can be linked with air quality sensors and blasting schedules, meaning any worker in the wrong place can be identified, contacted and removed from danger. Safety equipment can also be tagged, so in the event of an accident, miners can be directed to life-saving gas masks, refuge chambers and the best location for escape or rescue.
SmartCap Tech recently announced a collaboration with Canada-based Newtrax Technologies to develop innovative safety solutions utilizing SmartCap's
LifeBand sensor band in underground mining applications. The LifeBand is the latest in wearable tech offered by SmartCap Tech, following earlier
introduction of its SmartCap fatigue-sensing and reporting system, shown here.


However, with the recent announcement that a Midwestern U.S. technology company had offered to fit its employees with biochip hand implants to make it easier to pay for lunch, access equipment and move around controlled facilities, the trend toward wearables in the workplace has entered a new era. Although nothing like that has been reported in the mining industry, advances in wearable technology are making these devices smart enough to allow a worker to assess his or her physical and mental status based on real-time brain-wave data, or to notify supervisors if the worker is unable or unwilling to do so.

Australia-based SmartCap Tech recently introduced the LifeBand, a follow-up product to its SmartCap, which uses sensors in the hatband of a purpose-built cap to conduct EEG (electroencephalography) monitoring of fatigue levels in the wearer. The LifeBand, according to the company, uses similar technology but can be fitted into any type of headwear — hardhats, caps or beanies — and will provide alertness readings via Bluetooth to the user's smartphone as well as to a central reporting point, if desired.

Taking Over
At the other end of the technology spectrum, larger, mine-wide systems, such as those used for dispatch and fleet management, are also becoming sophisticated enough to take control of equipment out of operators' hands if the situation warrants, based on sensor readings.

For example, in June, Hexagon AB announced the launch of HxGN Mine VIS, a vehicle intervention system that detects and prevents collisions by automatically slowing down or even stopping a haul truck if an imminent collision is detected. The company said Mine VIS is an additional layer of safety on top of the Collision Avoidance System, (CAS) helping to avoid incidents, injuries and fatalities. Mine VIS manages traffic in the pit and, by reacting when and if operators do not, it ensures safety rules are followed. CAS provides drivers of large vehicles with 360° proximity detection at any speed and in all conditions via cabin display units. It is installed in more than 25,000 vehicles in more than 60 mines worldwide.

According to Hexagon, Mine VIS can take control of the machine in certain defined situations if the operator does not react appropriately to the initial CAS warning. The system can act depending on the situation, either by inhibiting propulsion, activating the retarder or applying the service brake. It can also be used in conjunction with the company's fatigue-detection, alerting and reporting solution, FatigueMonitor — using the same sensors and user interface.

Mine VIS is being installed in Anglo American Kumba Iron Ore's Sishen mine in South Africa, where government regulations will compel surface mines to implement such systems on heavy machine equipment by June 2019.

In other applications, collision avoidance systems can provide greater safety for operators in less-obvious ways. For example, Wenco International reported that installation of its Fleet Awareness technology at Nordgold's Bissa-Bouly gold mine in Burkina Faso is expected to help operators cope with low-visibility conditions arising from thick airborne dust clouds on site.

(For a leading fleet management system provider's view on emerging collision- avoidance technologies and changing regulatory requirements in the global mining market, see "Technology Alone Won't Keep Workers Safe," p. 51.)

Hands Off
In the underground sector, mine operators are indicating greater interest in automating various aspects of their loading and haulage operations to not only improve productivity but enhance worker safety and asset preservation as well. E&MJ reported in the July issue (See "Greens Creek Moves to Automated Loading With Sandvik System," p. 75) that Hecla Mining Co.'s Greens Creek operation is the first U.S. underground mine to employ Sandvik's AutoMine machine-automation technology to one of its loaders working in areas where it extracts ore by bulk longhole methods, and expects to add the capability to more machines in the near future.

In Australia, Pybar, an underground mining contractor, began testing a new Haul Truck Guidance system from Perthbased RCT at Aurelia Metals' Hera mine in New South Wales.

According to RCT, the gold and lead/ zinc project increased productivity and reduced machine damage after equipping two of Pybar's Caterpillar AD45 ejectors with the ControlMaster system that guides the machines to loading and dump points, only requiring operator intervention when the machine is actually being loaded.

Pybar COO Brendon Rouse said the system was significantly improving the company's ability to safely and efficiently direct dump waste into a stope. "The Haul Truck Guidance solution has eliminated the need for operators to steer the truck down the long drives, and the need for developing truck turnaround bays near the stope tip heads," said Rouse. "The system works in a similar way to the current [RCT] Guidance system fitted on several of Pybar's production loaders at numerous other sites."

RCT's product manager, Dave Holman, said this solution evolved from the Control- Master Loader Guidance solution. "It was specifically designed for the haul truck application after feedback from clients made us aware of the issues they were experiencing on site, which included costly damage bills and erratic production results," said Holman. "RCT redesigned both the hardware and software to suit the requirements and a close collaboration with key mining companies ensured our unique solution was addressing all areas of concern."

The steering, braking and speed of the truck are automatically determined by the minimum width of the drive and the lookahead distance of the onboard laser units. There is also an object detection feature which further assists in tight areas.

"Automating the process simplifies the task of driving a haul truck long distances within tight space limitations to deliver consistent cycle times while heavily reducing machine damage simultaneously," said Holman.

Based on favorable results from the system's trial at Hera, Pybar reportedly is evaluating its application at other sites.
---
As featured in Womp 2017 Vol 08 - www.womp-int.com