New OTR Tires to Run Cooler, Longer as Suppliers Crunch Data From Afar
Tire manufacturers and solutions suppliers now offer technologies that allow them to track performance in real time and double as consultants

By Jesse Morton, Technical Writer
---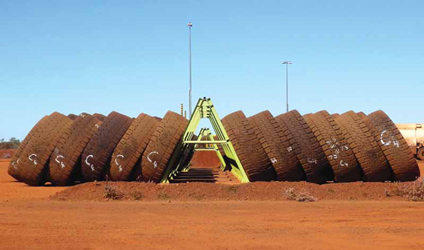 Kal Tire is rolling out a new version of the Tire Management System, which is expected to go paperless
and integrate data from GPS and other technologies. Above, inventory at a site supported
by Kal Tire. (Photo: Kal Tire))


For better or worse, Industry 4.0 has unleashed a race among the companies that service the mining sector to innovate based on real-time data and with a view of the automated mines of tomorrow. In the tire space, that means increased focus on field results for products, now captured by embedded sensors and streamed by satellite to support teams and business coordinators. Live data mandates prompt responses, both in the field and on the drawing board. Manufacturers said there are numerous advantages to be gained from the instant notifications and burgeoning databases. They also said it is challenging to keep up with the pace of change it mandates. "With technology and the way the equipment keeps changing, and trying to keep up with everything, you almost have to keep adding to your tire line," said Gary Pompo, manager, field technical services, BKT.

The latest tire releases promise to increase the life of the tire by reducing heat and improving its resilience. Manufacturers and solutions suppliers back these promises with live data from test sites and the field. That ability has enabled them to also offer data management solutions. And that data can tell a miner more than just the air pressure of an exact tire at any given second. A few examples of such products and solutions follow.

New Compounds and Red Zones
Earlier this year, Balkrishna Industries Ltd. (BKT) introduced a new off-the-road (OTR) mining tire. It is one of three new tires the company debuted within a year or so. Each is for a specific application. What they all share is improved features over predecessor technologies, the BKT warranty and potential use in surface mines.

The 23.5R25 BKT SR 31, E-3/L-3, steel radial OTR tire was designed for long haul, articulated dump trucks and wheel loaders. It represents an update to existing technology in response to customer demands. "They were asking for a tire with a little bit different tread compound, a little bit more lug solidarity, to give them a better ride and a better life," Pompo said. He described it as a "good quality" tire.

BKT described it as featuring a superior cut-resistant tread compound for increased chip and chunk resistance. That tread is described as a "unique design for reduced vibration and excellent riding comfort," the company reported. The compounding "results in cooler running for exceptional performance and reliability." Proprietary compounds and lug design enable the tire to "run cooler, and still be able to handle whatever they are running over," Pompo said.

The SR 31 "is a multipurpose tire," Pompo said. However, it is designed for articulating dump trucks, the use of which is on the rise, he said. Field testing for the tire is reportedly going well. "We're seeing tires fitted in different areas," Pompo said. The tire is too new to categorically declare its expected overall life, he said. "I'm estimating the tires to do 6,000 hours."

The 27.00R49 SR 46 is a high-performance steel radial OTR tire designed for rigid haul trucks. The company described it as a response to "severe rocky, abrasive and harsh mining environments." The tire features a square shoulder design that "pushes loose stones aside to protect the sidewall," BKT stated. All-steel casing and belts provide "protection against shock, fatigue and flats," the literature stated. The "lug blocks and circumferential groove maximize cornering ability with minimal tread face damage."
BKT's SR 46 in the field. The company reports, 'The
feedback has been very good.


In the field, "it is doing a very impressive job," Pompo said. "The tire is performing very well in rock conditions." Currently, the tire is being tested at gold mines, gypsum and stone quarries. "The tires look extremely well and show very little signs of wear," Pompo said. The data-driven estimate puts the projected life at around 7,500 to 8,500 hours.

"For open-pit miners, the tire would be an excellent tire," Pompo said. "It is a tire that could prevent punctures. It is a tire that will give traction. Plus, it is a tire that will give the stability that users are looking for." BKT also released the SR 49 L-4, an all-steel radial tire for loaders and dozers at "severe" mining operations "requiring exceptional traction."

The company described the tire as featuring an "optimal lug angle and directional pattern that provides excellent traction and minimizes spinning." The literature stated the "square tread shoulder design ejects loose stones to protect the sidewall and tread shoulder area." The tread design is self-cleaning, protecting the "tire from stone retention and drilling," the company reported.

The tire is designed for machines that must transit an entire site, "and not just into the pile and then to the truck," Pompo said. Data from field tests put the estimated life of the SR 49 L-4 around 6,500 hours to 7,300 hours, Pompo said. Operators credit the tire with improving machine stability, he said. "The tires are not showing any chunking or any irregular wear," he said. "The cut-resistant compound that we are using seems to be working very well."

Collecting data on BKT tires in the field is now automated. The company offers a sensor that can be attached to the wheel inside the tire. It transmits temperature and pressure data as part of a tire pressure management system (TPMS). That data is monitored by both the miner and BKT. "It is a magnet that locks onto the rim inside and tells us what the actual air pressure is and if there is any heat or problems," Pompo said. The system can send alerts and notifications from anywhere in the world at any time by live satellite, he said.

"Let's say the left front tire of a triple seven is losing pressure," Pompo said. "We get a signal, the maintenance foreman will get a signal, and they can find out if it is an O-ring or if it is a valve stem or if something has actually penetrated into the tire." The TPMS has enabled the company to promptly resolve issues and improve upon existing products. "The nice part about what we can do with the tire is if we see a problem, we react very fast, and can tweak the compound or the structure to perform better," Pompo said.

For example, the company partnered with an OEM to test a tire, and discovered it was causing a front-end vibration. "We found that the center lug was in such a position that we needed to tweak the lug a little bit, basically turn the angle of the lug," he said. "Within 90 days we had a tire that was completely fixed and back on the road again."

Another offering, dubbed SPOTech, deploys a sensor with GoPro cameras and satellite tracking to assess a process or site. The sensor is mounted on a vehicle. It streams data, which can then be crossed with GPS data to generate a color-coded model of the run or process. For example, "a red corner is telling you that a corner is too sharp," Pompo said.

A corner, a hole or a bump can cost a company money. "In one particular instance, we showed them that there was a bump that was costing one site about $1 million per year because of the fact that trucks were slowing down, going over the bump, and then picking back up speed," Pompo said. "It was calculated out by our people that with that bump, the time, the fuel, and everything else, it was costing the company about $1 million per year."

SPOTech doesn't redesign roads, Pompo said. It presents the information that obvates the need. "We can tell them that at this particular curve all your trucks are slowing down and G-forces are higher than what is suggested for this specific tire." The service is free. All BKT tires are backed by a five-year warranty from the date of sale.

Raising the Profile with Results
Tire service specialists Kal Tire is currently upgrading their Tire Management System. The proprietary system enables, among other things, forecasting and stock management, tread monitoring, tire performance tracking and benchmarking, tire failure analysis, and wheel rim tracking.

The upgrade is available now and offers real-time data analysis for reporting and decision making. It replaces predecessor technology that was the first of its kind, explained Bob Bennett, vice president of operations, Canada, Kal Tire's Mining Tire Group, said. "We created our own tire tracking software 30 years ago," he said. "It was very much a home-grown system. There was nothing else in the industry at the time."
Adopting Kal Tire's updated Tire Management System requires
training for tire techs, which the company provides.
(Photo: Kal Tire)


Customer demands and the rise of Industry 4.0 prompted the upgrade, which is currently being rolled out at mine sites in Australia, Latin America, Canada, Great Britain, West Africa and South Africa. "Over the last 10 to 15 years, there has been a real shift toward looking at data and trying to figure out the story behind the numbers," Bennett said. "The old system gave us a historical view of damaged tires last week."

"The new system will give users access to real-time information related to what is happening with your tires," he added. "This knowledge will help guide decision making at extending tire life."

Tire Management System helps ensure planning is proactive and shaped by data, Bennett said. It is "not unlike large maintenance programs where you have a large asset management database and you can put in all your data and it will help you work off a work order-based system that is all planned and forward-looking," he said. "You can also do some trending off your current data to predict when tire rotations are going to be required, which helps with planning, helps with forecasting of new tire purchases," and tracks performance.

The system features a dashboard enabling the user to "see in real time what the current activities-verses-plan are in your mine," Bennett said. "Are we getting the maintenance activities done? Are we up-to-date on the maintenance activities? How much planned or unplanned activity is backlogged? Are we adequately resourcing or executing on the maintenance plan? And what might be coming down the pipe? What is coming next week?"

The new system is work order-driven, he said. "We will be able to provide the maintenance planner with a planned list of work orders and activities so he can add that information into the maintenance schedule."

Currently, Tire Management System is optimal for open-pit mining fleets, Bennett said. "Customers big or small can use the system," he said. "There are no special requirements." That means special requirements beyond the needed connectivity and a willingness to adopt the Kal Tire Way. "It doesn't require extra manpower," he said. "It just requires renewed focus." The system entails specific processes and some new terminology. Training is provided.

Kal Tire hosts the data. "Because we've got the tool to lay over top of it, we're going to host the data and the customer is going to have access to the real- time stream," Bennett said. The system enables Kal Tire to gauge its performance as well. "We track ourselves with the customer," Bennett said. "Are we getting the results we want? Is the customer's effort being rewarded?"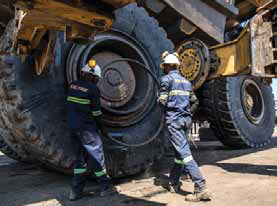 Kal Tire's upgraded Tire Management System is work order-driven
, equipping technicians with a list of planned work orders.
(Photo: Kal Tire)


So far, the feedback has been positive, he said. For example, he said, a Canadian miner that reported tire performance issues adopted the system to improve tonnage, distance and speed metrics. "We did the priority mapping with the customer whereby we agreed together what the conditions were that warranted either general monitoring or immediate action," Bennett said. "As a result of the change, the frequency of tire-related emergencies, the need for immediate unplanned action, has been reduced." Afterward, the system functioned as a communications and priorities planning tool.

The data from Tire Management System can be imported and used by manufacturers. "It is not unusual the manufacturers will get data from our system, even if it is just a data dump, and they can do their own analysis," Bennett said. "That empowers them to look at more information and make better decisions on how to best service that customer."

The rollout of the update is phase two of a multiphase, multiyear plan that will culminate in a multiuse system that could employ GPS or other technology to capture data on the mine site. "The technology has to work, but there is also a management of change for the guys in their day-to-day behavior," Bennett said.

Changing behaviors means changing minds. For many miners, tire maintenance planning is "an ad hoc activity," Bennett said. The new system facilitates it becoming a planned and scheduled activity, he said. "Seems like a minor step for most folks but it is actually a big deal because engines, transmissions and welding may take priority over tires," Bennett said. "We're trying to raise that profile." Customers are accustomed to strategizing to get the most out of equipment and assets, and typically start with "big-ticket" items first, he said. Nonetheless, "tires represent a significant cost for customers and quality data can be used to make decisions, improve safety and maintenance planning while reducing costs."

Cool Beads and Hot Data
Bridgestone will market a couple of significant innovations later this year. It has a new 400-ton hauler tire and an upgrade to its tire tracking solutions offerings. Both will be marketed as early as this fall. The products come from a long line of tested and true predecessor technologies.

Bridgestone debuted the 59/80R63 VRF tire with Cooling Fin technology at MINExpo. The backstory is the technology first saw action in the pit. That would be down at the race track. Eventually it was developed for mining machine tires. For several years, it was tested at Canadian oil sand digs.

The 59/80R63 VF, for 400-ton haulers that see "high speeds and payloads," will hit the market in Q4, Rob Seibert, director, Bridgestone OTR marketing, said. Siebert pitches the technology as a solution. "Heat is one of the primary enemies of the tire," he said. "Those large trucks tend to generate significant heat from the longer hauls, the payloads and the stress that can be placed on the bead area of the tire."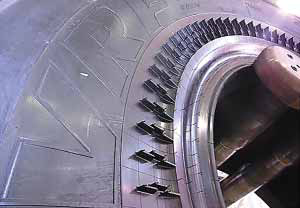 Cooling Fin technology was developed for race day. The row of angled
fins on the 59/80R63 VF, pictured above, directs a stream of air to the
tire bead. The bead, the part of the tire that grips the wheel, is subject
to substantial pressure that is measurable as heat. (Photo: Bridgestone)


The solution Bridgestone sells is ventilation. Siebert described Cooling Fins as "proprietary fin technology" exclusive to Bridgestone. "The Cooling Fins are uniquely designed in a specific pattern around the bead of the tire to dissipate the heat," he said. Up close, they appear as a row of staggered tiny fan blades. "The Cooling Fins alter the path of the wind and allow the moving cool air to contact the rubber surface, carrying off the heat," Seibert said.

The idea is to cool the bead. "In a severe haulage application, the bead can be a contributing factor to tires coming out of service," Seibert said. By increasing the longevity of the bead, overall tire life is extended. Cooling Fins can "contribute to a total tire life improvement of up to 10%," he said. That number is backed by longitudinal studies. Years of testing have culminated in results that "have been very positive," Siebert said. "Over the years of testing we've been able to reduce that bead heat in certain instances up to or approximately 20%."

Gathering that data happens in real time, thanks to Bridgestone's sensor technology and the software it feeds. Bridgestone currently offers a trifecta of tire data solutions. Two are designed to work together, monitoring tire pressure and helping track tire and rim assets. The intelligent tag sensor, dubbed the B-TAG, collects tire and temperature data. DirectLink is the software that receives, assimilates and communicates it in real time. Predecessor software system TreadStat is a repository of data that enables total inventory management. The latter two could both share a common platform as early as this fall, a step on the road to further melding the programs.

B-TAG, Siebert said, is critical technology for the emergent or mature digital mine. The TPMS was designed to enable users to get "the most out of a product," he said. TPMS empowers users to "make better decisions that affect not just what tire they select or which tire to buy the next time. It facilitates "in-the-moment decisions that affect the productivity as well as the management of their operations."

The sensor mounts to a patch inside the tire. It gathers and transmits real- time data on pressure and temperature. Bridgestone is one recipient and the data facilitates swift cooperation and planning, allowing the company and its customers to be proactive.

"Where our customers have enjoyed the most success out of B-TAG is actually using it as an opportunity to increase production," Seibert said. Bridgestone, he said, works with customers to run the tire based on its actual temperature. "If there are temperature alarms, the customers can adjust their haul profile," he said. "We've seen customers see significant production increases, up to 18% in certain instances by speeding up."

For example, a customer can deploy Bridgestone's B-TAG system to trial protocol developed in response to a tire's TPMH rating, or working capacity. "We've had customers that have had to restrict speed due to ambient temperatures and the TPMH rating of the tire," Seibert said. "The customers were able to then run live B-TAG temperatures against those ratings and actually increase the speed of the truck and increase production over 10%."

The TPMS also helps miners improve safety, he said. The benefits are "being able to eliminate field pressure checks and being able to do that remotely, improving your safety and your efficiency." B-TAG communicates with the user via DirectLink. The program monitors B-TAG data and "also provides historical reporting for customers trying to understand the accuracy of their pressure program," he said. "The mine monitoring control at Bridgestone is able to see that data, too, to help our account managers understand how the tires are being used and any alerts or concerns around them."

By the fall, some of that same data may also automatically be fed to Tread-Stat. "We are in the process of launching the next generation of TreadStat," Seibert said. "Our goal is to provide a brand new interactive user-friendly system with custom reports and dashboards," he said. The reports will crunch inventory and tire performance metrics against forecasts and budgets. "They'll get that in the moment, not after a tire comes out after 12 months of use and then trying to figure out what is going on," Seibert said.

Bridgestone plans to offer the programs as a bundle in the fourth quarter, Seibert said. "We are bringing those two programs onto one software platform this year as we launch the new next-generation TreadStat," he said. The bundle would comprise a software suite users can access with one log on. "They would actually be able to see their tire temperature and pressure history, and also be able to then take a look at the tire records as well."

The long-term goal, Seibert said, is to synchronize the programs so data-sharing between the two is automated. "That is a program goal: They do eventually become one system and one reporting mechanism."

Ultra-large, Well-received
Goodyear debuted at MINExpo the ultra- large RM-4B+ hauler tire for severe operating conditions. Since then, the company reported, feedback has been positive. "The RM-4B+ has been well-received by end users in the mining industry, who are deriving real cost-reducing performance benefits delivered by the tire's many features," said Eric Matson, manager, global field engineering.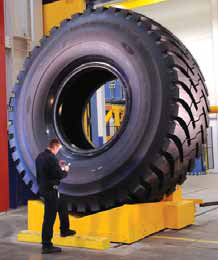 Goodyear's newest 60-in. RM-4B+ for rigid haulers
features high net-to-gross tread pattern, an extra-deep
tread pattern and a cooling compound.
(Photo: Goodyear)


Those features include a high net-togross tread pattern, an extra-deep tread pattern, and a cooling compound. The high net-to-gross tread pattern enables "increased cut and impact protection in rugged, hard rock applications," the company reported. Matson elaborated. "Net-to-gross ratio is a term that describes the balance between tread blocks and empty space — or voids — in an OTR tire's tread area. Tires with a higher net-to-gross ratio have a higher tread volume," he said. "This helps protect the tire's casing from rock cut penetration, while absorbing impacts from rocks and other foreign objects."

The extra-deep tread pattern ensures "longer wear," the company reported. "Our first tire in size 53/80R63, which was the RM-4A+, is an E-4+ with 18% to 24% more tread depth than the standard E-4 haulage tire. However, the new RM- 4B+ is over 5% deeper than the RM-4A+," Matson said. "This extra tread depth allows for longer wear, increased casing protection, and overall longer tire life."

An "enhanced, cool-running compound," called CycleMax tread rubber, "makes it ideal for high-heat applications," the company reported. Technically there are almost a dozen compounds involved, Matson said. "Tires like the RM-4B+ are required to carry enormous loads at relatively fast speeds, which can generate heat buildup in the crown area," he said. "The cool-running compound in the RM-4B+ is formulated to minimize heat buildup while working in tandem with the tire's other compounds."

Other features, the company reported, include tread lug blading for additional heat resistance, interlocking blading for added stability, a centerline channel for added lateral traction and heat resistance, angled main grooves, and a sidewall scallop for improved heat resistance.

The 63-in. tire is backed by Goodyear's support and services structure. "Goodyear provides reliable service like on-site consultations, site audits, footprint evaluations, tire surveys, temperature studies and more, all designed to help mining operations optimize their tire investment," Matson said. In addition, Goodyear offers management tools, like EMTrack, a TPMS.
---
As featured in Womp 2017 Vol 08 - www.womp-int.com