Medusa Installs New Service Hoist
---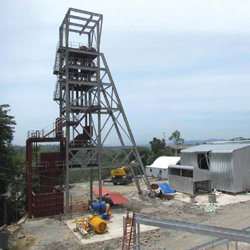 South African suppliers designed, manufactured and delivered
this shaft hoisting system for a gold mine in the Philippines.


Thuthukani Engineering designed a full-service shaft hoisting infrastructure for a Medusa Mining-owned gold mine located in the Philippines and operated by Philsaga Mining Corp. The former was tasked with the design and drafting of the headgear, shaft collar and winder house for a new service shaft.

The project commenced in 2015 and was carried out in cooperation with the Tech Edge Group, which specializes in the production of winches and winders, and W J Engineering. Thuthukani provided the infrastructure design, Tech Edge was tasked with building the winder and W J Engineering fabricated all of the infrastructure components. The infrastructure components were fully fabricated and tested in South Africa before being disassembled and transported to the Philippines for final installation, completed in early 2017. Thuthukani Engineering is based in Pretoria.
---
As featured in Womp 2017 Vol 08 - www.womp-int.com