To receive your own edition of the print version of E&MJ -
Go Here





Bidding Farewell to 2016



As 2017 dawns, the mining industry should take stock with what occurred in 2016. The year did not start well. Major mining companies that had either sold assets or optimized existing operations were contending with low commodity prices and shrinking profit margins. Vale and BHP Billiton were dealing with the environmental disasters caused by the Samarco tailings dam failure in Brazil. As the year wore on, forest fires would ravage oil sands mining operations in Alberta. For all the despair, however, the year ended on a high note with most people scratching their heads wondering what will happen in 2017. For many of the major mining companies, priorities were realigned. A shake-up at Freeport McMoRan refocused the company on copper mining. Similarly, Newmont Mining repositioned itself to be profitable at lower gold prices. Rio Tinto reorganized its management team and they are still doing so today. PotashCorp .... read more



Steve Fiscor, Editor in Chief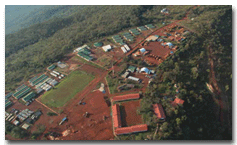 Rio Tinto Sells Simandou Stake, Fires 2 Executives
Rio Tinto reported on October 28 that it had signed a non-binding agreement to sell its 46.6% stake in the huge Simandou iron ore project in Guinea to Chinalco. A consortium of Chinese state-owned enterprises led by Chinalco already owned 41.3% of the project. The government of Guinea holds a 7.5% interest, and International Finance Corp. holds 4.6%. Rio Tinto and Chinalco anticipated signing a binding agreement.... read more
Alcoa Splits Into 2


Alcoa Inc. officially split into two companies on November 1. Plans for the split were first announced on September 28, 2015. A new upstream company named Alcoa Corp. is organized into six business units: bauxite, alumina, aluminum, cast products, rolled products and energy. A new downstream company named Arconic Inc. develops and manufactures high-performance engineered products and solutions for the aerospace, industrial gas turbines, commercial transportation, and oil and gas markets. Both companies are headquartered.... read more

Top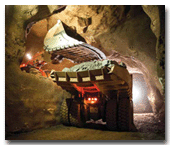 OZ Minerals Extends Prominent Hill Mine Life


OZ Minerals reported in mid-November that its Prominent Hill mine in northern South Australia will continue to operate until at least 2028, underpinned by a new mine strategy and an updated mineral resource and ore reserve estimate. Prominent Hill mineral resources are now estimated at 148 million mt of copper mineralization grading 1.2% copper, 0.6 g/mt gold, and 2.9 g/mt silver, and 25 million mt of gold mineralization grading 1.3 g/mt gold and 1.6 g/mt silver. These resources.... read more

Top
Lundin and Freeport Move Ahead on Tenke Selloff


Lundin Mining and Freeport McMoRan reported separate transactions in mid-November designed to divest the companies of their interests in the Tenke Fungurume open-pit copper-cobalt mining and processing operation in Katanga province, Democratic Republic of the Congo (DRC). DRC state mining company Gécamines, which holds a 20% interest Gold reached an agreement to sell a number of "noncore assets" in Nevada for $720 million in cash, including the Bald Mountain mine, the Ruby Hill mine, its 50% interest in the Round Mountain mine and the company's 70% interest.... read more
| | |
| --- | --- |
| AROUND THE WORLD - USA & CANADA | |

Newmont Pours First Gold at Long Canyon


Newmont Mining poured the first gold at its new Long Canyon mine in northeast Nevada on November 8 and declared commercial production at the project a week later. Long Canyon is an open-pit oxide mine in an emerging gold district less than 100 miles from Newmont's existing Nevada operations. Declaration of commercial production was based on ongoing plant availability of more than 85% and achieving a minimum of 70% of modeled leach recovery. Long Canyon was completed two months ahead.... read more
Feasibility Study Supports Hardrock Project


Centerra Gold and Premier Gold Mines have reported positive results from a feasibility study for their Hardrock gold project in Geraldton, Ontario, approximately 250 km northeast of Thunder Bay. The study supports development of an open-pit mine and processing facilities that would produce an average of 288,000 oz/y of gold over a mine life of 14.5 years. Mill throughput is planned at 27,000 mt/d. During its first four full years of operation, Hardrock would produce an estimated 356,000 oz/y from a total of 38 million mt milled at an average.... read more

Top
| | |
| --- | --- |
| AROUND THE WORLD - Latin America | |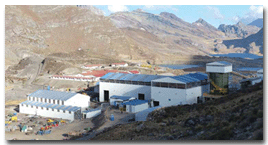 Trevali Discovers High-grade Zone at Santander


Trevali Mining reported in late October that the ongoing 2016 underground exploration program at its Santander mine in central Peru has discovered a zone of exceptional high-grade zinc-lead-silver mineralization that remains open for expansion. A sub-horizontal drill hole targeting an area between the mine's Magistral Central and Magistral North zones intercepted.... read more
Las Bambas to Resubmit Environmental Plan Following Protests


The Peruvian government has asked MMG to resubmit an environmental plan for its Las Bambas copper mine, in order to include more feedback from local communities. Vice President Martin Vizcarra noted the mine will be allowed to operate as usual while it prepares an "integral" environmental impact study, local paper La República reported. The move is part of the new government's strategy to rebuild trust on the project following deadly protests from locals, which halted exports from the mine, one of the world's biggest copper pits.... read more

| | |
| --- | --- |
| AROUND THE WORLD - Australasia | |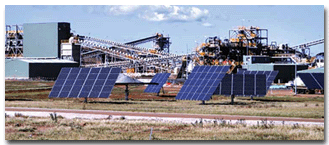 Galaxy Starts Lithium Concentrate Production at Mount Cattlin


Galaxy Resources began commissioning its 100% owned Mount Cattlin lithium concentrate production facility near Ravensthorpe, Western Australia, in mid-November. First lithium concentrate was produced on November 12. Design capacity is 137,000 metric tons per year (mt/y) of lithium concentrate. Galaxy expected to implement.... read more



Northern Star Expanding Jundee Gold Production


Northern Star Resources has announced plans to increase plant throughput and gold production at its Jundee operations in central Western Australia following outstanding exploration results and a highly successful trial at the processing plant in October. The first phase of production growth will see plant throughput capacity increased by 25% by adjusting operating parameters within the existing infrastructure, mainly through the introduction of secondary crushing to the blended mill feed and higher SAG mill throughput by greater utilization of available motor power. This growth will be achieved at a minor.... read more

Top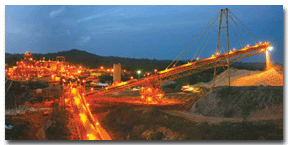 Gold Fields Extending Mine Life at Damang
Gold Fields has announced plans to extend the life of its Damang gold mine in Ghana by eight years from 2017 to 2024 through investment of $1.4 billion in capital and operating expenditures. Over the life of the mine, a total of 165 million metric tons (mt) of material will be mined and 32 million mt will be processed at a grade of 1.65 grams (g)/mt, resulting in.... read more


2017 Looks to Be Worse for South Africa
As bad as the past year was for South Africa's embattled mines, industry executives have the glum foreboding that 2017 is likely to be even worse. New black empowerment regulations may be the final strike that drive many out of business altogether. For some time now, the mines have been waiting for the latest iteration of the Mining Charter, a set of rules designed to prod the industry into increasing black participation. The idea is to redress apartheid-era ownership that was entirely white. At that time, blacks were prohibited by law from any participation in mining other than menial low level.... read more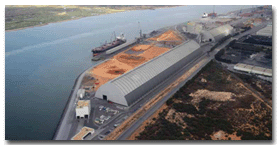 Impala Inaugurates New Port Facilities in Spain


Impala Terminals recently held an inauguration ceremony for its new logistics port facility for the storage and blending of minerals and metal concentrates located at the port of Huelva in Andalusia, on Spain's southern coast. The new facility is the result of an ambitious construction project, creating a best-in-class facility for the reception, storage, blending, and export for minerals and metal concentrates.... read more

Turkey Considers More Coal-fired Power
On November 7, Turkish Minister for Energy and Natural Resources Berat Albayrak, who is the son-in-law of Turkey's powerful President Tayip Erdogan, announced that $5 billion had been invested in building 158 electricity generating plants during 2016. The government of Turkey is pursuing an aggressive industrial growth strategy that it is attempting to fuel local resource use, thus a large number of these plants are being built to run off indigenous coal. "As long as we use our renewable resources and our coal resources efficiently, we will be able to open new horizons for our country.... read more

Top
| | |
| --- | --- |
| THIS MONTH IN COAL | |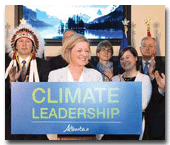 Alberta Proposes Deal to Close Coal-fired Power Plants


The Alberta government might pay three coal power producers more than $1 billion over the next 14 years to compensate them for shutting down their plants early as part of its climate change agenda, the Calgary Herald reported. The province is nearing the end of negotiations over contract disputes that led to a controversial lawsuit, reaching three agreements with companies, two of which are tentative. Talks with a fourth player, Calgary-based public utility Enmax, are ongoing.... read more

WVDEP, Alpha Natural Resources Reach $15 Million Settlement


The West Virginia Department of Environmental Protection (DEP) has reached an agreement with Alpha Natural Resources valued at about $15 million to resolve a recently filed lawsuit in the coal operator's bankruptcy case. The settlement enhances DEP's earlier settlement with Alpha and will provide additional bonding and other security for the coal operator's ongoing reclamation obligations in West Virginia. Under the earlier settlement, announced in June, Alpha has posted bonds and other collateral totaling nearly $140 million with respect to its remaining mining sites in West Virginia. Alpha and Contura Energy Inc.... read more

North Korea Rejects UN Sanctions on Coal Exports


The United Nations Security Council has unanimously imposed sanctions on North Korea, placing a cap on the country's coal exports in response to its nuclear tests. The new resolution demands that North Korea "abandon all nuclear weapons and existing nuclear programs" and takes aim at the state's exports of coal, its top external revenue source. Under Resolution 2321, North Korea will be restricted from exporting more than 7.5 million metric tons (mt) of coal next year, a 62% reduction from 2015. North Korea's Ministry of Foreign Affairs said …. read more

| | |
| --- | --- |
| FEATURE - Shotcrete | |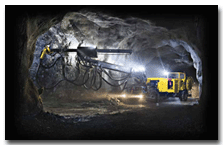 Shotcrete: Systematically Sprayed Support
First used mainly in tunneling for forming both temporary and permanent linings, shotcrete has been adopted by underground mining as an essential means of rock support

By Simon Walker, European Editor

From being a niche system even 20 or 30 years ago, shotcreting has developed to be one of the most important rock-support methods available to the mining and tunneling industries. As Lars Balck, formerly a senior vice president at Crom LLC, explained in a comprehensive review of the technology's history and guidelines published in a recent edition of Shotcrete magazine, what is now referred to as drymix shotcrete can trace its antecedents back to the invention of the gunite gun in 1910. "The cement gun was a breakthrough for concrete construction," Balck wrote. "Mortar could now be conveyed long distances and produce high-strength concrete (shotcrete)." Yet it was not until 1960 that the American Concrete Institute (ACI) established a shotcrete technical committee. The first edition of the ACI's Guide to Shotcrete appeared a few years later.... read more


For more companies with products in the Shotcrete market -
Go Here
| | |
| --- | --- |
| FEATURE - Oil Sands | |
Oil Sands Producers Deal With Financial Friction—and Fire


Canada's oil sands industry has faced a number of challenges over the past 18 months, with political, environmental and market hurdles to overcome

Simon Walker, European Editor

Being on the wrong side of political changes, weak markets and unfriendly decisions from one's neighbors would surely be enough to make Alberta's oil sands producers feel depressed. Add to that the worst that Mother Nature could throw at them, and it would be understandable if the industry were in despair. Yet despite all of the challenges it has faced since mid-2015, progress is being maintained and, from a rather predatory perspective, there has been a new round of consolidation within the participants.... read more

Top
| | |
| --- | --- |
| FEATURE - Blasting | |

Detonators: Best-for-Project Practices in Drill and Blast



By Michael Wiseman and Stephen Timbrell

As the mining industry becomes more and more lean, a "one-size-fits-all" approach is becoming increasingly obsolete. A commitment to continuous improvement—finding ways to do things better, faster and more cost effectively—is how asset owners and contractors are ensuring their ongoing success. In drill and blast, developments in detonation systems have provided forward thinkers with an opportunity to dramatically enhance their blast capability. Highly tailored blasting solutions, with the potential for significant cost and productivity benefits, are now being implemented by teams and contractors who have been willing to invest in increasing their knowledge base, trialing new electronic initiation technologies and upskilling. In Australia, for example, prior to the 1990s pyrotechnic detonators, also known as electric and non-electric detonators, were the most commonly used in that country's mining industry. In the late.... read more


For more companies with products in the Blasting market -
Go Here
| | |
| --- | --- |
| FEATURE - 3-D Printing | |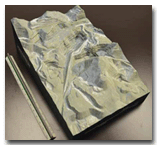 Emergent, Affordable 3-D Printing Technology


Mining companies use a new technique to present future mining plans

By Jesse Morton, Technical Writer

Recent advances make 3-D printing an economical means of creating multipurpose models that effectively present technical information to laypersons, such as those found in public consultation meetings, according to a consulting company that specializes in the technology. Compared to previous generations, current 3-D printing technology, sometimes referred to as additive manufacturing, is now less expensive, more user-friendly and faster, said Matt Blattman, owner of Cypress 3D Printing (www. cypress3dprinting.com). In mining, it is an emerging technology enabling the creation of models specialized for cost, audience and purpose. Cypress 3D Printing recommends its use when creating visual representations of information, such as mine plans and geologic interpretations, to be delivered to external (non-technical) customers. With 3-D printing, what was traditionally expressed by maps or posters, which can.... read more

Top


For more companies with products in the 3-D Technology market -
Go Here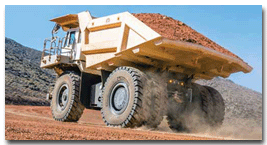 100-Ton Hauler Saves Fuel, Nixes Maintenance Hazards


Liebherr recently unveiled the new 100metric-ton (mt) T 236 mining truck, which features the vertically integrated Litronic Plus Generation 2 alternating current (AC) drive system, and is optimally paired with the company's R 9100, R 9150, R 9200 or R 9250 mining excavators. Empty vehicle weight is 80 mt. Horsepower (hp) is 895 kilowatts (kW). Maximum speed is 55 kilometers per hour.... read more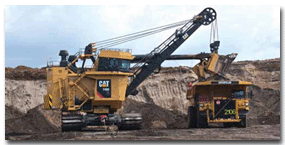 Shovel Control Software Reduces Operator Faults


A Caterpillar's new control system software, the Operator Assist–Enhanced Motion Control system, available for its 7495 Series Rope Shovels and as an update, is designed to simplify machine operation, allowing the shovel to be operated in a manner that both promotes high production and protects the machine from inadvertent misuse. The new system can enhance production by reducing the occurrence of operating faultsread more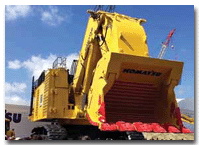 Excavator Has 'Best-inClass' Engine Power and Breakout Force


Komatsu's 700-ton PC7000, available in face shovel and backhoe configuration, "offers the lowest cost per ton in its class," said Michael Hall, Komatsu Australia's national product manager. The shovel is matched to plus-200 ton trucks, such as Komatsu's 830E, 860E and 930E haul units. The diesel drive variant features two Tier 2-rated Komatsu SSDA16V159E-2 engines, rated at 2,500 kW. (Two squirrel cage [electric drive] 1,200-kW motors are.... read more

Top
Standardized Motor Design for Quick Availability


Siemens' new Simotics HV high-voltage motor series covers a power range up to 70 megawatts (MW), can be used for a wide range of applications, and can reportedly be built and commissioned rapidly. The system features an optimized base frame, which reduces noise and vibrations and makes the motor able to cope with extreme ambient conditions, helping to maximize the availability of the overall plant, the company reported. All the models of the Simotics HV HP series....read more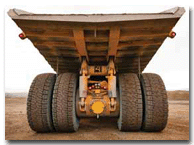 Hauler Truck Tire Line has Improved Durability


Michelin has introduced the new MEMSready Earthmover (40.00 R 57 and 53/80 R 63) XDR3 tire line for rigid body trucks operating in surface mines. Three design innovations increase tire life by a minimum of 10% over its predecessor, the MICHELIN XDR 2, the company reported. A new tread pattern improves heat dissipation up to 8° C; puts more rubber in contact with the driving surface; and features interlocking shoulder blocks for reduced movement.... read more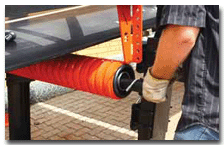 Roller Tracker Corrects Conveyor Belt Drift


The Martin Roller Tracker, a return belt tracking system from Martin Engineering, automatically corrects when the belt wanders off center. The ribbed polyurethane roller tracker does not contact the belt edge, eliminating fraying and facilitating tracking for single-direction or reversing belts. The 190-mm-diameter tracker reacts quickly to fluctuations in the belt path. Built on a central pivot attached to vibration-free mandrel, the unit is lifted 5 mm under the belt to retain a tight grip. When the belt.... read more

New Spirals Boost Recovery at Northam Chrome


Mineral processing equipment supplier Multotec reported that one of its gravity-separation customers, Northam Chrome Producers, is realizing improved recoveries, better grades and higher yields following the installation of Multotec spirals at its recovery plant. The decision to replace the existing spirals was taken by the chrome producer following extensive testwork performed by both Northam and Multotec. Results from the testwork, said Multotec, indicated that its spirals outperformed the competitor units.... read more

Top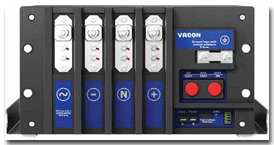 Medium-voltage Drive System Provides Wide Customization Capabilities


Vacon 3000, Danfoss's first medium-voltage drive, is a "definite-purpose" modular drive specifically configured to the application, which for mines could be slurry pumps, ventilation fans, ball mills, compressors, extruders, mixers, centrifuges and excavators. Designed to meet the specific needs of applications between 3,300–4160 volts, the drive features....read more
JANUARY 29-FEBRUARY 1, 2017: ISEE 43rd Annual Conference for Explosives and Blasting Technique, Orlando, Florida, USA. Contact: Web: www.isee.org
FEBRUARY 6-9, 2017: Mining Indaba, Cape Town, South Africa. Contact: Web: www.miningindaba.com
MARCH 5-8, 2017: Prospectors & Developers of Canada, Toronto Convention Center, Toronto, Canada. Contact: Web: www.pdac.ca
APRIL 11-14, 2017: 25th International Mining Congress and Exhibition of Turkey- IMCET 2017, Antalya, Turkey. Contact: Web: http://imcet.org.tr
MAY 7-10, 2017: Haulage & Loading, Wigwam Resort, Phoenix, Arizona, USA. Contact: Web: www.haulageandloading.com
MAY 9-11, 2017: Arminera Centro Costa Salguero in Buenos Aires, Argentina. Contact: Web: www.arminera.com.ar
JUNE 1-2, 2017: Mining Forum 2017, Berlin, Germany. Contact: Web: www.the-miningforum.com
Longwall USA, David L. Lawrence Convention Center, Pittsburgh, Pennsylvania, USA. Contact: Web: www.longwallusa.com
For a full calendar of mining industry conferences and events - click here
| | |
| --- | --- |
| WHO'S MOVING WHERE | |

Rio Tinto terminated the contracts of Energy and Minerals Chief Executive Alan Davies and Legal and Regulatory Affairs Group Executive Debra Valentine . After reviewing the findings of an internal investigation into the 2011 contractual arrangements with a consultant who provided advisory services on the Simandou project in Guinea, the Rio Tinto board has concluded that executives failed to maintain the standards expected of them under its global code of conduct. Davies will be replaced by Bold Baatar , who will join the executive committee as energy and minerals chief executive...

Barrick Gold appointed Pablo Marcet to its board of directors. Marcet has held senior management positions in geology, mining operations and business development with South American mining operations, including 15 years at BHP Billiton..

Newmont Mining Corp. appointed Nancy K. Buese to succeed Laurie Brlas as executive vice president and CFO. Brlas is retiring.

Primero Mining appointed Helene Seim has been appointed general manager at Boliden's Odda zinc smelter in Norway. She replaces Dag Berg , who has been general manager since 2010, and who has been appointed manager of research and development, strategic projects, within Boliden Smelters.

Premier Gold Mines Ltd. announced it has retained the services of Brent Kristof as vice president of operations. Most recently, he served as COO at Klondex Mines Ltd

Hans Jönsson, has been appointed as the new general manager of Aitik, effective June 1. Most recently, he was the general manager of Boliden's zinc-silver mine at Garpenberg.

Atlas Copco appointed Helena Hedblom as president for the Mining and Rock Excavation Technique business area, starting January 1. She is currently president of the Rock Drilling Tools division in the same business area. She replace Johan Halling, who will retire.

McEwen Mining Inc. appointed Xavier Ochoa to president and COO. He joined the company in September as COO.
About - providing an abreviated version of the current print edition of E&MJ, WOMP is distributed throughout the world to decision makers in the global mining industry, the last week of every month.

Subscribe to E&MJ - To receive your own copy of the print edition of E&MJ, click here , and complete your details. E&MJ is available free of charge to qualified readers.

Contact - if you have views, opinons or comments or editoral that you would like to submit, we would be delighted to hear from you - click here

Top