Trevali Discovers High-grade Zone at Santander
---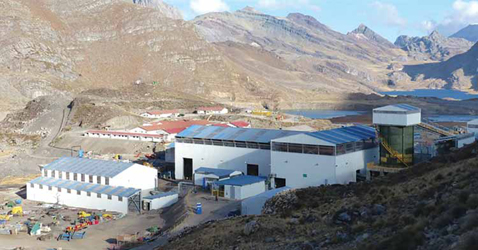 AerialThe Santander mine in Lima Department, Peru, Lima, includes a 400-person camp plus associated support
facilities. (Photo: Trevali Mining Corp.)

Trevali Mining reported in late October that the ongoing 2016 underground exploration program at its Santander mine in central Peru has discovered a zone of exceptional high-grade zinc-lead-silver mineralization that remains open for expansion. A sub-horizontal drill hole targeting an area between the mineís Magistral Central and Magistral North zones intercepted 6.95 m (true thickness) of mineralization at 94 m downhole, grading 14.45% zinc, 7.32% lead and 5.42 oz/mt silver.

During the third quarter of 2016, the Santander mill processed 216,551 mt of ore at averages head grades of 4.61% zinc, 1.08% lead and 1.26 oz/mt silver. Payable production of metal in concentrate totaled 16.6 million lb of zinc, 4.1 million lb of lead and 192,431 oz of silver. The mill readily operated at its steadystate 2,000-mt/d nameplate capacity, with daily production commonly exceeding this by approximately 15% to 20%. Cash costs were approximately $36.33/mt milled.

Santanderís 2016 production guidance remains at 57 million to 60 million lb of payable zinc in concentrate grading approximately 50% zinc; 20 million to 23 million lb of payable lead in concentrate grading 52% to 55% lead; and 800,000 to 1 million oz of payable silver.
---
As featured in Womp 2016 Vol 12 - www.womp-int.com