Rio Tinto Sells Simandou Stake, Fires 2 Executives
---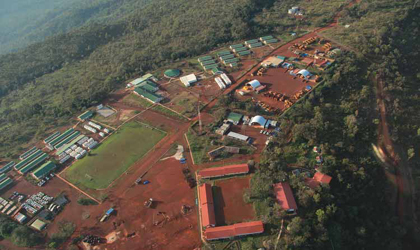 Aerial view of Canga East, an existing worker accommodation camp at Simandou. Early estimates of
the construction workforce needed for the troubled, $20 billion iron ore project range as high as
15,000-plus—with at least 70% classifi ed as non-local workers who would be housed at Canga, in
another large, refurbished camp at Ouéléba, and elsewhere. (Photo: Rio Tinto)

Rio Tinto reported on October 28 that it had signed a non-binding agreement to sell its 46.6% stake in the huge Simandou iron ore project in Guinea to Chinalco. A consortium of Chinese state-owned enterprises led by Chinalco already owned 41.3% of the project. The government of Guinea holds a 7.5% interest, and International Finance Corp. holds 4.6%. Rio Tinto and Chinalco anticipated signing a binding agreement within six months.

The agreement calls for Rio Tinto to receive payments of $1.1 billion to $1.3 billion based on the timing of the development of the project. Initial payments will commence at the time of first commercial production, on a per metric ton (mt) basis.

Approximately two weeks after signing the agreement with Chinalco, on November 16, Rio Tinto announced it had terminated the contracts of its Energy & Minerals Chief Executive Alan Davies and Legal & Regulatory Affairs Group Executive Debra Valentine. "The Rio Tinto board reviewed the findings to date of an internal investigation into 2011 contractual arrangements with a consultant who provided advisory services on the Simandou project in Guinea," the Rio Tinto announcement said. "The board's decision does not pre-judge the course of any external inquiries into this matter. However, the board concluded that the executives failed to maintain the standards expected of them under our global code of conduct."

Specifically, a consultant to the Simandou project, Francois de Combret, was paid $10.5 million. No reasons were given for the payment. Rio Tinto said it alerted authorities, including the U.S. Department of Justice and the U.K.'s Serious Fraud Office, regarding the payment to de Combret.

Davies responded to his termination by issuing a statement that said, in part, "Rio Tinto has made no effort to abide by due process or to respect my rights as an employee, and it has given me no opportunity to answer any allegation. This treatment of me and my past and recent colleagues is totally at variance with the values and behaviors of the company to which I have devoted my professional life. My rights are fully reserved, and I have been left with no option but to take the strongest possible legal action in response."

That's how matters stood as of November 21. How the issues related to the $10.5 million payment might impact Rio Tinto's agreement to sell its Simandou interest to Chinalco remained unclear. The Simandou iron ore project is one of the largest undeveloped mining projects in the world, with a scope that includes integrated mine, rail, port and ancillary infrastructure. Production could be as high as 100 million mt per year (mt/y). Mine life could exceed 40 years. Cost to develop the project has been estimated at approximately $20 billion.

Infrastructure is a major component of the project, including a new 650-kilometer (km) trans-Guinean railway line to transport iron ore from Simandou to a new deep-sea port located on Guinea's Atlantic coast.
---
As featured in Womp 2016 Vol 12 - www.womp-int.com