Shotcrete: Systematically Sprayed Support
First used mainly in tunneling for forming both temporary and permanent linings, shotcrete has been adopted by underground mining as an essential means of rock support
By Simon Walker, European Editor
---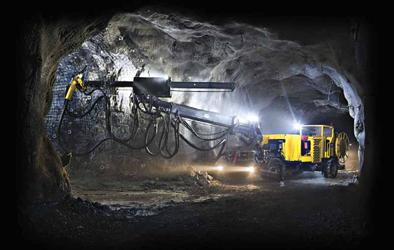 Atlas Copco claims that its Meyco ME5 wet-mix spraying rig offers optimized admixture accuracy
and less rebound.

From being a niche system even 20 or 30 years ago, shotcreting has developed to be one of the most important rock-support methods available to the mining and tunneling industries. As Lars Balck, formerly a senior vice president at Crom LLC, explained in a comprehensive review of the technology's history and guidelines published in a recent edition of Shotcrete magazine, what is now referred to as drymix shotcrete can trace its antecedents back to the invention of the gunite gun in 1910. "The cement gun was a breakthrough for concrete construction," Balck wrote. "Mortar could now be conveyed long distances and produce high-strength concrete (shotcrete)."

Yet it was not until 1960 that the American Concrete Institute (ACI) established a shotcrete technical committee. The first edition of the ACI's Guide to Shotcrete appeared a few years later, and has been updated from time to time since then, with the most recent edition published this year as a companion volume to the 2014 edition of the organization's Specification for Shotcrete.

Today, both wet- and dry-mix systems of shotcrete emplacement have applications in rock support. Introduced in 1955, wet mix has the advantages of being able to achieve better material consistency through off-site mixing, producing less dust, and achieving greater volumes in a given time. Dry mix (in which water and admixtures are added to dry materials at the nozzle) is claimed to offer easier control over the mix, and has definite advantages when small areas, requiring small amounts of material, are being sprayed. It does, however, have the disadvantages of producing more dust, and a greater proportion of the material ends up on the floor as rebound.

Atlas Copco Upgrades its Meyco Range
Paul O'Neill, Atlas Copco's product marketing manager for concrete spraying equipment, told E&MJ that the company's mobile concrete sprayers—the Meyco ME5 and the smaller Meyco ME3—are built to support all types of midsized to large-scale underground construction and mining projects. "They are the first result of the integration of the Meyco concrete spraying knowhow within the Atlas Copco environment," he said.

O'Neill explained that the new Meyco range has increased precision spraying due to its improved boom design (Compacta+) and pump technology. The result is greater consistency in concrete flow with little rebound, resulting in less waste during spraying. In addition, the dosing systems fitted to all ME5 and ME3 rigs are accurate to within ± 2% for accelerator chemicals, giving significant cost savings from reducing unnecessary over-dosing. The system will also stop pumping if there is not enough accelerator being mixed with the sprayed concrete.

Atlas Copco has equipped the Meyco ME5 with semiautomated technology as standard. This also allows improved data collection to continuously upgrade the machines for improved efficiency, with all relevant data being easily accessible via a touch-screen monitor that also provides smoother machine operation. With its global sales and service network as well as close collaboration with BASF Construction Chemicals, Atlas Copco said it provides its customers with all support elements required for their mining and tunneling projects.

Other products in the Meyco mobile range include the ME1, which has a small spraying boom mounted on hydraulically driven tracks, and is most commonly used in smaller tunnel profiles. The company also offers a full range of concrete spraying pumps in foot/skid or trailer versions, with capacities from 6 cubic meters per hour (m3/h) up to 30 m3/h, all of which are built with the same technology as the mobile equipment.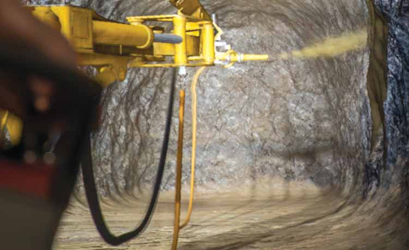 Putzmeister Underground's simulator course provides hands-on training in a safe, dust-free
environment.

Putzmeister's Training Pays Off
In a nearly metaphorical sense, a welltrained nozzleman is the keystone to building a strong shotcrete arch. However, one of the main challenges in achieving a high level of operator competence is the fact that shotcreting is a highly practical, hands-on task with on-the-job training carrying a significant cost in terms of both time and wasted materials. After all, rebound cannot be reused since it has already been dosed with the appropriate accelerator and has set in the wrong location.

With a view to helping address this problem, and to improve nozzleman training overall, Putzmeister Underground has launched a 3-D simulator-based operator training course based on its SPM 500 Wetkret spraying equipment. Offering 40 hours of theory and practice, the course is designed for both new and experienced shotcrete operators, allowing them to learn and to correct existing bad habits in a safe environment.

The course content and technology have been developed in collaboration with the Swedish simulation training company, Edvirt, which has compiled data showing that a highly skilled nozzleman can help reduce waste during application by around 20%. Putzmeister also offers an advanced-level training module, covering aspects such as shotcreting overbreak, spraying on mesh and steel girders, multi-layered spraying and slope stabilization.

Mounted on a rubber-tracked crawler chassis, the Wetkret 3 unit is designed for use in smaller haulage sections. It has a telescopic spraying arm with a vertical reach of 9 m and a horizontal reach of 7 m, which can be deployed in a minimum section of 2.5 m. It can run on both diesel and electric power, and is controlled either by cable or wirelessly via a proportional remote control to operate the crawler carrier, support legs, spraying arm and head.

The Wetkret 3 has couplings for concrete piping on both sides for greater flexibility, while the additive and air lines run internally so no external hoses are required. It is designed to operate with stationary concrete pumps such as Putzmeister's SPM 715 Synchro, which is compact yet can handle large volumes of material. Putzmeister also offers its Batchkret 20 compact batching plant for underground mining, which allows users to bypass costlier shotcrete-transporting systems by optimizing logistics and taking concrete production to the heart of their underground operations. In a batching plant, the ingredients are weighed and mixed to deliver a homogeneous, consistent shotcrete that meets stringent quality requirements. With a production capacity of up to 20 m3/h, the Batchkret 20 has a 750-liter cylindrical mixing pan, aggregate storage hoppers with belt feeders, a 14-m-long cement conveyor belt and a batching booth that houses and protects the control equipment.

BASF's Admixtures
Under its Master Builders Solutions brand, BASF Construction Chemicals offers a wide range of concrete admixtures for use at a batching plant or on-site. For example, its MasterGlenium is a high-performance water-reducing superplasticizer that provides reduced accelerator consumption, reduced bleeding and less mix segregation.

Also designed for batching plant use, MasterRoc HCA is a cement hydration control system for sprayed concrete that can maintain an open time of up to 72 hours, while MasterRoc TCC 780 is a pumping aid for sprayed concrete mixes with difficult or poorly graded aggregates. It improves the thixotropy of the mix, eliminating the risk of segregation and improving pumpability.

BASF also offers colloidal and micro- silica, both of which improve pumpability and sprayability and reduce rebound, and its MasterFiber plastic and steel fibers greatly improve the load absorption capability and cracking resistance of sprayed concrete.

At the point of spraying, MasterRoc SA alkali-free accelerators are added at the nozzle, and accelerate the setting and hardening of the sprayed concrete. They provide high early strength gain and longterm strength development, as well as enhanced durability, BASF said. In addition, they reduce dust emissions and the amount of rebound.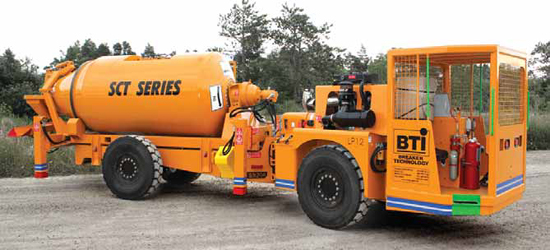 Breaker Technology International's SCT series of shotcrete transport units come in four different sizes and feature bidirectional drum
rotation.

BTI's Transporters
Shotcreting is not just about spraying, of course, and there is invariably a need for materials to be transported to the work site, irrespective of whether dry- or wetmix shotcreting is being used. Mounted on the company's LP-series base carrier, Breaker Technology International's SCT is a heavy-duty, low-profile transport unit that is specifically designed for remix operations in underground applications.

Available in four different capacities (3 m3, 4 m3, 5 m3 and 6 m3), the SCT has bidirectional drum rotation, with the mixer being driven hydrostatically over a planet gear. The necessary drive power is achieved by a variable-axle piston pump providing continuously adjustable rotation speed regulation between 0 rpm and 14 rpm, in both turning directions. The bidirectional rotation of the remix drum allows variable mixing or discharge rates, proportional to the rotation speed. The drum speed is controlled by two proportional joysticks, one at the discharge end of the drum and the other at the operator's position on the vehicle.

Internal drum flutes provide remixing and material discharge without tilting the drum. This allows low-profile operation and discharge, and allows the drum to be self-cleaning, eliminating the requirement to tilt it to do so, the company stated. Oval loading hatches allow the vehicle to be maneuvered for optimum loading, while the rear discharge door is hydraulically operated.

The LP series base carrier is available in two standard widths, 1.8 m and 2.4 m, and is powered by a Deutz engine with Mercedes and Caterpillar options. SCT units are also available as part of BTI's MPV interchangeable cassette system.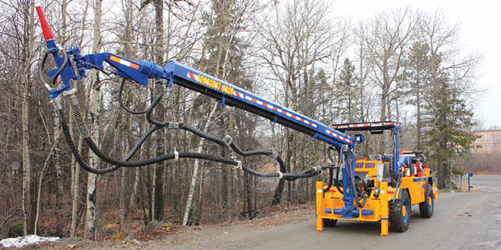 The Roboshot 600 spraying unit from RDH Mining Equipment has a highly maneuverable boom and can place up to
30 m3/h of shotcrete.

An Award-winning Rig
The Canadian company, RDH Mining Equipment, launched its Roboshot 600 shotcreting rig at the end of 2014, with Equipment Journal listing it as one of its top 100 machines and attachments for 2015. The Roboshot 600 is a self-propelled mobile concrete sprayer, which, the company stated, optimizes concrete spraying in mining and tunnel projects with variable tunnel cross sections.

A totally integrated robotic shotcrete machine, its compact arrangement has been designed for maximum maneuverability in confined spaces in mining, tunneling and other shotcrete applications with limited access and/or work space.

The rig features a heavy-duty, triple-extension robotic slew boom and a parallel lancing mechanism with a vertical reach of 12 m and a horizontal reach of 9 m. The robotic head incorporates a 360° slew and 360° robotic rotation, while its oscillating nozzle provides 360° nozzle rotation and 120° nozzle tilt. The shotcrete pump has a theoretical rated output of 30 m3/h, with air and chemical injection being carried out at the nozzle.

The unit's fully integrated accelerator dosing system utilizes a peristaltic-type pump to inject admixtures at the spray nozzle. By integrating the dosing pump's operation with the shotcrete pump stroking, the admixture dose rate is constantly matched to the shotcrete output level, the company pointed out. The dosing system utilizes a 400 liter-capacity stainless steel tank (compatible with alkali-free accelerators) and an electronic metering system with totalizing for the end of each shift. The Roboshot 600 is delivered with a full-function radio remote-control unit and an 8-m cord connector for backup operation if required.

Equipment Journal cited the reasons for listing the machine in its top 100 as being its combination of full-scale shotcreting performance with an extensive range of practical features in a compact design, its radio remote control and its ability to match the admixture dosing rate to the level of shotcrete output.

Getman's Shotcreting Package
U.S.-based Getman produces a range of concrete spraying and transport vehicles that provides a complete solution for transporting, spraying and pouring concrete in underground mining applications, the company said. Its shotcrete sprayers are designed to perform all shotcrete operations required in underground mining, offering what it claims is an unparalleled boom coverage area that enables extended spraying coverage in normal drifting situations. Optimal boom positioning minimizes wasted material, and improves coverage when shooting blind corners and bulkheads.

Getman's SST shotcrete rig can maintain optimal horizontal positioning when spraying tunnels ranging from 3.5 × 3.5 m (11.5 × 11.5 ft) up to 10.3 m wide by 6.2 m high (34 × 20 ft), while covering 4.3 m (14 ft) of advance from a single setup. An optional onboard air compressor permits fully contained spraying using only the diesel engine, while the high-lumen LED lighting allows for optimal visibility of the spraying area.

The rig is equipped with a Reed A40HP shotcrete pump with a 283-liter (10 ft3) hopper capacity and a maximum theoretical output of 31 m3/h (40 yd3/h). The maximum aggregate size passable is 38 mm (1.5 in.). The accelerator dosing system automatically synchronizes to the actual concrete pump output without requiring further input from the operator, with admixtures being contained in a 378-liter (100 U.S. gallon) stainless steel admixture tank with sight gauges. The peristaltic admixture pump has a programmable delivery range of 0-7.56 liter/ minute at 8 bar (115 psi).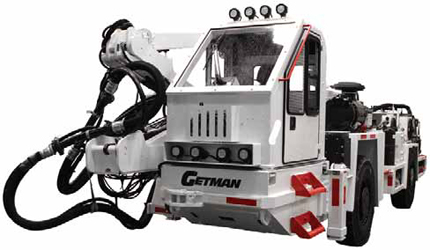 Getman's SST shotcreting rig offers extended spray coverage, but is compact for tramming.

The SST's boom offers up to 11.2 m (36.7 ft) of vertical spray reach, while the maximum horizontal spray reach is 8.4 m (27.6 ft). When not in use, the boom stows to a height of just 2,540 mm (100 in).

The company's vice president for business development, Derek Getman, told E&MJ it has recently worked successfully with a customer in West Africa to optimize their admixture usage by utilizing the automatic calibration feature on the dosage pump. He explained that this feature tracks the rate of the concrete pump and adjusts the flow of admixture to ensure the proper ratio is used, thereby cutting admixture costs and optimizing the mix.

In April last year, Getman introduced its newest model of concrete transporter, the A64 HD A 70. Built on the A64 HD chassis, offering commonality with the company's complete range of A64 and A64 HD products, the new transporter has a capacity of 5.4 m3 (7 yd3). It is equipped with a multisection chute with hydraulic assist for accurate concrete discharge, and can be supplied with heavy-duty engine/transmission packages for moving concrete loads on steep grades. The machine complements Getman's other remixer transporter models, the A64 HD A 50 and A64 HD A 60, which have 3.8 m3 and 4.6 m3 capacities, respectively, and with horizontal rather than inclined drums, offer a lower-profile solution to shotcrete transport underground.

Blastcrete Tackles Dust Emissions
Headquartered in Alabama, USA, Blastcrete Equuipment Co. has been producing gunite and shotcrete pumps and mixers since 1950. The company claims that its range of mixing, predampening, and gunning equipment fulfills needs for dry shotcrete applications in mining and tunneling, while its wet shotcrete pumps and mixer/pump combinations safely handle everything from high-volume shotcrete installations to low-volume concrete repair applications underground.

For example, its MineMate unit combines its X-10 ultra-high pressure swingtube piston pump with its high-shear continuous mixer to mix and pump concrete materials for underground mine seals, grouting and underground shotcrete applications when ready-mix concrete is not an option. This machine can mix and pump as much as 9.2 m3/h (12 yd3/h) and pump material in excess of 150 m (500 ft).

Blastcrete's Model RD6536 squeeze pump hydraulic concrete pump attachment is designed to fit on to skid-steer loaders, and offers variable capacities from 0 to 19 m3/h (0-25 yd3/h) of grout material, 10 mm (0.375-in.) shotcrete and concrete mixes. The pump's primary wear part, the 3-in. rubber pumping tube, can be replaced in the field in 20 minutes, with the company claiming that these are the simplest and safest concrete pumps on the market to maintain and operate.

Dust can be a perennial problem, especially with dry shotcreting, and in October Blastcrete introduced its Dust- Away dust-suppression system that limits silica dust exposure to meet new U.S. Occupational Safety and Health Administration (OSHA) requirements. The system consists of an innovative bulk bag design that attaches to a mixer to contain dust as the mixer fills. According to Blastcrete, this is the first system of its kind, and the company will offer a variety of DustAway bulk bag sizes ranging from 500 to 3,000 lb (225-1,360 kg) and customizable lids to fit new and existing machines, whether from Blastcrete or another manufacturer.

Normet Launches New Sprayers
As noted in the October edition of E&MJ (p.42), earlier this year, Normet introduced its Alpha 1430 kit, designed to fit on a wide variety of commercially available truck chassis to create a shotcrete sprayer for medium to large cross-section haulages and tunnels. The kit's structure and modularity give it the flexibility to add features such as a compressor and electrohydraulic power pack, while changing the kit from one chassis to another is made easy, Normet stated.

Equipped with Normet's NSP pump and XEP accelerator dosing system, the Alpha 1430 kit can be fitted to new or used truck chassis, and can handle spraying in cross sections of up to 12 m in height and 20 m wide. In January, meanwhile, Normet announced it had bought the Meyco dry shotcrete spraying business from Atlas Copco, centered on the Piccola and GM models. The move added to the company's existing range of wet-mix shotcreting equipment, such as the Spraymec 5070 VC, which Normet launched with a Tier 4F engine in May last year.

Designed for medium-capacity spraying work, the Spraymec 5070 VC is smaller than the Spraymec 8100 VC although it is built on the same carrier. New features included the SB307 spraying boom, which can operate in tunnel profiles of up to 7 m. The boom is equipped with self-lubricating slide pieces and rollers to minimize wear, and all the boom movements are pressure compensated and have proportional functions, allowing the operator to create a smooth and homogeneous tunnel lining structure.

The Spraymec 5070 VC uses Normet's low-pulsation NSP30 concrete spraying pump with a theoretical capacity of 28 m3/h, and a 10-m3/minute screw-type air compressor. An intuitive nozzleman's interface allows the operator to carry out all spraying functions from the radio remote control and follow spraying process parameters though a turntable and movable multicolored display placed on the front of the machine.

The accelerator dosing system, using either a mono-type screw pump or an optional low-pulsation peristaltic pump, is synchronized automatically with the concrete output. The machine is equipped with the Norsmart control system that can log all spraying process and carrier data, and provides full fault diagnostics.
---
As featured in Womp 2016 Vol 12 - www.womp-int.com