| | |
| --- | --- |
| | |
To receive your own edition of the print version of E&MJ -
Go Here





150 Years of Editorial Service



This month, E&MJ offers an in-depth report on Newmont Mining Corp. When gold prices started to decline, the company began to optimize operations and sell assets. Lowering operating costs allowed it to invest in operations during the downturn and now they are reaping the rewards.
E&MJ's 150-year celebration continues this month with a number of articles detailing the industry's historical milestones and some of the shenanigans that took place over the years. A rather healthy historical section opens with an overview of mining developments during the past 150 years and also showcases the former editors and the current editorial team. Two sections separate the fact from fiction that surrounds the mining business. In the early days, E&MJ often warned investors about unscrupulous operators. In 'Shyster, Bubbles and Out-and-out Scams', Simon Walker reveals a historical timeline of antics that led to the rules the market now has in place to protect investors. In another article reproduced from a series ..... read more


Steve Fiscor, Editor in Chief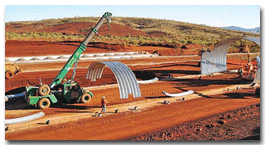 Rio Tinto Adding Silvergrass Iron Ore to Nammuldi Operations
Rio Tinto is investing $338 million to develop its wholly owned Silvergrass iron ore mine in Western Australia. The project will add 10 million mt of capacity to the company's Nammuldi-area operations, lifting production there to 20 million metric tons per year (mt/y). "The brownfield expansion of the high-grade mine offers attractive returns, with an expected internal .... read more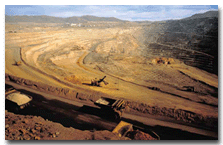 Barrick Updates Lama Project Strategy, Reports Optimization Improvements
Barrick Gold's recent appointment of a senior vice president for development of its troubled Lama project in Argentina has drawn attention as an indication of the company's future plans for the gold-silver project. Barrick announced in early September that it had selected George Bee as Senior VP for Lama and Frontera District Development, .... read more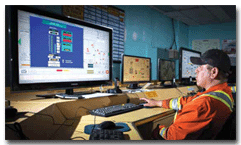 Goldcorp Initiates Capital Projects at Peñasquito and Musselwhite
Goldcorp has initiated major capital projects to increase production and improve efficiency at its Peñasquito mine in Zacatecas state, Mexico, and its Musselwhite mine in northwestern Ontario, Canada. Mobilization of crews and equipment for both projects began in August. At Peñasquito, the company is investing approximately $420 million in a Pyrite Leach Project (PLP) to increase .... read more

Top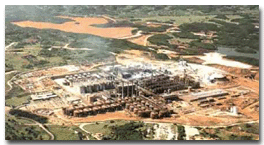 Rusal Sells Jamaican Operations to Jiuquan
Russian aluminum producer Rusal has entered into an agreement to sell its 100% stake in Alumina Partners of Jamaica (Alpart) to Chinese state industrial group Jiuquan Iron & Steel (Jisco) in a transaction valued at $299 million. To facilitate the transfer of ownership, Jisco and Rusal will enter into .... read more


| | |
| --- | --- |
| AROUND THE WORLD - USA & CANADA | |
Gahcho Kué Ramping-up to Commercial Production
The De Beers Group of Companies (51%) and Mountain Province Diamonds (49%) announced in early August that commissioning was complete at their Gahcho Kué diamond project in Canada's Northwest Territories. Ore from the mine was being fed to the processing plant, and ramp-up to commercial production was scheduled for completion in the first .... read more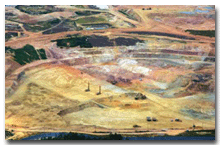 Oceana Nearing Production Start at Haile Mine
OceanaGold reported that construction at its Haile open-pit gold mine in Lancaster county, South Carolina, remains on track for first ore to be delivered to the mill at the end of 2016. Oceana acquired the Haile project when it acquired Romarco Minerals at the end of September 2015. Romarco began construction of the project in .... read more






Top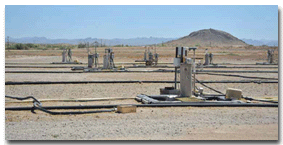 Taseko Receives Permit for Florence Test Facility
Taseko Mines has received a permit from the Arizona Department of Environmental Quality (ADEQ) to construct, operate, and close a 24-well test in-situ copper recovery operation at its Florence Copper project near the community of Florence, Arizona, midway between Phoenix and Tucson. The injection and recovery well system will be accompanied by a state-ofthe-art solvent extraction and electro-winning facility that will .... read more


| | |
| --- | --- |
| AROUND THE WORLD - Latin America | |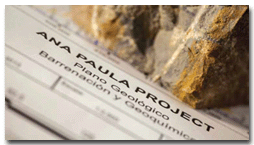 Timmins Gold Initiates Pre-construction at Ana Paula
Timmins Gold has initiated a $9.2 million pre-construction program, including work on a feasibility study, at its Ana Paula gold project in Guerrero, Mexico. Development of the program is based on a positive preliminary economic assessment (PEA) completed in March that indicates that Ana Paula represents a robust, high-margin, open-pit mining project at .… read more

Top
Yamana Sells Mercedes to Premier Gold Mines
Yamana Gold has entered into a definitive agreement to sell its Mercedes underground gold-silver mine in Sonora, Mexico, to Premier Gold Mines, a Canadian junior company headquartered in Thunder Bay, Ontario. Pursuant to the agreement, Yamana will receive cash and equity securities valued at $140 million at the time of the negotiations, with cash accounting for $122.5 million of the total. The transaction was expected .... read more


| | |
| --- | --- |
| AROUND THE WORLD - Australasia | |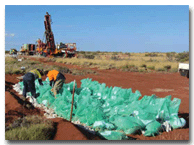 OZ Minerals Earning Into West Musgrave Copper-Nickel Project
OZ Minerals has signed a heads of agreement with Cassini Resources to earn up to 70% of the West Musgrave project in east-central Western Australia. The project area includes the Nebo-Babel nickel and copper sulphide deposits, the Succoth copper deposit, and other high-grade targets. OZ has made an initial A$3 million commitment to fund a detailed scoping study to optimize the project. Further regional exploration will leverage …. read more


Top
Evolution Acquires 30% of Ernest Henry, Sells Pajingo
Glencore and Evolution Mining have struck a deal for all of the gold and some of the copper produced at the Ernest Henry mine in northwest Queensland, Australia. For $A880 million and monthly installments equal to 30% of the mine's production costs, Evolution purchased a 30% stake in the mine, which would …. read more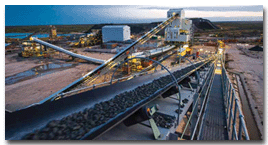 Lucara Leans on X-ray Tech for Improved Diamond Recovery
Lucara Diamond Corp. is installing more X-ray transmission (XRT) technology at its Karowe diamond mine in Botswana to process finer size fractions of diamonds. The project involves the installation of four new XRT diamond recovery units and associated conveying and screening infrastructure. The new units will target recovery of diamonds in the size range between 4 mm and 8 mm. The XRT technology will process .…. read more

Top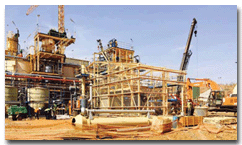 Roxgold Close to Commercial Production at Yaramoko
Roxgold Inc. reported that its new, underground Yaramoko gold mine in western Burkina Faso is on track to reach commercial production before the end of September. The project poured its first gold in mid-May and poured 14,482 oz for the reporting period to the end of June. Mill feed grade was averaging 13.4 g/mt gold …. read more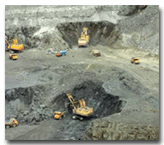 Alrosa Developing New Open-pit Diamond Mine
The Zarya open pit is one of Alrosa's major investment projects. Initial investment is planned at 9.8 billion rubles (about $150 million). Development of the pit will guarantee stable use of the Aikhal Division's existing processing facilities, with total rough diamond recovery from the pit estimated at 3.6 million carats. The Aikhal Mining and Processing Division was established in 1986 and currently mines rough diamonds at the Yubileyny and …. read more


Top
India Looks Worldwide for Mineral Survey Candidate
India's Ministry of Mines is seeking an international mineral exploration organization with expertise to conduct an aerial survey of 800,000 km2 of land labeled as having "obvious geological potential" by the government. The survey exercise is part of the Ministry of Mine's action plan to boost the contribution of India's domestic mining industry to the national Gross Domestic Product (GDP) to 3.3% by 2019, up from 2.3% at present. According to government official …. read more


| | |
| --- | --- |
| THIS MONTH IN COAL | |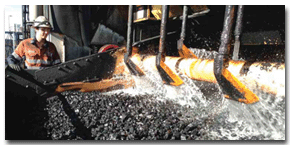 Foxleigh Mine Sale Completed
After seeking a buyer for more than a year, Anglo American has completed its sale of its interest in the Foxleigh complex in the Bowen Basin region of Queensland, Australia, to a group led by Taurus Fund Management. The deal with the consortium was first inked as a sale and purchase agreement …. read more

Contura Completes Acquisition, Alpha Names Stetson CEO
Contura Energy completed the previously announced acquisition of several core assets from Alpha Natural Resources (ANR), which was a key step for Alpha to emerge from Chapter 11 bankruptcy. Contura will be a private, Tennessee-based company with affiliate mining operations across multiple major coal basins in Pennsylvania, Virginia, West Virginia and Wyoming. It also purchased …. read more

Top
CONSOL Energy Pays to Exit CAPP
CONSOL Energy will pay Booth Energy a total of $44 million to take over its Miller Creek mining complex and Fola Mining complex subsidiaries in West Virginia. The Miller Creek complex has an active surface mining operation and prep plant, which produced 2.1 million tons in 2015,according to the Mine Safety and Health Administration (MSHA), and two underground mines, which are listed as …. read more
| | |
| --- | --- |
| FEATURE - E&MJ 150 Years | |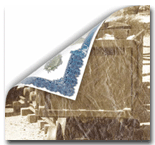 Exposing Bubbles, Shysters and Out-and-out Scams
Since time immemorial, mining finance has offered great opportunities for entrepreneurial inventiveness. In its early years, E&MJ built up an enviable reputation for trying to protect investors by identifying suspect stock flotations. A trawl through past editions highlights some of its successes—and the chicanery that led to them.

By Steve Fiscor, Editor-in-Chief

Whether or not the journalist Samuel Clemens (aka Mark Twain), then Nevada-based, actually made the oft-quoted analogy attributed to him remains open to question. What is not, by contrast, is the reality that he used his position to help promote mining stocks at a time when the Comstock boom was at its height. In his 2006 book, A Hole in the Ground With a Liar at the Top: Fraud and Deceit in the Golden Age of American Mining, author Dan Plazak noted …. read more

Top

| | |
| --- | --- |
| FEATURE - Newmont Profile | |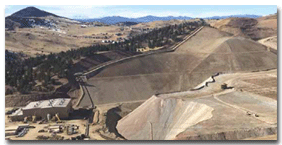 Newmont Repositions and Reaps the Rewards
The leading U.S. gold producer shares some of its secrets for finding the full potential of its mines and projects.

By Steve Fiscor, Editor-in-Chief

Many mining companies built volume during the epic super cycle only to find themselves saddled with debt and excess capacity when the bubble burst. It was the classic boom-bust cycle that has haunted this industry for generations. The gold sector was no different. It too fell prey to one of the greatest bull runs for any precious metal. Similar to most of the miners in the gold space ..... read more

Top

| | |
| --- | --- |
| FEATURE - Tire Life | |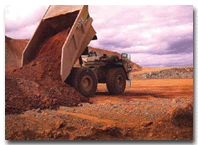 Tools to Tackle Tire Life Challenges
Tires are second only to fuel in the hierarchy of recurring haulage costs at most mines. Making them last longer saves money, time and unscheduled maintenance calls.

By Russell A: Carter, Managing Editor

Anyone watching, for the first time, the factory assembly process for a mining-class off-the-road (OTR) tire is likely to be surprised at the number of individual components it takes to make these multiton giants. Typically, as many as 60 or 70 items of various size and composition—ranging from rubber to rayon to steel—are ultimately merged through .... read more

Top

| | |
| --- | --- |
| FEATURE - Narrow Vein Mining Development | |

Mechanization in Minimal Spaces
E&MJ looks at some recent innovations in its annual review of equipment for narrow-vein and low-height mining.

By Simon Walker, European Editor

While most of the major manufacturers focus predominantly on machines for markets likely to generate the greatest sales volumes, they also realize the importance of small-scale mining. In what perhaps could better be referred to as "traditional" underground mining, in the sense that it predominated before the advent of bulk-stoping systems, there has been a drive toward levels of mechanization ..... read more

Top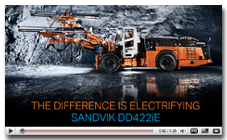 THE DIFFERENCE IS ELECTRIFYING – Revealing Sandvik DD422iE
Electric. Automatic. Safe. Efficient. The industry-first twin-boom Sandvik DD422iE produces zero emissions during tramming by using electric energy from an on-board battery. With Sandvik DD422iE, you don't just save time and money, you make your operations so much more efficient .... watch the video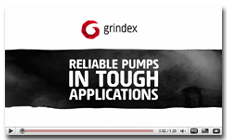 Grindex - Get the job done !
Reliable pumps in tough applications .... watch the video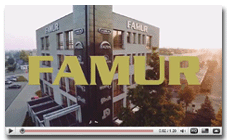 Famur – The FAMUR Group
The FAMUR Group combines tradition with extensive experience. For more than a hundred years, they have consistently been developing, helping increase efficiency and raise the safety of work in the mining sector.... watch the video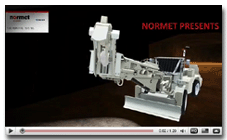 Normet - Concrete Spraying and Scaling simulator overview
Normet provides a simulator offering for concrete spraying (shotcrete) and scaling...... watch the video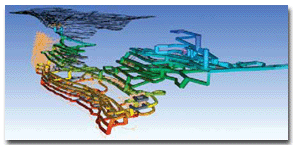 Joint Effort to Improve Mine Ventilation Solutions
Maptek and VUMA, a subsidiary of Bluhm Burton Engineering (BBE), have executed a memorandum of understanding for collaboration and cooperation around mine ventilation solutions and mine design. The primary focus will be on enabling detailed data transfer between Maptek Vulcan mine planning software and VUMA ventilation simulation software …. read more

German Firms to Collaborate on TowerMill Development
Thyssenkrupp Industrial Solutions and Maschinenfabrik Gustav Eirich announced they have agreed to cooperate on the further development of the Eirich TowerMill, an agitated media mill for wet grinding of ores and minerals that is claimed to be highly energy-efficient. The aim of the partnership, said the two companies in a joint statement, is to build high-capacity, powerful TowerMills capable of delivering .… read more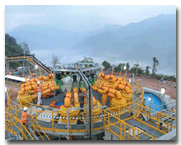 Weir's Cavex Cylone Brand Reaches 20-year Milestone
Weir Minerals recently celebrated the 20year anniversary of an iconic brand—the Cavex hydrocyclone. According to the company, a team of engineers at Warman International in Australia began a project in 1996 to develop the "next big thing" in hydrocyclones. What they came up with was a unit with unique inlet geometry that eliminated sharp angles …. read more

Top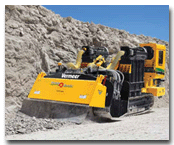 Terrain Leveler Enables Precise Mining With Uniform Fragment Size
Vermeer's T1255III Terrain Leveler surface excavation machine (SEM) features a patented tilt-head milling attachment with top-down cutting action that can dig 21 in. (53.3 cm) deep and 144 in. (365.8 cm) wide in a single pass. Operators can control material sizing by increasing or decreasing tooth penetration to produce a uniformly fragmented product down to .… read more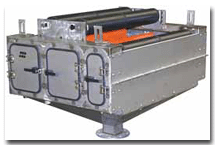 Belt Washer/Cleaner System Flushes Carryback Roller Solves Belt Carryback
Martin Engineering's Washbox Cleaning System combines water spray and secondary cleaning blades in an enclosed and self-contained unit, draining belt-carried residue safely away from the work area while reducing overall site dust and spillage from carryback. Available in dual or single configurations, the units are mounted on the conveyor frame .…. read more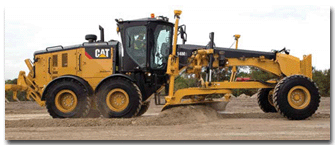 Upgraded Mine-duty Grader Has Many Improvements
Cat's new 14M3 motor grader is sized to carry out haul road maintenance for operations using smaller trucks as well as for mine construction projects. Improvements over earlier models include a larger engine, increased fuel efficiency, improved machine balance, enhanced transmission performance, advanced electrohydraulic steering, more powerful telematics and …. read more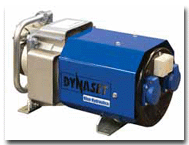 Generator Uses Mobile Hydraulic Power
Dynaset's model HG hydraulic generator transforms hydraulic power available on mobile machinery into electricity. The HG generator can be used at worksites to provide power for electric tools, lights, welding, pumps, angle grinders, concrete mixers and other equipment. In addition to 33 standard models rated at 1 to 70 kVA, Dynaset manufactures special hydraulic generators in the range of .…. read more

Top

Scissor Lift Reaches Higher
Marcotte Mining has completed development of an ultra-high scissor lift that the company said exceeds standard underground capabilities. Designed to provide a safe work platform for installation of services in tunnel headings, the UHL6000 ultra high lift carrier reaches heights up to 20 ft (6 m). Marcotte said the unit was ….read more
OCTOBER 10–14, 2016: Sampling Theory, Sampling Practices, and Their Economic Impact Course. Contact: Colorado Schools of Mines Contact: Web: http://csmspace.com/events/sampling/
OCTOBER 12–13, 2016: 31st Annual Regional Mining Conference, Lakeland Center in Lakeland, Florida. Contact: Florida Section of the Society for Mining, Metallurgy & Exploration Inc.; Contact: Web: www.smefloridaconference.com
OCTOBER 17–18, 2016: Mining Energy & Power 2016, Jakarta, Indonesia. Contact: Web: www.mining-energy-power.com
OCTOBER 18–21, 2016: 24th World Mining Congress, Rio de Janeiro, Brazil. Contact: Web: www.wmc2016.org.br
NOVEMBER 7-10, 2016: International Mining and Resources Conference, Melbourne Convention and Exhibition Center, Melbourne, Australia. Contact: Web: http://imarcmelbourne.com
NOVEMBER 16-19, 2016: International Mining and Machinery Exhibition (IMME), Eco Park, Rajarhat, Kolkata, India. Contact: Confederation of Indian Industry; Web: www.immeindia.in
MAY 7-9, 2017: Haulage & Loading, Wigwam Resort, Phoenix, Arizona, USA. Contact: Web: www.haulageandloading.com
JUNE 13-15, 2017: Longwall USA, David L. Lawrence Convention Center, Pittsburgh, Pennsylvania, USA. Contact: Web: www.longwallusa.com
| | |
| --- | --- |
| WHO'S MOVING WHERE | |

Premier Gold Mines announced that Charles Ronkos has joined the company as executive vice president, project development, Americas. Most recently, he was senior vice president, exploration, at Goldcorp.

Newmarket Gold appointed John Landmark as vice president, exploration. In addition, Lukas Lundin, a founder of Newmarket, is retiring from the board of directors and will join the Newmarket Advisory Board. Most recently, Landmark was the regional head of exploration for Anglo American.

Lydian International Ltd. appointed Gillian Davidson as an independent director. Davidson is currently head of mining and metals at the World Economic Forum. Prior to joining the forum, Gillian was director of social responsibility at Teck Resources, Canada.

Dr. Braden T. Lusk, professor of mining engineering at the University of Kentucky and a two-time graduate of Missouri University of Science and Technology, has been named chair of the mining and nuclear engineering department at Missouri S&T. Mining Inc.

The U.S. National Mining Association welcomed Ashley Burke as the mining organization's senior vice president for communications. Burke was previously global director of communications for Dentons.

Superior Industries appointed Peter Patterson as territory sales manager throughout central and western Canada. Patterson comes to Superior after most recently holding the position as a regional sales manager at Metso. CEO.

CMS Cepcor announced Andrew McNally will be the business development manager of Africa.

A.W. Chesterton announced that Andrew W. Chesterton, formerly executive vice president and chairman of the board, has been named the new president and CEO.
About - providing an abreviated version of the current print edition of E&MJ, WOMP is distributed throughout the world to decision makers in the global mining industry, the last week of every month.

Subscribe to E&MJ - To receive your own copy of the print edition of E&MJ, click here , and complete your details. E&MJ is available free of charge to qualified readers.

Contact - if you have views, opinons or comments or editoral that you would like to submit, we would be delighted to hear from you - click here

Top